Have you ever experienced an Instagram DM glitch? Instagram direct messages are the app's only one-to-one communication option. It is irritating when Instagram messages not working or multiple errors occur, such as when there is no notification for new messages.
When Instagram messages down errors, or, as users call them, Instagram DM glitches happen, it can have serious consequences. Its implications are considerably more severe if you run a business and wish to send mass DMs and communicate effectively with your customers.
Regarding the Instagram DM glitch today and how to fix it, you've got two options: try to solve them on the official Instagram app if possible, or use an Instagram DM app to get around the bugs.
In this article, we are trying to find out why Instagram DMs down errors happen and how you can prevent DM glitches on Instagram.
What Is an Instagram DM Glitch?
To kick things off, let's clarify what exactly an Instagram DM glitch is. In simple terms, it refers to unexpected issues or malfunctions within Instagram's direct messaging system. These glitches can manifest in various forms, such as Instagram messages not sending, disappearing conversations, Instagram DMs not working at all or even the app crashing when you try to access your DMs.
Instagram DMs down errors are more than what you think about them. Many users wonder why Instagram DM glitches happen and why they can't send Instagram messages to friends or invite potential followers to visit their page. Let's see what common errors occur related to IG DMs.
Common Errors That Occur When Instagram Messages Not Working
Even when they operate properly, Instagram features such as direct messages are somewhat limited. On the official app, for example, there is no method to bulk DM or send automatic DMs unless you create a group chat.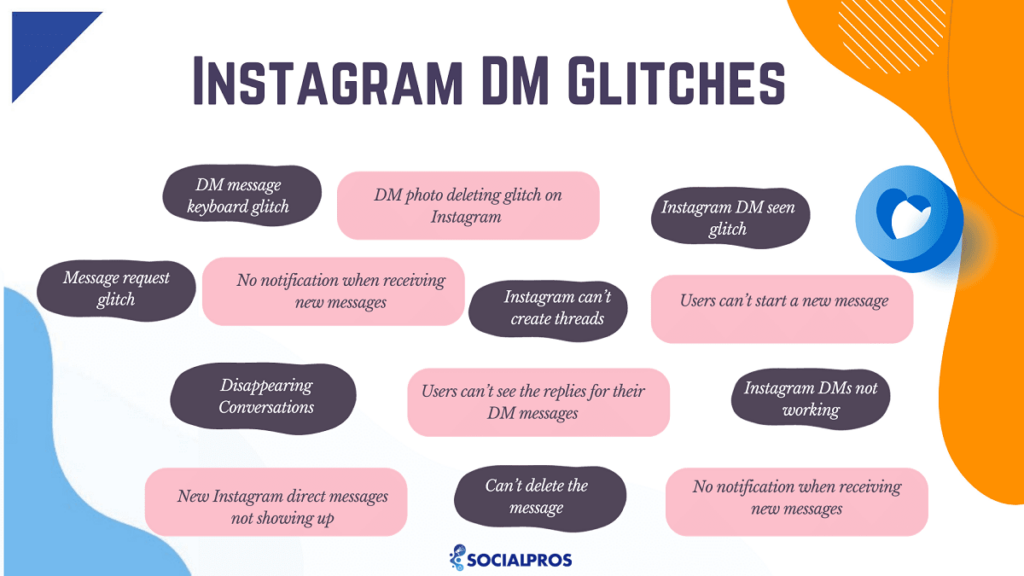 An Instagram direct message glitch can also happen on your group chat! Here are the most frequent errors that Instagram users have experienced:
No notification when receiving new messages
Received an Instagram DM notification but no message
Users can't see replies to their messages
Instagram is stuck on sending messages
Instagram DM message keyboard glitch
DM photo deleting glitch on Instagram
Instagram can't create threads
Instagram DMs not working at all
They can't start a new message
Instagram DM seen glitch occur
Users can see the replies to their DM messages
They can't delete the message
Instagram DM videos not playing
New Instagram direct messages not showing up
An Instagram direct message cannot be deleted
Instagram message request glitch
Instagram DM notifications won't go away
You can't reply to a message on Instagram
Each of these issues can hinder your ability to engage with friends or clients and effectively slide into DMs. It's crucial to comprehend the underlying causes of these problems to troubleshoot them effectively. While some are straightforward, others can be more elusive.
So, let's explore some prevalent Instagram Direct Message (DM) glitches and know the problems they cause.
1. Couldn't Create Thread Instagram Error
One of the most frustrating issues users encounter is the 'Couldn't Create Thread Instagram error.' To effectively troubleshoot this issue, it's essential to grasp the nature of the problem. The Instagram 'Couldn't Create Thread' Error usually occurs when there's a hiccup in the app's performance, resulting in a disruption of its core functionality.
2. Disappearing Conversations
Imagine having an important conversation, and suddenly, it disappears into thin air. This glitch involves entire DM conversations vanishing without a trace.
3. Instagram DM Message Keyboard Glitch
Many Android device users faced a strange Instagram DM keyboard glitch in 2018. The scenario went as follows: users would log into Instagram, go to their Direct Messages, and try to compose a message. However, when the keyboard appeared, it would interfere with the text input field, making it inaccessible.
However, in the years that have passed, Instagram has undergone numerous updates. Our research indicates that there are no longer any prominent glitches or flaws related to Instagram DM keyboards.
4. DM Photo Deleting Glitch on Instagram
This particular issue revolved around users believing that they were erasing old message threads and images by pressing the delete button. However, Instagram was covertly retaining all this information, even though users were informed that the data had been wiped clean.
Fortunately, this problem has been resolved, as confirmed by Instagram. How did this come to light? Instagram employs a unique program called the "bug bounty" initiative, where the company rewards individuals who discover and report bugs within the app. In 2020, a researcher discovered that Instagram had been storing old pictures and messages he had supposedly deleted within the app.
Astonishingly, this data had been retained for over a year and was accessible through a feature in the app that allowed users to download their data. However, once the researcher reported these findings to Instagram, the company promptly addressed and fixed the bug. As of 2022, no unresolved or known issues regarding Instagram deleting DMs exist.
But how to fix Instagram DM glitch? The majority of Instagram DM glitches share a common solution. Read the following to find out why your Instagram direct messages are not showing up or solve any other issues you face when you want to use direct messages on Instagram.
How to Fix Instagram DM Glitches
The Instagram 'Couldn't Create Thread' Error or other DM glitches can be a vexing experience, disrupting your social media flow. Here are the most common reasons why Instagram messages not working and solutions for them.
1- Check Your Network Connection
One of the most prevalent issues is messages failing to send. You hit the 'Send' button, but the message remains stuck in the sending phase, causing frustration and uncertainty.
The first reason why Instagram messages are not sent is your internet connection. Better check your connection and preferably use a Wi-Fi connection to avoid any problem.
If you're already connected to Wi-Fi and are facing an Instagram DM bug, then try switching to your mobile data and refresh your inbox.
2- Clear Your App Cache
Sometimes, Instagram won't send your messages on DM, or your new messages do not show despite you receiving notifications. It's because your phone is filled up with cache. So, to prevent an Instagram DM glitch, try to clear up your cache.
Open the Settings of your phone.
Tap the Storage heading to open its settings page.
Tap the Other Apps heading to see a list of your installed apps.
Find the application you want to clear the cache of and tap its listing.
Tap the Clear cache button.
Another easy way to empty your cache is to simply tap and hold the application's icon and then, tap on 'App info'. Next, tap on 'Storage' and 'Clear data.' Now, you can delete your cache and fix your IG dm bug.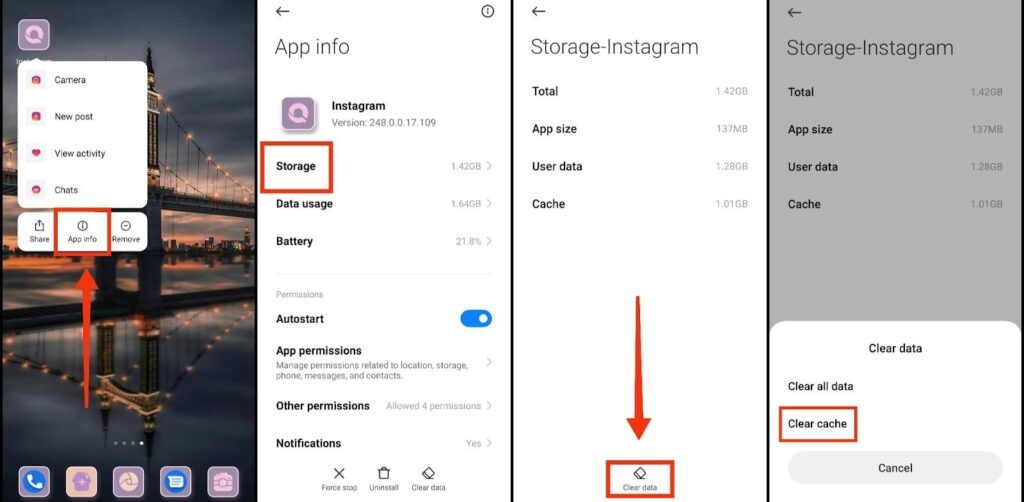 Indeed, these steps may vary on different devices, but the overall route is the same. When Instagram DMs down, most of your problems are solved by clearing your phone's cache and your Instagram app.
3- You Need To Update Your Instagram
Lots of times, your Instagram won't perform well because the app is outdated. Go to your Google Play or Apple Store and make sure your Instagram is updated.
4- Update Instagram Messenger
Suppose you can't react to a message on Instagram or Instagram emoji reactions for direct messages not working. In that case, it means that you are not using the latest version of Instagram Messenger.
You can update Instagram messenger and connect your Facebook to your Instagram to solve this problem.
5- Make Sure the Receiver Has an Active Account
People deactivate their Instagram for many reasons. If you encounter an Instagram DM glitch, just tab on the receiver profile and check if the account is active.
6- The Receiver Might Have Blocked You
I know it hurts but Instagram might not send your messages because you are blocked by the receiver! You need to check if someone has blocked you on Instagram.
At this point, you might think you're faced with an Instagram DM seen glitch because you haven't received the seen receipt for days even though your chat buddy is online. Well, not exactly!
Generally, when you're blocked by someone on Instagram, you can't find their profile to send a direct message to them. In case you've chatted with them before, you can see your chat history and DM them, yet they'll never receive them.
7- Keep Up to Date on Instagram DM Limits
Instagram imposes daily limits on various actions and engagements, including comments, following/unfollowing accounts, likes, stories, and direct messages (DMs).
So, if you find yourself unable to send DMs or receive a pop-up message that says, 'Try again later,' it's not an Instagram DM glitch; it's intentional. You've sent too many DMs in a single day and will need to wait until the following day to resume. The daily DM limit typically hovers around 50-70 messages, so it's advisable to stay within that range to avoid such restrictions in the future.
8- Instagram Is Updating The Direct Messages
Another reason why Instagram is not sending messages can be the fact that the Instagram DM developer team is working on the app or some bugs. So, if you and other users have the same problem, it's probably due to technical maintenance.
9- You Need to Relaunch Your Instagram App
Sometimes, the issue is not as complicated as you might think. By relaunching the app, you give Instagram the opportunity to refresh, and that alone can fix certain issues.
10- Investigating Daily News on Instagram DM Glitches and Outages
If you've exhausted all troubleshooting options and still can't find a solution, it's likely not just an isolated Instagram DM glitch. There might be ongoing issues affecting other users as well. Instagram occasionally experiences outages and widespread malfunctions like Instagram messages outages.
To determine if this is the case, it's advisable to check online sources. Visit other social media platforms or perform a Google search to see if there are reports of Instagram glitches. On one hand, discovering that it's a widespread issue can provide some relief, knowing you're not alone, and Instagram is likely addressing it. On the other hand, if it's a larger app glitch, it may take some time to resolve, and only Instagram's team can fix such outages. In this situation, it's best to exit the app and wait for Instagram to resolve the issue. Once it's resolved, consider updating the Instagram app through the App Store or Google Play Store.
If your issue persists and you're still having Instagram DM errors and looking for a viable solution, continue reading.
Fixing Instagram DM Glitches with AiGrow DM Managed Package
According to Downdetector, 49% of glitch reports by users were indicators of some problems with the Instagram application. Apparently, Instagram support team hasn't been of much help either.
As a business owner on Instagram, you can't wait forever for IG to fix these issues because you have customers waiting for your replies, and potential customers to reach out to. Therefore, you need an instant solution to keep your Instagram DM marketing going! The solution is called AiGrow.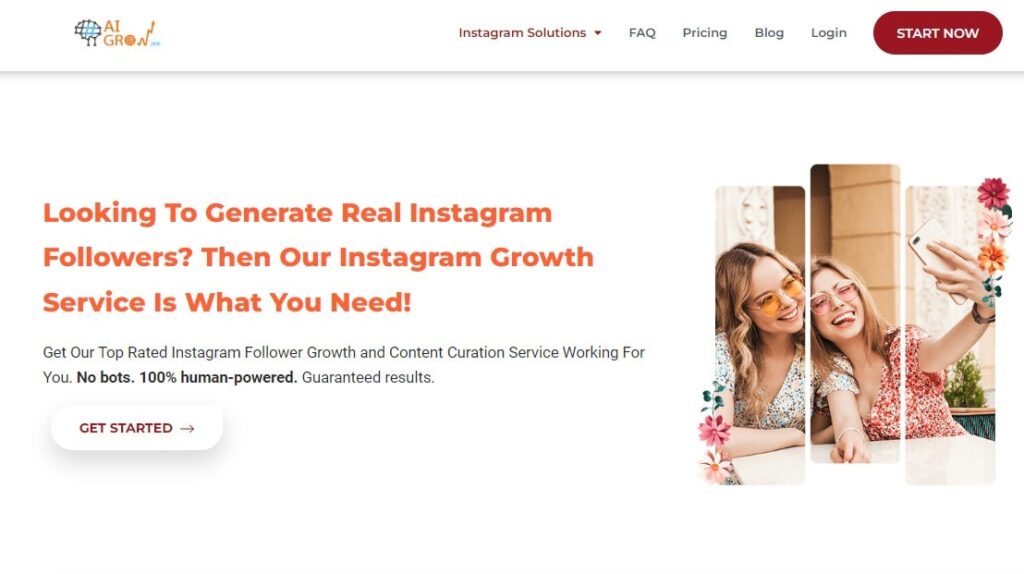 Basically, this is the only platform out there that is solely focused on Instagram direct messages. Not only does it help you out with overcoming an Instagram message glitch, but also it helps you go beyond the abilities Instagram DM provides you with!
Using this wonderful IG tool, you can mass DM your potential followers and convert them to paying customers, preset a text for auto-replies, link IG DMs to your email, have multiple links in your bio without having to worry about getting shadow banned or action blocked, and many more!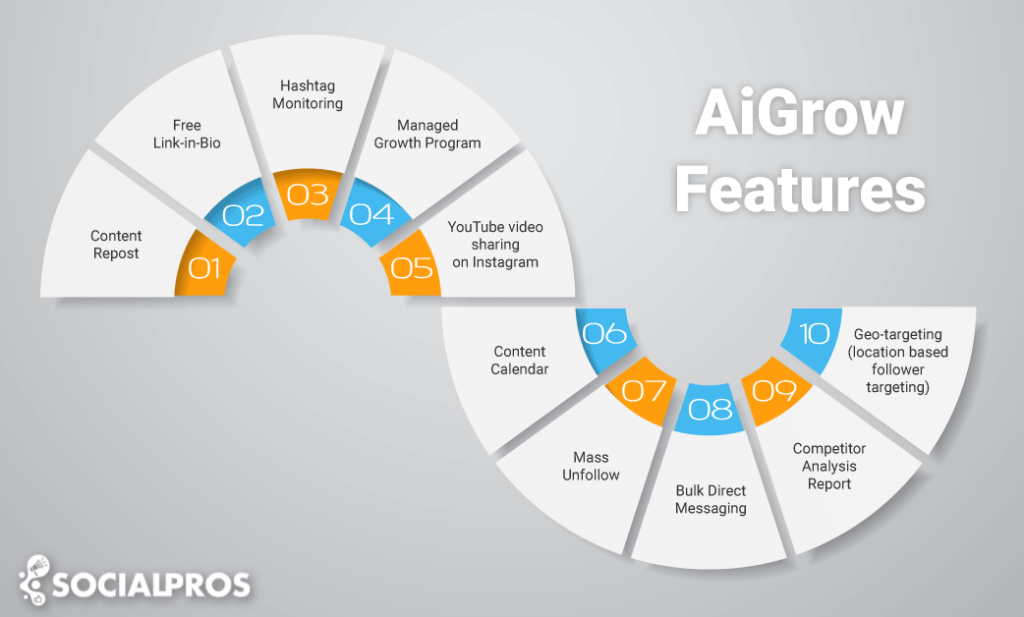 AiGrow is the best way to manage Instagram DMs and prevents Instagram glitches and problems such as not sending messages. Using this tool, you can access your messages online, without worrying about the various errors and glitches that will happen on the app.
To learn more about the AiGrow and its services, read this AiGrow review.
💥AiGrow Instagram managers send DMs manually to your potential customers, ensuring your Instagram account remains safe from the risk of being blocked or having your messages flagged as spam. Sign Up on AiGrow NOW.
If you're experiencing Instagram DM glitches and are seeking a reliable solution, consider using the AiGrow DM Managed Package. AiGrow is a comprehensive Instagram management tool that offers a range of features to enhance your Instagram experience, including efficient DM management.
Why Are All My Instagram DMs Gone?
There are various reasons why your Instagram DMs have disappeared all of a sudden:
Your e-pal has blocked you: If someone blocks you on Instagram, you'd probably stop seeing your chat thread after a while. This is due to Instagram's privacy policy.
The messages were sent in vanish mode: When you engage in conversations in vanish mode, your messages will disappear after a while. That's why they're called disappearing Instagram messages, after all!
Instagram direct message glitch: Recently, a lot of users have reported that they can no longer see their chat threads. This glitch started in early July and is still not fixed for many. In order to fix this problem, either reach out to Instagram's support team and wait for them to fix it or use DMpro; the best app for IG DMs to get your job done!
Your chat buddy has deactivated their account on Instagram: Another reason why your DMs have disappeared is that your friend has deleted or deactivated their Instagram account. In this case, there's nothing you can do about it.
You updated your Instagram: The situation where all your Instagram Direct Messages (DMs) disappear after performing an update typically occurs due to a software glitch or compatibility issue with the new app version. When you update Instagram, the app may encounter unforeseen bugs that result in the temporary disappearance of your DMs.
Final Words On Instagram DM Glitch
Instagram DM glitch can be really frustrating, especially when your income depends on it. By understanding their causes and following the troubleshooting steps mentioned above, you can keep your DMs running smoothly. Remember to stay patient and always keep your app updated for the best Instagram experience.
Additionally, consulting Instagram's support team can be helpful, but they seem not to be responsive at the time these errors occur! Therefore, you need the hand of an expert who specializes in Instagram.
⚡Consider adopting the AiGrow DM Managed Package if you encounter Instagram DM issues and want a dependable solution.
FAQs
You're here because something's bothering you about your IG DMs. We know. Not being able to send or receive IG DMs is such an annoying thing to go through these days.
In this article, we tried to provide you with a thorough guide on some Instagram message glitches you might be facing these days and how to fix them. Now, let's check out some of your most frequently asked questions.
Q1. Why Is My Instagram Direct Message Video Not Playing?
If you have a problem playing your DM videos, here are 6 possible reasons for you to consider:
The owner has deleted the video.
The video is not available in your region. 
Your internet connection is poor. 
Your cache is full. 
Instagram servers are down. 
Your device/app needs to be relaunched.
Q2. Why Don't I See Instagram DM Reactions?
If you can't see IG reactions in your DMs, chances are this feature has not yet been activated in your region or your Instagram messenger is not updated. Usually, it takes time for some features to be activated on all IG accounts.
Q3. What Causes the Instagram "Couldn't Create Thread" Error?
The error can be caused by various factors, including an overloaded cache, network issues, outdated app versions, software bugs, or device-specific problems.