Instagram messages or DMs are a great way to communicate directly with your followers and clients. However, many people find Instagram DMs not working and ask 'why are my Instagram messages not sending?!
Many marketers share Instagram coupons and discounts by sending mass DMs on Instagram. And for many businesses, the only channel through which their potential customers can talk and ask about the price of their services is Instagram Direct! What will happen if they find Instagram messages not showing or, even worse, if they can view the messages but can't reply?!
Unfortunately, when Instagram DMs are not working, you can't send automated DMs either, which may cause delays in your marketing performance and sales. That's why we've decided to dedicate an entire article to finding the reason for Instagram DMs not working.
This article will explain why Instagram's down direct messages and not working and the best ways to prevent it. But if you're not in the mood for reading a whole page, you can click here to access an instant solution to all your DM glitches and solve your problems with the help of DMpro Instagram experts!
Why Are My Instagram Messages Not Sending
IG DMs have an essential effect on increasing your credibility and brand trust. Seeing your Instagram DMs not working can be genuinely annoying. So, facing this problem, you should quickly fix Instagram messages stuck on sending!
Indeed, when Instagram messages are not sending, you cannot start a new message, your message will disappear, Instagram gets stuck on sending messages, or you won't be able to answer the messages. In such a situation, you can't send a private message, let alone automated Instagram messages!
The issue of Instagram messages not sending can be extremely troublesome, especially when your sales partially depend on DM marketing on Instagram. For some businesses, no DMs means no sales at all!
Many reasons cause you can't send messages on Instagram, like:
Poor Internet Connection
Instagram Cache Overload
Instagram Action Block
Unavailable Posts
Outdated Instagram Version
Instagram Server Woes
Being Blocked or Unfollowed By the Recipient
Technical Glitches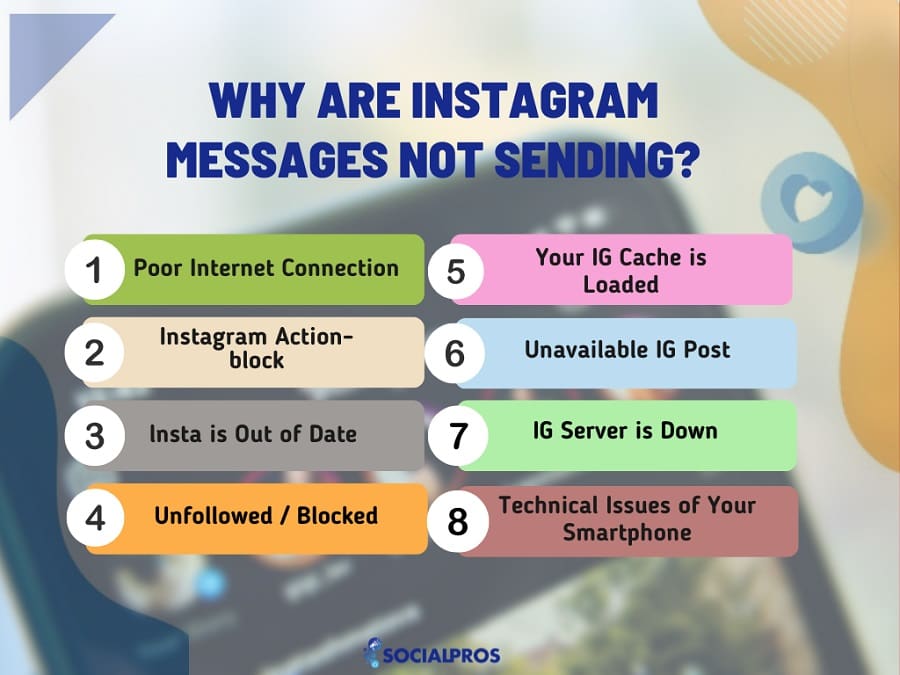 Facing such Instagram DM glitches can make you wonder if this error originates from your account or Instagram servers. In the following, you will read the details of why you can't send DMs on Instagram and how to fix your Instagram direct message not working.
1. Poor Internet Connection Cause You Can't Send Messages on Instagram
Every day, many users ask, 'Why did my DM conversation on Instagram disappear?' or 'Why won't the direct section open?' All these questions could have a simple answer!
Whenever you face a problem with your Instagram messages not working, the first step is to check your connection. If you're disconnected, then no wonder your Instagram message is not sending, or your chat has stopped loading!
If you're connected but have difficulty opening the posts and stories, it indicates that your internet connection is weak, resulting in your Instagram DMS not working. The first answer to the question 'why is my Instagram message stuck on sending' is the weak connection, so check it before everything.
Read more on our site: 1000 Free Instagram Followers Trial [Are They Real Followers or Fake?]
2. Instagram Cache Overload Cause Instagram Message Stuck on Sending
'Why are my Instagram messages not sending even though I have a good Internet connection?' some of you asked! Well, if your connection is not the problem, then maybe your Instagram cache is overloaded!
Perhaps your Instagram messages are not working because your Instagram cache is loaded with data. To fix your Instagram DMs not working by clearing your cache, follow the steps below:
Open 'Settings' on your phone,
Tap on 'Apps,' then choose the 'Manage Apps' option,
Now, select 'Storage' and 'Clear data.'
So, if you ask why cant I send messages on Instagram, check the Instagram cache.
3. Instagram Action Block Is the Reason For Instagram DMs Not Working
If you still see IG messages not sending among other errors and glitches, you might consider other possible issues. According to Instagram's daily limits, every user can send 20 to 50 Instagram direct messages a day.
So, there is a high chance that your Instagram messages won't send anymore if you have sent several spam messages, due to which Instagram has blocked you. It might be for a few hours during the first block, but as it blocks you again, the time will also increase too many hours and even days.
Generally, Instagram's terms of use are against using malicious bots that will take action on your behalf. So, interacting with too many accounts in a short period can raise suspicions and make Instagram shadowban your page.
So, if you've used such tools or had suspicious activities, don't look for further reasons why messages are not sending in Instagram; you've probably been action blocked.
4. Unavailable Posts Cause Instagram Messages Not Loading
Those of you who ask, 'Why are my messages on Instagram not sending?' should also pay attention and see whether the post they're trying to send is available. Sometimes you are sending a post as a DM, but it is not available anymore. Maybe Instagram or the person who published the photo has removed it from the feeds. So make sure the post is still sitting there as a feed.
5. Outdated Instagram Version Cause Instagram Messages Glitch
If you notice messages not sending on Instagram, there's a chance the application is outdated. After checking all the above items, if your Instagram messages are still not sending, your Instagram may need an update. Then, go to your setting and check for updates. Also, you can update your app in the App Store or Google Play.
6. Instagram Server Woes Is the Reason For Instagram Messages Not Showing
It may seldom happen that Instagram is updating the platform or the server goes down. Consequently, the entire app or some features like the Instagram direct message is not working. In this case, it's better to wait for the platform to recover itself and then start sending DMs.
If you see Instagram DMs not working while other features on the platform are also down, you can check for the servers.
7. The Recipient Blocked or Unfollowed You Causes Instagram DMs Not Sending
Sometimes users ask, 'why can't I message someone on Instagram.' It is unpleasant to know if someone blocked you on Instagram, but Instagram messages are not sent because you send DMs to someone who has blocked or restricted you.
Another reason is that the recipient is not following you and has set its settings to receive DMs only from followers. Indeed, that's why your Instagram direct message is not working.
8. Technical Issues with Your Phone Cause Instagram Messages not Loading or Sending
If you don't think any of the reasons above are the potential cause of your encountering these glitches and are still wondering, 'Why are my Instagram messages not sending?', then check if your smartphone is updated.
Sometimes, there are some technical bugs in smartphone software, and companies release new updates to fix them. These bugs can cause some errors in using various applications. Therefore, keep an eye on these updates to avoid issues such as Instagram messages not sending.
Read more on our site: How to get 1k followers on Instagram in 5 minutes
Now that you know why your Instagram message is not sending, it's time to fix the issues! In the following, we will pinpoint to fix the Instagram direct message not working.
Instagram DMs Not Working! How to Fix?
To prevent falling behind in your DM marketing and increase your chances of successfully sliding into DMs, it's crucial to promptly address any issues with Instagram messages not sending. Act swiftly to resolve this matter and ensure a seamless communication experience.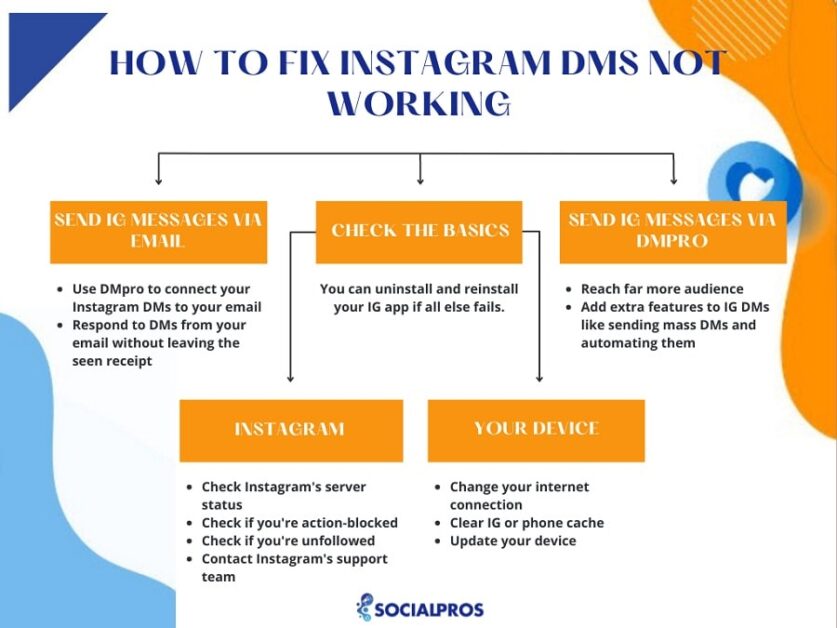 #1 Check the Basics
Firstly, we go through the step-by-step basic solutions to resolve the problem.
Test the Internet Connection
Check your internet connection first. Open other apps to check if you are connected to the internet. Examine the router by changing your internet from WiFi to Cellular Data. If it works, then you are done in the first stage. Otherwise, check for the next solutions to resolve Instagram DMs not sending!
Clear IG or Phone Cache
To stop Instagram messages not sending, check if your Instagram cache is full and clear up your cash. We've already gone through how you can do so to stop your problems with Instagram messages not showing!
Check Instagram Server Status
You can utilize some tools to check if the Instagram server is working well. Some of these tools may inform you if any other Instagrammers are facing the same problems as yours.
If you want to check if all the problems regarding Instagram not sending messages come down to Instagram servers, you can check it on DownDetector, a website that allows an overview of real-time issues and glitches across various platforms.
Ensure If Instagram Hasn't Blocked You
Suppose you have sent spam messages repeatedly or violated the Instagram algorithm by publishing nudity posts, and now you are blocked. Therefore, it's better to wait and do nothing till the platform unblocks you. However, you can use a VPN or change your internet to be able to send DMs.
Check If the User Blocked or Restricted You
'Why are my messages not sending on Instagram to a certain person?!' If you're experiencing difficulties sending messages to a particular person on Instagram, it is recommended to test the issue by messaging another Instagram account.
By sending messages to different contacts, you can determine whether the problem is specific to that individual or if it affects all your contacts. This will help you identify if there is a specific issue with the person's account or if it's a broader problem with your messaging functionality on Instagram.
Well, if you can't send Instagram messages to only one user, they may have limited their DMs to receive messages only from followers.
Additionally, if someone restricts you on Instagram, your messages not sent to them. Another probability is that you may have annoyed and made them block you. In this case, go to your room and think about what you have done!
Reach out to Instagram Support Team to Fix Instagram DMs Not Sending
Another solution to these bugs is simply contacting the Instagram support team and waiting for their response. Indeed, this could only work if you have plenty of time and are not impatient to start using your DMs again.
To send a report regarding messages not sending Instagram needs you to take the steps below:
Go to your profile and tap on the three horizontal lines at the upper right corner of your screen.
Tap on 'Settings.'
Scroll down the page and tap on 'Help.'
Select 'Report a Problem.'
Now, explain your problem in the box and tap on 'Submit.'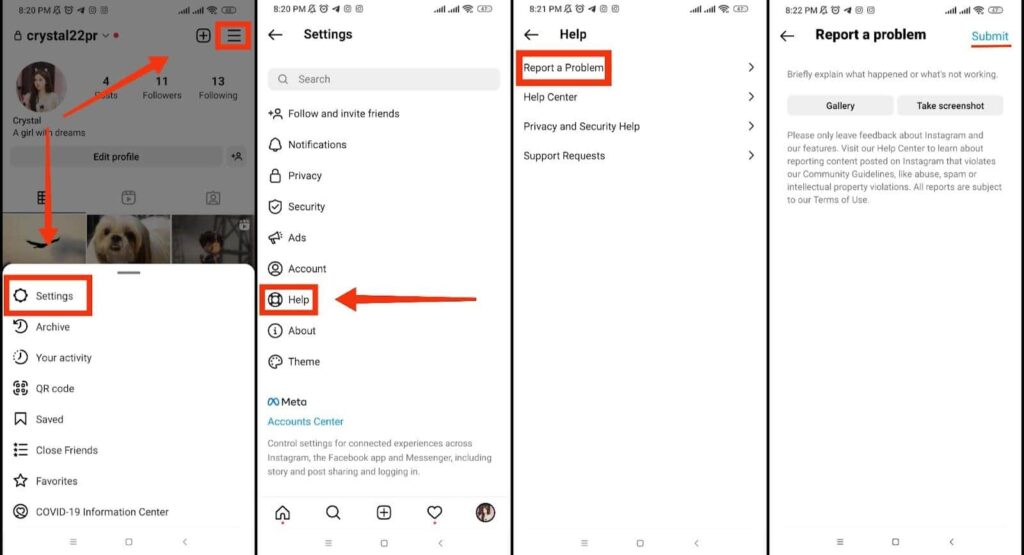 Try Uninstalling and Reinstalling Instagram Application
If you've tried all the ways mentioned above but got nowhere with your Instagram message not sending, you should consider uninstalling your IG app and reinstalling it. More often than not, it does the trick.
Disable VPN or Proxy
If you're experiencing difficulties with sending Instagram messages, a potential solution is to disable any VPN or proxy connections you have enabled. VPNs and proxies can sometimes interfere with the messaging functionality of Instagram. By turning them off, you allow your device to establish a direct connection with Instagram's servers, which can help resolve the issue and enable you to send messages successfully.
Disable Background Data Restrictions
To address the problem of Instagram messages not sending, you can try disabling any background data restrictions that may be in place. Sometimes, devices have settings that limit or restrict the use of data by certain apps in the background.
By disabling these restrictions specifically for the Instagram app, you ensure that it has unrestricted access to the necessary data and can send messages without any hindrance. This can help resolve the issue and restore the functionality of Instagram's messaging feature.
Clear Your Message Inbox
If your message inbox is full, it can hinder the delivery of new messages. Delete unnecessary conversations and media files to free up space in your inbox. This should improve the success rate of sending messages.
Sometimes, messaging issues can be temporary and related to server problems. Patience may be required in such cases. But if still don't see any progress?! Then read the next section to fix these glitches once and for all!
#2 Send Instagram Messages Via DMpro
If you're facing the issue of Instagram messages getting stuck on sending and you're looking for an alternative way to send DMs, you can consider using a third-party app like DMpro.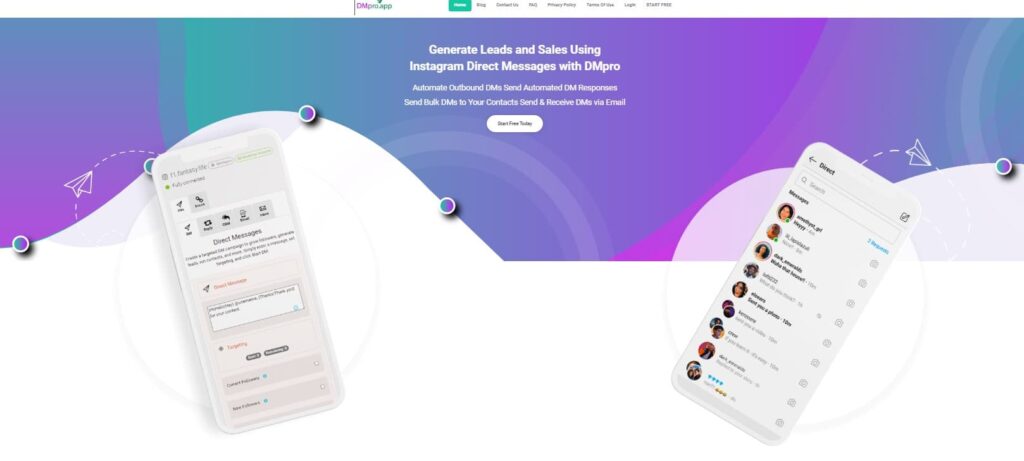 DMpro is an Instagram DM Service that allows you to send automated DMs to your followers or users who use specific hashtags. It can be a helpful tool to reach out to a larger audience and engage with them through direct messaging. Read this DMpro review to know more about this service.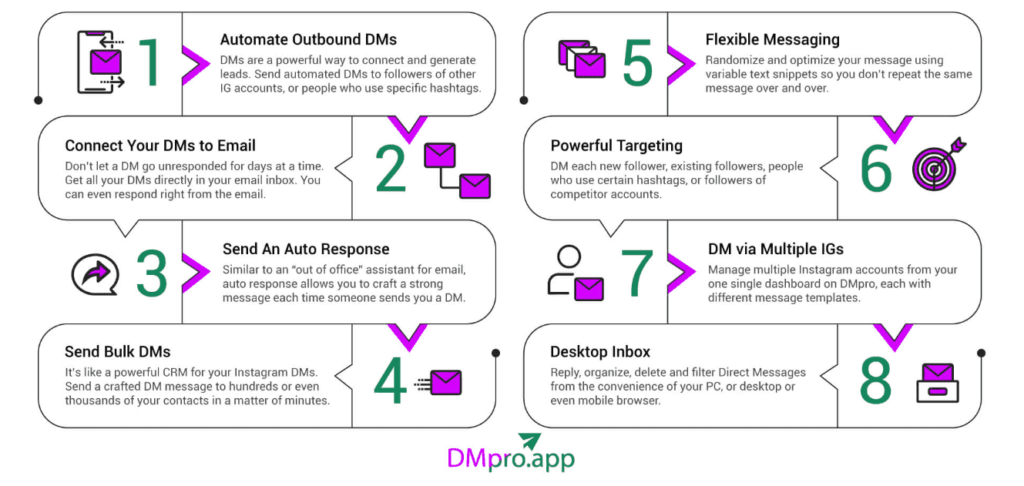 The great news is that DMpro provides you with a feature to send Instagram messages to your target followers automatically. Therefore, you can sort and filter your Instagram DMs and send them to your audience at the right time. Moreover, you can respond to the DM directly from your Email Inbox!
To send Instagram messages to your target followers, go through the steps below:
Select 'Manage.'
Click on both 'Direct Messages' and 'DM' tabs.
Edit your DM's text.
Select your target followers.
Now, press 'Start DM.'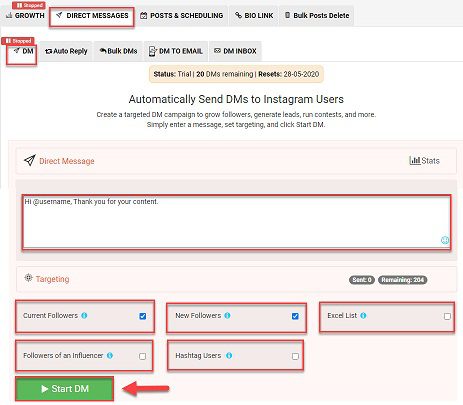 You can auto-reply to your DMs and send Instagram messages in bulk. This is how DMpro facilitates you to send and receive your DMs without facing Instagram DMs not working.
#3 Send Instagram Messages Using Your Email
Seeing Instagram DM not sending is truly nerve-racking. But what if you won't have to deal with the DM section at all?! Why bother going through all the trouble if you can avoid such issues altogether?
Fixing Instagram messages not working is a long time-killing process and not a busy marketer's favorite. Don't you agree that the best way to fix a problem is to prevent it from happening in the first place?
Now, after going through the whole process, I recommend you send Instagram messages using your email. You may ask how! Here is the answer:
Using DMpro, you can quickly connect DMs to your email and send your Instagram messages using your email. To connect your Instagram DMs to your email and stop Instagram messages not working, you only need to:
Add your Instagram accounts(up to 30 accounts).
Select 'Manage.'
Click on both 'Direct Messages' and 'DM to Email' tabs.
Add your email.
After confirming your email, you'll get emails including your Instagram DMs each time you have new messages.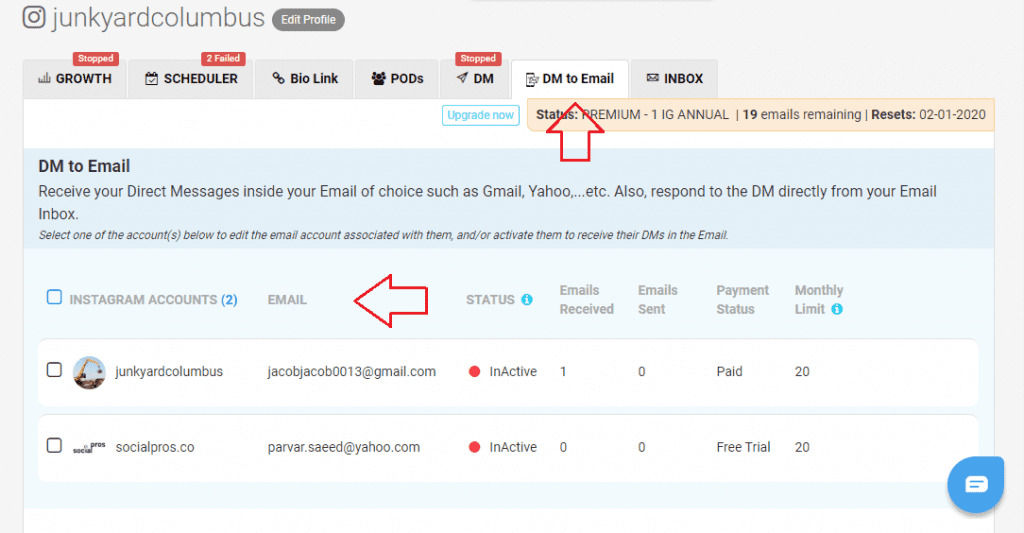 DMpro offers users a range of packages tailored to their budgetary needs. Among the top-tier options is the managed DM package, which provides a Guaranteed DM Delivery service. This ensures that your DMs are successfully sent to your intended target audience, enhancing the effectiveness of your direct messaging efforts.
Another notable feature offered by DMpro is the provision of a dedicated account manager. This account manager takes care of your DM management by manually sending Instagram DMs to your desired audience.
This approach ensures that your messages appear more natural and authentic, reducing the risk of being identified as spam. Having a dedicated Instagram account manager enhances the overall quality and effectiveness of your DMs, helping you to establish genuine connections with your target audience.
#4 Ask People to DM You
If you're experiencing issues and your Instagram messages not sending, make a public post or update your bio asking people to DM you as an alternative due to the problem. Engage with comments and reach out directly to close contacts to inform them about the issue and encourage them to use DMs. You can also share a story or collaborate with other accounts to spread the message. Keep your followers updated on any progress and let them know when the issue is resolved.
#5 Hire an Instagram Manager
If you're seeking assistance with resolving the issue of Instagram messages not sending, you can consider hiring an Instagram manager from AiGrow. AiGrow offers professional Instagram management services that can help troubleshoot messaging problems and ensure smooth communication on the platform.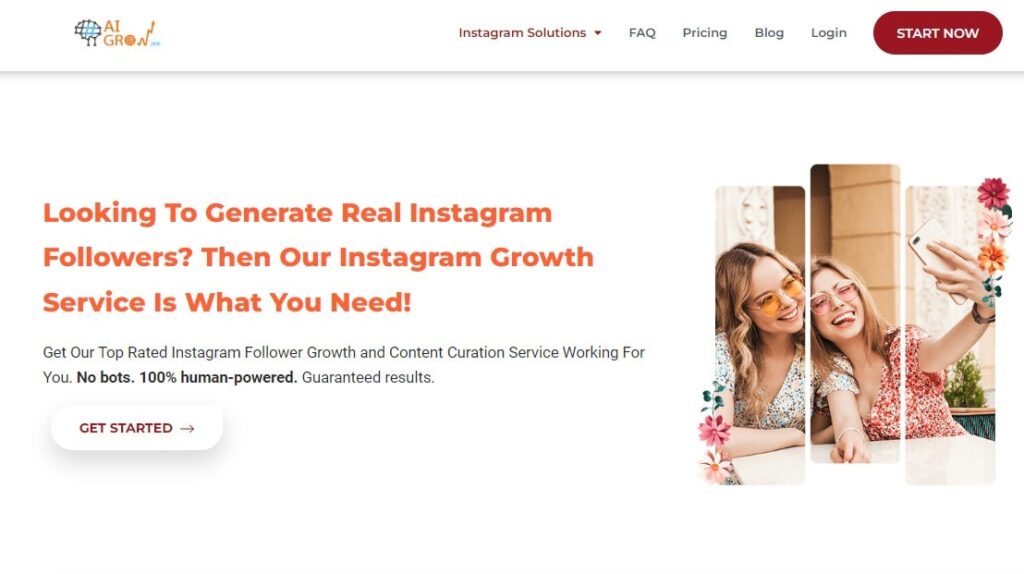 Their experienced managers can provide expertise and guidance to address issues and optimize your Instagram messaging experience. By availing of their services, you can receive personalized support to resolve the problem and enhance your overall Instagram usage.
AiGrow offers a comprehensive set of features designed to enhance your Instagram experience. With AiGrow, you can schedule and automate your posts, gain organic followers through targeted engagement, manage and analyze your account's performance, track hashtags, and locations, schedule and automate direct messages, collaborate with other influencers, run contests and giveaways, and access personalized support from their team of experts.
These features provide a robust toolkit to help you grow your Instagram presence, engage with your audience effectively, and optimize your overall Instagram strategy. Read this AiGrow review to know everything about this service.
Conclusion
Instagram DMs are a new way to instantly communicate with your community and make new groups to share ideas, products, and services. On the other hand, Instagram DMs not working stops you from contacting your audience ideally. This article aimed to address the issue of Instagram messages not sending and provided you with a detailed troubleshooting guide to resolve the problem.
Using a powerful Instagram DM tool, like DMPro, will pave the road for marketers to do their job efficiently. So, don't waste a second more and sign up on DMpro, to DM like a pro! Hassle-free, glitch-free!
FAQs on Instagram DMs Not Working
Suppose you have problems with your Instagram messages not sending, this blog tried to offer a complete guide on why that happens and how to fix it. Now, let's see what other questions you have!
1- Why Are My Instagram General Messages Not Showing?
If you run a business account, you're already aware that your Instagram DM section is divided into two sections: primary and general. Now, if you're not seeing your Instagram general messages, perhaps you're on the 'Primary' page! 
If that's not the case, you should check the solutions stated above. And for preventing such problems from ever happening, you should get immediate access to DMPro, a platform designed to enable Instagrammers to mass DM their followers, connect their direct messages to Email, read Instagram messages without the seen receipt, and much more!
2- Is Instagram Not Working Today?
If you're asking 'Why is my Instagram messages not sending?' then you should check whether others are going through the same problems. To check if Instagram servers are down, you should check the DownDetector website.
If everything seems fine there, check all the other options and solutions. You will surely find the remedy!
3- Why Are My Instagram Messages Not Sending?
There are several reasons why your Instagram messages may not be sending. These can include a poor internet connection, outdated app version, account privacy settings, blocked recipients, message restrictions, or a full message inbox. Follow the troubleshooting steps in this guide to resolve the issue.
4- Why Do I Need To Clear My Message Inbox?
Clearing your message inbox regularly is important because a full inbox can prevent the delivery of new messages. By deleting unnecessary conversations and media files, you create space for new messages and improve message sending success.