This article will focus on the best Instagram DM apps to help you generate more leads and manage your Instagram direct messages more efficiently than ever before.
Using a reliable DM app can speed up your actions and help you mass DM on Instagram more strategically, saving you a lot of time and energy. On the other hand, using an outdated Instagram DM bot can cause your Instagram business account to be banned or suspended, which is a huge hassle.
Thus, you may wonder which dm Instagram apps are worth the investment. That is why we decided to do complete research and provide you with a list of the best Instagram DM apps.
If you don't have the time to read through everything here and want to start using an effective Instagram DM manager, sign up for DMpro. It is a powerful tool on the market with a wide range of helpful tools and features to run successful DM marketing campaigns.
When sending DMs, DMpro takes no shortcuts with bots or automated systems. Instead, its team of skilled account managers, well-versed in Instagram's algorithms and daily limitations, handles this crucial task.
With DMpro, rest assured that your Instagram account is free of apps DM risks. This article will provide a deeper insight into DMpro's exceptional benefits further down. Stay tuned.
Best DM Apps to Send Instagram Messages
Instagram DM is an essential tool that lets you communicate directly with your followers and turn them into customers to grow your brand on the media. In other words, Instagram DMs are a valuable resource for networking & connecting. They are an excellent way to increase your engagement rate and grow your sales and revenues.
DM apps make the DM marketing process easier and time-saving for you. Moreover, they can help you get more productive in your DM marketing. Additionally, a reliable Instagram messaging app will allow you to auto-message or auto-reply to many users, thereby strengthening your customer relationship management (CRM).
With an all-in-one direct message app, you can add photos, videos, or clickable links to your direct messages to keep prospects informed about your business and stay top-of-mind.
So far, we have discussed the need for a DM app and the benefits of using such a service. Now, it is time to introduce the best Instagram DM apps and their core features, so you can make an informed choice if you intend to use one of them. So, here is the list. Without further ado, let's check these Instagram dm apps out!
1. DMpro
DMpro is a proven and reliable Instagram direct message tool with lots of useful features to help improve your online presence like a pro.
This Instagram DM management tool adheres to Instagram's policies and daily limits; Therefore, you won't have to worry about getting shadowbanned on Instagram.
The best part of DM pro service is that it offers Manual (Managed) DM services. Therefore, instead of relying on automated systems that may lead to Instagram account deletion or suspension, DMpro utilizes its team of experienced account managers to send targeted DMs.
This approach not only enhances DM marketing success but also ensures a 100% secure and targeted campaign.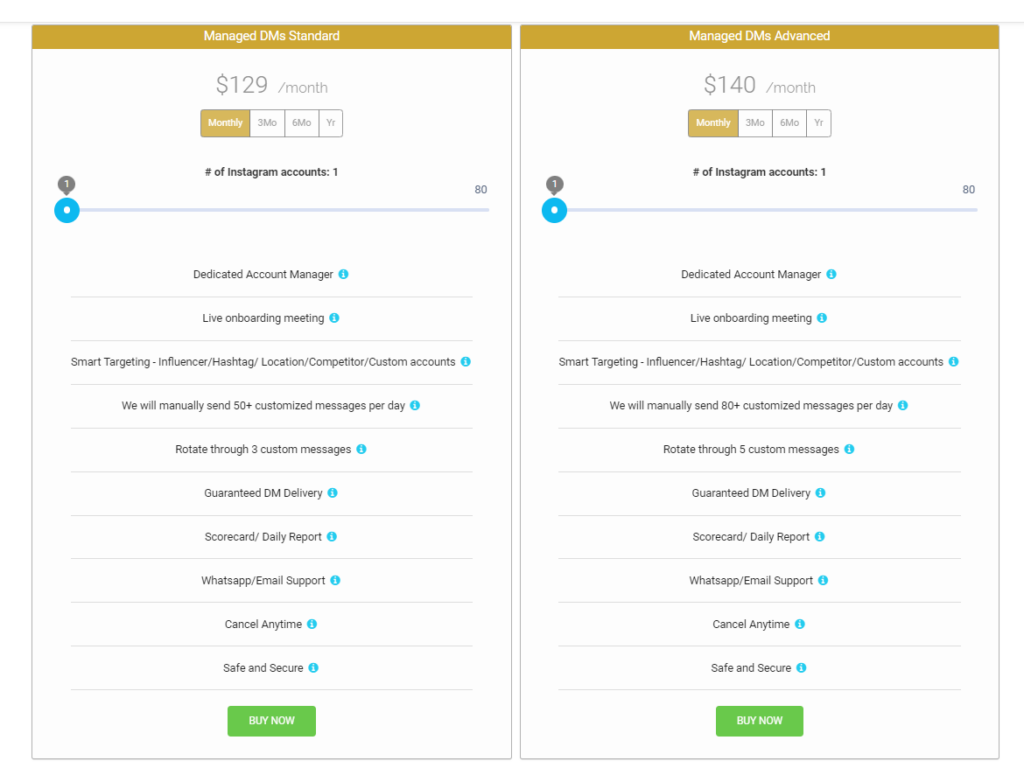 DMpro is a web-based tool, so you do not need to download any extra app to manage your DM strategy. All you have to do is go to the DMpro website and register with your email address to use all the helpful features.
# DMpro Core Features
Due to its strong focus on Instagram direct messages, DMPro ranks first on our list. Are you interested in exploring its key features?
Manual DM Marketing
Introducing DMpro, the ultimate solution to manual DM marketing. DMpro's dedicated account manager ensures customized messages are sent daily, ensuring the success of DM marketing campaigns.
They target your desired audience with a specific number of DMs, providing you with comprehensive daily reports.
Say goodbye to the risks of automated DMs that can lead to Instagram bans or suspensions. Trust DMpro for safe and effective Instagram message outreach.
Choose DMpro for personalized engagement, authentic connections, and unrivaled DM marketing success. We guarantee you will not regret choosing DMpro for your DM marketing campaigns.
Try DMpro Now
2. Powerful Targeting
It enables you to filter Instagram messages and grow your potential customers. You can DM your new followers, existing followers, IG users who use specific hashtags, or followers of similar or competitor accounts.
3. Bulk DMs
If you want to know how to mass dm on Instagram, DMpro is the right solution. This powerful Instagram bulk DM sender lets you send crafted DM messages to hundreds or even thousands of your contacts within minutes.
4. Instagram DM to Email
Using DMpro, it is possible to forward Instagram DMs to your email. This feature will enable you to receive and respond to your Instagram DMs from your Email inbox of choice (Gmail, Yahoo, Outlook, etc.)
5. Auto Response Instagram DMs
This DM tool is ideal for sending auto DMs to all your Instagram followers, managing your messages, and sending quick replies.
6. Instagram Direct Message Saver
DMpro allows you to access all messages without downloading them. Using DMpro, you will never lose your precious DMs, even if you don't use a DM saver for Instagram. In addition to saving Instagram messages and photos, it lets you save a DM video on Instagram in a minute.
With DMpro, you don't have to worry about accidentally deleted Instagram messages or naughty viruses that invade your DM inbox. DMpro helps you avoid such disasters in your career by allowing you to recover your Instagram messages.
7. Multi-Account Support
When you sign up and access your online dashboard, you can connect and manage multiple IG accounts simultaneously.
8. Create custom DM sheets
9. Link-in-bio Feature
With DMpro, you will have access to a link-in-bio tool to add as many links as you want to your Instagram profile.
10. Mass Delete All DMs
If your Instagram DM is flooded with unwanted messages and conversations, DMpro will help you delete multiple Instagram messages Instantly.
11. Compatible with All Devices
Access the tool from any device (desktop included) and use it to the fullest extent. Thanks to DMpro, you can access your Instagram DMs online from your desktop or mobile device.
12. DMpro Allows You to Read Instagram Messages without Being Seen
If you go to the inbox in your DMpro dashboard, you can mark your messages as unread.
13. 24/7 Full Customer Service.
Best Instagram DM Apps To Send Instagram Messages. Sign up and test all of these great features for real results!
2. IGdm
IGdm (sometimes written as IG: dm or IG DM) is the other effective automated Instagram DM tool available for you to use.
The good news is that IG DM direct message Instagram app has a 14-day trial account that lets you test the tool. You must pay €10 to maintain access to your account once the trial ends.
To use this DM app, you have to download the version compatible with your computer's operating system. Once you have installed it on your desktop, IGdm will ask you to log in to your Instagram.
Is IGDM safe to use? No. Since you need to download IGDM, there is a probability of losing your IG account because of hacking problems.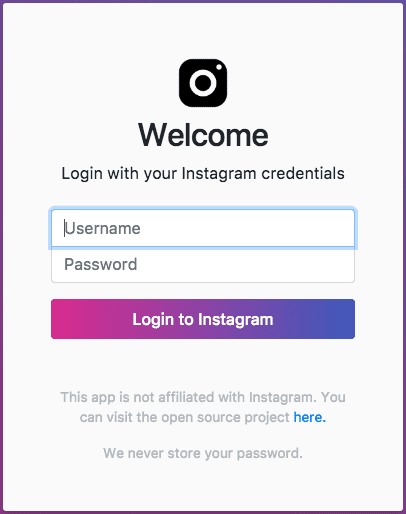 #IGdm Core Features
The service gives you access to multiple accounts.
It provides a dark theme and proxy support.
You can search for Instagram DMs from specific users.
It is possible to add emojis and pictures to your text
3. Inflact
The third best Instagram DM app on our list is inflact (previously known as Ingramer). However, there are some people who consider it to be very expensive. Also, some users have experienced losing their IG account because of using its bot services.
For your own peace of mind, it is crucial to approach this service with added caution and conduct thorough research into its risk system before diving in. Safeguard your Instagram DM experience by making informed decisions and ensuring a reliable and secure Instagram DM app.
Note: you can check out our full inflact review if you are interested in learning more information on this Instagram assistant tool.
# Inflact (Also known as Ingramer) Core Features
With Inflact (also previously known as Ingramer), you can send welcome Instagram messages to your new followers.
It split clients into categories.
It offers several paid packages to use the service according to your needs.
4. Instamber
Now, we'll look at the next Instagram messenger app called Instamber. Their Instagram direct messenger app allows users to send targeted auto-direct messages.
You can sign up for free, but you need to pay for a basic account to access its features. However, note that this Instagram DM app doesn't offer a link-in-bio tool or a refund guarantee. Additionally, based on customer testimonials, their features do not operate efficiently.
Moreover, many negative reviews concerning this platform criticize its lack of responsive customer service. Thus, you'd better read the Instamber complete review before investing any money in the company.
#Instamber Features
It enables you to send welcome messages.
You can send bulk DMs.
It is possible to create custom direct messages.
5. Instazood
Next, we have Instazood as one of the best Instagram DMs tools available. Like other DM apps, Instazoood aims to facilitate the DM game on Instagram. It offers a five-day free trial and a $12 monthly fee if you want to continue using it.
# Instazood Core Features
As one of the best Instagram mass DM bots, Instazood offers the following features:
Welcome DMs
Mass messaging
Custom DM messages
A list of sent messages
For more information, read our Instazood reviews before choosing the service.
6. Jarvee
Jarvee is a social media automation service that can improve your online presence on different platforms, including Instagram, Facebook, Twitter, Youtube, etc.
However, if you need an Instagram DM app for Android, Jarvee isn't an option since it's Windows-based. Moreover, it is an Instagram DM bot that can harm your account in many ways.
#Jarvee Core Features
As an Instagram DM app, Jarvee only enables you to manage your Instagram direct messages. So, If you are looking for a service that includes all the features and tools you could need in your DM marketing efforts, Jarvee is not the right tool for you.
So why not try something 100% Safe and packed with features? Go ahead and sign up for DMpro to test its unique features and guarantee your success.
7. Stim Social
Stim Social is an Instagram growth service that can help you get more followers. This platform also provides reports, analytics, and insights on your Instagram account.
Stim Social also offers automated Instagram DMs to its users. You can select your followers and send them pre-written messages in bulk with this tool.
# Stim Social Core Features
It works on TikTok.
It provides insights, reports, and many analytics to all users.
It offers a 5-day free trial.
8. Gramto
Gramto offers a variety of features, and Instagram DM is one of them. Gramto Instagram DM allows you to automate and customize your messages on Instagram. It offers different payment plans, starting at $10 per month.
# Gramto Core Features
You can send various Instagram welcome messages to your new followers.
This tool lets you present different Direct Messages to be sent to other users.
It allows you to schedule the DM for the right time.
9. Mobile Monkey
Among its many social media marketing tools, Mobile Monkey also offers InstaChamp, an Instagram DM app. This tool helps you with email marketing and allows you to send Instagram messages to those who have already shown interest and interacted with your content.
It offers a one-week free trial. However, it does not provide a range of pricing options to select. Additionally, while InstaChamp works best for those who have businesses and brands, it's not the best fit for personal use.
# Mobile Monkey Features
It lets you automatically send Instagram messages to users who mention you in their Instagram stories.
It helps you connect with IG users who have left comments under your posts.
You can send automatic replies to those who DM you on Instagram.
It enables you to collect phone numbers and emails for your email marketing.
10. BigBangram
BigBangram is an Instagram DM viewer and tracker that allows you to attract your target audience on Instagram, send automatic direct messages, and auto-replies to your followers. Nonetheless, the Instagram algorithm can detect it and ban your account for violating its terms of use.
You have to pay $1 to get its 3-day free trial, and after that, you have to pay up to $85 per month to send automated DMs.
# BigBangram Features
The following are some of the remarkable features of BigBangram:
1. Automated DMs.
2. Scheduling posting and scheduled comments.
11. Getinfame
The following Instagram DM automation app we want to introduce is Getinframe. This tool allows users to automate Instagram DMs from their PC or laptop. Sadly, there is no free plan to try out the service. To use Getinframe's Instagram DM tool, you need to pay $15 monthly, an expensive price compared to similar apps.
It does not have an official website, which raises red flags about its credibility.
# Getinfame Features
Message filters
Send mass DMs
Welcome messages
Customize your DM lists
12. Instavast
Instavast is another app for Instagram with DM that offers a 3-day free trial. However, if you continue using their tool longer, you have to pay $10 per month to only access the auto DM features on a single account.
# Instavast Key Features
Automated direct messages on Instagram.
Tracking comments on Instagram.
Buying Instagram likes and views
A short free trial and non-existent customer service are the main flaws of this service.
FAQs On Instagram Apps DM
Before closing this article, let's answer some frequently asked questions about Instagram direct messages. So, stay tuned for clear-cut answers to your questions on this topic!
Q1. What Is DM Message Meaning?
DM stands for Direct Message, which lets you directly communicate with your followers, turn Instagram followers into customers, make new leads, and establish bonds with them.
Q2. How to Do DM On Instagram Without the App?
Using the official Instagram app is the standard way to view and manage Instagram messages without using a third-party app.
To do this:
Log in to your Instagram account
On the top-right side of the upper menu, click on the mail icon.

3. Now, you can access your account's DMs.
Q3. How Can I Delete Instagram Messages from Both Sides?
Log in to your IG account.
Open the conversation from which you wish to delete a DM.
Then, press and hold the DM for a second until a box pops up on your phone.
Finally, choose 'Unsend Message' from the box that appears. Doing so will remove the Instagram message from both sides of the conversation.
Note: You can not select several Instagram chats and bulk-delete them altogether. However, there is a way to accomplish this: using a reliable IG messenger, such as DMpro.
Q4. How to Reply on Instagram?
If you wonder how to reply to a specific message on Instagram direct messages, follow the steps below:
Tap on the messenger icon and choose the message you would like to answer.
Then, swipe it to the right until it appears above the text input box.
Next, type your reply.
Finally, tap on 'Send.'
Q5. How Can I Recover My Accidently Deleted IG DMs?
DMpro can help you to recover your Instagram DMs. It is an effective Instagram message recovery tool to safely retrieve your valuable deleted Instagram messages.
Final Words on Best Instagram DM Apps to Send Instagram Messages
This article covered the 12 top Instagram DM apps you may consider using to generate network marketing leads and manage Instagram messages.
DMpro ranks first in the list above as it covers more valuable features and is compatible with Instagram's daily limits.
DMpro is a complete package that will meet all your needs for running successful DM marketing campaigns. From accurate targeting to managing multiple accounts, this app has much to offer.
When it comes to protecting users, Instagram takes no chances. Strict rules and vigilant monitoring combat suspicious and automated activities, ensuring a secure platform.
With DMpro, your Instagram DM marketing is in expert hands. Their experienced account managers navigate Instagram's daily rules and restrictions with precision.
So, say goodbye to the risks associated with automated software or bots. DMpro's manual DM marketing service guarantees zero tolerance for such practices, safeguarding your Instagram account.
Experience peace of mind knowing that your DMs are handled personally and safely, free from the pitfalls of apps DM. Trust DMpro for successful and compliant Instagram DMs that make a lasting impact.