Are you looking to grow your Instagram following and boost engagement using the Inflact bot? So, read this before every decision making!
In today's world, having a solid social media presence can be crucial for businesses and individuals alike. While there are many strategies for growing your Instagram following organically, it can be a time-consuming and challenging process.
This is where you may trust Inflact! – an online platform that offers social media marketing services specifically for Instagram.
With a range of tools and services available, Inflact claims to be one of the best Instagram growth services, enabling users to increase their Instagram followers, likes, comments, and engagement.
But is Inflact.com safe and worth the investment, and is it a legitimate way to grow your Instagram following? In this article, we'll look closely at Inflact and what it has to offer.
Inflact Review (What Users Say About It)
In accordance with the information presented on their website, Inflact (former Ingramer) operates as an automation service. They openly acknowledge their utilization of bots for various tasks, primarily aimed at boosting your follower count and social proof.
However, based on Inflact reviews left by users, it is apparent that this service exhibits several notable shortcomings:
Subpar Customer Support: Many users have reported encountering issues with Inflact's support team, describing their assistance as unsatisfactory.
Rapid Decline in Acquired Followers: A common concern raised by users is the swift drop in the number of followers they've purchased.
High Costs: Inflact's pricing structure has been criticized for being relatively expensive compared to similar services in the market.
Underdelivering on Promises: Users have noted instances where Inflact.com fails to deliver on their promises, including falling short of the specified follower count and service duration.
Inefficient Tools: Some of Infalct's tools, such as the profile downloader, have been deemed as lacking in functionality and efficiency.
These observations are derived from reviews posted on reputable platforms like Trustpilot and Sitejabber, collectively indicating that Inflact may not meet the expectations of all its users.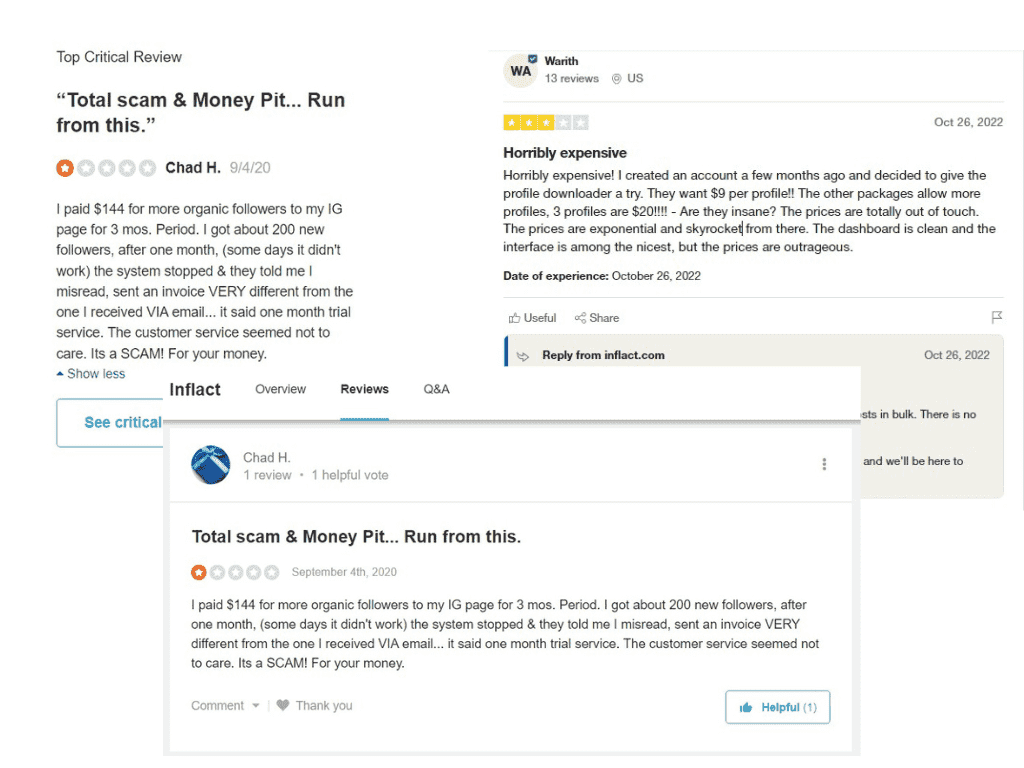 If you remain unconvinced and desire a more in-depth understanding of Infalct's Instagram and other social media services, read on for additional insights.
💥Note: AiGrow offers a comprehensive suite of Instagram growth solutions that excel in every aspect where Inflact falls short. With AiGrow, you can expect top-notch customer support, ensuring that your concerns are promptly addressed. Unlike Inflact's reported rapid follower drop-offs, AiGrow provides a more sustainable and organic growth approach, preserving the integrity of your follower base.
What Is Inflact
Inflact.com is a website that offers social media marketing tools and services for businesses and individuals. The website provides a suite of Instagram marketing tools such as an Instagram bot, post scheduling, analytics, and more.
In addition, the website offers services for other social media platforms such as Ticktock, Twitter, and Facebook. Users can manage multiple accounts and automate their social media activities to increase engagement rate and followers, and ultimately, drive more sales.
The website also offers various resources and guides to help users improve their social media presence and achieve their marketing goals.
Inflact Features
Inflact is an online service that provides a variety of features to help users grow their Instagram following and engagement. Some of its key features include:
1. Automation tools
Inflact offers a variety of automation tools that help users automate their Instagram engagement, such as auto-liking, auto-following, and auto-commenting. This can help users save time and increase their reach and engagement on the platform.
However, there are several potential drawbacks to using these tools, including:
Violating Instagram's terms of service: Instagram's terms of service prohibit the use of automation tools, and users who are caught using these tools can have their accounts suspended or even permanently banned.
Decreased engagement quality: While automation tools can help increase engagement, the engagement may not be as high-quality as engagement that comes from real, human interactions. This can lead to a decrease in overall engagement quality and make it harder to build genuine relationships with followers.
Risk of spamming: If not used properly, automation tools can result in spamming or flooding other users' Instagram feeds with irrelevant or unwanted content. This can lead to users unfollow or report the account, which can hurt overall growth and engagement.
Inauthentic growth: Last but not least, using Instagram automation software can lead to inauthentic growth, where followers are gained solely through automated interactions rather than genuine interest in the account's content. This can make it harder to build a loyal following and can hurt overall engagement in the long run.
Overall, while automation tools can be helpful in some cases, it's important to use them carefully and in moderation to avoid violating Instagram's terms of service and to maintain high-quality, engaged followers.
2. Analytics Tools:
The service offers many analytical tools like the Inflact profile analyzer to provide users with detailed analytics on their Instagram accounts.
The Inflact Profile Analyzer provides users with a comprehensive analysis of their Instagram account, including metrics such as engagement rate, follower growth, top hashtags and locations, the best time to post, and more. Users can also see detailed statistics on their followers, including demographics such as age, gender, and location.
In addition to these insights, Inflact Profile Analyzer also offers users suggestions on how to improve their Instagram performance. This includes tips on how to optimize their profile, increase engagement, and grow their following.
3. Content Creation Tools
One of the content creation tools offered by this company is the post scheduler. This tool allows users to schedule Instagram posts in advance, so they can plan out their content strategy and ensure a consistent posting schedule. The scheduler also includes a preview feature that allows users to see how their posts will look before they are published.
Another content creation tool is the "Post Designer" feature. This tool allows users to create eye-catching graphics for their social media posts, using a library of templates, images, and fonts. Users can customize these templates to match their branding and add their text and images to create unique and engaging content.
Finally, this Instagram growth service also offers a "Hashtag Generator" tool, which helps users find the best hashtags to use for their posts. Using the tool can help increase the visibility of the posts and attract more engagement.
4. Audience Targeting Tools
It appears that the website has recently added an audience targeting tool called "TargetAudience" to its suite of social media marketing tools. This tool allows users to find and analyze potential audiences on Instagram based on factors such as location, hashtags, interests, and competitors.
TargetAudience can help users get more followers and leads for their Instagram accounts and create more effective social media marketing campaigns. It can also help users analyze their existing followers to better understand their interests and behavior.
However, it's important to note that TargetAudience is a relatively new feature, and it may not be as robust or feature-rich as other audience-targeting tools available on the market. Additionally, like any audience targeting tool, it may not always provide completely targeted results.
Overall, while Infalct does offer an audience targeting tool, it's important to carefully evaluate its features and capabilities before deciding whether it's the right tool for your social media marketing strategy.
5. Inflact Instagram Viewer & Downloader
The Inflact Instagram Viewer is a tool that allows users to view and download Instagram content without logging in to the Instagram app. While the tool can be useful for quickly browsing Instagram content, there are several limitations and potential risks to using it.
Firstly, using an Instagram viewer tool like this can potentially violate Instagram's terms of service, which prohibit third-party apps from accessing Instagram content without permission.
Secondly, Its Instagram Viewer may not provide the same level of functionality and features as the Instagram app itself. Users may not be able to access certain features, such as posting, commenting, or Instagram direct messaging, which could limit their ability to engage with other Instagram users.
Finally, the Inflact downloader or web viewer tool may provide a different level of security and privacy than the Instagram app.
Related Resource: Instalooker Review; Does This Private Instagram Viewer Work?
Inflact Reviews: What Are Their Real Customers Saying?
Based on the Trustpilot reviews of Inflact, it seems that opinions about the service are mixed.
Positive reviews praised the service for its ease of use, and effectiveness in increasing Instagram engagement. Some users reported seeing significant growth in their follower count and engagement after using this Instagram growth tool.
Negative reviews cited issues such as technical glitches, delayed customer support, unreasonably high costs, and concerns about the safety of the service's automation features. Additionally, some users did not like the results they received from Inflact.
For example, check out this Inflact review:
Moreover, many people have used the Inflact Instagram growth service but ended up having their accounts banned. Many have encountered such terrible experiences, including Billel Taleb:
Automated Instagram growth services like Inflact violate Instagram's terms of service and may attract spam accounts and fake followers. By using such services, users give up control over their accounts to an outside company and risk harming their credibility and reputation on Instagram.
Furthermore, while such automated services like Inflact may help users gain more followers quickly, they may harm engagement rates and attract followers who are not genuinely interested in the user's content. Therefore, it's important to consider the potential risks and drawbacks of using automated Instagram growth services before deciding whether or not to use them.
Inflact Pricing
Inflact offers several pricing plans for its various services, including:
Instagram Bot – Monthly Subscription:
Basic Plan
Standard Plan
Pro Plan
Instagram Hashtag Generator:
Instagram Comment Tracker:
Free Plan – Access to limited features
Standard Plan
Instagram Downloader:
Free Plan – Access to limited features
Standard Plan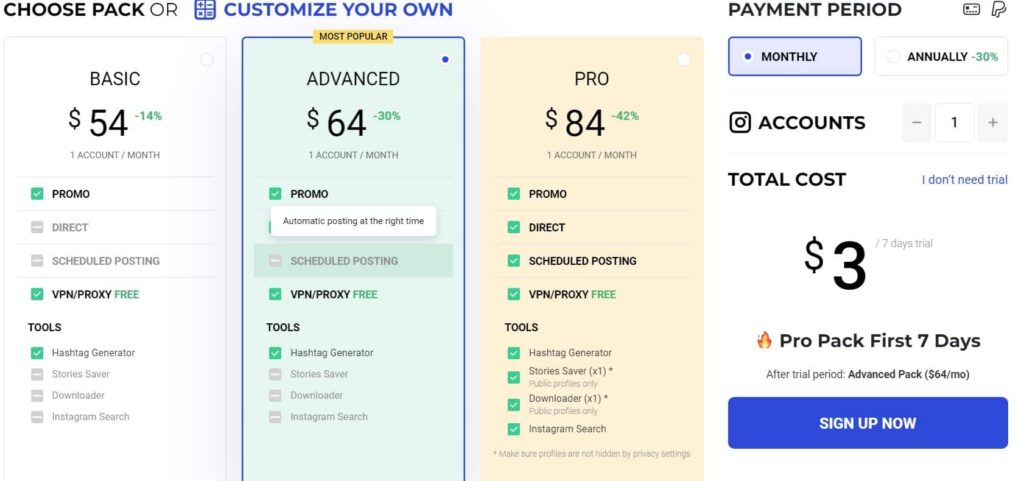 Note that the prices listed above are subject to change, so we highly recommend checking the Inflact website for the latest pricing information.
Inflact Pros & Cons
In this section, we'll review some of the pros and cons of using the Inflact Instagram marketing toolkit. So, let's start with the pros first:
Pros
Easy to use: Inflact is designed to be user-friendly and doesn't require any prior knowledge or experience with social media marketing.
It is fairly affordable
Supposedly, they provide round-the-clock customer support through a live chat function.
Cons
Risk of account suspension: Using automation tools like Inflact can violate Instagram's terms of service, and may lead to your account being shadowbanned.
Limited targeting options: Inflact's targeting options are limited to basic criteria like hashtags, location, and followers of other accounts.
No free trial: Inflact doesn't offer a free trial, so users will need to pay upfront to try out the tool.
Limited customization options: Inflact's automation settings are pre-set and cannot be customized beyond the available options.
Limited human engagement: Inflact's automated engagement features (such as auto-replies and auto-DMs) may not be as effective as human engagement in building genuine relationships with followers.
Potential loss of authenticity: Inflact's automation features can lead to a loss of authenticity in the engagement between businesses and their followers, which could ultimately damage the brand's reputation.
Risk of follow/unfollow strategy: Inflact's follow/unfollow strategy, which involves following large numbers of users and then unfollowing them after a certain time, can be perceived as spammy and may result in a decrease in followers rather than an increase.
Limited control over engagement: Inflact's automation features may engage with accounts that are not relevant or valuable to the business, which can waste time and resources.
AiGrow: The Best Alternative for Inflact Instagram Growth service
Both AiGrow and Inflact offer Instagram growth services, but they have different approaches and features. AiGrow focuses on growing your followers organically through its professional account managers, while Inflact offers bot-like automation services such as auto-follow and auto-like.
An advantage of AiGrow is that it emphasizes personalized, human-driven growth strategies. For example, the service offers a dedicated account manager who can create a customized growth plan for your account and provide ongoing support and feedback. Additionally, AiGrow offers a variety of helpful features such as scheduled posting, analytics, and content creation tools that can help you create and share high-quality content that resonates with your target audience.
AiGrow is also dedicated to complying with Instagram's terms of service and its daily limits. It emphasizes organic growth strategies that are unlikely to trigger Instagram's spam filters or lead to account bans or suspensions. In contrast, Inflact's automation features may be riskier from a compliance perspective and could potentially result in account issues if used improperly.
Do You Want a Steady Flow of Organic Followers to Help Grow Your Instagram Account Safely? 
How Does AiGrow Work
AiGrow utilizes advanced AI technology and professional human resources to bring real and engaged followers to your Instagram page.
Upon registration, you will be directed to your account dashboard where you can choose a package that suits your needs.
Next, you will be asked to specify your targeting options such as niche, location, hashtags, or influencer accounts, and you can also choose the speed at which AiGrow will take action on your behalf.
Then, AiGrow's AI-powered engine will then generate a list of organic Instagram followers based on your preferences, eliminating the risk of bots, spam, or fake followers.
Also, if you opt for the AiGrow Pro-Managed plan, a dedicated account manager will be assigned to help you acquire more followers and generate more likes and comments. In case of any questions or concerns, you can reach out to AiGrow's customer support via email at support@aigrow.me at any time.
Conclusion
In this Inflact review, we discussed this social media marketing tool and its features. As we mentioned before, Inflact aims to help users grow their Instagram following and engagement, including automation tools, analytics tools, content creation tools, and audience targeting tools.
However, Inflact's services come with potential drawbacks, particularly for the use of automation tools which can violate Instagram's policies. That can finally result in your IG account being suspended or even banned.
That is why we introduced you to AiGrow, an organic Instagram growth service that will grow your Instagram account organically and safely.
Give AiGrow a try now and get guaranteed results.
FAQs
Q1. What Is the Difference between Inflact and Ingramer Instagram Growth Services?
Inflact and Ingramer are the same company. To be more precise, the company rebranded from Ingramer to Inflact. Accordingly, Inflact offers the same features and services as Ingramer, with some additional improvements and updates.
Q2. What Is the Procedure for Canceling an Inflact Subscription?
To cancel an Inflact subscription, please follow these steps:
Log in to your Inflact account on their website.
Click on your profile icon in the upper right-hand corner of the page.
Select "Subscription" from the drop-down menu.
Click on the "Cancel Subscription" button at the bottom of the page.
Follow the prompts to complete the cancellation process.
You will still be able to access the service until the end of your current billing cycle if you cancel your subscription before then. Also, Inflact does not offer refunds for unused portions of subscriptions.
If you have any issues or questions about canceling your Inflact subscription, you can contact their customer support team through their website or by email at support@inflact.com.
Q2. Does Infalct Offer a Free Trial?
Regrettably, Inflact lacks a free trial option, requiring you to independently configure their features. This can be somewhat intimidating, particularly if you are a newcomer to the realm of Instagram growth and automation.