Are you a manager wondering which social media marketing tools to use? Have you longed to find a reliable SMM app to count on? Then, hold your horse and study this article to make the best choice.
For busy marketers and managers, nothing like powerful social media marketing tools will rescue them by creating, editing, and planning their massive content load. After making all these efforts, the real competition will start, which is growing your account there. It is challenging to identify the best social media management tools that fit your demands and interests. But, when you discover them, never let them go.
In this blog, we have gathered a complete list of 15 social media marketing tools used by professionals to facilitate your activities on social media.
So let's dive in.
#1 Social Media Monitoring Tools
There are countless social media monitoring tools on the market, and you may doubt picking one. Here, you will read about some useful social media monitoring tools for marketers and managers.
1- AiSchedul
AiSchedul is an Instagram monitoring tool with various features that can boost brand reach. Indeed, it is the best Instagram monitoring tool that provides its users with Instagram hashtag monitoring and Account monitoring features. In addition, its unique monitoring feature embeds listening tools in itself.

AiSchedul Instagram Hashtag Monitoring
AiSchedul Hashtag monitoring feature lets you discover the most trendy hashtags of a specific subject daily.
Also, you can tag the creator of the post and even schedule it for the future. Moreover, you can run a storm of a customized hashtag relating to your niche and ask your Instagram followers to participate in the contest. It actually allows you to monitor competitions.
AiSchedul Instagram Account Monitoring
Account monitoring lets you pick several accounts and be notified of their activities. Then, you can repost and schedule their posts and stories. On the other hand, it provides you with a list of accounts that mentioned you to help you quickly publish them as your feed or story instantly.
3- Hunter
Hunter is a social media tool for businesses that helps you discover and verify email addresses by inserting the people's names and companies. Indeed, it is a free social media tool that you can use for up to 100 25 email searches and 50 email verifications. After that, paid plans start at $49/month for 1,000 requests/month.
3- Twitter Counter
Twitter Counter is a tool that lets you track millions of Twitter users and stats. It enables you to add some buttons to blogs, websites, and social media profiles to display their followers' numbers and the latest Twitter visitors. You can also see retweets, mentions, and former data. Moreover, you can add multiple accounts to keep track of them together. Then, you can make custom reports and charts and download .pdf reports.
4- Simply Measured
Simply Measured keeps track of several metrics on social media. It is a paid platform that lets you collect data and analyze earned, owned, and paid activity. However, it provides you the free version to create Facebook, Instagram, and Twitter reports. Therefore, you can receive insights on competitor fan pages, Facebook content, customer service metrics, and trends.
5- Social Status
Social Status is a specialized social media analytics tool for analyzing social media performance and generating automated social media reports.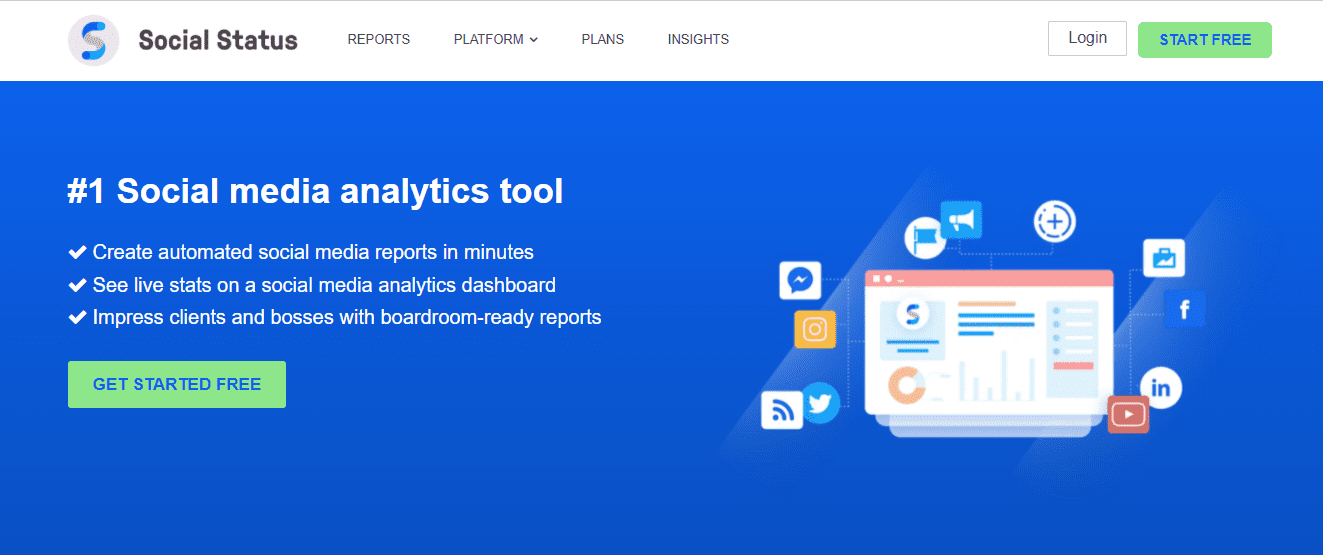 Used by over 10,000 digital agencies and brands to report on Facebook, Twitter, Instagram, YouTube, and LinkedIn. Social Status also includes ads analytics for paid social campaigns, competitor analysis for benchmarking performance, and influencer analytics for tracking influencer marketing campaigns.
#2 Social Media Tools for Account Growth
Social media marketing is a vast competitive battleground that if you want to stand out, you need top social media tools to skyrocket your growth. In the following, you will get to know some social media optimization tools.
1- AiGrow
AiGrow is an Instagram growth management service that helps you grow followers organically. Instagram is the best platform to raise your online business and turn followers into loyal customers. For social growth on Instagram, you need a dedicated account manager like AiGrow grants you. Therefore, it helps you get 100 followers on Instagram in one day. The good news is that it is an Instagram growth tool with a free trial that lets you test and finally make up your mind to pay for it.
In a nutshell, it is a tool that a growing social media team can bank upon.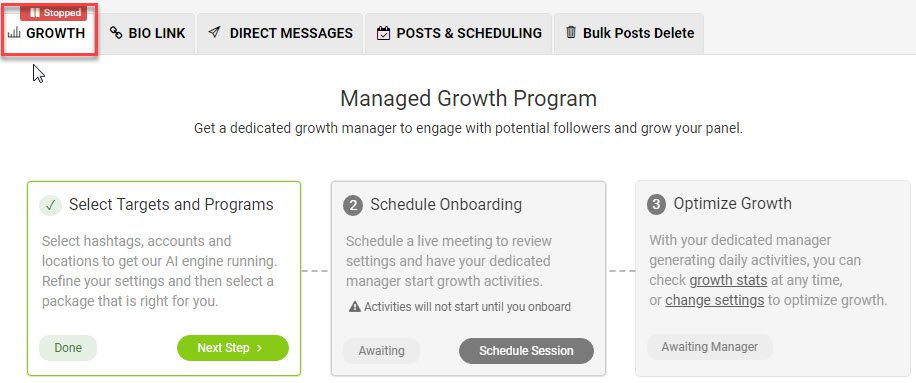 2- Growth Tools
Growth Tools is an SMM tool for LinkedIn that creates a marketing system that works every time. As a result, it solves the marketing and sales barriers that cause many businesses to fail or never stand out. Actually, its first mission is to help clients scale their market and grow their revenue by $100 million yearly with the help of our suite of free marketing tools.

3- Ingramer
Ingramer is an Instagram Growth bot that lets you automatically follow, unfollow, like, and view Instagram stories. But it does all these actions utilizing a bot, not an Instagram account manager. So you may exceed the Instagram daily limits. But, on the other hand, you have to pay separately for each feature and service.
#3 Social Media Tools for Content Scheduling
Next, it's time to introduce some of the best scheduling platforms that help thousands of businesses, agencies, and individuals to plan and publish their content in the best manner.
1- AiSchedul
AiSchedul is a free Instagram scheduler app and a helpful assistant for busy managers. It integrates DM management tools, growth services, and an all-in-one bio link tool that all help you boost engagement.
Add your accounts (up to 80) to your single dashboard.

Tap 'Manage Account.'

Now, select the POSTS & SCHEDULING' and 'SCHEDULER' tab.

Click 'Schedule' and pick 'Feed,' 'Story,' or 'IGTV.'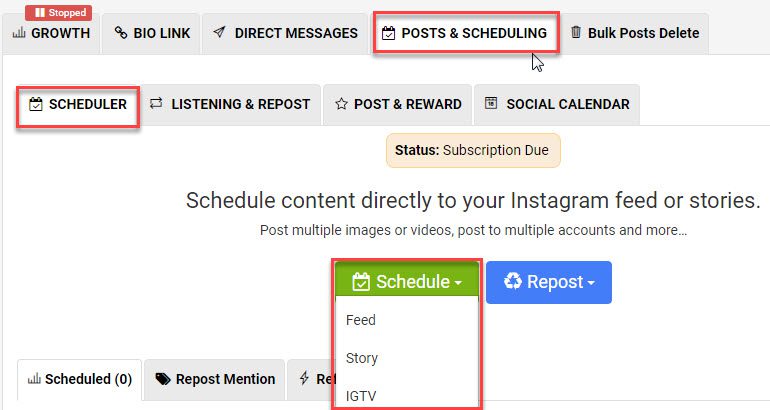 Upload your content

Then, click on 'Save.'

You can decide to 'Post Now' or schedule the dates and choose 'Post in future.'

Then, press 'Submit.'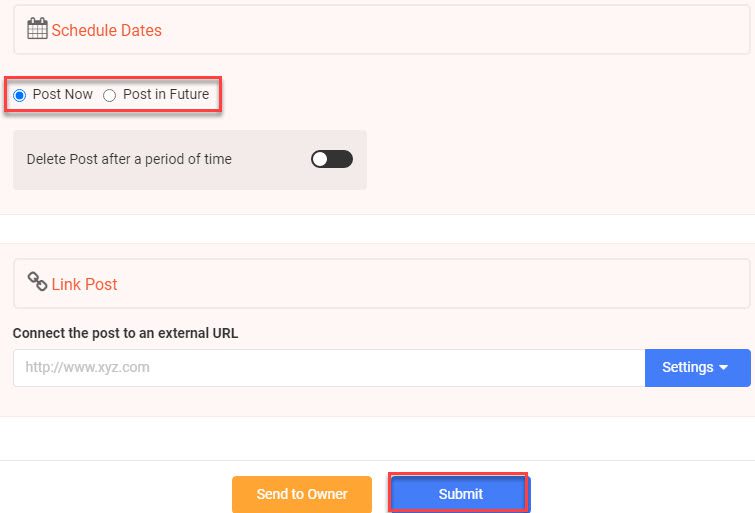 AiSchedul is one of the precise social media sharing tools for Instagram that performs all the tasks manually according to the Instagram algorithm helping you get real followers and likes manually.
2- Buffer
Buffer started as a scheduling tool for Twitter. It supports all the major social media platforms, including Facebook, Instagram, Pinterest, Linked In. In addition, it lets you use the chrome extension to add content from the web to your Buffer file or share content online.
Also, you can upload custom photos and videos and schedule them instantly. Then it is possible to reply to posts within Buffer.
#4 Social Media Tools for Direct Messaging
DM tools are an essential social media tool for businesses that impact brand credibility instantly.
1- DMpro
DMpro is a free social media marketing that lets you send and receive bulk DMs on Instagram. It also enables you to forward Instagram messages to email and instantly respond to them from email and mark it unread.
Select 'Manage Account'

Next, click on the 'Direct Messages' and 'DM to Email' tabs.

Then, confirm your email address.

Now, you'll receive all the DMs in your email.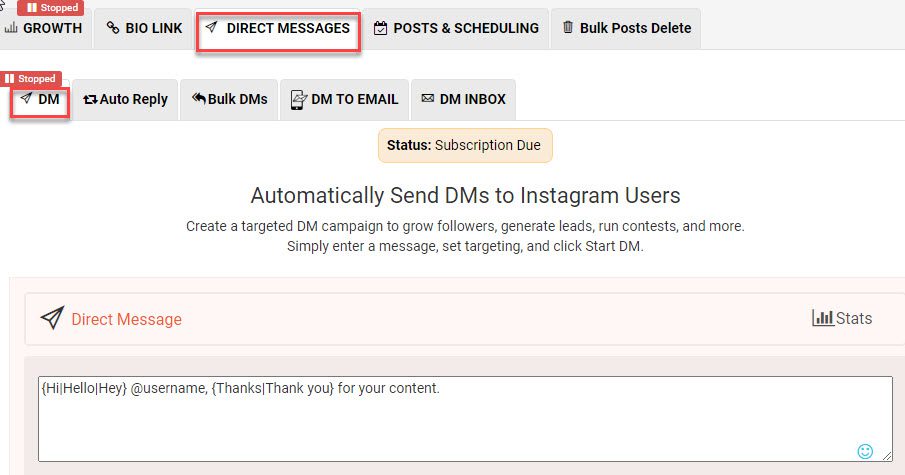 2- IG: DM
IG: DM is a free social media marketing app for desktop users that will give you the ability to access all your IG messages easily. Firstly, you need to download and install the app on your PC. Then, the app helps you send automated DMs, including images and emojis. Also, you'll have access to a list of all the users who don't follow you back.
#5 Social Media Tools for Lead Generation
When it comes to social media marketing platforms, you surely need lead generation software, too. Here, you will read about some recommended lead generation tools that personalize email campaigns, track and automate email follow-ups, and more.
1- OptinMonster
OptinMonster is a social media optimization tool and a lead generation for bloggers, marketing agencies, and small businesses. Also, it's effective at growing your email list by converting audiences into subscribers using popups, scroll boxes, and welcome mats. So if you're up to promoting your business, then OptinMonster might be a good choice.
Indeed, OptinMonster is a powerful optimization tool that lets you generate leads and enhance revenue by displaying personalized messages based on user's behavior.
#6 Social Media Analytical Tools
Finding the proper data analytical tool is a hard nut to crack. To assist you in deciding which data analysis tool best fits your organization, keep reading.
1- AiSchedul
AiSchedul is a multi-tasking SMM app that grants users detailed Instagram audits for free. You may get surprised, but it integrates social media scheduling with analytics. Therefore, using this app, you can supremely analyze your posts, profile, and engagement. In this case, you only need to click here and enter the username you want to check.
Now, you'll observe a comprehensive analysis of your profile.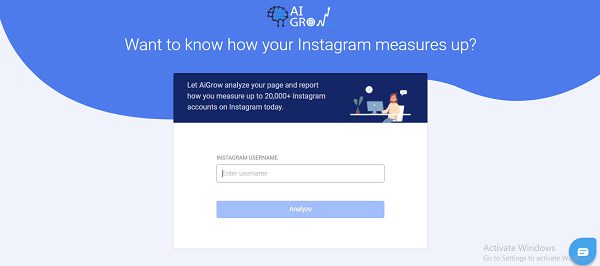 2- AdEspresso
AdEspresso is one of the social media campaign tools that provide real-time analysis of Instagram, Facebook, and Google ads. It takes the guesswork out of how your ads resonate with your audiences by targeting details and campaign names.
Also, you can design and run ads for all three platforms together. Besides, you can regularly test images and headlines till you find the perfect combination. Then, you can use a customizable dashboard that lets you observe the most critical metrics instantly. So you'll end up with always-on campaigns that will monitor your Facebook Pages.
#7 Social Media Tools for Content Creation
If you crave becoming a successful Instagram content creator, you need a handy tool to make them. So now, let's see the SMM tools that help you build solid content.
1- Clipchamp
Clipchamp is an SMM tool and online video editor that empowers users to tell stories through video. Over 14 million people use Clipchamp to edit videos for corporate, educational, and creative projects quickly. Its editor provides users with professional features like trimming, effective online screen recording, and unique effects.
Plus, you can export your videos in various resolutions and aspect ratios for social media platforms.

2- Canva
Canva is a handy tool for content creators that lets you post text on Instagram. It has a free social media marketing plan, including various options that fulfill your needs. Besides numerous templates, pictures, and quality content to pick from, get a headstart on making your best ideas and work to live. Also, you can join people to edit with you or set your whole team up in Canva Pro to manage brand assets, leave comments, get approvals, and scale your visual content.
3- Biteable

Biteable is one of the social network tools out there with 1000 templates. This SMM tool lets you create any video that you necessitate for your content. Also, now they can change the format to make the best possible video for your blog or website.
So, pick from thousands of images and videos to make your best one.
When you enter it, you'll face stock footage and effects to edit your great templates at a glance. Moreover, it has a massive library of animation, movie, and scene templates ready to use.
4- PhotoADKing
PhotoADKing is a graphic design software tool that lets individual marketers, freelancers, creators, and small businesses design anything from social media posts to printing materials. PhotoADKing has a huge library of premade posters, brochures, business cards, logos, YouTube thumbnail, and flyer templates among others. On top of it, it also offers short marketing video templates for businesses to promote their brand on a different channel.
PhotoADking has 10000+ templates to choose from and an editors tool to customize them as per the need. You can create any design in just a few clicks, and save them to share across any media or download to make a print of it.
The Wrap
Now with the above information, you'll be able to take all your social media accounts like Facebook, TikTok, Instagram, and YouTube to an entirely new level. Also, your digital marketing can become extremely easy when you use powerful social media marketing tools.