Nowadays, Instagram is one of the most favourite social media among users. However, this popularity makes users and business marketers try to be more visible on the platform. In this case, most of them think about increasing their followers and accordingly their reach rate. As a business marketer, you might think of using robots to promote your page and grow your followers, but the question is, Are Instagram bots illegal to use? What are the solutions?
Here you will read about the best solutions existing in this area, so don't miss it.
What is an Instagram Bot
Instagram bots are the tools designed to help users perform tasks, such as sending direct messages, publishing scheduled posts and stories, following different accounts, liking, and commenting automatically, which users do daily, but it takes much time for them.
If your concern is "are Instagram bots illegal?" you need to know its pros and cons, mentioned in the following.
Why Do Users Prefer an Instagram Bot
A good Instagram bot can be an excellent assistant for business marketers who want to grow their brand but too busy and don't have time to manage their accounts. Therefore, Instagram bots might be the best solution to grow your followers and get instant results. The best thing about Instagram bots is that they are automated and fast and practically can Like as many posts as Instagram lets you daily. Manually performing all these tasks might waste a lot of time. As an entrepreneur, you might like to save time and get an Instagram bot but need to make sure that are bots illegal on Instagram or not?
Features of Instagram Bots
Auto-Follow

Follow-Back

Unfollow

Auto-Like

Auto-Comment

Delete

Posts
Are Instagram Bots Illegal to Use
The answer is No. Instagram is a competitive platform. Therefore, it could be tempting to use bots to gain more followers; Instagram bots indeed help you get more followers and likes, but they will never establish a genuine communication with your audience. Apart from all the Bots' benefits, they may violate Instagram rules and terms of use. Consequently, that may cause the page to be banned and deactivated. Therefore, utilizing Instagram bots includes some risks, and it's better to avoid this practice.
Instagram recently updated its algorithm, and the droves are deactivating many of your fake followers. If you've noticed your Instagram engagement is down, this could mean that you are losing followers that added no value to your business. 
One of the main problems of Instagram bots is that when it unfollows or removes a massive amount of inactive Instagram followers too fast, Instagram will find out you are using a bot and will action block your account. 
Another problem with using robots is that they may put wrong and irrelevant comments on different posts, which sometimes may seem offensive; for instance, it may place ads below a funeral post! 
It is your choice to choose which Instagram Bot is perfect for you, but obviously, the best way to get instant followers is Grow Followers on Instagram Organically. In a nutshell, Instagram bots might increase your followers' numbers but definitely, your engagement rate decrease gradually.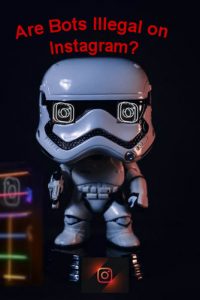 Best and Complete Social Media Management 
To avoid the hazards of Instagram bots, why not getting a dedicated account manager to engage with potential followers and grow your panel?
AiGrow will be optimized according to the Instagram algorithm; therefore, there is no fear of getting banned or action blocked. Moreover, you'll gain precisely the kind of new follower you want for your page. Above all, you will find your inactive Instagram followers and replace them with fresh followers by the latest organic growth techniques on Instagram. Indeed, you will do it almost as quickly as you would if you purchased them.
This app is so confident in AI targeting and team, and it guarantees new followers each month. Its AI algorithm will find the most suitable Instagram users based on hashtags, popular accounts, and even locations.
With AiGrow, You Can Target Instagram Users Based on
hashtags they use

competitors they follow

where they're located

custom lists of usernames

whether or not they're public or private

whether you have already followed (and then unfollowed) in the past or not
You also don't have to worry about engaging with irrelevant or risky pages as you have complete control over the types of users you interact with. At no point will it perform any action from your Instagram account without your permission.
This app unfollows any person you follow but doesn't follow you back within a certain amount of time to keep your follower/following ratio looking natural. In addition to generating new followers, it also gives you complete control of your Instagram DM inbox from your desktop's convenience.
It also gives you free access to over 100 engagement groups, which you can use to get more Likes and comments on every new post, you upload to Instagram. Hence, All you have to do to receive your engagement groups' engagement is a post to Instagram using its free desktop scheduler. 
AiGrow Features Available For Users
Automated Likes, comments follow unfollows,

and

DMs.

Ability to target users based on hashtag use, location, and competitor connection 

sending DMs, respond to DMs, and manage your DM inbox all from your desktop

Content scheduler to schedule your posts for days, weeks, and months ahead (all from your desktop)

Daily safeguards for all actions (Likes, comments, follows, DMs, etc.) to help prevent your account from being flagged

Free access to over 100 engagement groups

Customizable comments

Automated comment responding

Customizable DMs

Alternating tags for comments and DMs (Hey/Hello/Hi/What's up…, Etc.)

Daily safeguards to help prevent your account from being flagged

Free one-on-one appointments to help get your account properly set up.

In-app analytics

Automatic email notifications in the rare case you encounter an issue with our service (and a proposed solution to the point)
Final Words on Are Instagram Bots Illegal to Use? What Are the Solutions
As utilizing Instagram bots puts your page and account in danger, it is better to avoid this practice. AiGrow works on any operating system. It doesn't require any download and will continue to run even if you shut your computer off. Furthermore, It's much cheaper than hiring a dedicated social media manager. This app also provides analytics detailing how many Likes, Followers, and DMs you perform every day, as well as how many followers you gain every day.