If you are managing a business account on Instagram and have thousands of followers and customers, you are definitely overloaded with Instagram direct messages. Most of the time, Instagram users complain about the late responses they get from brand accounts. On the other hand, business managers feel guilty about not being able to give a quick reply to their customers and make them satisfied. So, sending an Instagram auto-reply will definitely help you tackle this problem.
Actually, there are lots of DM automation tools and services that'll help you send an Instagram auto message as soon as you get a message. But not all of them are good choices. In the following, I'll talk about one of the best message automation tools and teach you how to instant message on Instagram. So, stay tuned!
You May Also Like: 
#1 In-App Auto Reply: Instant Message on Instagram
In the latest Instagram updates, a new feature was launched for Instagram business accounts. Right now, all Instagram users who have a business account, not a professional one, are able to send instant messages on Instagram. To be honest, this is not an auto-responder and doesn't help you send an auto-reply on Instagram. But at least it helps you send a quick reply to your potential customer. So, let's see how it works! 
How to Set Up Instagram Quick Replies? 
To set up an Instagram auto-reply and send instant messages, first, make sure to turn your account into a business one. Then, just follow these simple steps: 
Open the Instagram settings and go to the

business

section. 

Here, tap on

Saved Replies

. 

Now, tap on

New Saved Reply.

On the following page, enter your message and write a keyboard in the shortcut part. 

That's it! You have successfully saved an instant reply and you can always add more quick replies following the same path. Now, let's see how can you send quick replies to your messages. 
How to Instant Message on Instagram?
Now that you have successfully saved all your frequently used Instagram messages, you just have to send them to followers that want those pieces of information. To do so, when you receive a message, tap on the plus button right next to the message box. Here, you'll see some new buttons. By tapping on the text message button, you will be able to see and send your quick replies.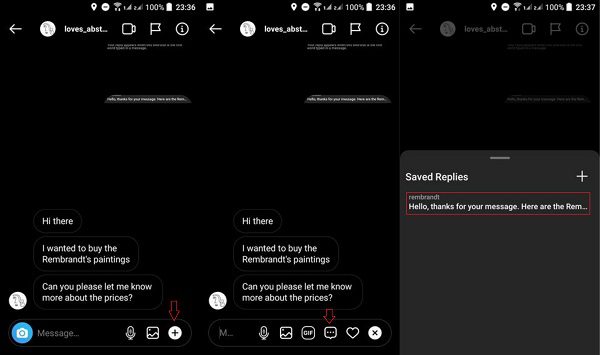 Additionally, if you have saved multiple messages in this part and want to send your replies much faster, you can just type the shortcut you set for each message and then send it to your customer.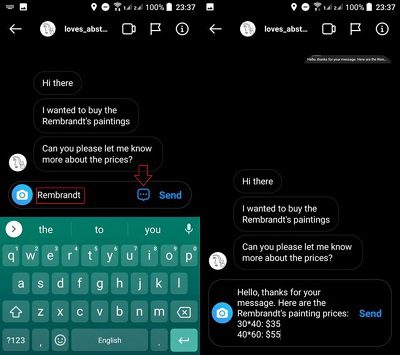 That's all! It's really easy and helps you build trust for your Instagram brand. But it still isn't an Instagram auto-reply! So, keep on reading to find a better way! 
#2 AiGrow: Send Instagram Auto Replies 
As you saw in the previous section, using the official Instagram app you cannot send an auto-reply to people who send you messages. Additionally, the quick reply feature is just available for business accounts. So, how can you set Instagram auto messages and reply to your DMs as fast as possible? 
Well, I suggest you try AiGrow, an all-in-one Instagram management service with a complete package of features and services. AiGrow has a "Direct Message" service by which you are able to: 
Mass DM all your Instagram followers, 

Send automatic messages, 

Connect your Instagram DM box to your email, 

Monitor your Instagram messages, 
And much more than this. But apart from all these fascinating features, it has an auto-reply feature by which you can reply to your messages automatically, even when your device is not connected to the internet. But how? Easy! Just follow these steps: 
First, sign up for free on AiGrow and then, add your Instagram accounts. 

Now, under the "Direct Messages" tab, click on the "Auto-Reply" icon. 

Here, you have to write down your message and click on the "Start Auto Reply" button.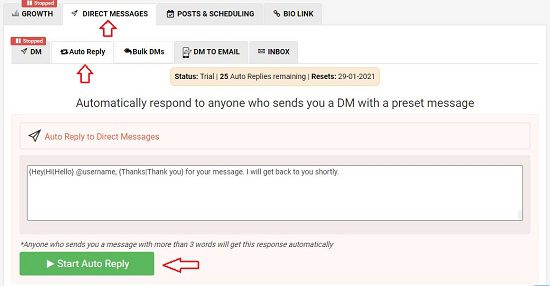 Done! As you can see in the picture above, whenever you receive a message with more than 3 words, AiGrow replies to the message automatically. 
Additionally, by using "@username" in your message, you will perfectly personalize your DM replies. So, check it out right now and give it a try for free!
Bottom Line
To wrap it up, managing a brand account on Instagram needs you to be really patient and spend all your time on your account. One of the biggest problems of business managers on Instagram is that they don't have enough time to reply to all the messages one by one and this results in lower conversion rate, engagement rate, and also fewer sales. To solve this problem, we suggest you set and Instagram auto-reply and send it through using an auto-responder.
Moreover, if you are looking for instant results, I suggest you combine both methods explained here; set your instant replies on Instagram, and use an auto-responder. This way, as soon as someone sends you a DM, they'll get a message letting them know that you will reply to them ASAP. Then, you can go back to your messages and simply tap on your instant response and send it through! So, read both methods carefully and use them for more revenues.