Note: Don't have time to read the article? Click here to use the best Instagram automation software right now!
Confused about where to start to build a brand on Instagram and become successful? No worries! We all have been in that place for some time and now, I am here to help you find a way to get rid of some of your tasks and automate the process of growing on Instagram to get instant results.
Actually, there are different types of Instagram automation software, some helping you get likes and followers, and some others allow you to automate your Instagram posts. No matter what kind of automation software you need, this article helps you come up with the best choices and pick a trusted platform to reduce your workload. So, stick around. 
You May Also Like: 
1- AiGrow: an All-in-One and Free Instagram Automation Software
When we talk about Instagram automation software, we usually think of an Instagram bot that brings low-quality followers and ends up being shadowbanned because of exceeding Instagram's daily limits. But the point is that some of these automation tools are more of a management service that helps you gain followers organically and boost your engagement rate rather than just increasing the number of followers. 


AiGrow is one of the growth services that satisfy this condition. Using AiGrow, you get an all-in-one package of tools and services that must belong to your toolkit. Provided with the opportunity to hire a dedicated Instagram account manager and use automated tools such as: 
Instagram posts and stories scheduler,

Real and automated growth,

Listening and monitoring tools, 

Automated and bulk DM sender, 

Mass-unfollow services, 
And an all-in-one bio link tool, you have all you want from an Instagram automation software. So, read the complete AiGrow review, learn about all its features and services, and sign up for free right now. 
Read More: Is It Legal To Buy An Instagram Account With 100K Followers? +Alternatives
2- Famoid: Automated Followers for Instagram
If you are one of those marketers that only care about your followers to following ratio and don't think that your engagement rate has a more important role in your growth, then you need to try and Instagram automation software to get automated followers. 
One of the most popular automated followers apps that you can use is Famoid. Actually, Famoid offers you instant and quick followers, likes, and even Instagram views. However, such services are not recommended by our expert Instagram marketers. This is because after using these automation tools, all you get is inactive followers. So, instead of using these Instagram bots or buying an account with lots of followers, try a growth service to attract your target audiences and hit your Instagram goals. 
Keep Reading: Top 10 Instagram Followers App to Find & Get Real Followers
3- Turbo Likes for Instagram: Get Automatic Instagram Likes
As a professional Instagram marketer, you obviously know that likes and comments play a pivotal role in boosting your engagement rate, increasing your visibility, and getting more followers and customers. 
Turbo Likes for Instagram is an Instagram automation service helping you get automatic likes on Instagram for your old posts or even the posts you just have published. By the way, if you are looking for a way to get real Instagram likes, I suggest you watch the following video: 
Also Read: 4 Instagram Likes Apps to Get Real Likes: Free & Guaranteed
4- AiSchedul: Automate Instagram Posts
Whenever we talk about marketing strategies on social media platforms, posting at the best time possible is always being mentioned as one of the key strategies. By the way, it's not easy to always remember the best time to post and share your posts at the right moment. In this regard, it's better to schedule and automate Instagram posts and stories.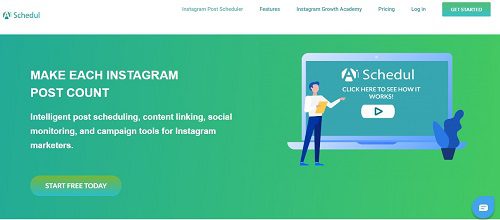 One of the best Instagram schedulers you can use is AiSchedul, which enables you to: 
Track and monitor your Instagram activities, 

Search for multiple hashtags, 

Repost content on Instagram, 

Save Instagram drafts, 
And also schedule IGTV videos, even from a PC. Luckily, this automation software is totally free. So, check out the complete review here and sign up for free to automate your posts.
5- Ingramer: Send Automated Instagram DM
An Instagram automation software that we all need to use for building a better relationship with our customers is an automated Instagram DM tool. Ingramer is an Instagram bot that helios you send automated messages; however, we don't recommend using this bot at all. 
The reason is somehow clear: it is a bot, sends bulk messages in a really short time, and results in getting banned by Instagram. Instead, you'd better pick an Instagram DM tool that is trained by the Instagram algorithm and keeps your account safe and secure, even by sending bulk messages! 
Continue Reading: 9 Ways Brands Can Use Instagram DM For Business
Final Thoughts on Instagram Automation Software
To sum it up, an Instagram automation software helps you reduce your workflow to better manage your tasks. By the way, if you are looking for the best results, you'd better hire an account manager and use a complete management service to avoid being blocked on Instagram and get organic followers who actively engage with your account.