If you've ever thought about the idea of buying Instagram followers, Famoid might sound familiar. They pitch themselves as the "best solution for social media services" across platforms like Instagram, YouTube, TikTok, and Facebook.
But here's the real deal: A claim alone isn't sufficient, right? So, let's roll up our sleeves and embark on a complete Famoid review. We'll dig into whether the Instagram followers you get from Famoid are real and contribute to growing your account. Stay tuned!
What Is Famoid
Famoid, the "tech company," provides a range of services for various social media platforms such as Instagram, Facebook, TikTok, and YouTube. In addition to its offerings, Famoid has affiliate programs and tools like an Instagram and TikTok followers counter.
While it falls into the category of Instagram followers apps, it's worth noting that Famoid doesn't offer dedicated apps for Android and iOS devices.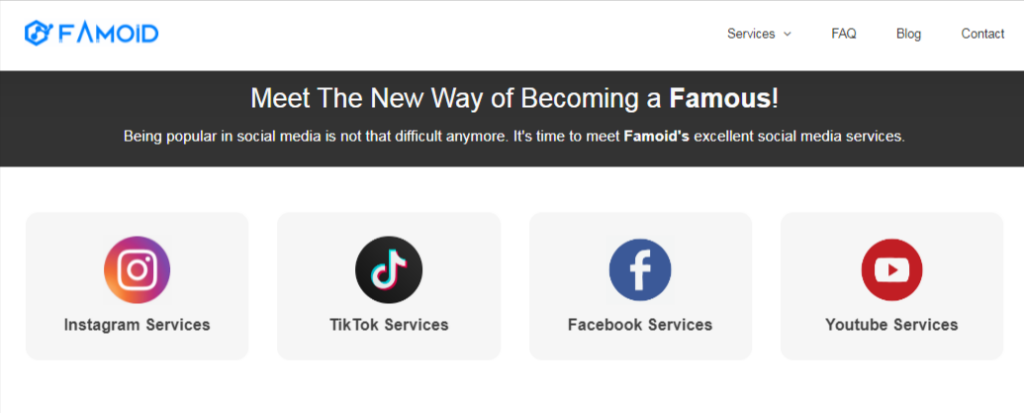 Famoid Followers Reviews
To determine whether Famoid is legit or not, the most reliable approach is to check rating websites and explore customers' experiences. Let's do that!
Rating on Sitejabber: 4.8/5 (1,350 reviews)
Rating on Trustpilot: 2.4/ 5 (80 reviews)
Rating on Reviews.io: 4.4/ 5 (148 reviews)
Trust Index on Scam-detector: 58.2/ 100
Famoid Review (Sitejabber)
Customers on Sitejabber seem pleased with Famoid's services. They're especially happy with things like Instagram followers, customer support, and overall quality, like this one: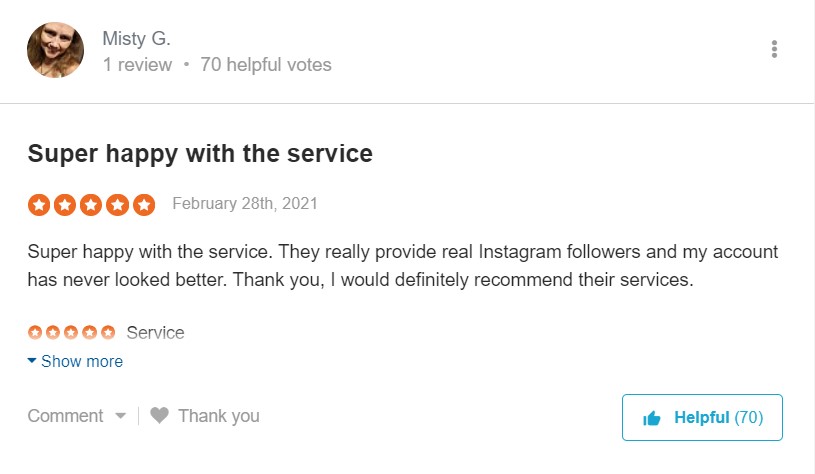 But there are also negative reviews, such as this one, which is newly posted: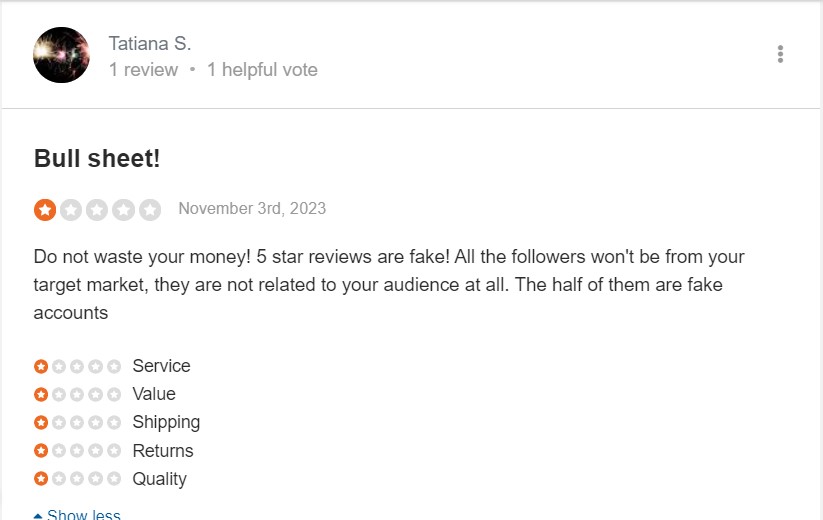 Famoid Followers Review (Trustpilot)
In contrast to Sitejabber, Trustpilot reviewers don't seem as satisfied with Famoid. The most common complaints revolve around issues like receiving bot or fake followers and not getting their orders. Check this review, for instance: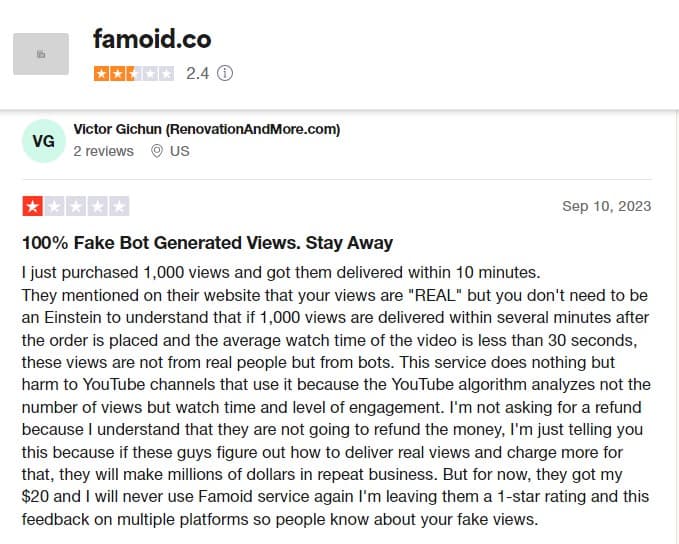 While there are positive Famoid followers reviews like the following one, it's worth noting that this feedback isn't recent, and a majority of the more recent ones tend to be negative.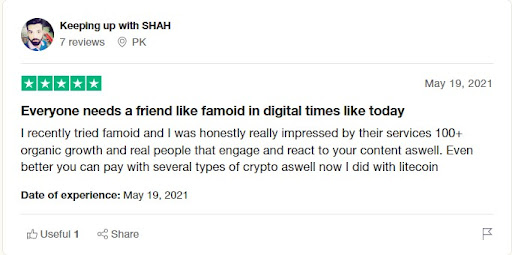 Famoid Followers Review (Scam-detector)
This platform checks websites for potential issues like phishing and malware. Famoid got a medium-risk score (58.2/100) from the Scam-detector website so it's smart to be cautious when using it.
Famoid's Instagram Features & Prices
Now, let's highlight Famoid's Instagram services, which are available in five different packages.
Instagram followers
Instagram likes
Instagram automatic likes
Instagram videos views
Instagram Reels' views and likes

Let's review them one by one.
Famoid Followers Packages
This package lets you snag 1000 to 15000 Instagram followers, and it'll cost you anywhere from $3.95 to $199.95. Famoid swears by genuine followers acquired through advertising methods (though they keep the details hush-hush!)
Using the Famoid followers' packages, you buy Instagram followers. According to user reviews on Trustpilot and other app review websites, the service brings your followers instantly. However, after a single day, all your gained followers will be lost.
The reason behind this is that Famoid is offering spam and scam followers which are being blocked by Instagram. So, it seems like using this service to grow Instagram followers is just a waste of time.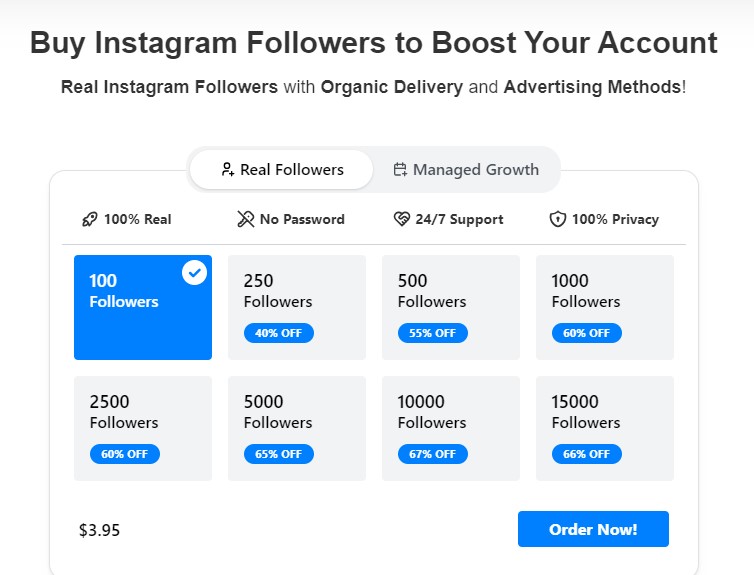 Read More: 1000 Free Instagram Followers Trial [Are They Real Followers or Fake?]
Famoid Instagram likes
This package lets you buy 100 to 25000 likes, priced from $2.95 to $168.95. Famoid assures you'll get real likes with impressions, reach, and interactions. Just a heads up: You can only purchase likes for private accounts.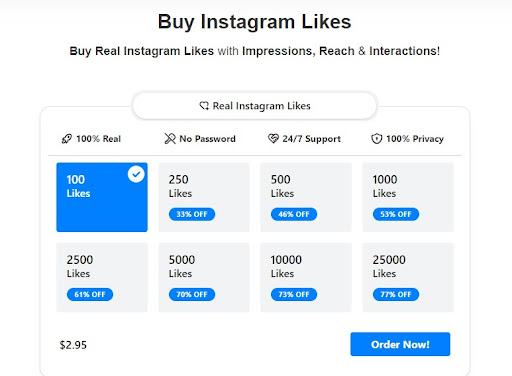 Famoid Automatic Instagram Likes
This package gives you 50 to 500 automatic likes to give your account an authentic look. Prices range from $79.95 to $399.95. Famoid claims it's hassle-free, although we're well aware of how strict Instagram can be with automation tools.
Also Read: 6 Methods to Increase Instagram Engagement Rate
Famoid Instagram Views
Famoid has this package for those craving more views on Instagram videos. You can get 100 to 25,000 views, ranging from $2.95 to $99.95. While they promise instant views, there are reports from people who didn't get any views at all.
Famoid Reels Views and Likes
Famoid asserts it can increase your Instagram engagement rate by providing likes and views for your Reels. You can purchase from 100 likes and views for $2.95 to 25,000 likes and views for $168.95. The "how" part, however, remains a bit unclear!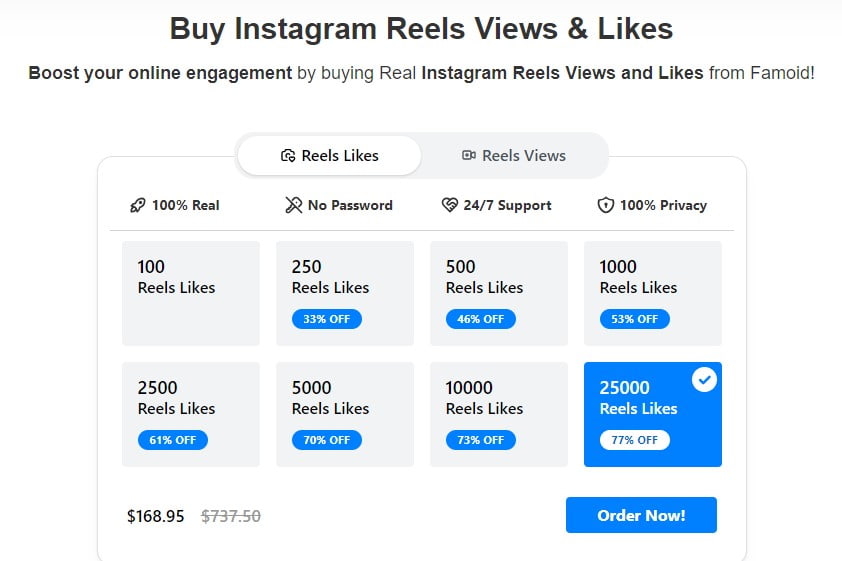 Keep Reading: Get Free Instagram Views from Real People
Famoid Followers Pros and Cons
After diving into Famoid.com and checking out customer reviews, we've put together a list of pros and cons for you:
Pros
The website is well-organized, featuring a clear FAQ, blog, terms of service, policies, and contact info.
Diverse and transparent payment methods are available.
No password is required for their services.
Economical packages when compared to other sellers in the followers market.
Cons
Here are some concerns raised by users:
Famoid followers tend to drop shortly after acquiring them.
Engagements from real and active Instagram users are not guaranteed.
Some users reported that the services didn't work at all.
There's a risk of exceeding Instagram's daily limits.
The service may not attract followers within your target or niche.
AiGrow: Best Alternative For Famoid
Before we explore an alternative to Famoid, it's important to understand that buying Instagram followers and likes, is not advisable. Authentic engagement can't be achieved instantly, and Instagram is actively cracking down on fake activities.
With this in mind, we suggest using AiGrow, an Instagram growth service that relies on a human-based approach, avoiding bots and ensuring genuine and lasting growth.
To know more about AiGrow, click here and read its complete review.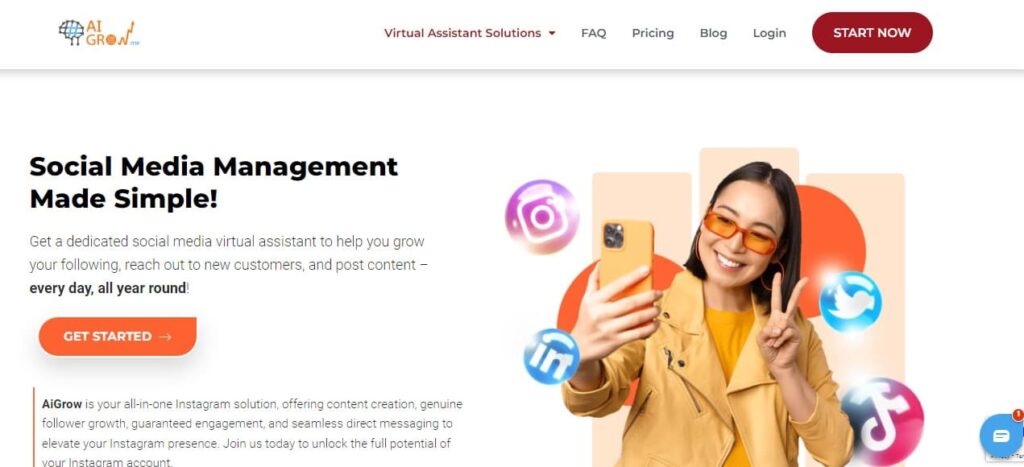 AiGrow's Features
If you are an entrepreneur, digital marketer, or influencer, and you want to grow your brand on Instagram, AiGrow is an all-in-one platform that you need. Now, let's see how AiGrow can bring you real followers:
Utilizing hashtags, targeting competitors, locations, and genders, complemented by in-depth analytics managed by a dedicated account manager.
Manually sending targeted DMs for personalized engagement.
Crafting a content calendar, sharing monthly posts across Stories, Reels, and images, and designing cohesive feeds.
Managing unfollows for those who do not follow you back.
Identifying and removing ghost followers.
Moreover, to build trust, AiGrow schedules online meetings with customers and provides a 14-day money-back guarantee. You have the flexibility to cancel anytime if you're unsatisfied with the service.
AiGrow Reviews
If you plan to choose a reliable Instagram growth service, learning from others' experiences is usually the best way to make an informed decision.
Thanks to third-party review websites like Trustpilot.com or G2.com, it is easy to find out what other people think about a specific Instagram growth service. Our search for AiGrow reviews came up with positive results.
Let's go over some of these comments together.
"This team is amazing! I've been looking to grow my account and this team helped! I went from 5k-14k followers on Instagram!"

SJD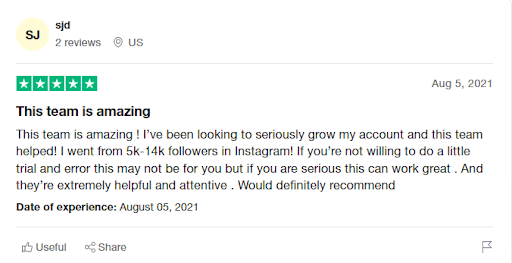 "Aigrow has been always the blessing for the growth of my Instagram safely and with real humans. It helps me to build a strong foundation about my human being, So far I love it."

Tim Castillo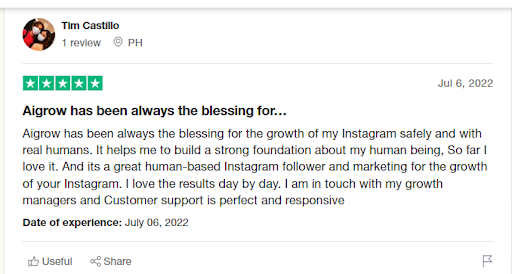 "I have been looking for a way to market my products, but it was not that easy until I came across aigrow."

Humphry James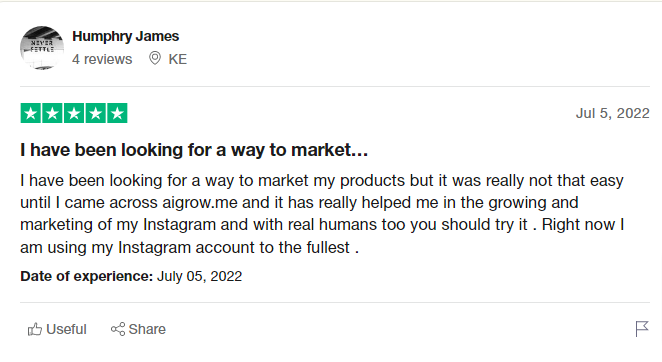 How Does AiGrow Work
AiGrow features are helpful and its dashboard is simple. So, all you need is to follow the steps:
First, sign up for free on AiGrow and add your Instagram account.
Next, pick a plan; According to the variety of AiGrow features, you can choose the most appropriate service.
Meet Your Dedicated Account Manager. After you sign up on AiGrow and answer some questions about your target audience and your business, your account manager will contact you to set the plans and strategies.
Get to Work Right Away. Then, AiGrow growth managers, designers, and content planners immediately get to work on your account.
Be Informed Every Step of the Way. You'll receive daily and weekly reports that help you to realize what's done exactly on your account.
Final Thoughts
To sum it up, followers are an essential part of your business on Instagram and they help you build your brand and boost your sales. In this regard, most users try using Instagram followers apps to get their desired results in a shorter time. However, before purchasing any growth plans and packages, take a closer look at your chosen app and pick the best app for your needs. Here, we reviewed Famoid, a popular followers app. Hope it helps!
Frequently Asked Questions on Famoid
Now, let's read the questions that people also ask about Famoid.
1. Are Famoid Followers Real?
According to their claim, Famoid followers are real. However, according to Famoid reviews on Trustpilot, most customers were not happy with the quality of their Famoid followers.
Many Famoid customers reported that investing in the service was a waste of time and money.
2. How To Cancel The Famoid Service?
No mention has been made of it. Famoid just claims that you will be refunded if any problem occurs with your purchase. However, most refund requests were not successful in practice.
3. Is It Safe to Buy Followers at Famoid?
When you decide to buy Instagram followers, you're probably looking for a shortcut. But remember, increase your followers and grow your Instagram account organically. Eventually, your account might be banned or suspended if you use services like Famoid, according to Instagram policy.