If you have ever tried to buy Instagram followers to grow your accounts and get more engagements, you have heard about Famoid.
This Instagram followers app claims to bring an organic boost to your Instagram page. But are Famoid followers real? Or is it safe to buy Instagram followers at all? In the following, I'll answer all these questions and review all the Instagram services offered by Famoid. So, let's start.
What Is Famoid
Well, Famoid is more than just an Instagram follower seller. This website concentrates on the most popular platforms, like Instagram, Facebook, Twitter, and TikTok, and offers growth services. It means you can buy likes, views, and interactions for all these social media platforms.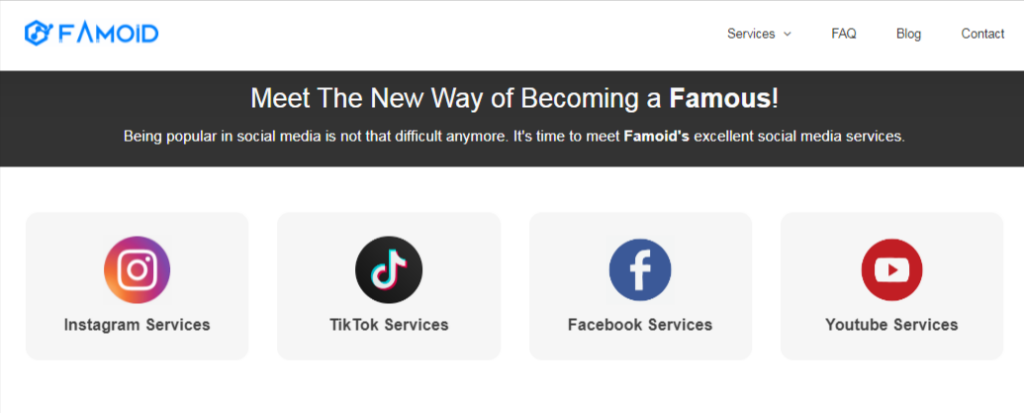 Famoid's Instagram Features
By the way, here, we just go through Instagram services. They offer 4 different packages for your Instagram account growth:

Followers, likes, views, and automatic likes packages.
Let's review them one by one.
Famoid Followers Packages
Using the Famoid followers' packages, you buy Instagram followers. According to user reviews on Trustpilot and other app review websites, the service brings your followers instantly. However, after a single day, all your gained followers will be lost.
The reason behind this is that Famoid is offering spam and scam followers which are being blocked by Instagram. So, it seems like using this service to grow Instagram followers is just a waste of time.
Famoid followers prices start from $3.95 with 100 followers and if you order 15000 followers, you have to pay $199.95. Here's a more detailed list of its follower services: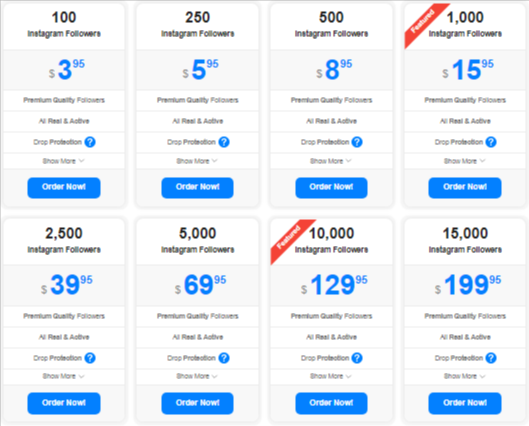 Read More: 1000 Free Instagram Followers Trial [No Survey, Real Followers]
Views Packages
The Famoid view packages just work for your Instagram videos. Meaning that if you want to get more views on Instagram videos, by purchasing one of the following packages, you'll receive a number of views instantly.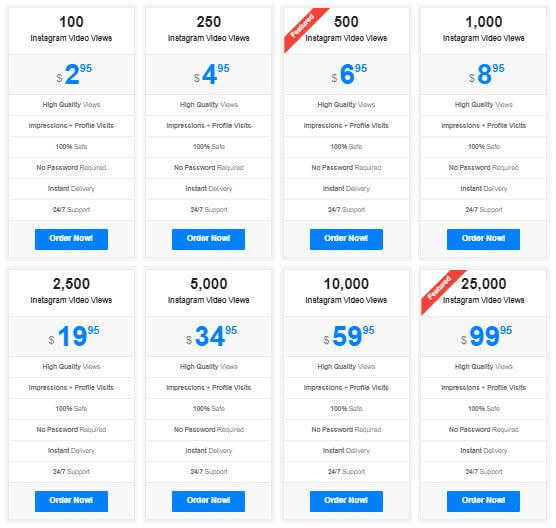 By the way, we don't recommend you use these packages at all for two reasons:
Some users reported that they have not received their video views at all,
And if you get your views, they are from fake users with at most 1-2 followers.
Keep Reading: Get Free Instagram Views from Real People
Likes and Automatic Packages
As you may have noticed from the list of packages, Famoid offers two different packages for likes: likes, and automatic likes.
The likes packages work for your previously shared posts on Instagram. So, if you want to get more likes on your past posts, you can purchase one of the following packages and get more likes on some specific posts: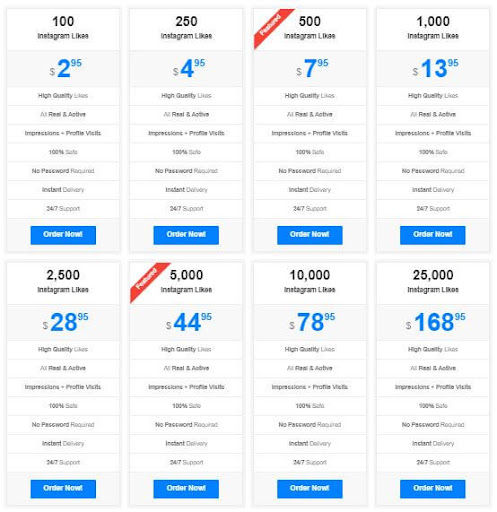 The automatic likes packages bring more likes to your future posts. If you purchase one of the following packages, if you share new posts on Instagram, for 30 days, you'll get a specific number of likes on them: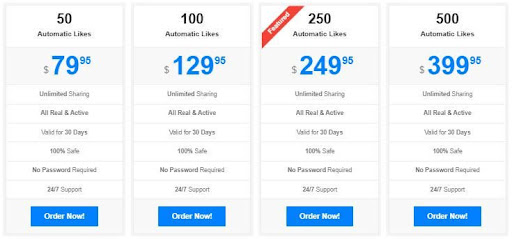 Just before you purchase any plans from Famoid, note that similar to the Famoid followers and views, likes will be from spam and fake Instagram users and they may not increase your Instagram engagement rate in the long run.
Also Read: 6 Methods to Increase Instagram Engagement Rate
Famoid Reviews
While searching for Famoid reviews, we encountered many negative comments. Famoid Reviews were more negative in some cases like:
Late delivery
Unresponsive customer support
The number of Famoid followers drops instantly
The quality of Famoid followers is not satisfactory at all.
Famoid Followers Pros and Cons
Well, here is a list of Famoid pros:
Password is not required,
Economic packages in comparison to other followers sellers.
And here are some of its cons:
You will lose your Famoid followers after a short period of time,
You won't get engagement from real and active Instagram users,
Some users' reviews indicate that the services are not working at all,
It may exceed Instagram action limits,
And it doesn't attract your target and niche-related followers.
Best Alternative For Famoid
According to users' reviews, features, and what we discussed in previous paragraphs, it seems Famoid followers are not worth trying. So, you should look for a better alternative for organic growth on Instagram.
We suggest you try AiGrow, an all-in-one Instagram growth service for marketing professionals. This amazing marketing service has a monitoring app, DM tool, and manual growth service that helps you attract your target followers organically.
So, unlike Famoid, using it you get more active and interested followers who are less likely to unfollow you after a short time. To know more about AiGrow, click here and read its complete review.
What Is AiGrow
If you are an entrepreneur, digital marketer, or influencer, and you want to grow your brand on Instagram, AiGrow is an all-in-one platform that you need.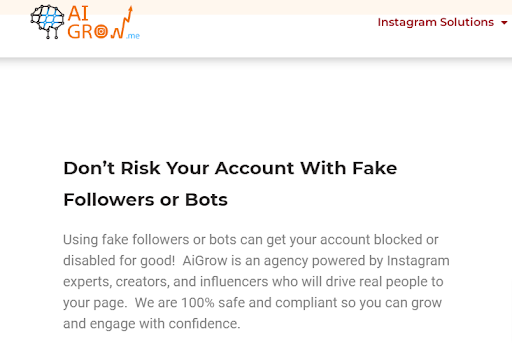 It proposes the latest in Artificial Intelligence (AI) technology to help businesses attain their targets quickly and efficiently. AiGrow supplies a suite of strategies, automated tools, and resources for effective marketing campaigns.
Actually, the AiGrow Instagram growth service is based on human resources. Since AiGrow's professional team manages your account manually, there is no risk of getting banned or suspended by Instagram. AiGrow doesn't really believe in bots!
AiGrow Features
In terms of attaining your target audience and growing your Instagram account, AiGrow offers different features; such as:
Organic Instagram growth service (manually)
Mass unfollow (manually)
Bio-link-tool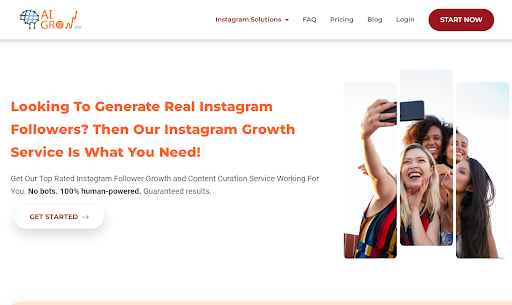 AiGrow Reviews
If you plan to choose a reliable Instagram growth service, learning from others' experiences is usually the best way to make an informed decision.
Thanks to third-party review websites like Trustpilot.com or G2.com, it is easy to find out what other people think about a specific Instagram growth service. Our search for AiGrow reviews came up with positive results.
Let's go over some of these comments together.
"This team is amazing! I've been looking to seriously grow my account and this team helped! I went from 5k-14k followers on Instagram!" SJD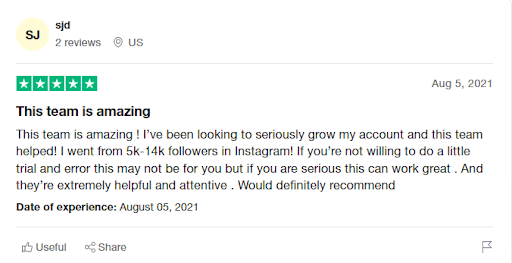 "Aigrow has been always the blessing for the growth of my Instagram safely and with real humans. It helps me to build a strong foundation about my human being, So far I love it." Tim Castillo.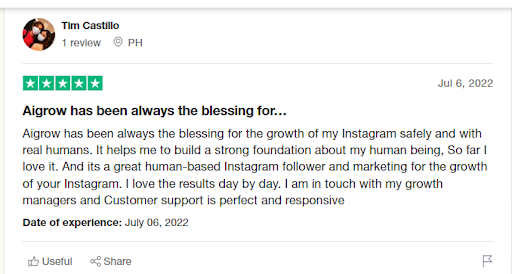 "I have been looking for a way to market my products, but it was really not that easy until I came across aigrow." Humphry James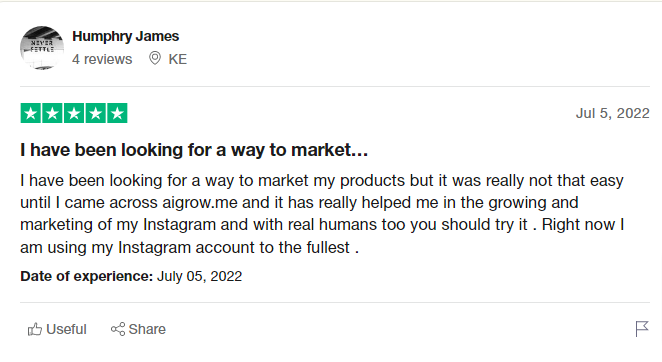 How Does AiGrow Work
AiGrow features are helpful and its dashboard is simple. So, all you need is to follow the steps:
First, sign up for free on AiGrow
Next, pick a plan; According to the variety of AiGrow features, you can choose the most appropriate service.
Meet Your Dedicated Account Manager. After you sign up on AiGrow and answer some questions about your target audience and your business, your account manager will contact you set the plans and strategies.
Get to Work Right Away. Then, AiGrow growth managers, designers, and content planners immediately get to work on your account.
Be Informed Every Step of the Way. You'll receive daily and weekly reports that help you to realize what's done exactly on your account.
AiGrow Pricing
Here are three packages provided by AoGrow;
Starter, Premium, and Advanced.
We recommend that you visit the AiGrow site to see the full packages.
Frequently Asked Questions
Now, let's read the questions that people also ask about Famoid.
1. Are Famoid Followers Real?
According to their claim, Famoid followers are real. But according to Famoid reviews, most customers were not happy with the quality of their Famoid followers.
Many Famoid customers reported that investing in the service was a waste of time and money.
2. How To Cancel The Famoid Service?
Apparently, no mention has been made of it. Famoid just claims that you will refund if any problem occurs with your purchase. However, most refund requests were not successful in practice.
3. Is It Safe to Buy Followers at Famoid?
If you decide to buy Instagram followers probably you looking for a shortcut. But remember, increase your followers and grow up your Instagram account organically. Eventually, your account might be banned or suspended if you use services like Famoid, according to Instagram policy.
Final Thoughts About Famoid Review
To sum it up, followers are an essential part of your business on Instagram and they help you build your brand and boost your sales. In this regard, most users try using Instagram followers apps to get their desired results in a shorter time. However, before purchasing any growth plans and packages, take a closer look at your chosen app and pick the best app for your needs. Here, we reviewed Famoid, a popular followers app. Hope it helps!