Authenticity is essential in the fast-paced world of social media. While having a large number of followers may appear impressive, it is also critical to ensure that your followers are genuine and engaged. Nowadays, professional Instagram users frequently check Instagram followers to identify and remove fake accounts.
Yes, what a mindset change in IG users! There were times when Instagrammers were looking to buy followers from Instagram followers apps in the hope of growing on Instagram. You could have spent 10 bucks, and BAM, you have 1000 followers!
But what brought them here? They noticed there is no art in paying for literally a number! So, now users are after checking Instagram followers of their own and others. They use the best ghost followers apps to remove fake followers and gain credibility!
Keeping your Instagram follower list free from fake accounts is essential. Regularly conducting Instagram fake follower checks ensures that you're presenting an accurate picture of your influence and engagement. If you want to know how to spot fake Instagram accounts, you are on the right path!
Note: Interested in a quick Instagram fake follower check without diving into the nitty-gritty details? Look no further! Introducing AiGrow's Ghost Unfollow Package – your ultimate solution.
Check Instagram Followers: Your Path to Social Media Success
You may ask why checking Instagram followers is so important. Remember, gaining more IG followers is not just to have a high number of them but to foster a community of engaged individuals who value your content and contribute to meaningful relationships.
Fake or ghost followers can distort your analytics and hinder your credibility. There are two sides to check Instagram followers; One is the fake follower check of other Instagram users. And the other is checking your own Instagram followers.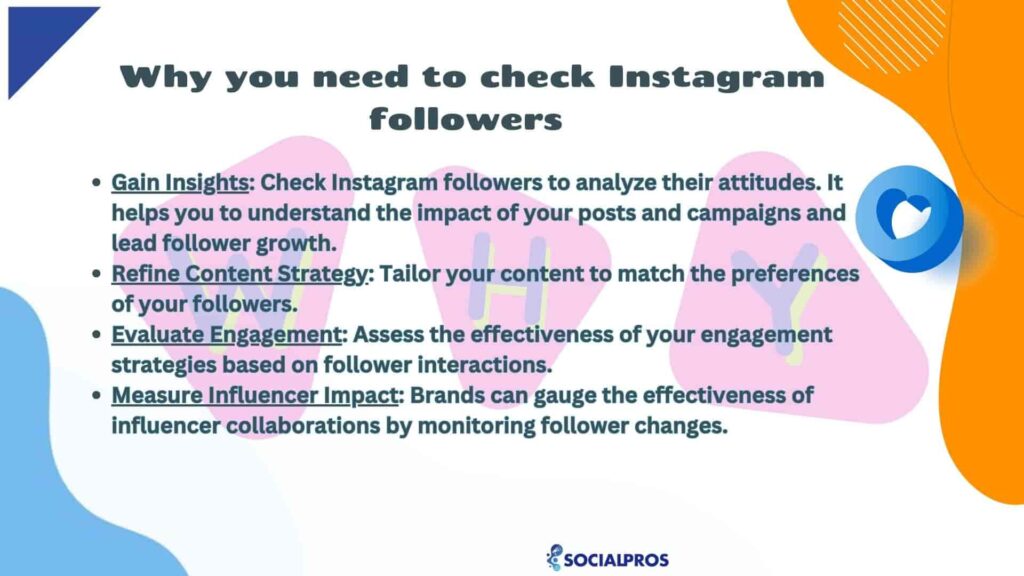 Checking followers on Instagram is more of an important issue than just feeding your curiosity! By checking Instagram followers of other accounts, you can;
You just read why checking Instagram followers of others makes sense. Now let's read why you should check yours.
Why Should You Care About Checking Your Instagram Followers?
With over a billion active users, Instagram offers a vast audience for personal and professional growth. Whether you're a content creator, influencer, or brand, keeping track of your followers can offer valuable insights into your content's performance and audience engagement.
Checking Instagram followers isn't just about vanity metrics; it's about understanding your audience, optimizing your content, and fostering authentic connections.
The first reason for fake follower audits of Instagram accounts is to curate your reputation. Remember, if you can detect others with a fake follower check tool on Instagram, others can do the same.
The next reason is to fee your sponsors correctly if you want to make money on Instagram as an influencer because the fee is based on your followers and your engagement rate.
Let's imagine your sponsors don't even check Instagram's fake followers. If you fee them higher than you should and your sponsors don't come up with the expected ROI, they no longer refer to you, and you lose your source of income.
By regularly monitoring your follower count, you can:
Gain Insights: Check Instagram followers to analyze their attitudes. It helps you to understand the impact of your posts and campaigns and lead follower growth.
Refine Content Strategy: Tailor your content to match the preferences of your followers.
Evaluate Engagement: Assess the effectiveness of your engagement strategies based on follower interactions.
Measure Influencer Impact: Brands can gauge the effectiveness of influencer collaborations by monitoring follower changes.
So, take the time to spot fake Instagram accounts and nurture an online presence that truly reflects your brand's authenticity. By maintaining organic follower growth, you're better positioned to connect with real people who resonate with your content, leading to genuine growth and meaningful interactions.
Now let's see how to spot fake Instagram accounts and clean them from your profile.
How to Check Instagram Followers Using Tools
As individuals and businesses aim to expand their online presence, tracking their Instagram followers becomes crucial. Various methods exist to check Instagram followers, each providing unique insights into your profile's performance.
Here are three ways to Instagram fake followers check by tools that provide valuable insights on enhancing your social media strategy.
1. Built-in Instagram Insights
One of the methods to track your Instagram followers is to use the Instagram insights that the official app provides for users. To utilize Instagram's built-in analytics Insights tool, you need to have a creator or a business account.
Easily accessible from your profile page, Instagram Insights provides valuable information regarding follower demographics, reach, and engagement statistics. Nevertheless, while this tool enables you to assess engagement metrics for your Instagram followers, it doesn't facilitate the detection and removal of fake Instagram accounts from your profile.
Allow us to present AiGrow – the ultimate Instagram fake followers checker and unfollow app that stands out as the finest in the market!
2. AiGrow Ghost Followers Checker and Unfollow Tool for Instagram
With AiGrow, you'll gain unparalleled insights into your follower base, engagement rates, and growth trends, allowing you to supercharge your social media strategy.
One of the best IG Audit tools that detect bots and fake Instagram accounts is AiGrow's free Instagram audit feature. Using AiGrow Instagram follower checker free tool, you can easily get an IG Audit to determine how your Instagram page measures up.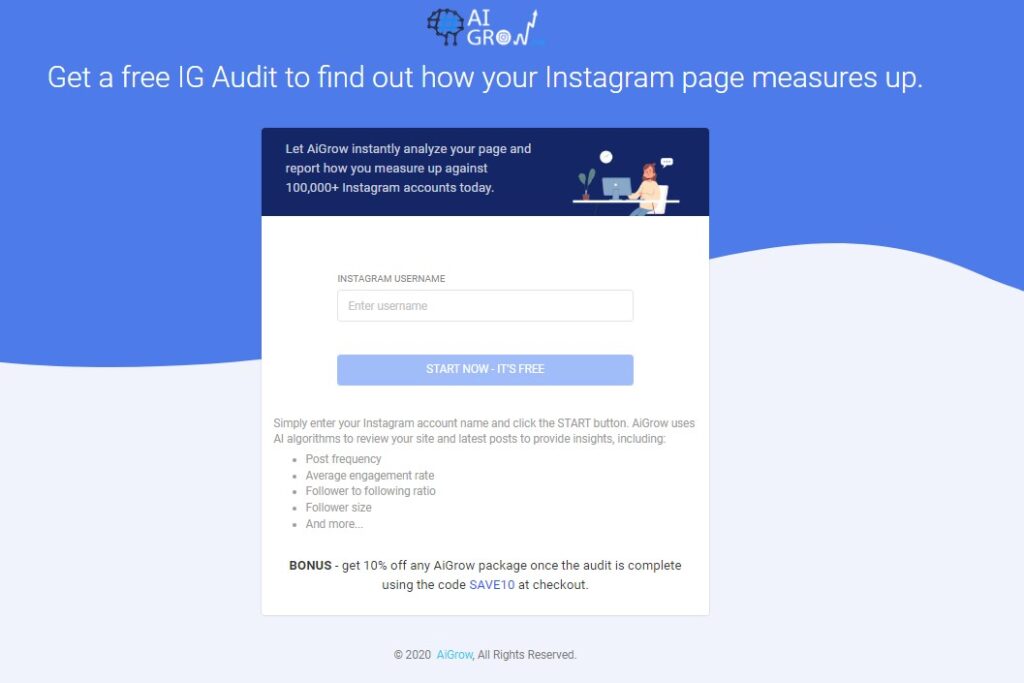 The AiGrow audit tool is free, and you can enter the username without @ and wait for it to analyze the account. The last thing you do is read the analysis and tap on 'next.'
Beyond being a remarkable Instagram fake and bot followers checker, AiGrow proudly offers top-tier Instagram management services. AiGrow dedicated Instagram managers work diligently to ensure your account steers clear of accumulating fake followers.
With AiGrow, say goodbye to the hassle of fake Instagram followers on your account!
But, suppose with or without the fake followers check tool Instagram; you detected your fake followers. Now what? How can you remove fake followers? Keep reading to learn how to get rid of fake Instagram accounts using AiGrow.
How To Get Rid Of Instagram Fake Followers Using AiGrow?
AiGrow is among the best Instagram growth services and is trusted by thousands of influencers, businesses, and marketers worldwide. Its accuracy and reliability ensure you're making decisions based on the most up-to-date and accurate data.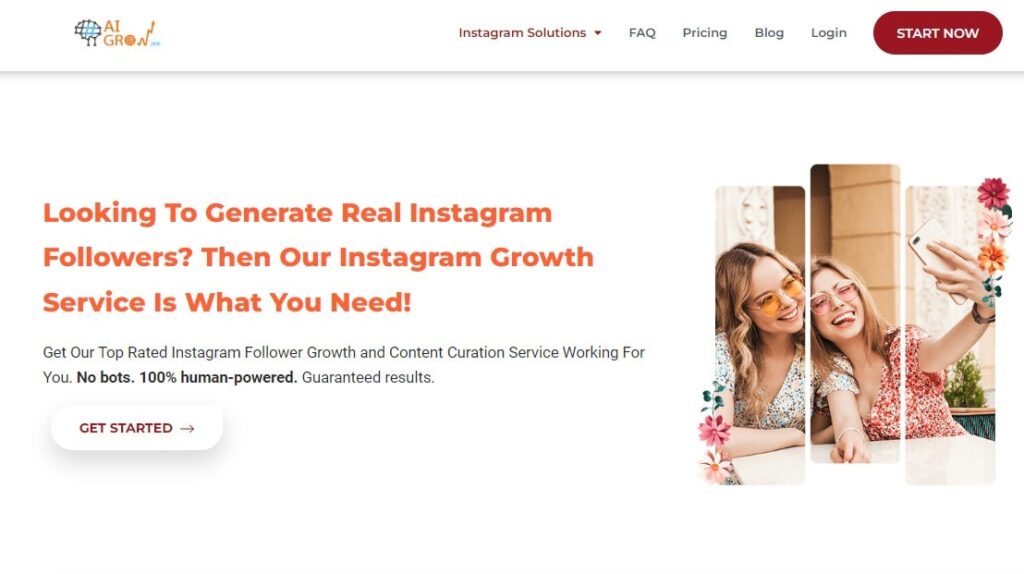 AiGrow provides one of the best Instagram unfollowers tools that help you to check Instagram followers, detect ghosts and remove them from your profile.
So, what are you waiting for?
Unveiling the Power of AiGrow:
Comprehensive Follower Analytics: AiGrow goes beyond the basics, providing detailed analytics on your follower demographics, locations, and online activity patterns. They check Instagram followers to spot fake followers, know your audience's taste and tailor your content to their preferences.
Real-Time Follower Growth Tracking: Stay up-to-date with your follower count in real-time. AiGrow's intuitive dashboard gives you an instant overview of your growth, helping you assess the effectiveness of your content strategy and campaigns.
Engagement Insights: Discover which posts resonate the most with your audience. AiGrow's engagement insights highlight your most popular content, helping you refine your approach and create content that truly connects.
Hashtag Performance Analysis: Harness the power of hashtags with AiGrow's hashtag performance analysis. Identify the best IG hashtags that drive engagement and reach, allowing you to optimize your hashtag strategy for maximum impact.
The most notable features of AiGrow include its affordable Instagram account managers and a money-back guarantee, ensuring you receive the desired level of service.
AiGrow offers a range of options such as Managed Growth plans, Managed DM plans, Ghost Unfollow packages, Mass Unfollow plan, and others. If you're interested in monitoring your Instagram followers, you can opt for the Ghost Unfollow package which helps you identify them. Afterwards, you can utilize the Mass Unfollow package to eliminate any fake followers.
Ever wondered about the authenticity of Instagram users' followers? Curious about spotting fake accounts? Delve into the world of genuine engagement with AiGrow's Fake Follower Check.
3. Checking Instagram Followers Using Other Third-Party Tools
Several third-party tools are available that specialize in identifying fake and ghost followers. These tools check Instagram followers base and provide insights into the authenticity of accounts.
We've gathered some popular options here.
Instagram Insights; Analytics App to Detect Fake Instagram Accounts
Instagram Insights is the platform's own analytics tool, available for business and creator accounts. It provides a wealth of information about your followers, such as their age, gender, location, and the times they are most active. You can also view post engagement metrics, profile visits, and more. Insights is accessible through your profile page.
Social Blade Bot Followers Checker
Social Blade provides you with up-to-the-minute follower analytics. Stay informed about your follower count and growth trends in real time. Monitor the impact of your content strategy and campaigns as they unfold.
Social Blade follower checker for Instagram provide you with real-time follower insights, audience demographics, engagement metrics, historical data, and competitor analysis.
Modash Instagram Follower Insights Tool
Step into the world of precise Instagram follower analysis with Modash. As a comprehensive follower insights tool, Modash brings unparalleled accuracy and depth to your social media strategy. Uncover real-time follower data, engagement patterns, audience demographics, and influencer insights that empower you to optimize your Instagram presence like never before.
Socialbakers Bot Followers Checker
Socialbakers is an AI-powered social media marketing platform that offers advanced analytics for Instagram and other social networks. It provides insights into follower demographics, engagement benchmarks, and competitive analysis. Socialbakers' AI capabilities can help you understand your audience's preferences and behaviors.
Iconosquare to Check Fake Instagram Accounts
Iconosquare focuses on Instagram analytics and offers a range of features to help you track your followers. It provides information about follower growth, engagement rates, and hashtag performance. Iconosquare also offers a competitor analysis feature to help you benchmark your performance against similar accounts.
Hypeauditor Follower Audit Instagram Service
Hypeauditor is an analytics platform designed for the purpose of scrutinizing your followers on Instagram and other social media platforms. With Hypeauditor, you can gain comprehensive insights into your follower base, ensuring authenticity and enhancing your social media experience. Hypeauditor offers a deep dive into your follower demographics, engagement patterns, and overall credibility. Read this Hypeauditor review to know more about this it.
These Instagram follower checker tools offer various levels of insights and functionalities. Depending on your goals and requirements, you can choose the one that best suits your needs.

As evident, no other competitor can match the comprehensive range of services that AiGrow provides for Instagram.
How To Do Instagram Fake Follower Check Without A Tool?
Having a high number of followers might seem impressive, but it's equally important to ensure that your followers are genuine and engaged.
There are several methods you can use to boost your Instagram followers, including techniques that claim to help you gain 1,000 followers in 5 minutes or less. However, it is critical to exercise caution when using strategies such as obtaining a 1000 free followers trial or buying followers, as these tactics may threaten the legitimacy of your account by introducing phony followers. So, performing a fake follower check on Instagram is essential to maintain the integrity of your online presence.
Fake Instagram followers have many factors in common and it is not hard at all to detect one. Wondering how to spot fake followers without using bot followers checker tools? Here are the common factors!

#1 Checking Fake Followers by Reviewing Follower Profiles
Start by manually reviewing the profiles of your followers. Look for signs of a fake Instagram account that could indicate fake ones, such as:
Lack of Profile Picture: Many fake accounts don't have profile pictures or use generic images.
Weird Username With No Real Name Included: It is true that Instagrammers are allowed not to use their real name. But the real name is still visible on the profile. If it is not visible, it means something isn't right!
Limited Posts: Fake accounts often have a very limited number of posts or none at all.
Low Engagement: Check if the account has minimal likes, comments, or interactions on their posts.
Irrelevant Content: Look for accounts that post irrelevant or spammy content.
#2 Analyze Follower-to-Following Ratio
Genuine Instagram users usually have a balanced ratio of followers to accounts they follow. However, fake accounts tend to have an imbalanced ratio, with a high number of followers and very few accounts they follow. Look for profiles with an unusually high follower count but only a handful of people they follow.
Numbers are odd in fake accounts. Normally the number of followers and followings don't add up.
#3 Examine Engagement Rates
Engagement rates, including likes and comments, can reveal the authenticity of followers. Calculate the average engagement rate by dividing the total number of likes and comments by the number of followers. A significantly low engagement rate compared to your follower count could indicate fake followers.
#4 Check for Spammy Comments and Likes
Inspect the comments and likes on your posts. If you notice repetitive or generic comments (like "Great post!" or emojis) from multiple accounts, it could be a sign of fake engagement. Similarly, if you receive a sudden influx of likes from suspicious accounts, it's worth investigating further.
#5 Monitor Sudden Follower Surges
Keep an eye out for sudden spikes in your follower count. While viral content can lead to genuine growth, it's also a tactic used by bots to blend in. If you notice a rapid increase in followers without a corresponding increase in engagement, it's a red flag.
By performing a thorough fake follower check on your Instagram account, you're not only ensuring the accuracy of your metrics but also preserving your credibility within the social media community. Remember, building an authentic and engaged follower base is far more valuable than numbers alone.
What to do After Checking Instagram followers?
Once you've identified fake followers, take action to remove them from your account. You can manually block or remove suspicious accounts. If you're using third-party tools, they might offer features to help you identify and remove fake followers efficiently.
For example, AiGrow offers a ghost unfollowers package to identify and remove fake IG accounts.
#1 Regularly Audit Your Followers
Performing a fake follower check shouldn't be a one-time activity. Regularly audit your follower list to ensure that your audience remains authentic. As your account grows and changes, new fake accounts might follow you, so ongoing vigilance is important.
#2 Focus on Organic Growth Strategies
To avoid attracting fake followers in the first place, focus on organic growth strategies. Create high-quality content that resonates with your target audience. Engage authentically with your followers and participate in meaningful conversations.
When you prioritize building genuine connections, you're more likely to attract followers who are genuinely interested in your content. To do so, use the AiGrow Growth package.
Grow Your Followers With AiGrow
You should know that the only way to escalate your followers in a short time is not through buying fake followers. A professional Instagram manager can do the same as well.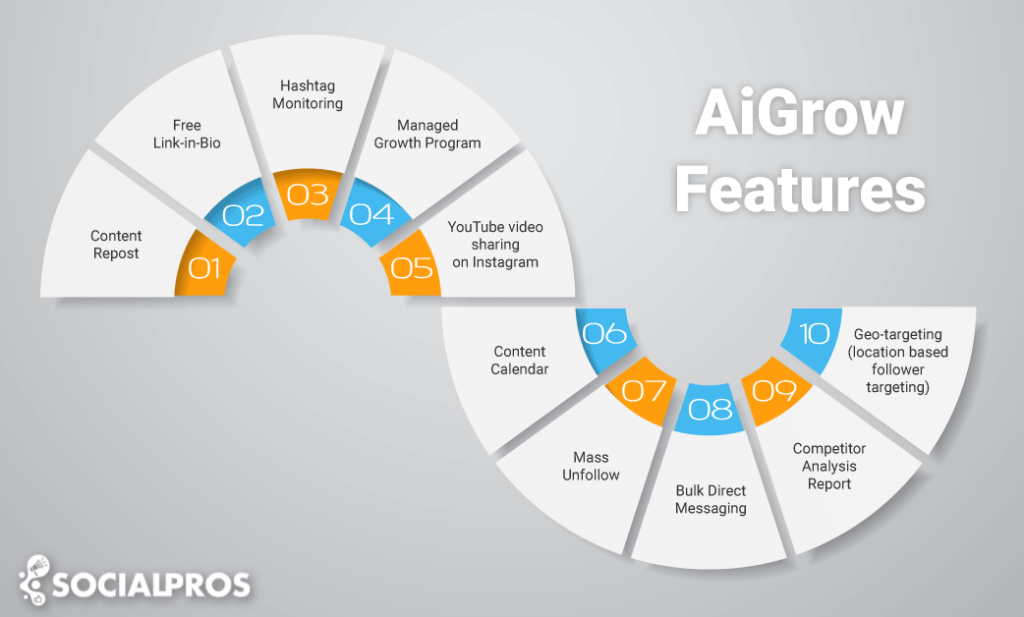 Instagram managers of AiGrow do not buy fake followers, but they increase your followers by setting strategy, content creation, organic growth activities, etc.
AiGrow is a company that hires only professional Instagram specialists who know how to grow your followers considerably! So, What are you waiting for?
The money you pay your manager won't be in vain since they guarantee a certain number of followers depending upon your niche. They also provide you with a free trial. Receive the trial and then check your followers with IG Audit you trust. You'll see they are not fake.
#3 Report Suspected Fake Accounts
If you come across accounts that you believe are fake or engaging in spammy behavior, consider reporting them to Instagram. While reporting won't immediately remove the account, it helps in maintaining the overall integrity of the platform. To report an account, go to the profile, tap the three dots (⋮) in the upper right corner, and select "Report."
#4 Educate Your Audience
Consider educating your audience about the presence of fake followers and bots on social media. Want your followers to engage with your content to not identified as ghost followers. Share tips on how they can identify and avoid fake accounts. This not only adds value to your followers but also establishes your authority as a trusted source.
#5 Monitor Your Progress
After implementing fake follower checks and removing suspicious accounts, monitor your progress. You should notice an improvement in engagement rates and interactions. Tracking your metrics accurately will give you a clear understanding of the impact of your efforts.
Final Review On Checking Instagram Followers
It is pleasing to see how users have passed from buying fake followers and to checking Instagram followers. If you run a business on Instagram, you should be doing fake followers for your account and others'.
The reason for checking followers on Instagram of your account is to first curate your reputation and second fee your sponsors. And you should do Instagram fake follower check for others' accounts to find the best influencer and also monitor your rivals.
Instagram fake accounts are easy to detect. The common signs of a fake Instagram account are incompatibility in numbers. They are also bad at getting engagement and engagement back. If that takes your time, AiGrow IG Audit can help.
Experience the future of Instagram follower tracking with AiGrow. Elevate your social media presence, optimize your content, and watch your Instagram followers soar. Don't miss out on the opportunity to revolutionize your Instagram strategy—try AiGrow today and unlock the full potential of your online journey.
FAQs
Q1. Can I track who unfollowed me on Instagram?
Instagram does not provide this feature natively, but some third-party tools claim to offer this functionality.
Q2. Will my followers know if I check their profiles?
No, Instagram does not notify users when someone checks their profile.
Q3. What is a good follower growth rate?
While growth rates vary, a steady increase of 5-10% per month is generally considered healthy.
Q4. How often should I check my follower count?
Monitoring your follower count weekly or monthly can provide valuable insights without becoming obsessive.
Q5. Can my follower count drop suddenly?
Yes, fluctuations are common due to factors like content changes, algorithm updates, and inactive accounts being removed.