In an era beaming with the potential for social media sponsorships and internet stardom, how to make money on Instagram is a question on everyone's mind.
Many people want to find the best Instagram influencers in order to reach out to specific audiences. On the other hand, there are many other people who aspire to be Influencers. All of this is in order to make money as an Influencer on Instagram or other social media channels.
Product placement may seem old and strange, but the reality is that it has taken on a new form in the digital age and emerged as a very legitimate source of income for a large number of Instagram users. So, it's not strange that many people ask how to make money on Instagram as an influencer.
In this post, we'll give you a more comprehensive understanding of influencers and how to monetize your Instagram account as an influencer.
Additionally, we will introduce you to the best third-party Influencer marketplace, Ainfluencer, if you want to partner up with trustworthy Instagram influencers.
How Can You Make Money On Instagram
Instagram was created to help people make money, and the company has invested a billion dollars for this purpose. There are numerous methods for making money on Instagram. All of these paths intersect with gaining followers on Instagram and becoming an influencer.
For example, you can make money without a large number of followers by monetizing your content, doing DM marketing, or other methods that do not require a large number of followers, but when you are active on Instagram and share your content consistently, the Instagram algorithm assists you in reaching more people. As a result, you have the opportunity to become an influencer on Instagram.
You can use Instagram for your business, share your daily moments of life and earn passive income. Just like celebrities and individuals with large followings that receive many invitations to collaborate with brands and companies.
But you may be at the first stage of attracting followers and ask how to make money on Instagram as an influencer. In short, there are many things you can do as an influencer to monetize Instagram, but there are some steps to follow.
For example, you need to get followers, and having a lot of followers and being known by many people will make you influential!
But before knowing how to become a social media influencer and make money this way, we need to understand what an influencer is and then address the question of how to make money as an influencer on Instagram.
Everything you need to know is right here. Continue to read.
Who Is An Influencer On Instagram
An influencer can be described as someone who uses their social media account to influence others to take part in an activity or purchase a specific brand. They encourage people through the creation of online content posted on social networks such as Twitter, Snapchat, YouTube, Instagram, etc.
The influencer typically already has a large following. Generally, they hold giveaway contests to attract people. Their contents are relevant to whatever the company is sponsoring. It should be noted that an Instagram account with a large following but low engagement is not an influencer.
An influencer is any account whose followers are genuinely influenced by the influencer's content. This usually translates to high engagement with the influencer's content. So, we can say that influencers can make money and make a living this way, as long as they have a high engagement rate.
Influencers can be trendsetters, tastemakers, and trusted experts for their audience. It is because their opinions on certain topics are respected by their followers. So we can say that when you work with an influencer, you reach a target audience that will enjoy your service or product.
With the aim of raising brand awareness, engagement, and conversion for a specific product or service, influencer marketing can assist you in informing end users (purchases). To get a good result best content creators with the most relevant niches should be chosen.
How Many Followers Do You Need to Make Money on Instagram
You may believe that only influencers with a large following can make money on Instagram or other social media platforms. If this is the case, you are unaware of local influencer marketing and the benefits of working with micro-influencers.
To explain it, let's see the different types of influencers. Influencers are classified based on the number of followers they have. To get to know them better, let's examine and analyze them.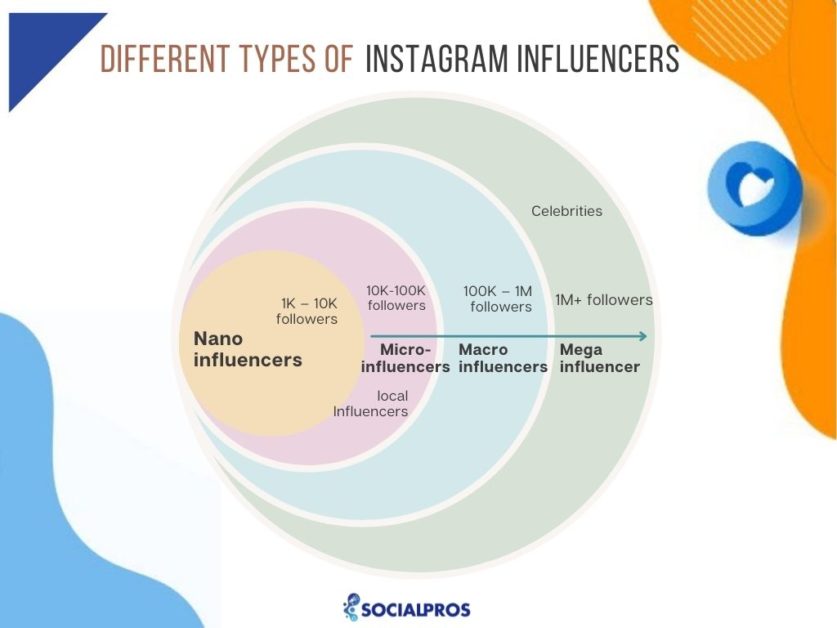 Mega-influencers with over 1 million followers. They are known as celebrities and include famous actors, athletes, etc.
Macro-influencers generally have 500K to 1 million followers.
Mid-tier influencers that have 50K to 500K followers.
Micro-influencers with 10K to 50K followers are the best influencers to work with.
Nano-influencers with 1K to 10K followers.
As you see, there are various types of influencers. Mega influencers have a huge number of followers around the world with different tastes, whereas influencers with fewer followers have more engaged and targeted followers.
Consider sharing a product with a friend who shares your taste; as a result, your friend will trust you more and purchase the product from you rather than from a mega influencer page.
So as an influencer, you just need to achieve a certain number of followers(above 1000) with a high engagement rate.
How Much Money do Instagram Influencers Make
There are many factors involved in calculating the amount earned by an influencer.
These factors include such things as:
number of followers the influencer has
brand's budget
products cost
level of engagement in influencer's content
Bloomberg thoroughly explored how to make money on Instagram and produced a basic guideline estimating how much influencers make. For example, according to this website Wall Street influencers are making $500,000!
So now let's see how you can make money on Instagram as an influencer.
How To Make Money As An Influencer On Instagram
Instagram influencers make a lot of money from the platform, because of this, the term 'Instagram influencer' is being thrown around these days. Everyone can become an influencer and monetize their IG account.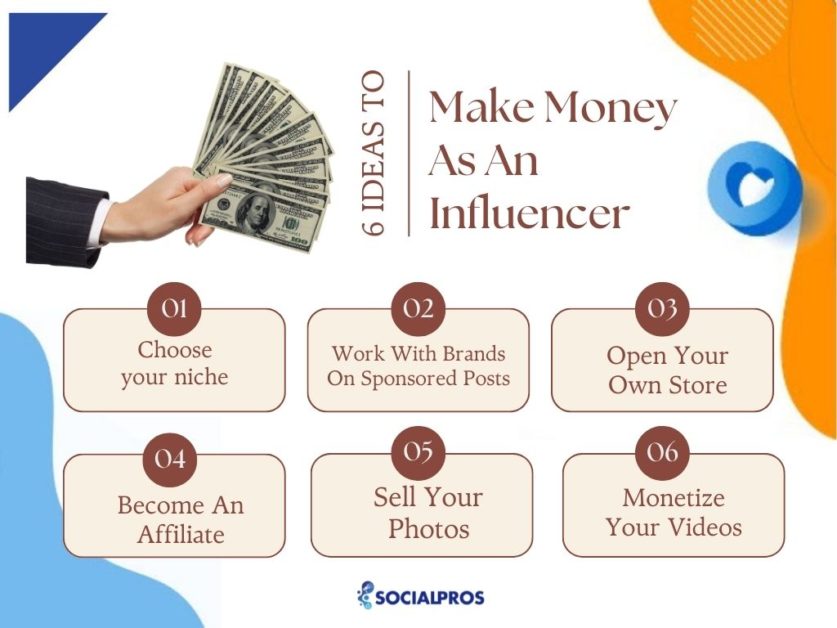 Now let's answer our main question of how to make money on Instagram as an influencer. To build yourself an online reputation you need to follow these steps.
#1 Find Your Niche
Finding your niche based on your interests is the best way to start your work and learn how to make money on Instagram as an influencer. If you take a look at influencers' pages, you can find out that they work in a specific field and promote everything related to their main niche.
For example, fitness influencers on Instagram are first and foremost fitness gurus who share their daily workouts and inspirational fitness posts to attract audiences interested in fitness.
So here you can conclude that fitness page followers have the potential to become customers of fitness-related products. It's how to make money as a fitness Influencer on Instagram.
There are other hot topics that have large followings:
It is not required to select a well-liked niche, though. You can follow a variety of other niches on Instagram and earn money as an influencer depending on your interests.
You may start your job on Instagram by following these instructions, regardless of whether you're an artist, beauty or fashion influencer, a filmmaker, or any type of creative content provider.
Go on reading to know how to monetize your Instagram account as an Influencer.
#2 Work With Brands On Sponsored Posts
After you choose your niche, you can become a paid Instagram influencer and create sponsored posts for brands. You may ask what are paid or sponsored posts?
A paid or sponsored post is when a brand or company pays an influencer to make a post promoting the brand.
There are two different sponsored posts one is when people pay Instagram to promote their post using services like an Instagram promotion or IG ads. The other is when they pay an Influencer to promote their products or services through their content.
Working with brands that want to connect with your audience is an option for influencers. A sponsored Instagram post typically costs from $300 to more than $25000.
As we previously stated, you don't need a lot of followers to work with brands, but more followers will increase the cost of your sponsored posts.
How To Find Brands To Work With
The problem is you can't find brands and start collaborating with them to get paid on Instagram immediately. There are a lot of ways you can do to get closer to your goal and know how to make money on Instagram as an Influencer like:
However, doing so doesn't ensure that you can earn money from your Instagram account. The good news for you is that you can find brands and companies to collaborate with by using third-party apps like Ainfluencer.
If you are interested in knowing more about the Ainfluencer marketplace, click here to read its complete review. You can also scroll down and learn more about this service.
#3 Become An Affiliate And Do Affiliate Marketing
A lot of websites offer affiliate marketing. You can even do Amazon affiliate marketing using Instagram. But how does it work?
After selecting your niche, you can use affiliate marketing to generate income from Instagram. By doing this, you can promote the goods of other companies as an affiliate and earn a commission.
By using their audiences to promote a company or website, affiliate marketing programs are a great way for bloggers and other content producers to make passive income.
Affiliates are more invested in selling products. An affiliate marketer simply needs to look for a product they like, promote it, and make sales to start making money. Affiliate links are used to monitor sales.
To ensure that clicks actually result in purchases, use trackable links or special promotional codes. In your Instagram bio, Instagram Stories, and through stickers, use a variety of clickable links. Then put the affiliate links in Instagram posts, and apply promo codes to generate income.
If you consider reaching out to the best affiliate programs, you can use a reliable marketplace like Ainfluencer. This platform will help you connect with brands and make money.
#4 Open Your Own Store
If you ask how to make money on Instagram as an influencer using a more independent way, we say setting up an Instagram shop is another way for you.
All types of content creators have the opportunity to sell their own products. You can sell on your account by creating and selling a physical or digital product or by offering a paid service.
However, you must invest some time and energy in order to do so. But the good thing is that in today's world, it's becoming easier to grow your Instagram organically and build a targeted audience on the platform with the growing list of Instagram tools available.
AiGrow is one of the best Instagram growth services you can use to help you optimize every aspect of your Instagram account. You can learn everything there is to know about this amazing service in this AiGrow review.
#5 Sell Your Photos
As an influencer, you might be curious about how to monetize your photos. You can list your photos on a variety of marketplace websites, such as 500px or Twenty20, where brands and publishers may choose to license them.
If photography is what drew you to Instagram, to begin with, it's good to know that Instagram photos are assets that can be licensed, printed, and sold in a variety of ways.
So all you have to do is take action and make it possible for your audience to purchase your photography from you. Using services like Printful and Teelaunch, your audience can buy them and have your photos printed on posters, phone cases, cushions, and other items.
#6 Monetize Your Content
Ads can also be used to monetize your videos. In-stream video ads are another way for Instagram influencers to earn money. Brands can promote themselves within the videos you create using these ads.
The amount of money you earn is determined by the number of monetizable plays and views your video receives. You'll receive 55% of ad revenue generated by each view, paid to your bank account monthly according to Instagram creator rules.
Earning through In-Stream Video Ads, you should consider these tips:
Your content must be original.
You need to own the rights to any music.
Your video needs to be two minutes or more to monetize.
Images, polls, looping videos, slideshows, or text montages don't qualify.
How to Become a Paid Instagram Influencer
Becoming an Instagram influencer is simple for those with a substantial targeted following and a high level of engagement. If you are just trying to get started, there are a couple of methods you can use:
Get an Agent: This technique requires you to get in touch with other practicing professionals such as artists to get influencers gigs. Consider this method similar to trying out for a TV commercial cast.
Negotiate Directly: if your account has a high level of engagement within a specific niche, it is recommended you reach out to other brands through email or DM. You can do this easily with tools like AiGrow.
Use Influencer Marketing Platforms: Third-party services exist specifically to connect influencers with brands. These services often cost money, but influencers have a higher chance of connecting with a paying brand than if they were reaching out themselves.
If you wish to engage a third party to handle influencer marketing, continue reading.
Ainfluencer: The Best Influencer Marketplace
Among other services, Ainfluencer is the best influencer marketplace. You can use Ainfluencer to find out how to make money as an Influencer on Instagram in easy ways. Additionally, it can help you hold successful influencer marketing campaigns and build your brand.

Ainfluencer is a DIY platform that can help both brands and influencers connect and collaborate. It is the most straightforward, time-efficient, and cost-effective method of running successful influencer marketing initiatives.
The process of using Ainfluencer begins with the creation of an ad in the marketplace. You can set the specifics of the proposed Instagram post in an advertisement, upload example creatives, and add captions.
This ad will be posted on the Ainfluencer marketplace, where it can be seen and responded to by thousands of verified influencers.
You can't just wait for influencers to see your marketplace ad and start sending you offers; you can also actively search for them. You may find hundreds of companies using the Ainfluencer app and invite them to collaborate.
Ainfluencer Features
Ainfluencer is a complete solution for finding, connecting with, and managing campaigns with influencers from all around the world. Payments, monitoring, and ROI calculations are also handled by it.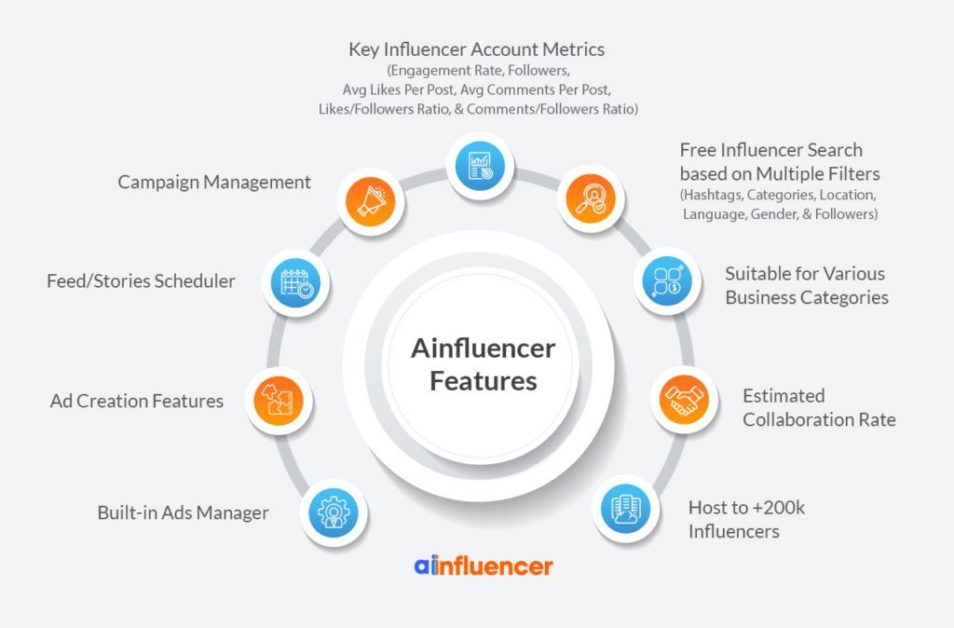 If you are still not convinced to use Ainfluencer marketplace, we have listed its features so that you can make an informed decision.
Ainfluencer offers you different metrics, such as quality score, engagement rate, and more to help you decide whether an influencer is the best fit for you.
Using the AI-powered search engine or sophisticated filters to focus your search once the ad has been created, you can find influencers.
It analyzes influencers' audiences and gives you an insight into what you will gain from influencers you choose to collaborate with.
It helps track performance from start to finish.
It provides users with a built-in chat box.
Brands and influencers can negotiate on the parameters of the marketing agreement and finalize the deal within the app.
Ainfluencer is free to use and risk-free.
Its dashboard is fast and easy to use.
Ainfluencer provides a bustling marketplace of worldwide Instagram influencers, so don't waste your precious time and sign up for it.
FAQs on How To Make Money As An Influencer On Instagram
You could have more queries about how to monetize your influence on Instagram. Here, we've selected a few frequently asked questions and provided answers. If you have any other questions, please ask in the comments below. We will do our best to address them promptly.
Q1:What Are Other Ways To Make Money On Instagram?
There may be other ways to monetize your Instagram account, for example, if you have a business you can make money on Instagram by selling your merchandise, partnering with other businesses, promoting special offers, etc.
Live Badges can also be enabled if you want to monetize Instagram. Instagram Live Badges are a way for American producers to earn money using the app directly. In order to demonstrate their support, viewers can buy the badges (which range in price from $0.99 to $4.99) during a live video.
Another option is to link to your blog or vlog, and selling advertising space on your own website (or making money from YouTube) can be extremely profitable, and you can use Instagram to direct your followers to that external site.
Q2: What Are Top Instagram Earners?
According to the Hootsuite blog, Cristiano Ronaldo has over 475 million followers and an estimated average post price of $1,604,000.
Dwayne 'The Rock' Johnson has 334 million followers and an estimated average price per post of $1,523,000. Also, Ariana Grande has 328 million followers and an estimated average price per post of $1,510,000.
Following these three celebrities are Kylie Jenner and Selena Gomez.
Last Words On How To Make Money On Instagram As An Influencer
In this post, we attempted to show you how to make money as an influencer and provide you with some ideas to help you get closer to your goal of making money on Instagram.
Do you know someone who's figured out how to make money on Instagram as an influencer? How did they get there? Please share in the comments below!
Now that you know all the things about monetizing your Instagram account as an Influencer, the point is that you may not have enough time to spend gaining followers and likes. In such a situation, ease your work and delegate it to reliable Instagram growth services like AiGrow.
Also, if you already have a follower base and are looking for a reliable platform to connect with brands and make money out of your Instagram account, don't hesitate and sign up on Ainfluencer right now! It's 100% free!