Influencer marketing has overgrown in the fashion area to drive brand engagement, and it covers virtually every niche imaginable. Additionally, The number of fashion influencers is also growing. In this case, If you are curious to know who are the "Most Followed Fashion Instagram Accounts," keep up reading this article.
In general, fashion tastes can be egregiously subjective, and it is improbable that you like the fashion displayed by everybody on our list. Therefore, most fashion followers will know the types of designs they prefer and will have found favourite influencers who promote style compatible with their tastes.
Are Most Followed Fashion Instagram Accounts Making Money
Nowadays, top fashion influencers can reach millions of target consumers and express brands and their products uniquely. So, this makes them wonderfully attractive for industries that are looking to stick out in a remarkably competitive market. However, there are few areas where top fashion influencers can genuinely stake a claim to influencing and changing their sponsors and also followers' lives.
So, fashion is one of those super-niches, where mega-influencers can genuinely impact, dictating the industry's entire direction.
It is to say that Brands are ready to spend up to Billion Dollars on influencer marketing by 2022. Moreover, the studies have found that for every $1 spent on influencer marketing, businesses are likely to generate $6.50 in revenue.
Related Article: Influencer Marketing Case Studies: Instagram for More Sales
 Top 10 Most Followed Fashion Instagram Accounts
1. Cole Sprouse
@COLESPROUSE (33.4 Million Followers)
Cole is a leading actor, photographer, and fashion influencer, and he is well-known for his roles on Disney Channel's The Suite Life of Zack & Cody and Riverdale. However, recently, Cole has made some significant headlines for his Western-inspired fashion, and GQ had even named him an "Emerging Style Icon" in 2018.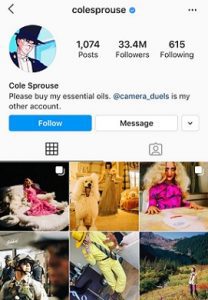 2. Chiara Ferragni
@CHIARAFERRAGNI (22 Million Followers)
Chiara Ferragni is an Italian Instafamous fashion Influencer, fashion designer, blogger, and businesswoman, and she started her blog in 2009. Then, in 2011 Teen Vogue introduced her as their Blog of the Year.
Surprisingly, her Instagram followers had already reached 1 million followers by that point and have continued to snowball since then. "The Blonde Salad" is the name of her blog and her first book.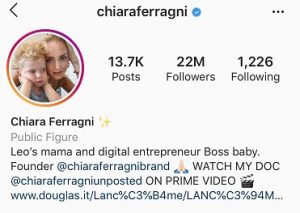 Chiara has modeled broadly, gracing the cover of many hotshot modeling magazines like Vogue and three times. Most importantly, She has collaborated with numerous fashion houses, including LVMH, Max Mara, Chanel, Giambattista Valli, Christian Dior, Tommy Hilfiger, J Brand, and Seven.
Above all, Chiara's enthusiasm for styling and her worldwide popularity has motivated her to launch her clothing line – Chiara Ferragni Collection. Likewise, she has her version of a Barbie doll, created by Mattel, dressed in Chiara Ferragni Collection clothes. Also, she has possessed the title of one of the top fashion Instagram influencers and style icons for the last decade.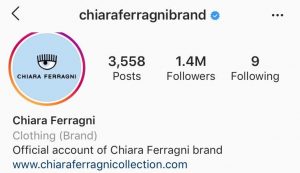 3. Camila Coelho
@CAMILACOELHO (8.9 Million Followers)
Camila is a Los Angeles based Brazilian designer, beauty, style, and fashion influencer who runs a renowned self-titled website. Furthermore, she has attended exclusive red carpets like the MET Gala in 2019 with DVF. Additionally, she collaborated with some of the most VIP fashion houses, including Dior, Tory Burch, and more.
Lately, Camila Coelho has become an END EPILEPSY ambassador and a patient influencer to change the neurological disorder's stigma. Now, she is part of Fhits, a massive bloggers network founded by Sao Paulo based fashion queen Alice Ferraz.
Camila is a celebrities' look video tutorial specialist; therefore, it not surprising that she has been a superior fashion and beauty power on YouTube. Accordingly, she has two YouTube channels (one in Portuguese and one in English) with over 1 million followers. Above all, she has over 6 million Instagram followers, an ideal record for her visual content type.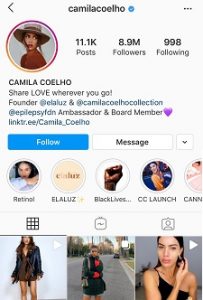 4. Olivia Palermo
@OLIVIAPALERMO (6.4 Million Followers)
Olivia is a New York City-based fashion Instagram influencer. Firstly, she began her profession in fashion as a member of "The City" television show of MTV and later in Elle magazine's accessories department.
In addition to this, Olivia is one of the best dressed New Yorkers of "Page Six," according to the New York Post. Also, she has adorned the covers of some of the most notable fashion magazines, including InStyle, Flare, Cosmopolitan, Arcadia, Elle, Marie Claire, Lucky, Harper's Bazaar, L'Officiel, Brides.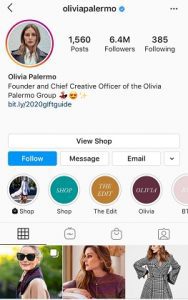 5. Negin Mirsalehi
@NEGIN_MIRSALEHI (6.2 Million Followers)
Negin Mirsalehi is a Dutch fashion influencer with over 326,000 YouTube subscribers and over 5.5 million Instagram followers. She has cooperated with some of the most well-known fashion, including her partnership with Express x Negin Mirsalehi.
Likewise, Negin is the founder of Infused Hair Oil and Gisou Honey, with an exclusive oil-enriched made with honey from the bee garden of Mirsalehi.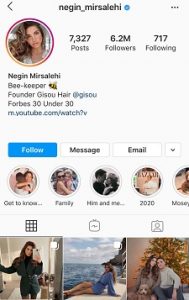 6. Lauren Conard
@LAURENCONRAD (5.9 Million Followers)
She is an American Instafamous who obtained fame through a well-known TV show, "Laguna Beach." Now she is an author, a designer, and an Instagram style influencer.
She launched the LC Lauren Conrad collection with Kohls in 2009 and has been collaborating with the brand since then. Moreover, Lauren is a Paper Crown founder and, The Little Market, the fair trade online store's co-founder.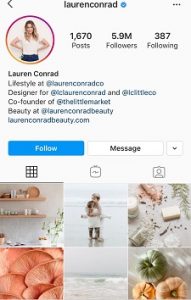 7. Julie Sarinana
@SINCERELYJULES (5.7 Million Followers)
Julie launched her blog in 2009 to motivate women worldwide, and now she is rated one of the top "OG" style influencers. In 2019, Julie started a collaboration with surf-inspired Australian lifestyle and garments brand Billabong. It was the most successful partnerships in Billabong women's history, one of the most notable brands.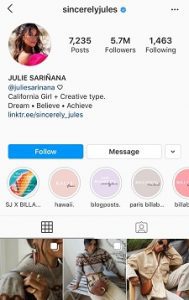 8. Aimee Song
@AIMEESONG (5.6 Million Followers)
Aimee Song is a fashion Instagram influencer based in Los Angeles. To clarify, her first design collaboration with Gentle Monster sunglasses in 2017 sold out in less than 22 minutes. And her latest collection for Revolve has been the brand's biggest launch to date.
 Aimee Song is the author of "Capture Your Style," the best-seller. She started blogging in 2008. Certainly, her weblog, "Songs of Style," was initially supposed to be an interior design blog. On the other hand, Aimee realized that posts devoted to what she was wearing worked best.
Consequently, the blog turned direction, focusing on personal style and featuring daily fashion photos and design inspiration. She has created her jewels and garments brands to complement Songs of Style. Aimee has collaborated with companies like Lacoste and Bloomingdale's.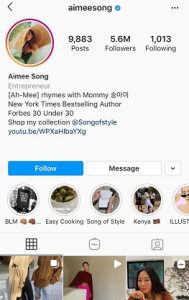 9. Karen Wazen Bakhazi
@KARENWAZEN (5 Million Followers)
Karen is a famous Middle Eastern fashion influencer and a founder of Karen Wazen Eyewear. She has been highlighted in some of the most notable fashion magazines, including Grazia and Harper's Bazaar Arabia.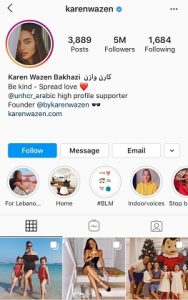 10. Alexa Chung
@ALEXACHUNG (4.1 Million Followers)
A British writer, socialite, a television presenter, fashion designer, leading style influencer, and a fashion icon. Same vein, she has authored the book It in 2013 and launched her eponymous fashion brand in May 2017.
Above all, she has had long-term cooperation with AG Jeans since 2015. In other words, Alexa is an inspiration to many fashion designers because of her unique personal style. As a result, she is a regular model for  Harper's Bazaar, Vogue, and Elle, and is often catwalks in the front row at fashion shows.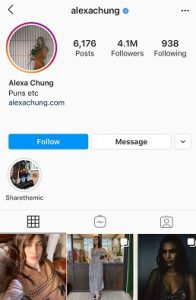 How to have a Most Followed Fashion Instagram Account Quickly
Time is money! To be one of the most followed fashion Instagram influencers, you need to manage your Instagram account, engage followers, and grow followers organically. 
Consequently, to avoid wasting time managing your feed, monitoring your follower growth statistics, and getting the best instant result, the AiGrow Instagram management tool is your safest option.
Final Words on Most Followed Fashion Instagram Accounts
In summary, social media marketing is one of the best ways to promote your product and grow your business or industry. If you are crazy about Instagram marketing and the fashion industry, it is good to study the Most Followed Fashion Instagram Influencers and follow in their footsteps.