Gone are the days where traditional branding methods were widely used to establish a brand's identity. Today many rely on social media and especially Instagram, to build a brand, which is no surprise, of course. Social media has found its way into every aspect of today's digital world, and branding is not an exception. Among all the social platforms, many people find Instagram more aligned with their branding efforts. Like every other marketing aspect, to build a brand on Instagram, you should be familiar with the nuts and bolts.
For creating an Instagram brand, you need to combine several methods and know specific tricks to establish your brand properly. However, the good news is most of what you need to do doesn't require expert knowledge like gaining more Instagram followers. We all know that shouldn't be a problem since you can simply opt for a free 1k followers trial. A few may sound new to you, like running Instagram giveaways or knowing how to boost your Instagram reach through sending mass DMs.
Whatever it is, you don't need to worry since this article will walk you through how to build a brand on Instagram and introduce 10 proven rules you should follow. Even if you're an ordinary Instagram user, you can easily start building a brand on Instagram by only following a few basic rules. So let's see how it's done!
How to Build a Brand on Instagram: 10 Proven Rules to Follow
In the sections below, you'll learn 10 proven rules that most best-selling Instagram brands follow. So let's start building a brand on Instagram without wasting more time!
1. Set Your Instagram Brand Objectives
First things first! Before going to see how to build a brand on Instagram, you have to set your goals, see what you need, figure out how you want to be presented, and define your customers' personas. 
This step definitely helps you in creating an Instagram brand and standing out on Instagram. Without knowing what people need and what they will buy, you'll just be wasting your time. So, do market research, identify your target audience, and plan an effective marketing strategy for your Instagram brand. 
Also, the following questions may come in handy while clarifying your goals: 
What products and services should I offer?

Who should I attract?

What characteristics should my audience have?

How often should I post on Instagram to get the most impressions?
Take your time to answer these questions and plan to build a brand on Instagram. 
2. Create a Captivating Instagram Brand Profile
To build a brand on Instagram, you need first to create an Instagram profile. Using the goals you have defined in the previous step, choose a catchy brand name, set up your Instagram username, and create a logo. There are many different brand name generators available online, each with its own strengths and weaknesses. Some generators are better at generating creative and unique names, while others are better at generating names that are relevant to your industry or niche. It's important to do your research and find a brand name generator that meets your needs. To get more followers naturally, it's better to set your brand name as your Instagram username. Also, set your logo as your Instagram profile image to make your brand bolder and easier to find. You can then use Instagram followers apps to grow your followers organically.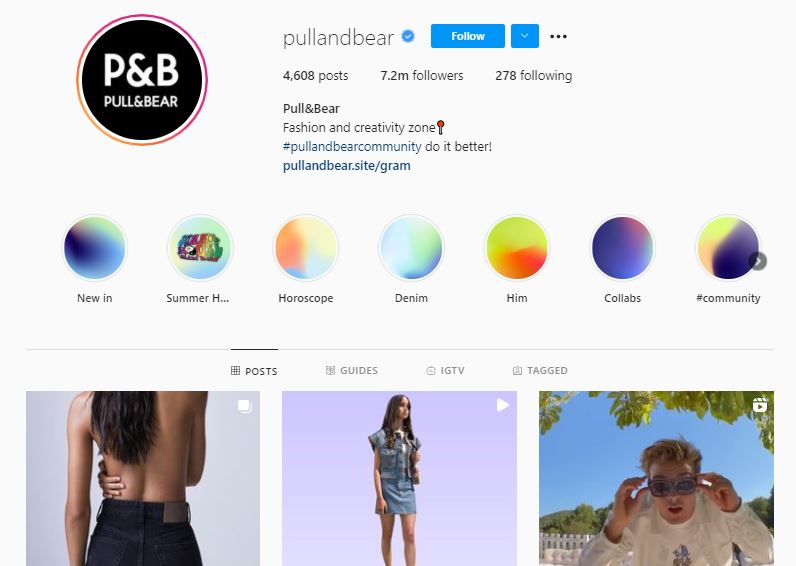 3. Switch to an Instagram Business Account
In the past few years, Instagram added a new feature for managing a business on Instagram. This feature is called 'Instagram business account'. Having an Instagram business account increases your brand visibility, derives more attractions to your account, and makes it easier for you to appear on the Instagram explore page.
Using business accounts, you can directly promote your posts on other social channels like Facebook. Additionally, you'll have access to Instagram insights, a professional analytics tool, enabling you to analyze your performance and improve your strategies if necessary. 
So, if you are wondering how to build a brand on Instagram that prospers instantly, switch to a business account and let Instagram help you grow up out there.
4. Attract More Targeted Followers
Well, how to build a brand on Instagram without followers? It seems ridiculous, right? So, to have a great brand page on Instagram, after defining your target audiences' personas, you ought to try hard to attract them.
To speed up this step, we recommend you use the best social media marketing tools and Instagram growth services like AiGrow.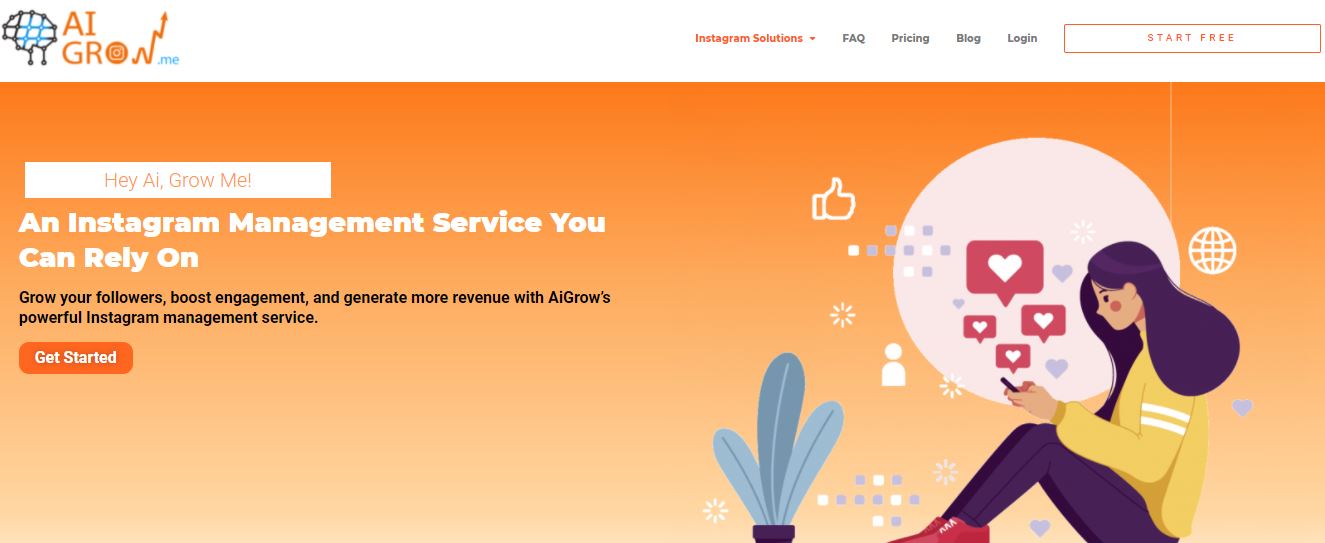 Using this Instagram marketing tool, you can attract more local followers and turn your followers into customers a lot easier. Take a look at the following video and see how it works:
Or you can sign up for free right now and enjoy your instant growth on Instagram. You can also get a 1000 free Instagram followers trial to get organic and niche-related followers.
5. Stick With One Branded Theme
One of the essential steps you must take to build a brand on Instagram that people easily remember is to create a special branded theme and stick with it. Having a special layout for Instagram posts, using specific background colors, and following a particular theme, after some time, your followers recognize your posts even without looking at your username. This means they can easily recall you, and hence, it'd be easier for them to engage your posts. 
Here's a good example by @lushcosmetics: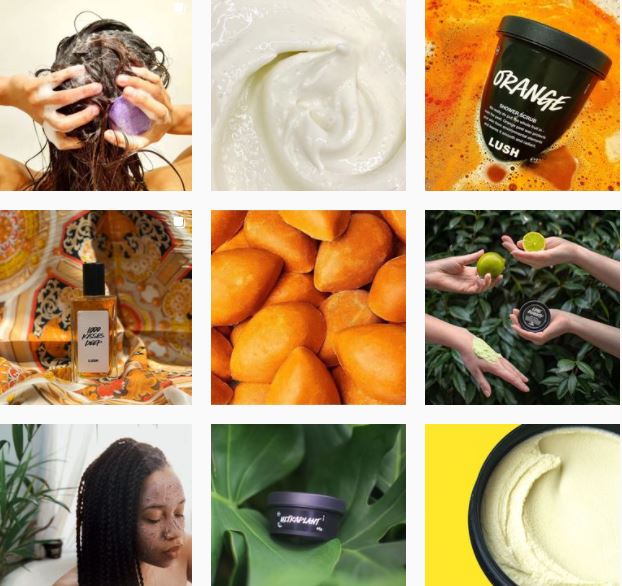 Be creative, design a captivating theme, and get more engagements.
6. Create Branded Instagram Hashtags
One of the tips we can learn from best-selling Instagram brands is to create branded hashtags. Apart from using the best niche-related Instagram hashtags to attract more followers, you must create 1-2 branded hashtags. These hashtags help your customers find you easier. Additionally, by promoting them, you can find UGC more easily.
Your branded hashtag can be your brand name or something inspirational. For instance, Nike uses #JustDoIt, and Carlos Bakery has mentioned the following hashtags on their profile: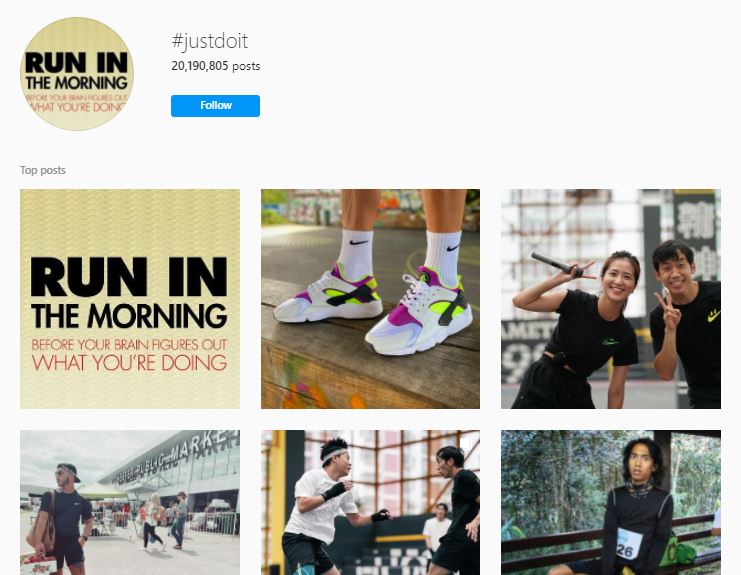 7. Enable Your Followers to Buy What They See
Now, you almost know how to build a brand on Instagram. So, all that remains is to launch your products and sell them on Instagram. Fortunately, you can turn your Instagram account into a great online shop and sell whatever you want. Just go ahead and create a shoppable Instagram feed in five minutes, add price tags and links to your products and let your followers buy what they see. 
8. Run Instagram Marketing Campaigns
Finally, it's time to advertise your products on Instagram and get among the best-selling brands out there. For this, we suggest you try all the tested Instagram marketing campaigns and promote your business like an expert. The marketing strategies you must try are as follows: 
Instagram giveaway contests
Incorporating these 3 ideas in your marketing strategy, you can always grow better and build a pioneering brand on Instagram. If you use contests and giveaways, remember to use an Instagram contest picker to choose and announce the winner (s) automatically. 
9. Be Active
You'll need a community for building a brand on Instagram. Being active is the only way to achieve this. You can accomplish so by making comments on other people's profiles and taking pleasure in other people's photographs. It's a great method to make an impression and persuade them to return the favor.
In addition, you also need to be active on your own account by posting regularly on your feed and Instagram story. This way, you will always be present on your followers' feeds. 
10. Promote Your Instagram Profile
Last but not least, promote your Instagram account on your other social media platforms. One effective way to promote any business is through email marketing. You can create an email list based on your Instagram followers and use it to send reach new customers and let them know your brand has an Instagram account. If you're serious about growing your Instagram following, you can send direct messages to your Facebook friends with a link to your Instagram account. Instagram will also tell you which of your Facebook friends are on Instagram so you can start following them, which will urge them to follow you back.
Closing Thoughts on How to Build a Brand on Instagram
Branding is not achieved overnight. Creating an Instagram brand takes time and effort. You need to plan accurately and implement all your strategies step by step. By following the rules described in this article, you can hope to create your brand on Instagram the right way. These rules are indeed general and may not apply to everyone. So it's best to try them out yourself and see which ones work better for you.