As a fitness enthusiast, you may have decided to take your journey to a whole new level. And by a new level, we mean the Insta-famous level of fitness workouts! The bright future of social media influencers has made it the dream of many aspiring users. However, in order to be a resounding success in this field, you must first learn about creative fitness Instagram post ideas!
You might choose to become an IG influencer for various reasons. For instance, earning money while you are one of the Instagram fitness models and providing valuable content. But whatever your aim, you need to learn what fitness Instagram post ideas would make for engaging content.
That's what we're here to help with. We have gathered 13 best fitness content ideas for Instagram! ‌But if you're a beginner, it's good to learn how to grow your fitness Instagram page from scratch.
Additionally, using magic tools like AiGrow, you can grow your followers as a fitness influencer. Also, using influencer marketplaces like Ainfluencer you can find the best fitness influencers or find brands to collaborate with.
6 Tips to be a Successful Fitness Influencer
If you have a dream of being one of the best Instagram fitness models, now it's time to learn how to become a fitness influencer and achieve resounding success. You can even make money as a fitness influencer on Instagram as a lucrative career option.
Let's go through our six most practical tips to get closer to knowing how to start a fitness Instagram page!
#1 Switch To Business Account
If you're a micro-influencer and don't run a business account yet, it's time to shake things up a bit! As we mentioned, you can make money on Instagram as an influencer. But to achieve this aim you need to go to great lengths to engage your audiences with the best fitness content ideas for Instagram.
Consider that, no matter how many fabulous ideas you have, your fitness Instagram post ideas are inconsequential if you can't see helpful analytics. So, switch to a business Instagram account instantly.
This way, you can use some of the most fantastic features. Plus, you can visit IG insights and check how many visitors you've had or how engaging your posts are.
#2 Use Ainfluencer To Become a Successful Fitness Influencer
We know how difficult it is to compete with all the successful influencers and fitness models in your niche. It is even more challenging to find IG influencers to team up with or fitness brands on Instagram that can work with you!
In this competitive realm, Ainfluencer comes to your rescue! Ainfluencer is a robust influencer marketplace that can help both brands and influencers!
With this great Influencer marketing platform, brands can search for influencers based on specific categories, and influencers can quickly find brands in their niche. For example, you can find female fitness models, and get inspiration as fitness influencers or start collaborating with them as fitness brands on Instagram.
Let's take a look at Ainfluencer's features:
It's 100% free to use for its DIY plan.
Ainfluencer's risk-free system keeps track of your influencer marketing campaigns and holds funds until you confirm the necessary material.
Its AI-powered search engine helps you discover influencers.
Ainfluencer displays account information like engagement rate, average comments, likes, comments to followers ratio, and likes to followers ratio for influencers.
Brands can create a free marketplace ad that is posted to the marketplace where thousands of qualified influencers can see and make offers.
Brands and influencers can negotiate the marketing terms and close the deal right in the app using the built-in chatbox.
Ainfluencer tracks your performance from start to finish.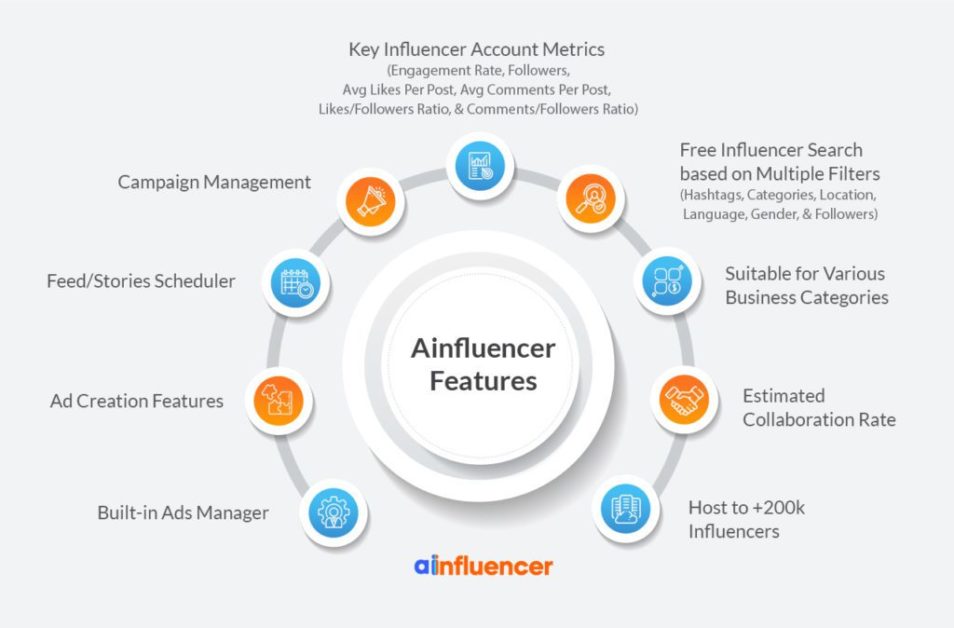 You can also read the Ainfluencer review to know all the things about this incredible influencer marketplace. As you can see, it is pretty impressive and straightforward!
So, sign up for Ainfluencer for free right now to get access!
#3 Be Consistent
We're sure you have all heard that consistency is the key to success! When it comes to working hard for a goal, everyone tells you to be consistent. And although it sounds like a cliche, they are absolutely right! So, if you want to brainstorm and post ideas for your fitness on Instagram and share them frequently, keep reading!
Don't you have fitness content for Instagram? If not, don't freak out because we are going to inspire you. If yes, then you should start sharing your gym posts or any other related content consistently!
Additionally, you can use third-party apps:
Aischedul is all you need if you want to have a consistent presence on the platform. It offers marketers intelligent post scheduling, content linking, social monitoring, and contest tools.
#4 Share High-Quality Content
We just mentioned consistency and how it helps. However, one of the keys to see how to become a fitness influencer is not to forget that you shouldn't sacrifice quality for quantity! Sharing high-quality fitness images and videos is vital if you want to be among the top influencers on Instagram.
Besides, to complement your high-quality content, make sure you know the SM image sizes and specs. This way, your images, which are the most important fitness content for Instagram, won't look distorted!
#5 Schedule Fitness Posts For The Best Time
After reading this article, you must have some perfect fitness Instagram post ideas to try out. We're glad we helped. But, make sure that you share your fitness content, which can include your daily workout posts, during the best times to post on Instagram.
Otherwise, you will end up posting when your audience is inactive, at work, or asleep. And so, you will notice that your best content has gone down the drain because it received no attention!
To schedule your posts, you can use a third-party app like AiGrow. Read our AiGrow review to better understand the capabilities of this incredible Instagram solution.
It is a growth tool that, in addition to having all the features of a growth tool like helping you increase your followers, likes, and views, also allows you to schedule your posts to share them at the best times even if you are not online.
#6 Use Fitness Hashtags
Never underestimate the power of hashtags! They can help you reach a broad target audience and get more followers. A best practice is to design your unique hashtag and use some of the top Instagram hashtags related to fitness or fitness brands on Instagram. 
Some of the best-performing hashtags for fitness on Instagram for influencers are:
#WeightlossMotivation, #AbWorkout, #Cardio, #HIIT, #Fitness, #FitnessGoals, #Health, #FitFood, #InstaRunners, #YouCanDoIt, #BodyGoals, #GetFit, #TrainHard, #GymLife, #fitfam
Aigrow can help you generate and explore the right fitness hashtags. This will be explained in more detail in the following paragraph. Go on reading.
Best Option to Become An Instagram Fitness Influencer Quickly
Our recommendation for you is AiGrow. Using this platform, you have many practical features at your disposal.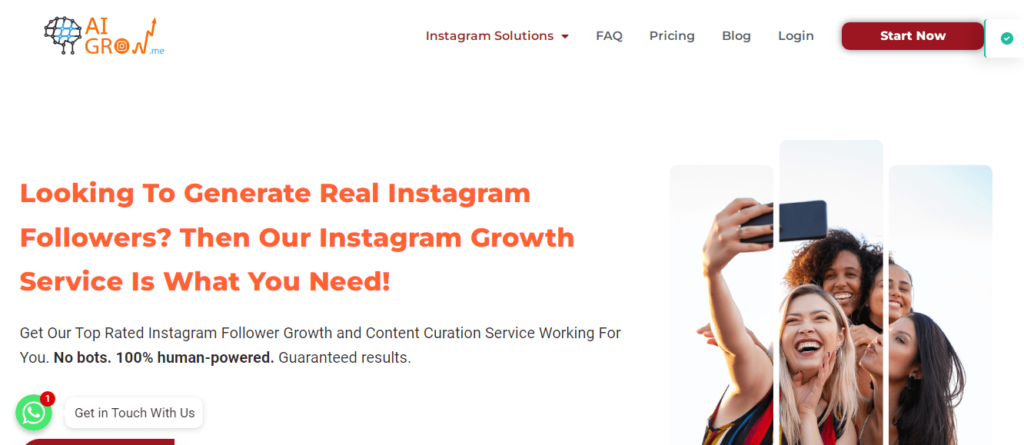 AiGrow enables you to:
Schedule posts, stories, and reels,
Repost content to feed and story,
Do hashtag research,
More importantly, this platform offers a reliable, efficient growth service!
With AiGrow, starting a fitness Instagram page is easy; all you need to do is select your target hashtags, location, and competitor accounts. Then, the AI-powered tool will find your target audience. And finally, your dedicated manager will take care of growing your account organically and quickly!
If you have suggestions or questions at any point during this journey, you can share them with your manager and team. They will make sure to address all your concerns!
To get an idea of what it's like to use AiGrow, check out the video below:
If you're as impressed, sign up on AiGrow right now!
13 Best Fitness Instagram Post Ideas
Now that you know how to start a fitness Instagram page, you need to understand what fitness content would engage and attract your target audience before deciding to create your Instagram content plan.
Despite what you may think, posting selfies is not the only or best fitness Instagram post idea. However, it's undeniable that selfies have entertained us and are still excellent Instagram post ideas. But, you need to exploit a variety of content types to see the best results!
We will cover 13 brand-new fitness post ideas for Instagram to help you climb the ladder of success when starting a fitness Instagram account. So, read on to figure out how to grow your followers with excellent, organic content!
Fitness Instagram Post Ideas #1: Post Fitness Tutorials
When hearing about fitness influencers, the first thing that comes to mind is workout tutorials. Instagram fitness workouts are fantastic educational posts for attracting interested viewers and motivating your audience to become fit.
In these videos, your viewers learn specific exercises that you have carefully planned out. Many, like Tally Rye, share such videos on their Instagram feed regularly.
Remember, though, you don't have to share your Instagram fitness programs only on your feed. You can share your fitness content ideas by setting up online fitness classes, posting a video on IGTV, or using the carousel feature as Massy Arias, one of the best female fitness models, does.
These types of workout tutorials perform well and are also helpful for those who don't feel safe enough to hit the gym during the pandemic. So, feel free to create tutorials to help your followers while helping your IG followers grow!
Fitness Instagram Post Ideas #2: Say More About Your Personal Life
Next on our list of fitness content ideas is sharing personal content. Don't get us wrong! we don't believe that you're not entitled to privacy once you become a social media influencer!
But, if you desire to earn your audience's trust, include some of your personal feelings and moments. For instance, you can share your weight-loss journey in captions on Instagram or you can record a live video of your personal trainer on Instagram or upload it on IGTV.
At any rate, sharing feelings and thoughts provides the ideal opportunity to foster a trusting relationship with your audience.
The brave content and aesthetic caption of Hayley Madigan, one of the other female fitness models, sharing her own story, has enabled her to connect with followers on a deeper level.
Fitness Instagram Post Ideas #3: Share Motivational Content
As an Instagram gym aesthetic or fitness influencer, many of your followers look up to you for motivation on their journey. Therefore, it's a good idea to make a habit of posting content that would motivate your audience on their fitness path. 
For example, you can share Instagram fitness motivation quotes with a high-quality fitness picture of yourself every day in your story. Motivational posts can be excellent fitness content for Instagram. But keep in mind that these posts aren't just beautiful quotes you find inspiring.
Sharing your transformation or difficulties can also be inspirational, especially if you're one of those hard-working female fitness models or trainers.
Fitness Instagram Post Ideas #4: Post Meal Prep Ideas
Many of your followers are also looking for recipes and reliable advice about their diet. So, one of the best fitness post ideas for Instagram is sharing your unique recipes and ideas for healthy meals!
For instance, @_thehealthycoconut, one of the female fitness models, regularly shares healthy meal preps for her followers.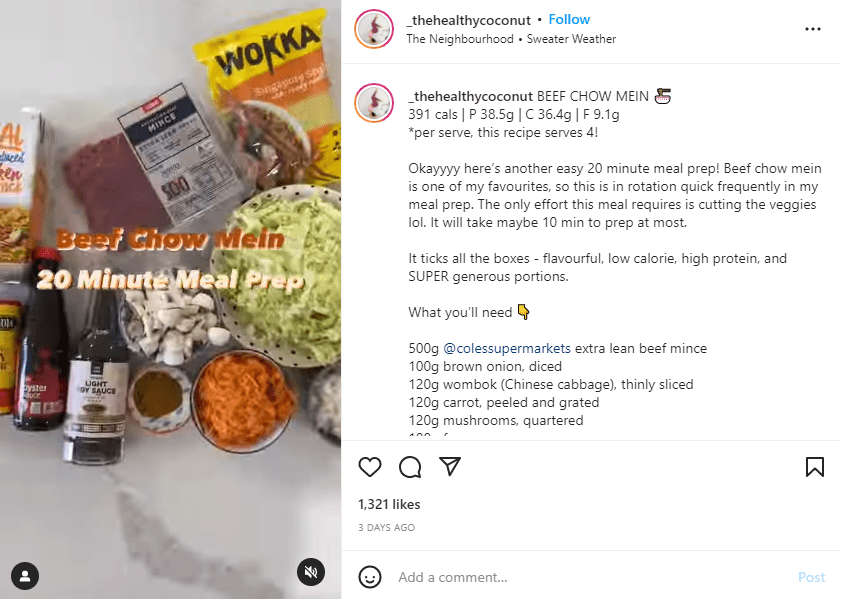 By doing so, you can inspire those who want clean-eating meal plans while starting a fitness journey. If you're craving more creativity, you can offer free diet plans as one of the best fitness Instagram post ideas. Don't forget that if they're happy, they'll come back for more and will be willing to pay!
Fitness Instagram Post Ideas #5: Post Before/After Pics
Are you a trainer looking for new fitness Instagram post ideas? A fantastic fitness content idea for you is to share your students' transformations with their permission. You can also share before/after images of yourself.
First off, it is excellent social proof and helps others trust your skills and information. Secondly, it encourages your other students and followers to keep going!
For instance, Sarah Rav, one of the successful female fitness models on Instagram, sometimes shares her before/after photos and personal thoughts. It shows her transformation into a healthier person, which is pretty inspirational!
Fitness Instagram Post Ideas #6: Sell Branded Merch
A noticeable source of income for influencers is establishing a relevant brand and selling their products. As an influencer, you have tremendous power to influence your followers' judgments.
And if a product has your stamp of approval, your followers would be eager to buy it. So, if you are an influencer, you can find fitness brands on Instagram and start collaborating with them. Don't forget to use the best influencer marketplace; Ainfluencer.
To attract your audience's attention, you can add CTA buttons to your Instagram posts, bio, and stories. By doing so, you can make a huge amount of money on Instagram as an influencer. Not to mention that your products will also help your followers.
Fitness Instagram Post Ideas #7: Go Live
Going live on Instagram to share your workout routine or to answer your followers' questions is an excellent idea for your fitness posts on Instagram! You can seize this opportunity to get to know your audience. 
Plus, let's not forget that the new Instagram algorithm rewards those who utilize Instagram's new features! So, if you decide to go live, post reels, or IGTVs, Instagram will reward you. As a result, your engagement rate will soar, and you will appear on the 'Explore feed' more often!
Fitness Instagram Post Ideas #8: Repost
Have you run out of all fitness Instagram post ideas? Well, if you have tried all types of content, and ask what should I post on my fitness Instagram page, why not repost a photo on your Instagram?!
If you see an inspiring post performing well with your audience, you can ask permission to repost it. It doesn't have to be just a photo, either! You can also conveniently repost videos on your Instagram.
Fitness Instagram Post Ideas #9: Do Trending Fitness Challenges
By participating or inviting people to join the trending challenges, you're joining a big community that strives towards a shared goal. If designed and performed correctly, challenges can engage your audience and make them feel like they belong to a community.
All you have to do is find the latest Instagram challenges and give them a try! They are fun, entertaining, and can lead to awareness! For instance, Abhish Desai has exploited this content idea to the fullest.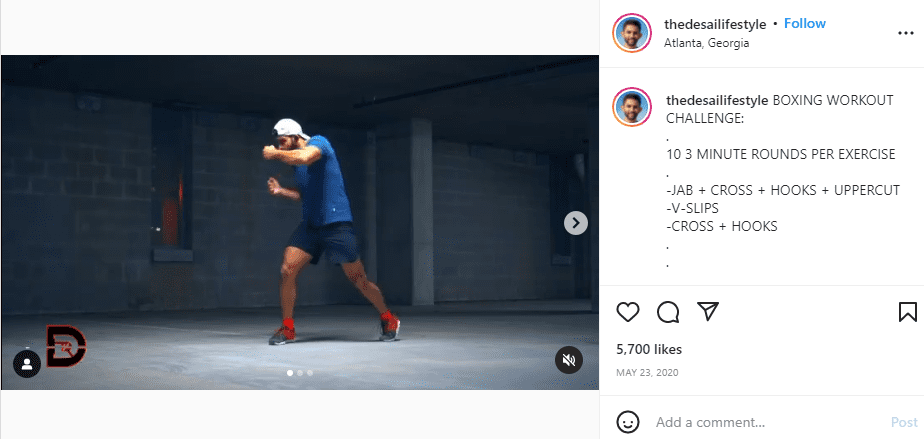 Fitness Instagram Post Ideas #10: Host Giveaways
You can't find one person who doesn't like prizes and free stuff! People love being rewarded, and you can use this opportunity to your advantage! So think about the best Instagram giveaway ideas!
Hosting giveaways can be challenging, but they are also highly effective! You can run giveaways to lure people to your Instagram page and captivate them with your quality content!
Besides, if you share Instagram coupons as your giveaway prize, you can also raise brand awareness. Your reward can also be membership, free online fitness classes, or free access to some paid services. As long as your prize is relevant to your fitness posts on Instagram, you can get as creative as you want!
You may find giveaways time-consuming. And you're not wrong! But remember that you can always automate your giveaways or use the best Instagram giveaway picker to simplify the process.
As we mentioned, AiGrow is a comprehensive IG growth tool that offers you different features. One of them is automated giveaway contests.
So, sign up for AiGrow to access one of the best giveaway pickers on the market!
Fitness Instagram Post Ideas #11: Collaboration
The best shortcut to success in almost any industry can be summed up in one word: connections. It also applies to Instagram fitness influencers. So if you're looking for new fitness Instagram post ideas, try connecting with others in your niche.
They can be the people who already follow you, other influencers, and, of course, sports brands! If you do this correctly, you will find yourself a sponsor for your Instagram page.
For example, Ashley Galvin, one of the best examples of female fitness models, has shared her props with her followers here.
Gina Marie is another excellent example of fitness models. Her Instagram feed page is full of collaborations with other influencers and businesses.
But where can you find brands to collaborate with?! If you have read this article carefully, you may have noticed that by using third-party apps like Ainfluencer, you can circumvent this issue. But if you can't remember, scroll up and read this post one more time.
Fitness Instagram Post Ideas #12: Ask Fitness Questions for Instagram
One other fitness post idea is to use poll questions for Instagram stories or ask questions in the comments. You can ask health and fitness questions and want your followers to answer them. It can be one of the best fitness Instagram story ideas that can engage your audiences.
Some of the fitness questions for Instagram polls are:
Do you have a fitness routine?
Is it more effective to work out in the morning?
What's your favorite breakfast or snack?
Are you drinking enough water?
Do you go for a walk every day?
Are you getting enough sleep?
Do you work out to deal with stress?
You can also get inspired by these questions to make new ones and want audiences to answer your questions in the fitness posts' comments or your story. You can ask them, How much progress have you made on your health and fitness journey? What's your favorite workout? How much water do you drink every day? etc.
Fitness Instagram Post Ideas #13: Show Your Achievements
Informing your audience about your accomplishments, winning an award, landing a celebrity customer, or gaining coverage in a newspaper, and then posting about it on Instagram, could give you a lot of trust.
However, your success does not have to be spectacular in order to be shared on Instagram. Even being included in an audience member's Instagram post thanking you for assisting them in reaching their fitness goals is a triumph, worth sharing with your followers.
So, don't miss this opportunity and talk about your progress with your audience. It can be one of the best fitness post ideas on Instagram that can motivate audiences to follow you.
FAQ on Fitness Instagram Post Ideas
There may be more questions about how to become a fitness influencer on Instagram and related topics. In this section, we answered a couple of questions that you may find your answer among them. But if you have more questions, feel free to ask.
1- How do I make my fitness on Instagram popular?
Here are some steps to help fitness professionals take their Instagram marketing to the next level:
1- Optimize your profile.
2- Post high-quality photos and videos.
3- Use relevant hashtags.
4- Tag people.
5- Create a schedule of the different types of posts.
6- Take advantage of Stories and Story highlights.
7- Add a link to your bio.
8- Host a contest.
9- Switch to an Instagram Business Profile
2- What should I post on social media for fitness?
There are some tried and tested ideas that you can adopt to see what you can post on social media. Here are some:
1- Tell your success story.
2- Share reviews and testimonials.
3- Create workout videos.
4- Talk about healthy eating and share recipes.
5- Meet your team.
6- Celebrate member achievements.
7- Show behind-the-scenes.
8- Run a challenge.
9- Share user-generated content.
10- Run give-aways or competitions.
3- What Are Pro Tips For Creating Fitness Instagram Posts to Make Them More Appealing?
By following some tips, you can create more appealing Instagram fitness posts. Some of them are:
Use a high-resolution camera and a high-quality microphone.
Don't hesitate when writing the caption. Make it short or long based on your needs.
Use a call to action to encourage your readers to interact with your content. (for example ask your followers to like, comment, or save your post).
Use a good photo editor like Canva to edit your fitness images.
Responding to comments will help you gain trust.
Conclusion On Fitness Instagram Post Ideas
From merely dreaming of being an Instagram Fitness influencer to actually becoming one seems to be a long way. However, using the best fitness Instagram post ideas can work miracles for you.
We hoped that this article will help you get over your creative block and provide some ideas for your Instagram fitness posts.
Remember that with a reliable influencer marketing platform like Ainfluencer, you are more likely to reach the heights of fame!