Instagram engagement is the single most important metric on Instagram. Engagement on Instagram consists of the many ways that people can interact with your Instagram page or content.
The most visible forms of engagement are comments and Likes. Although Instagram now removed Likes from the public eye, comments seem to be the only form of public engagement, which is not actually true. So, what is exactly assumed to be engagement on Instagram? How to calculate it and how to increase it instantly? 
In the following, I'm going to answer all these questions. So, stick around! But first, let's see why is engagement rate even important!
Why Instagram Engagement is Important?
Let's keep it short; before you learn and use some great tactics to improve your Instagram engagement, you need to know why this parameter has become so Important. According to the Instagram algorithm, the more people interact with your posts, the higher position you get on the explore page. when someone searches for a specific hashtag on the explore page, posts will be ranked based on their engagement rates. With a high engagement rate, you will appear in the eyes of more users interested in that specific hashtag, more new traffic will flow to your page, and more new followers you'll get.
But even if you are not aiming for the explore page, you have to try for a higher rate. Even when your followers are scrolling down their feed, they will be first shown the posts with the highest engagement rates and relevancy. The lower the engagement rate, the fewer followers will see your post, and all your efforts of preparing good content may reach nothing in the end.
But what affects the engagement rate? Well, as mentioned in the introduction, previously just the number of likes, comments, and followers influenced this rate. But today, factors such as: 
Views, 

Impressions, 

Reaches, 

Shares, 

Saves,

And, profile visits, 
are also important. Regarding these changes, how can you calculate the engagement rate? Let's see!
Also Read: Instagram Impressions vs. Reach: What's the Difference and Which One is the Key Metric?
How to Calculate Your Instagram Engagement Rate?
Here is the simple formula to calculate your engagement rate:
your engagement rate = Number of Likes + comments / Number of followers
Note that this formula was useful just before the latest updates in the Instagram algorithm. Right now, for a deeper understanding of your engagement rate, you should also include other forms of engagement in your calculation (Shares, Saves, etc.). So, a good formula to calculate your success rate would be: 
Instagram engagements (# of likes + # of comments + # of saves + …) / Reach
This way, you'll get a more reliable number as your engagement rate. But it'd also be harder to check it. So, keep on reading and use a free Instagram engagement checker to properly measure your success. 
AiGrow: A Free Instagram Engagement Checker
Well, one of the best Instagram engagement checkers is AiGrow. This free IG audit tool allows you to check your Instagram goals' overall status and helps you come up with better strategies. 
Luckily, this tool is totally free, doesn't need you to sign up or enter your Instagram username, and allows you to analyze unlimited Instagram accounts all for free. Using this engagement checker, you see analytics like this: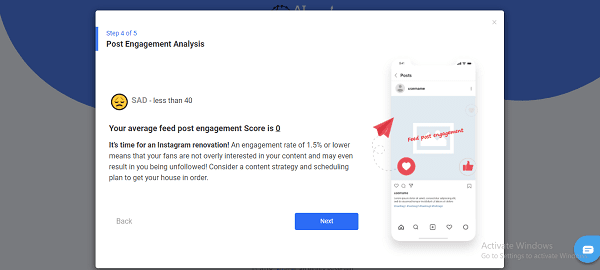 It also analyzes your hashtags, your followers' quality, and your growth rate. If you take all the steps to measure your success, you'll have the opportunity to sign up for free, use an Instagram growth package regarding your needs, and increase your engagement rate instantly. So, click here, read about this Instagram profile analysis tool, and get the best results possible. 
What is a Good Engagement Rate on Instagram?
Most people think that with more followers, they'll receive more engagements. This is why they buy Instagram followers or buy an account with 100K followers! But wait! Higher number of followers doesn't necessarily mean a higher engagement rate if you get fake, inactive, spam, or random followers! 
By the way, according to "Find Your Influencer", a good engagement rate is between %1 to %3. With this in mind, you must always check your Instagram followers in search of fake and inactive accounts to get better results. 
Read More: Interested In Checking Instagram Followers? Do Fake Follower Check
How to Increase Engagement According to the New Algorithm?
In 2021, Instagram released a new version of the algorithm, and it became even harder to get noticed. It seems like the new algorithm pays more attention to customization and based on the level of interactions each user has with an account, they'll have different experiences. This means that Instagram is not ranking accounts according to their popularity anymore. Instead, the algorithm measures the number of interactions you had with each account you follow and arranges them from the highest to the lowest. 
With this in mind, if you are managing a business account on Instagram, you must offer something innovative to get better results. For instance:
and more creative things in addition to basic strategies you all know, such as running Instagram giveaway contests, share sponsored posts, etc. But is there a faster way to get more engagements? 
Yes! Using an Instagram management service like AiGrow, you'll not only better manage all the tasks mentioned above but also get thousands of targeted followers instantly. Employing a professional Instagram account manager using this service and having the opportunity to use a scheduler, repost app, DM tool, and an all-in-one bio link app, you'll attract real and active Instagram followers and you can perfectly boost your engagement rate. So, sign up for free RN and use it to hit your goals. 
Also, check out the following video to learn how to get more likes on Instagram using AiGrow: 
Bottom Line
In conclusion, Instagram engagement is assumed to be the most vital metric to measure your success on this platform. According to the new algorithm updates, most users are experiencing a dramatic drop in their engagement rate. But no worries! Here I showed you how to spike it easily. So, read the article meticulously, and feel free to leave us a comment if you have any questions.