These days, you can hear everyone talking about Instagram giveaways and how effective they are. But, what's the big fuss about giveaways? Are they worth it? If yes, what Instagram giveaways ideas can you use to generate the most favorable results?
Using the best Instagram giveaway strategies can help you reach your target audience, increase sales, and find Email marketing leads. With so many benefits, running giveaways has become a must for almost every business! Yet, the variety of IG giveaway ideas and the number of tasks you need to manage might make you ignore this wonderful opportunity!
The importance of finding and exploiting new Instagram giveaway ideas and also choosing the best giveaway picker has made us dedicate this article to this subject.
However,  before we begin, let's find out why giveaways are crucial and how to run them.
Why Host Instagram Giveaways
If you have reservations about whether you should run giveaways or not, read the statistics below:
Contests lead to a 34% conversion rate, which means they perform better than all other content types.
More than 34% of new fans originate from contests or giveaway campaigns.
Accounts hosting giveaways have increased their followers 70% faster.
We cannot possibly ignore such astounding numbers and statistics. You can run your giveaways for a variety of reasons. For instance, you may want to:
Reward your followers for their engagement or interaction,
Reward your new followers or customers for their first purchase,
Increase engagement rate,
All of the above 😉
Instagram giveaways can help you achieve all your marketing objectives. Provided, you have new, engaging Instagram giveaway ideas!
How to Run Instagram Giveaways
We have already written an entire article on hosting effective Instagram giveaways. But, let's quickly go through the steps once more to ensure you have all the essential information!
First, get to know your target audience.
Second, choose an objective for your giveaway.
Third, come up with creative giveaway ideas for Instagram.
Set your contest rules.
And determine your prize.
Make sure to specify the number of winners and a clear deadline.
Then, edit or create an Instagram giveaway template.
Write an informative caption and add the best hashtags for Instagram giveaways.
Now, post your giveaway during the best times and promote it several times.
Once it's over, find the winners with the help of the best Instagram giveaway picker.
Finally, announce the winners in a separate post.
As you have noticed, we have discussed every single step before. Today, we would like to cover the best Instagram giveaway ideas for your posts and prize!
Instagram Giveaway Ideas
According to reliable statistics, Instagram giveaways and contests can earn you 2.5 times more likes! That's why several brands have already benefited from some Instagram giveaway post ideas, including IG photo contests and repost giveaways.
However, that doesn't mean that all giveaway/contest ideas on Instagram will suit your needs! In fact, the reason for running the giveaway and the prize you offer will narrow down your options. On your path to organic Instagram growth with this type of content, you need to keep in mind that the best giveaway ideas are the ones that are more in line with your objective!
Now, we are here to share fantastic social media giveaway ideas with you! So, let's get started!
1- Like-to-Win Giveaway
As the title suggests, one of your options is to ask your followers to like your post. Then, you can select the winners from those who have done so! However, it's nowhere near the best Instagram giveaway ideas because it doesn't involve much interaction or engagement. It is too easy and won't bring about more Instagram sales, followers, or reach!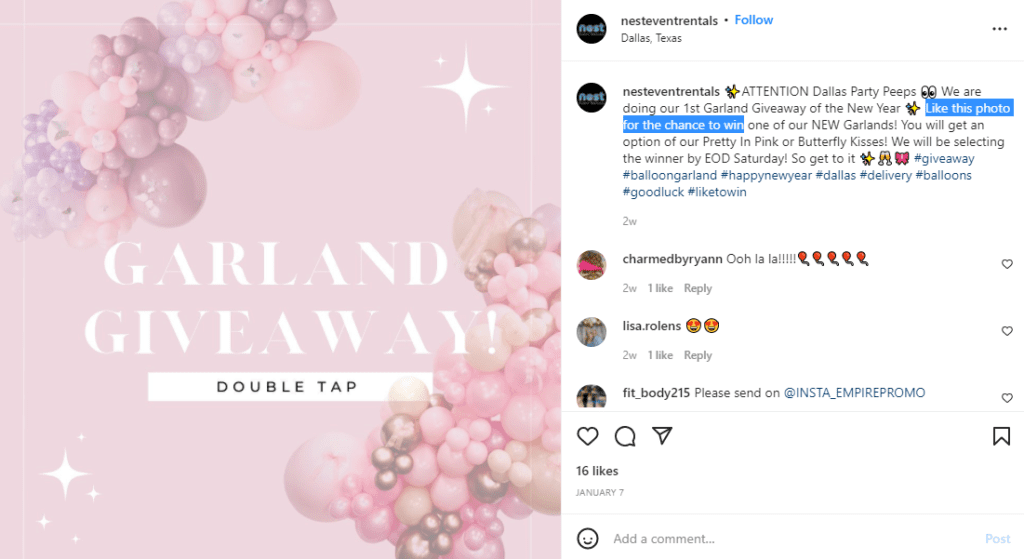 2- Comment-to-Win Giveaway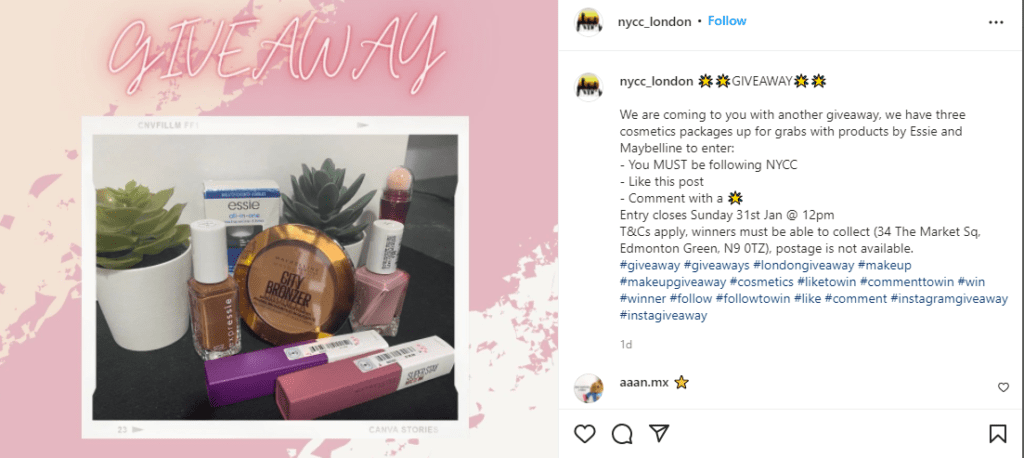 Ask your followers to comment on their experience or a particular emoji on the post to enter the giveaway. This one is straightforward for you to do and also lets you conveniently pick the winners with an IG comment picker!
However, this giveaway idea doesn't enable you to attract a new target audience. You're simply driving engagement and interaction from your existing followers.
3- Tag-to-Win Giveaway
If this idea is coupled with the last two, it becomes one of the most effective giveaway ideas for Instagram. It allows you to gain new followers, showcase your brand, and turn them into customers.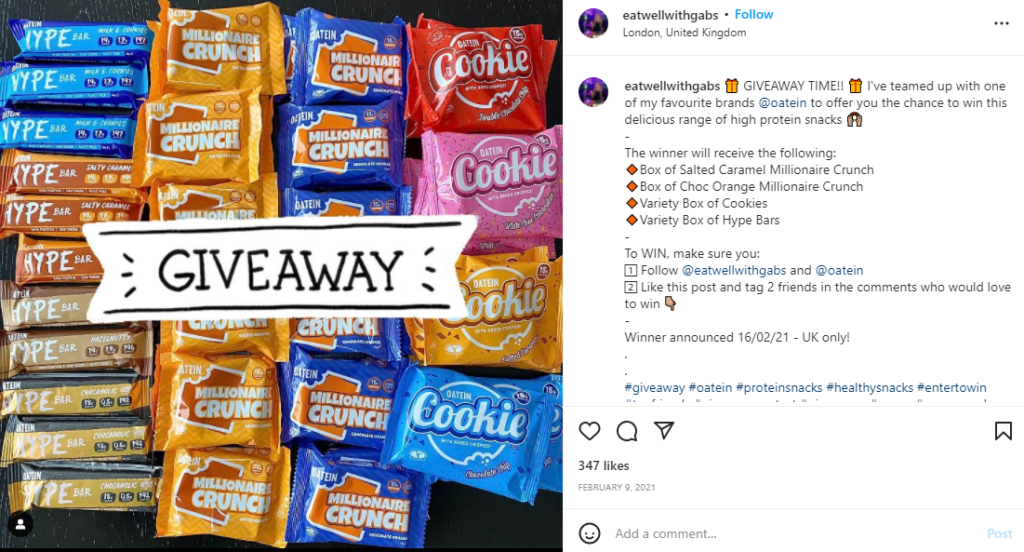 4- Repost-to-Win Giveaway
Among the excellent giveaway ideas on Instagram, this one also performs well. You can ask the entrants to follow you and repost on their IG stories to have a chance!
You can either select this as one of your primary rules or consider it for a bonus entry. That is, you can specify other rules and then ask them to take this step only if they want additional entries in your giveaway.
5- Caption-This Contest
One of the excellent giveaway contest ideas for Instagram is to ask your followers to write a caption for your post. They can write it in the comments or repost it and write it in the caption.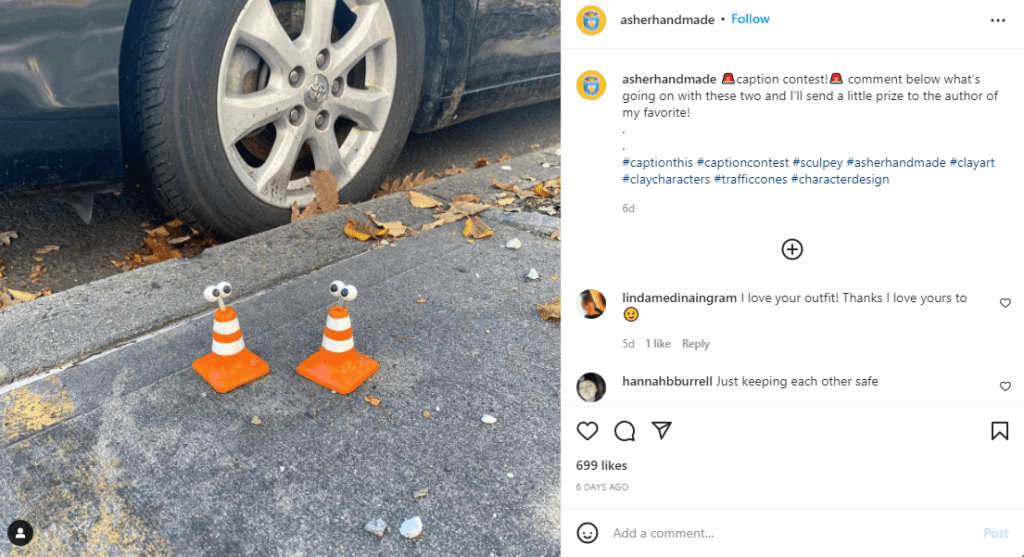 At any rate, it's one of the best giveaway contest ideas when it comes to Instagram. Exploiting it, you can double your engagement while having fun with your followers. So, it can help you foster a more friendly relationship as well!
Remember that it can be both a giveaway and a contest. That is, you can either pick a winner randomly from the comments. Or, you can offer the prize to your favorite comment! With such giveaway ideas, Instagram growth becomes more effective for you and more entertaining for your audience!
6- Trivia Contest
We all know that people love to show off their knowledge and put their skills to practice. Your trivia contest can provide the perfect opportunity for them to do so and win a prize!
A trivia contest is one of the untapped Instagram giveaway ideas. Plus, you can get creative with your questions. They can range from random unrelated questions to those relevant to your brand and products. It's on you to decide!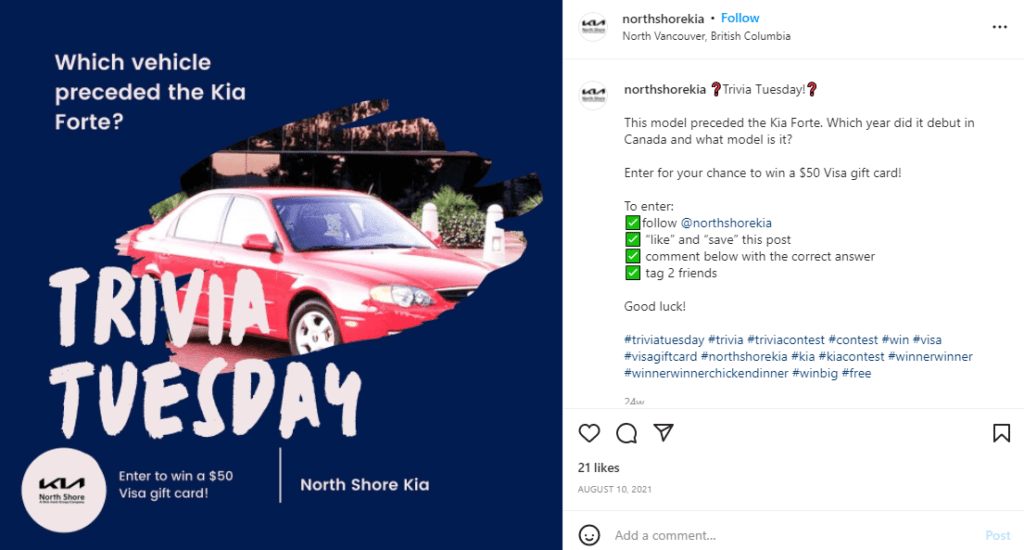 7- Hashtag Contest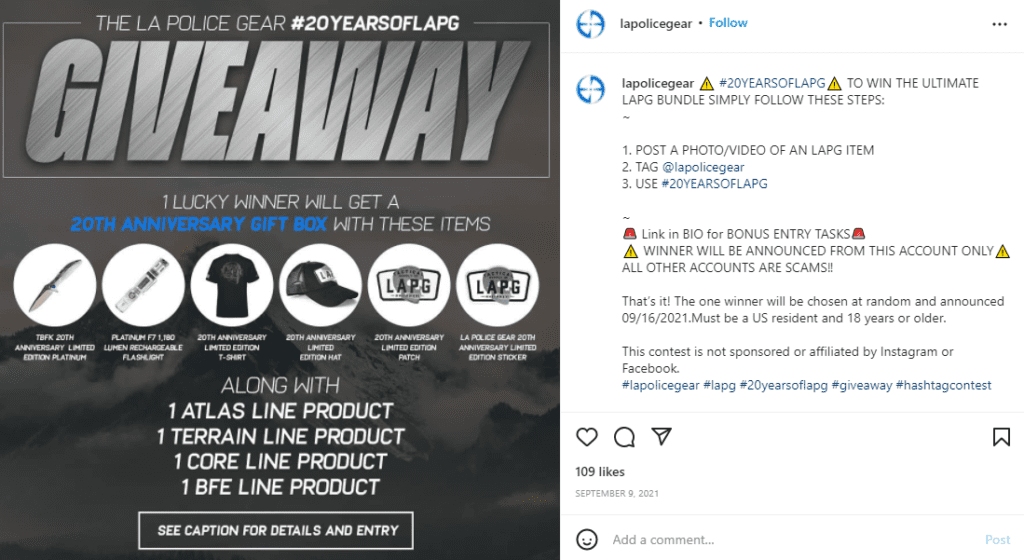 A hashtag contest starts with creating a unique hashtag related to your brand or products. Then, you will ask the participants to post certain content on their feed using that hashtag. Now, you can randomly choose one or pick the best post.
You can combine this giveaway idea with an Instagram photo contest. For instance, you can ask your followers to share their pictures and videos of your products and use the unique hashtag in their feed. Not only can you showcase your products to a broad audience this way, but also you're driving engagement!
8- Challenge Contest
Among these fantastic Instagram giveaway ideas, you can also ask your followers to complete a particular challenge to participate. This idea can also enable you to get more creative with your contests. So, you can define a challenge and reward those who do it best!
9- Partner Up with Influencers
Collaborating with influencers or hosting loop giveaways on Instagram also falls under the umbrella of excellent giveaway Instagram ideas. You can find Instagram influencers in your niche and ask them to share your giveaways.
If you're wondering how you can access influencers in your niche, we have one reliable platform that will take care of it for you.
Ainfluencer is an excellent tool for linking influencers with businesses. This AI-powered tool can find the best influencer for your purposes and budget! You can sign up for Ainfluencer right now!

10- Fill-Out-The-Form Giveaway
Although this Instagram giveaway idea is limited to those users who'd like to get more blog traffic for Instagram, it works perfectly! This type of giveaway helps you redirect your followers to your website. There, you can ask them to enter their email addresses which will later help you with your email marketing. Or, you get to simply refer them to an article!
At any rate, you'll end up with more visitors. However, the big drawback is that you're not driving more engagement, and you're not gaining more followers either. Instead, you would be counting on your existing followers to become your website visitors.
Instagram Giveaway Ideas for Prizes
When it comes to giveaway ideas, Instagram limitations become highly important. That's why selecting a prize is a challenge!
Have you already chosen your course of action but don't know how to reward the winners?! No worries, we can help you with that!
Let's see what Instagram giveaway prize ideas there are!
#1 Instagram Coupons
One of the best Instagram giveaway ideas for a prize is coupons! You can share coupons for a giveaway prize or discount to turn your new followers into happy customers!
#2 Gift Cards: Instagram Giveaway Prize Ideas
While considering giveaway ideas, don't exclude gift cards! They are exciting and can appeal to your audience. Don't forget to share your best, most engaging Instagram posts before you give away the prize!
#3 Your Products and Services
You can offer your most popular product or your newest services as the prize. By doing so, you are drawing attention to the launch of a new product while getting more followers who are actually interested in your content.
#4 Customized Product Packages for Holidays
Always pay attention to the upcoming holidays so that you can offer holiday-specific packages. This gift can also be one of the most fantastic Instagram giveaway ideas because you can reach the audience in your niche and sell more.
#5 Website Membership
If you're looking for more awesome Instagram giveaway prize ideas, consider offering free website membership to the winners. Not only can you drive more traffic to your website, but also you can make sure that your new followers genuinely like what you offer. If they didn't, why would they take part in your giveaway; right?
#6 Enrollment in Courses
If you post educational content, you can offer free classes or online recorded courses. This way, you're helping your audience while they're helping you reach social media success. It's a win-win!
All the mentioned points can function as excellent social media contest ideas across all platforms. So, no matter if it's Facebook, Twitter, TikTok, or Instagram, they can work well! However, you should keep in mind that with more than 1 billion users, Instagram is a much more ideal platform!
Best Tool to Simplify Instagram Giveaways
Once you choose one of the listed Instagram giveaway ideas, you can start it and enjoy the result. But I'm sure you feel overwhelmed with all the tasks you have to manage for your Instagram giveaway.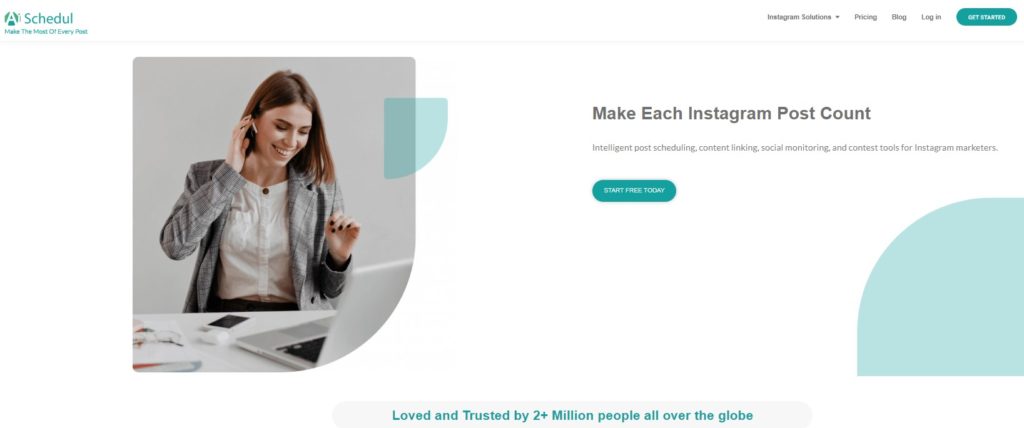 It's entirely natural to feel lost and confused. But, you don't need to worry; you can conveniently automate your Instagram giveaways!
AiSchedul is the best platform for you to speed up the process of hosting giveaways and selecting the winners. When it comes to giveaways, AiSchedul can help you:
schedule your giveaways for the best times to post on Instagram,
identify the best IG hashtags for your giveaways,
add CTA buttons and create Instagram coupons,
automatically select the winner with its giveaway picker tool.
It's genuinely impressive how you can do it all in one well-designed platform, right?
How to Use AiSchedul's Giveaway Picker
To exploit this excellent feature, follow the steps below:
Create an account on AiSchedul and link your Instagram username.
On your dashboard, click on 'Manage' and select 'Giveaway Picker.'
Then, press 'Start a Giveaway Contest Now.'
At the top of the page, paste the link to your Instagram giveaway post.
Now, set the number of winners and specify all your IG giveaway rules and a deadline.
Finally, click on 'Submit Contest Settings.'
Now you can sit back and relax! The tool will find your winners and email them to you!
If you're also excited about AiSchedul,  try this fantastic tool now to access all the excellent features, including the giveaway picker!
FAQs about Instagram Giveaway Ideas
Now, you have noticeable information on the Instagram giveaway ideas. In the following section, we'll discuss some questions that people also ask bout this topic.
Q1: Are Instagram Giveaways Worth It?
This question is a tricky one! It depends on you, your follower count, and your budget. If you feel like your followers are not yet invested enough to interact with your content, then offering giveaways isn't worth the cost or the effort.
But if you already have an engaged audience, you can count on them to promote your brand and do as you ask them. In this case, you can enjoy the publicity and popularity that stems from successful IG giveaways!
Q2: What Instagram Giveaway Ideas Work Well for My Content?
To answer this question, you should consider the type of content you share and the purpose of your Instagram presence. That is, if you post educational content, a trivia contest can work miracles for you. But, if you offer a particular product, you can go for a repost-to-win type of giveaway!
So, think about your content then go through the list of giveaway ideas we provided and find the best one for your purposes! Bear in mind that you can also try out different Instagram giveaway ideas to see what performs well for your particular audience.
Last Word on Instagram Giveaway Ideas
There are various Instagram giveaway ideas you can implement. This article aimed to provide you with all the information you might need for starting your Instagram giveaway. To determine what giveaway ideas you'd like to apply, go through the article again.
Good luck with your giveaway. We're sure it'll turn out perfect! 🙂