People love giveaways and free prizes because getting rewards is exhilarating and satisfying. When you reward your followers, they will love you more and interact more with your contest. Even the statistics bear witness to the fact that people welcome giveaways. Research shows that the accounts running contests and giveaways grow their followers 70% faster. On the other hand, Instagram is a visual social media platform. Hence, an Instagram photography contest is the best idea to attract Instagrammers.
Many people would like to consider running Instagram photo contests, but they don't know how to run a photo contest on Instagram and select the winners.
Here, we will guide you on running an Instagram photography contest and picking winners using the best giveaway picker tool; AiSchedul in a minute.
If you're as excited as we are, let's get to it then!
What's an Instagram Photography Contest?
Photo contests on Instagram are giveaways in which the participants have to take and share a picture to enter the competition. Suppose you want to host Instagram photo contests. In that case, you can ask your followers to share images of one of your products or post a video sharing their opinions or experience with your products or services.
Why Are Instagram Photo Contests Effective?
Have you ever wondered why the National Geographic Photography Contest is so famous and successful? It's because humans are highly visual creatures! Visuals can have tremendous power to inform, educate, and even profoundly touch us!
The immense power of visuals is one of the reasons why social media are incredibly popular and successful. The colorful images and videos can hypnotize us and keep us engaged for a long time. So, why not use them to succeed in business?
An Instagram photo contest is one of the best giveaway ideas that can be highly effective because you will end up with excellent user-generated content. Plus, the images and videos they share will act as social proof to increase your sales. Not to mention that they will lead to brand awareness as well.
Your contest doesn't have to be as professional as the Nat Geo photography contest or the Mobile Photography Contest, of course! You can ask your followers to simply share their experience with a photo. And to make it more manageable, you can choose a winner at random instead of selecting the best, most professional image!
How to Run a Photo Contest on Instagram
Do you want to run an Instagram photography contest but don't know how? No worries, we can help you with that! Here are some steps you need to take; we will, of course, go deeper into each part in later sections.
First, think of your purpose for running Instagram photo contests.

Consider your target audience and the type of content or reward they might like.

Then, clarify your

giveaway rules

and the terms of eligibility.

Determine how many winners your contest will have.

Next, choose a relevant, appealing prize.

And select a deadline for your giveaway.

Finally, choose the winners with an

Instagram giveaway picker

and announce them.
It's a bit much; we know! It's natural to feel lost and confused for a first-timer! That's why we have prepared ten tips that will help you host a better photography contest.
10 Tips for an Effective Instagram Photography Contest
There are many factors that any marketer should consider before running an Instagram photography contest. In the following, I will break down the must-use strategies for hosting perfect Instagram photo contests and winning Instagram loop giveaways.
1. Write a Captivating Title
First impression, best impression! Your audience will notice the title first, so try to make an absorbing title that reflects your entrant's benefits. Mention the reward, your brand's name, and contest theme in your title.
Remember, a title can make or break your contest. How you announce your giveaway goes a long way! If you don't know what to do, check out this guide to the best Instagram giveaway ideas!
2. Make the Most of Instagram Giveaway Hashtags
Hashtags can help you reach your target audience and capture their attention. So, taking advantage of the best Instagram giveaway hashtags in your contest is an essential step you can't miss!
Also, you should try to create a unique hashtag for your Instagram photography contest and promotional campaign. Then, you can ask your followers to add this hashtag to their posts or stories!
All in all, using hashtags is a fantastic strategy to reach any Instagrammer in the whole world and expand your contests globally.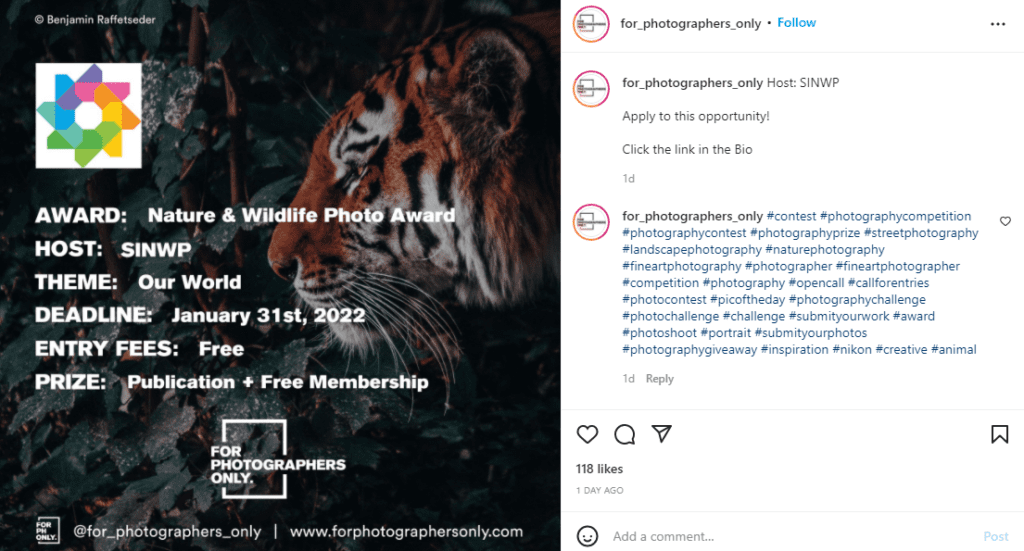 3. Pick a Nobel Prize
Your prize will give your audience the motives to participate in your Instagram photography contest. Therefore, try to grant a worthy reward to tempt people to enter and never choose a low-quality one. Your followers must think you respect them and that your contest matters.
When it comes to hosting giveaways and contests, a best practice is to share an Instagram coupon or one of your products as your giveaway prize. This way, you can ensure that your new followers are genuinely interested in your brand and products. And so, you can quickly turn the new followers into customers!
4. Include details about your contest rules
Make a clear list of your Instagram Photography Contest rules to give insight into what exactly you want from your entrants. Here, I have gathered some perfect ideas to apply to your contests.
Tell How Contestants Can Participate
Before doing anything and fixing any rule, read the 2022 ultimate guide of contest Rules on Instagram. Then, try defining how the participants can participate in your photography competitions and the Instagram promotion guidelines!
For instance, you should inform them of who can participate, when the competition begins and ends, and how the winners will be chosen in this Instagram photography competition. Bear in mind that you must specify the theme for your photography contest as well.
Like, Comment, and Follow
One of the most popular entry methods is to ask people to like your photos, follow you, or leave a comment under your Instagram photography contest. This way, those who can't join the Instagram contests still have a chance to enter the giveaway!
Tag a Friend
Asking them to tag a friend is a word-of-mouth strategy that works for your business exceptionally well! So ask people to tag their friends when they enter! Also, they can tag as many friends as they like to drive more entries.
Repost on Instagram Story
It is a great idea to get people to repost your photos on their stories.
Also, this is how you can make a user-generated campaign with your loyal followers to expand your reach.
Include Details on How You Choose a Winner
Clarify for your entrants how you select your winner. Tell them if you use an Instagram contest picker or whether you want to choose the best photo!
5. Promote Your Photography Contests by Email
Send personalized, separated emails to your target audience and make them engage with you on Instagram. This is also a way to generate email leads.
Make your email easy to read and include information about your Instagram photography contest, including the prize, photo theme, and easy-to-click CTA buttons.
6. Promote Your Photography Contest on Other Social Media
If you have an account on other social media like Twitter and Facebook, send invitations to your followers. Also, use Facebook and Twitter ads, apply your photo contest hashtags, and easily link Instagram to Twitter.
Moreover, as Instagram and Facebook are integrated, you can monitor your contests on Facebook insights.
7. Inform Your Followers by DMs
It works incredibly well if you contact your followers directly. So I suggest you inform the audience by sending DMs in bulk to your followers. Doing so will increase your credibility among your fans and customers.
8. Create Ads on Your Website
As much as you expand your area, more followers will fly into your account. Therefore, you should create an eye-catching banner on your website to advertise your Instagram photography contest.
Additionally, you can use web embedding for the Instagram content feature and add your Instagram photos to your website. In this case, you can add your winner's photo to your website, get more views, and derive website traffic from Instagram.
9. Manage your Instagram Photography Contests
All the above strategies are simple to follow and build your Instagram photography contests. However, managing contests and giveaways is a process that requires the marketers' efforts. Therefore, it is an excellent idea to automate your giveaway contests and save time!
AiSchedul is an all-in-one Instagram management service that lets you run multiple accounts on a single dashboard. It offers various features that will enable you to schedule your posts and grow your followers organically, design landing pages, automate your DMs, and much more. But more importantly, this app has a complete package to manage your Instagram photography contests!
Luckily, it has mobile and desktop versions, and you can run your accounts from your PC and smartphone. So you can download it from the App Store or Google Play.
Now, let's see how you can use it to automate your giveaways!
Manage and Schedule Your Contest with AiSchedul
To manage your IG photo contest using AiSchedul, follow the steps below:
Add your Instagram accounts.

Tap on 'Manage Account.'

In the 'POST & SCHEDULING' tab, select 'POST & REWARD.'

Click or tap on 'Schedule a Contest.'

6. Upload the photos of your Photo Contest and define the rules for your entrants.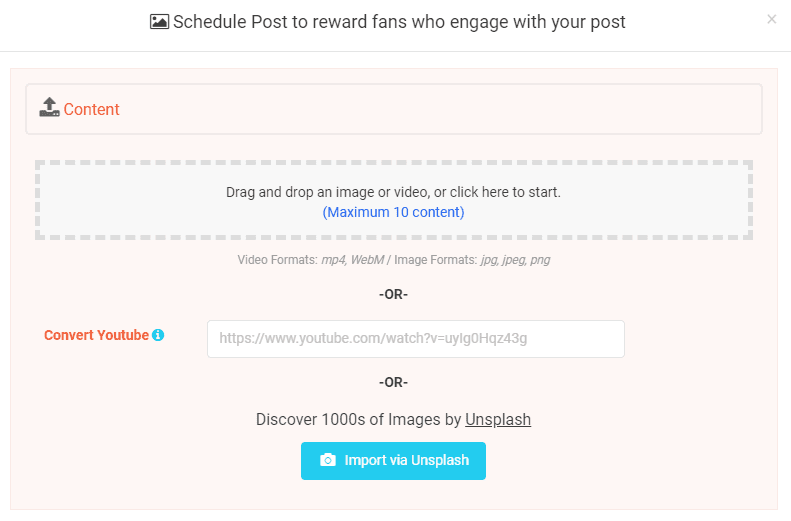 7. In this section, when you tap on the 'Content' button, you can turn on two options:
Ask them to tag you on a post to let you repost it in your feed.

Ask them to follow you.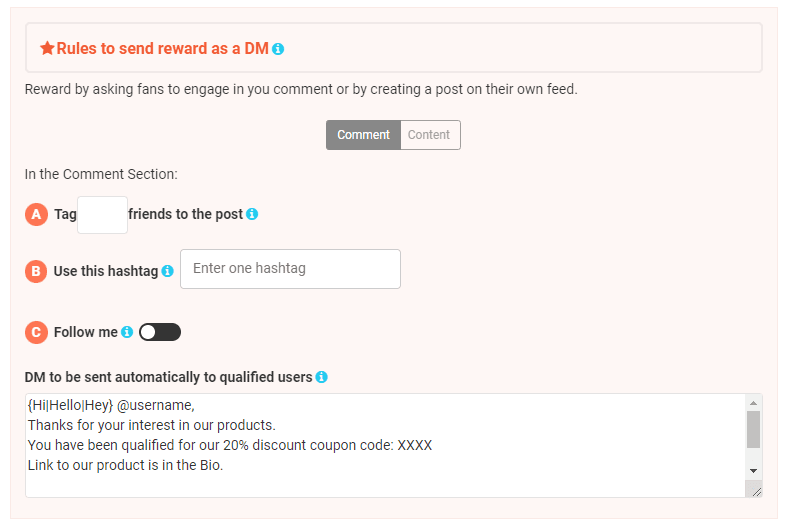 8. Then, edit the DM that the tool will send automatically to your followers.
9. Add your hashtags and write your caption.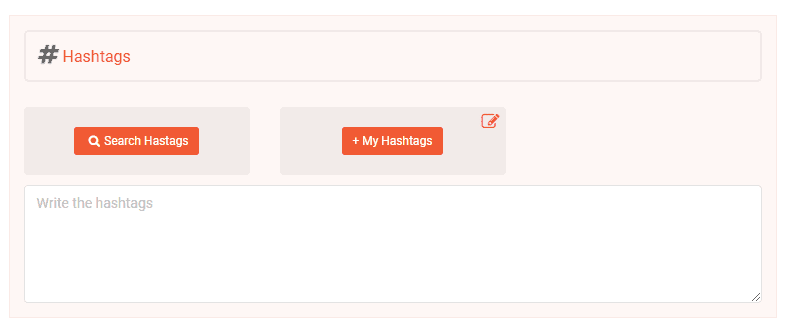 10. Select 'Post Now' or set the timing and choose 'Post in Future.'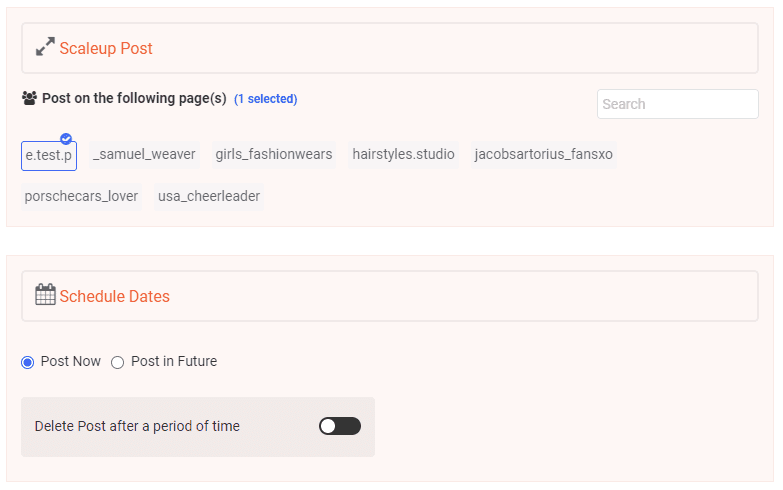 11. Then 'Submit.'

Pick Winners with AiSchedul
After finishing your contest, AiSchedul will pick the winner for you automatically in a minute. 
What are you waiting for then? Sign up for AiSchedul right now to access the excellent features!
10. Monitor Your Photo Contest in Real-Time
To understand how well your giveaway performs, you should always check the analytics. Instagram Insight does provide the essential information. But, to get a more in-depth understanding of your situation, you should trust a more reliable platform with the job.
AiSchedul analytics are reliable and will let you monitor your Instagram photography contests step-by-step. Therefore, you can watch what your Instagram photo contests are going through!
FAQs on Instagram Photography Contest
Now that you know how to run your Instagram contests, let's address some of your common questions!
Q1: How Is a Lottery Different from a Contest?
The essential difference between the two is that in a lottery, you have to purchase a ticket or a product or pay a certain fee to enter. In other words, you have to pay to play! Therefore, a lottery is illegal on Instagram.
But in a contest, the participants don't need to purchase anything or pay to enter. It is free to join and entirely legal on Instagram! So, you can host your Instagram photography consents, and it won't do any harm.
Q2: How Can I Choose the Winners of My Instagram Photo Contests?
First, don't forget to ask your followers to mention your account or use your unique hashtag in the caption. Now, you have two alternatives:
You can list every account that has mentioned you or used that hashtag and use a random name picker to choose a winner for you. We don't recommend this method because it is ridiculously tedious and time-consuming.

You can use a reliable platform from the beginning, like AiSchedul, where you can specify the rules and pick your contest winners.
Final Thoughts
An Instagram photography contest will grow your brand on Instagram and other social media. Above all, using a powerful Instagram management and scheduling tool like AiSchedul will simplify your task and take total control of your Instagram photo contests. I hope the above strategies will help you build perfect Instagram photography competitions. Please, leave us a comment if you have any experience holding Instagram photography contests.