Do you want to host an Instagram giveaway contest to boost your followers and get more customers? Well, you know that picking an Instagram giveaway template, setting rules, finding the best Instagram giveaway hashtags, rewarding your followers, and automating the giveaway need a great deal of time and energy. But if you have an in-depth knowledge of Instagram contest rules, you can gain a lot from your giveaways!
Now, let's expand our knowledge about what an Instagram contest is! In the next step, we'll learn more about Instagram contest rules. Let's dive in then, shall we?!
What's an Instagram Contest
In a contest, you can ask your followers to complete a set of actions and reward those who have produced better results. Your IG giveaway rules may also specify that you won't be selecting the winners based on merit, but randomly!
That is, you ask your followers to do something, for instance, to post a picture of one of your products that they loved. And then, you select the winners based on skill and merit or randomly.
It is an excellent strategy to raise brand awareness, increase sales, and have fun with your audience.
Plus, if you choose to share Instagram coupons as the giveaway prize, you can ensure that the followers you gain from the giveaway are interested in you. Otherwise, why would they compete to win a product or service they don't like?!
Why Do Instagram Contest Rules Matter
YIn case you haven't yet noticed, nearly 34% of customers come from Instagram contests! But why does it matter to specify Instagram contest rules?! Allow me to ask a question first!
Are hot dog eating contest rules the same as staring contest rules? Of course not; they are entirely different! Now, what happens if you don't know the rules before you start the contest? How can you take part at all? Well, you can't!
As by differentiating between staring contest rules and hot dog eating contest rules, we get to understand how we can participate and win, the same applies to Instagram giveaways. When you want to run any contest or giveaway, whether it's a photography contest or an IG loop giveaway, you need to determine what you want people to do. Otherwise, no one will know how to win or enter the contest!
On the other hand, if you fully explain the contest rules, the followers will appreciate your transparency and try their best to comply. As a result, your engagement rate will increase!
How to Write Instagram Giveaway & Contest Rules
To run an Instagram giveaway contest that ideally helps you grow your business on Instagram, you have to follow some specific rules yourself. These rules help you:
Run your giveaway smoothly,

Prevent misunderstandings,

And ensure the success of your contest.
In the following, we're going to mention the Instagram giveaway rules for 2022!
Instagram Contest Rules & Regulations Tip #1: Keep it Simple
As for the first tip, try to keep your giveaway rules simple. Simplicity is the key to a successful contest. Some social media marketers might believe that setting many strict contest rules is the key to a practical contest.
Perhaps they are worried about picking the winner among thousands of qualified individuals. Or maybe, they think people will trust them and interact more if they see strict Instagram contest rules.
However, the fact is that people use Instagram to have fun, so 'serious' and 'strict' rules don't work! Additionally, you can always use Instagram contest picker apps like AiGrow, to choose the winner.
At any rate, remember that complex rules can only lead to a significant decrease in your engagement rate!
Instagram Contest Rules Tip #2: List Out All the Steps
Make sure to clearly describe all steps required to enter and win the competition. You might be running a giveaway to get more followers organically or drive blog traffic.
Whatever your purpose, If you don't list out all the steps clearly, you cannot lead people to follow the giveaway rules properly. Subsequently, you won't get the best possible results.
Here's an example of a perfectly described Instagram contest rules: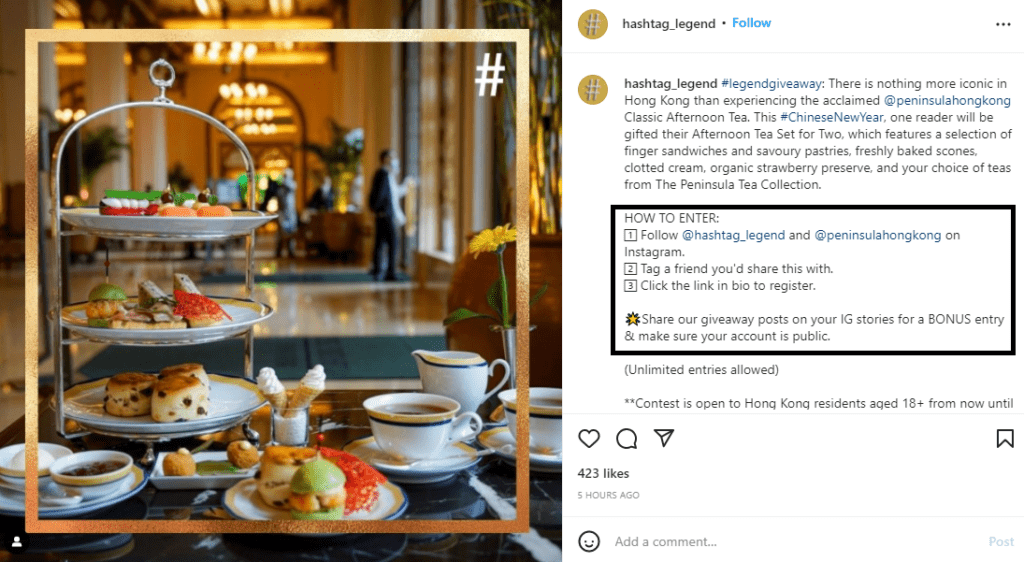 Pro Tip: Ensure that none of your Instagram contest rules are against Instagram terms of use!
Instagram Contest Rules Tip #3: Keep Your Eye on the Prize
Make sure your contestants are well aware of the prize and the number of winners. This way, you simply prevent any unexpected complaints after the giveaway. Moreover, mentioning the prize will encourage the contestant to participate!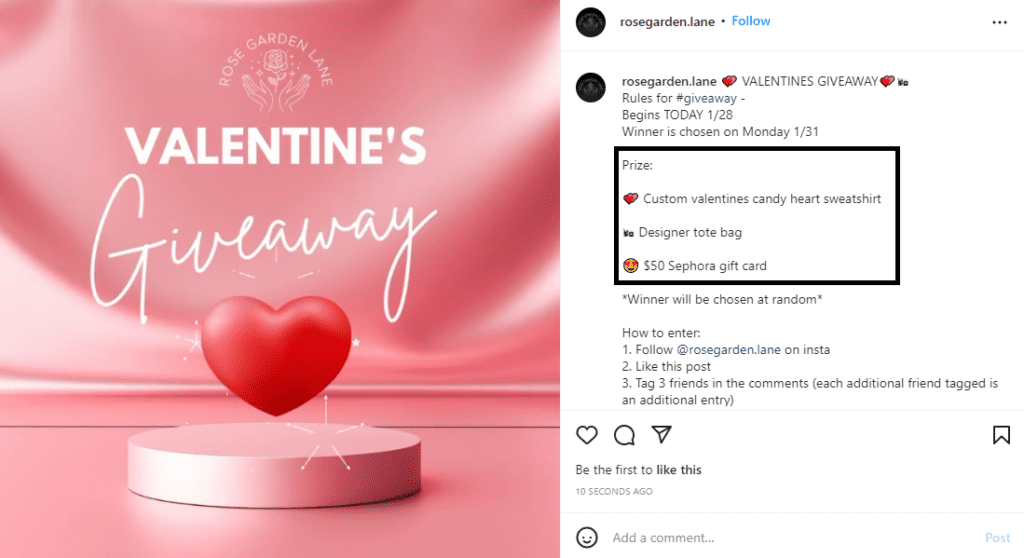 Also, don't forget to inform people about choosing the winners. If you use an Instagram comment picker to select a random winner, your followers must know it. Or, if you have other strategies, like voting, you should mention it!
Instagram Contest Rules Tip #4: Eligibility
Finally, if you have a small Instagram business with limited services over the globe or you are offering products and services to specific groups of people, make sure to mention all the details in the caption.
For example, you can specify the age of participants and their location.
Pro tip: Remember to add all the essential information. If you change any rules or have any new information, make sure to add an Instagram giveaway disclaimer of 2022 to your caption. This way, you can keep the readers up-to-date.
Instagram Guidelines
Instagram has clarified official guidelines for promotional Instagram posts, like giveaways and contests. You should state these in your caption.
Here are four guidelines that, when taken into consideration, will ensure safe, successful, and trouble-free competitions:
First, you are fully responsible for ensuring that all competition operations are compatible with the existing laws.

Secondly, you should inform your followers that they should not tag themselves in photos unrelated to them.

Thirdly, you must notify all contestants that Instagram is not an associate or sponsor of the giveaway and is not, in any way, related or liable.

Lastly, you have to state that Instagram is not a party to your contest but only a medium, and you alone incur all the risks involved in this contest.
Whether determining your Instagram photo contest rules or trivia rules, you should keep these points in mind.
Instagram Contest Rules Template
According to the Instagram contest official rules, we have prepared a template you can copy and paste in your captions to make your job easier. In this template, the Instagram giveaway terms and conditions of 2022 are fully explained!
"Per Instagram guidelines, I am to clarify that this contest is by no means sponsored, administered, or associated with Instagram. Through your participation, you confirm that you are +13 years of age, agree to Instagram terms and conditions, and release Instagram of all responsibility."
Top 5 Contest Entry Rules
Now, you are familiar with Instagram contest rules and regulations, all you have to do is to set your entrance rules and promote your giveaway on Instagram.
To make this step more manageable for you, we're going to share five giveaway ideas to use in your contests.
1- Like and Save Contest
If you are looking for a way to increase your Instagram engagement rate, this type of giveaway contest is the best choice for you. All you have to do is ask people to like your post(s) and save them.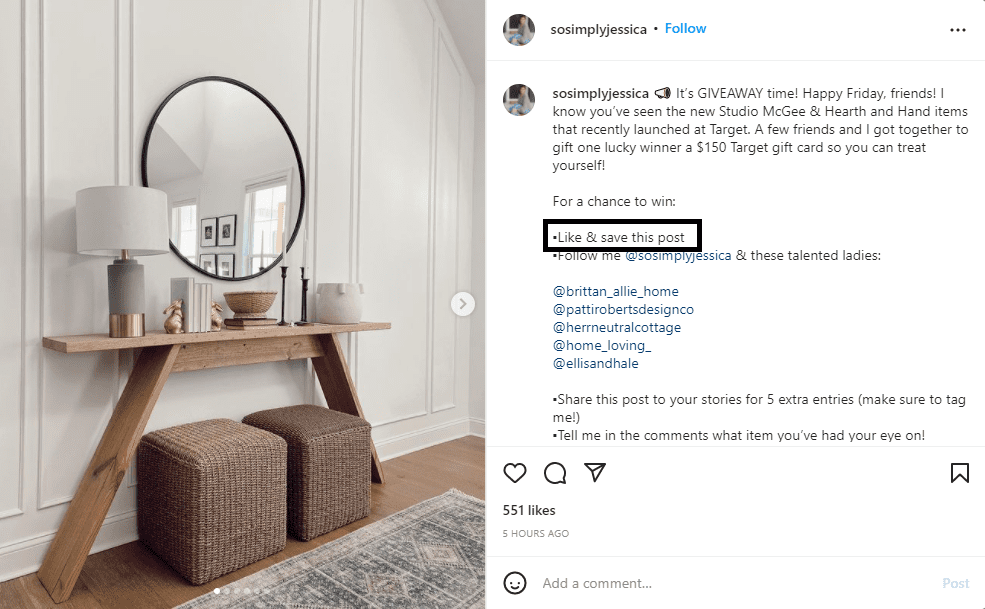 2- Write-a-Caption Contest
You have probably come across some posts that ask you to caption a photo or video. You can make a contest out of it and have even more fun! For example, you can specify your Instagram contest rules like this: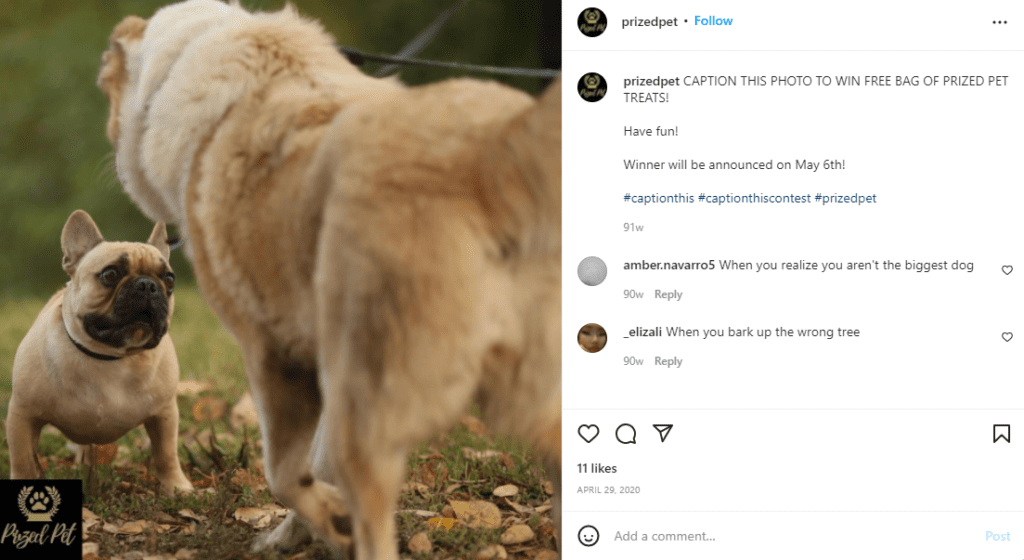 These contests help you never run out of ideas by providing you with excellent captions for your future posts.
3- UGC Contest
Instagram user-generated content campaigns are fantastic for your business. Using this contest idea, you have the opportunity to use social proof to sell more and find more followers.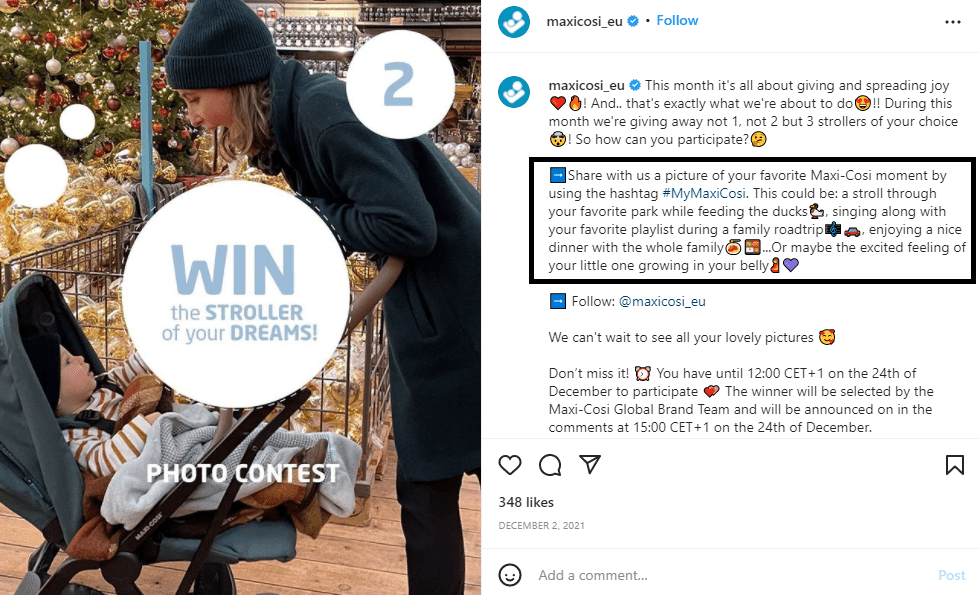 4- Tag or Mention Friends
Asking your followers to tag or mention their friends is one of the most typical Instagram contest rules. It brings you more comments below your posts and helps you reach a broader range of audiences.
Hence, by using such giveaway contests and sharing high-quality posts, you can simply get more and more followers, even after the contest ends.
5- Instagram Loop Giveaways
And finally, you can run a loop giveaway. It's a fantastic idea, especially when you have a limited budget for your contest. You can simply collaborate with several other Instagram accounts and influencers.
This way, you all receive lots of followers in a short time, and by offering big prizes, you can even hit 10K followers on Instagram, which is a great cornerstone.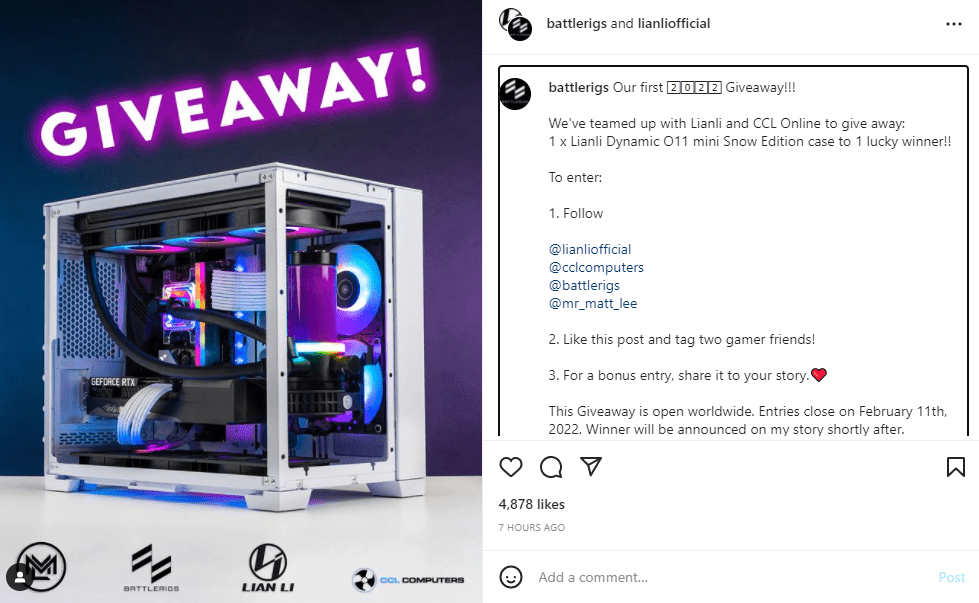 6-Hashtag Contest
Did you know that by using one hashtag, you get to increase your interaction by 29%? As is obvious, identifying the best IG hashtags is an indispensable part of Instagram marketing. Now, why don't we use such a powerful tool to draw in more participants for our giveaway?!
If you ask your followers to include a unique hashtag in the comments or captions, you can reach a broader audience! That is, more people will see and interact with your giveaway or content!
7- Trivia Contest
Yet another incredible IG giveaway idea is a trivia contest where you may ask the entrants some questions about their general knowledge, or their knowledge of your previous posts. Now, you can choose a random winner or from those who have provided the correct answer!
This type of giveaway is extremely entertaining. It allows you to turn your usually silent crowd into highly active followers!
8- Click the Link in Bio
If you'd like to drive traffic to your website, or make an Email list, this type of giveaway would work best. So, as your Instagram contest, you may create a landing page and put multiple links in the bio. Then, you can invite the participants to open the link or fill out a form.
FAQ about Instagram Contest Rules
We have covered Instagram contest rules. Now, it's time to address some of your most common questions!
#1 Are Contests Illegal on Instagram?
No, contests are not illegal on Instagram, but lotteries are. This means that you shouldn't ask the contestants to purchase your products or pay money to enter the contest.
If you ask the participants to buy something from you or to pay a fee to have a chance to win, your giveaway becomes a lottery. And as mentioned before, lotteries are indeed illegal!
You can ensure that your contests are entirely legal by mentioning these phrases in your cation:
"No purchase required!"
"You don't need to purchase a product to enter this contest."
"A purchase does not increase your chance of winning."
#2 How Can I Run Less Time-Consuming Contests?
Running a giveaway or a contest can indeed take a lot out of you. Some reliable platforms can help you accomplish better results faster. One such platform is AiGrow.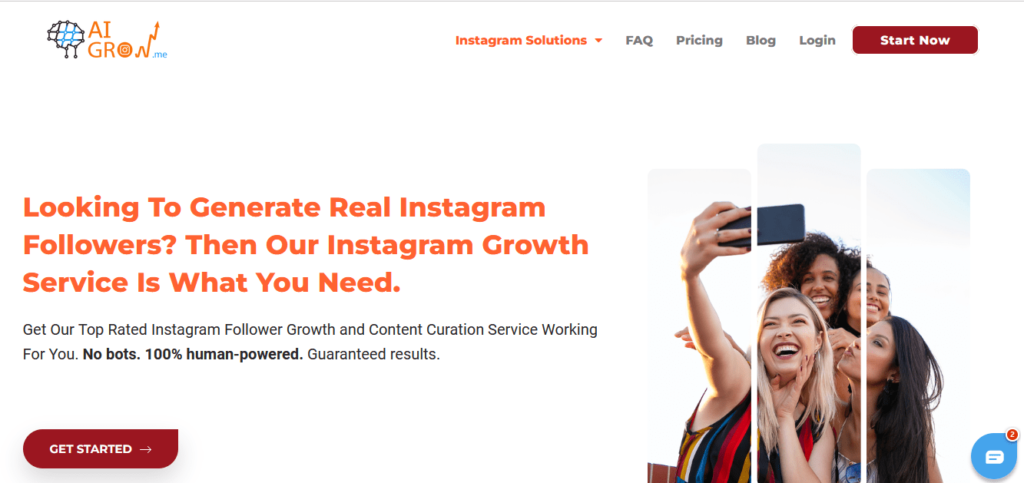 AiGrow is an incredible Instagram management tool that can help you schedule your posts, add CTA buttons, create IG coupons, and much more. One of its excellent features is the Instagram giveaway picker.
To utilize this fantastic feature, follow the steps below:
Then, connect your IG account to AiGrow using the on-screen prompts.

Once you have connected your account, select 'Manage' in your dashboard.

Now, click on the 'Giveaway Picker' tab and then 'Start a Giveaway Contest Now.'

At this point, you need to specify the number of winners, your Instagram contest rules, and a deadline.

When you're done, click on 'Submit Contest Settings.'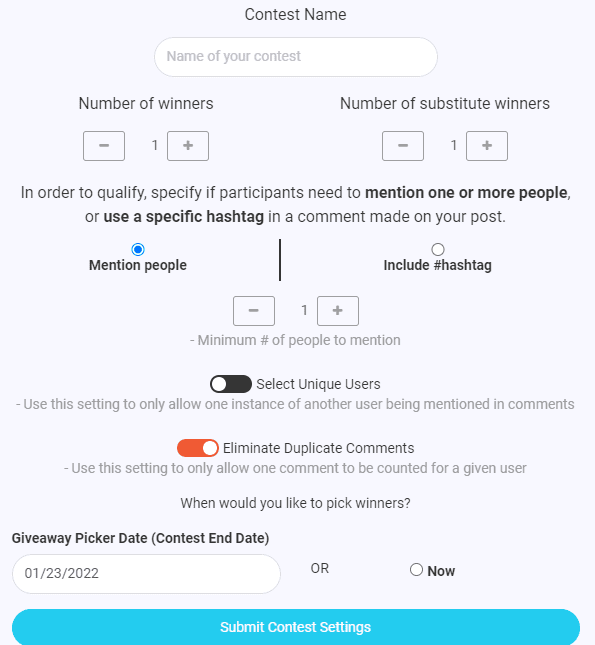 That's it! You can sign up on AiGrow right now!
Final Thoughts on Instagram Contest Rules
That's all! You are ready to go. So, go ahead and create a fun competition to attract a flood of participants. But before you start, ensure that you have prepared your Instagram contest rules.
Also, don't forget to use AiGrow's giveaway picker! If you have any questions, please leave us a comment below.