Hosting a giveaway or contest is one of the best ways to grow your followers on Instagram. People love games and free prizes, as they are fun, amusing, and engaging! Then, imagine how effective it would be if you pep it up with the best hashtags for giveaways!
Hashtags are highly influential in attracting a target audience. And indeed, using Instagram Giveaway Hashtags is one of the best Instagram giveaway strategies!
The best hashtags for giveaways can attract more people to your contest, draw more comments, and increase your engagement rate. To put it simply, having extensive knowledge of giveaway hashtags for Instagram can go a long way! 
Here are the tips to help you make the most of your giveaways on Instagram. So stay tuned!
What Are Instagram Giveaway Hashtags?
There are many deciding factors in a successful Instagram giveaway. For instance, using the best Instagram giveaway template, specifying your giveaway rules clearly, or automating your giveaways are all highly crucial. But another essential element is using the right giveaway hashtags for Instagram. 
The process of finding and using Instagram Giveaway Hashtags is not that complicated. You only need to exploit hashtags relevant to your niche and contest. Also, it is essential to use contest hashtags that are easy and attention-grabbing. 
With the help of the best hashtags for giveaways, you can make your giveaways successful! That's because people simply remember you, and if they search those competition hashtags, they will quickly find you on the platform.
Why Is It Important to Use Instagram Giveaway Hashtags?
Instagram giveaway hashtags are among the best ways to engage your audience on social media and get them interacting with your brand. Provided you know what the best hashtags for giveaways are, of course! 
Applying the best hashtags for giveaways allows you to leverage people's desire to take something for nothing. Indeed, it is one of the most powerful techniques to grow followers. 
You can host giveaways to make your brand awareness campaign and use specific Instagram giveaway hashtags to spread the word about it and increase your Instagram impression and reach.
However, hashtags can also be counter-productive if you don't pay attention.
Tips to Know about Instagram Giveaway Hashtags
In the following, I have gathered some valuable tips to consider in your giveaways:
#1 Avoid Banned Hashtags
Firstly, it is essential to know banned hashtags on Instagram & stay safe from getting shadowbanned on the platform.
#2 Don't Act Spammy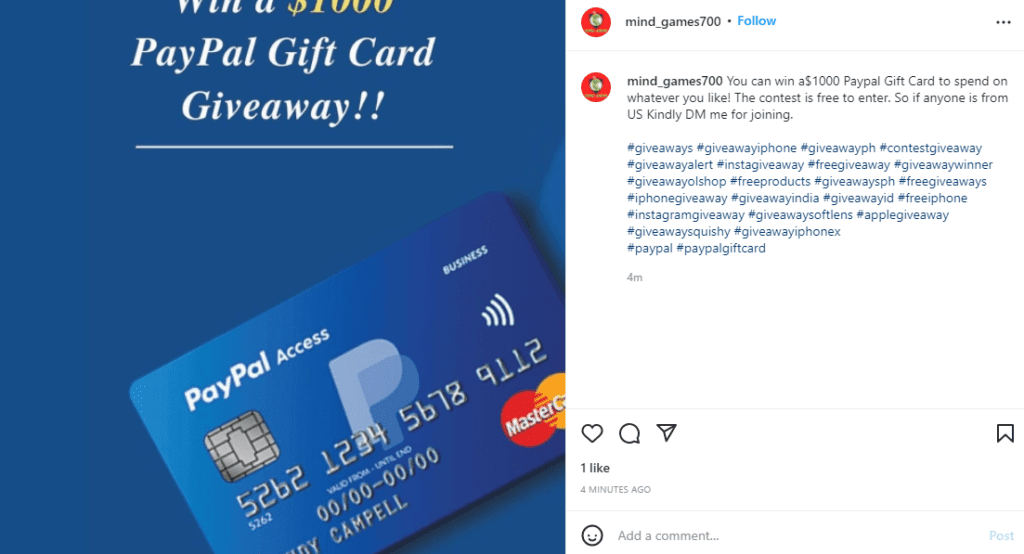 Try not to use only general hashtags for a giveaway, even if your giveaway includes general subjects like fashion or beauty. Besides, you shouldn't use too many hashtags in a single post! Your posts may get spammed among several other posts if you do so. 
Plus, ensure your Instagram giveaway hashtags aren't too long or confusing. Also, keep in mind to use both tiny and detailed hashtags. 
Boost your knowledge of social media: Best Instagram Comment Picker App to Use in 2022
#3 Add Event-related hashtags
Use hashtags related to special occasions and events like "Valentine's Day" or "Mother's Day."
Include the date or duration of your contests in your Instagram giveaway hashtags so that your audience will know how long your giveaway takes. For instance, #5DaysofNewyear2022.
Boost your knowledge of social media: Instagram Contest Rules: the 2022 Ultimate Guide
#4 Use Professional Hashtags
The best hashtags for giveaways are ones that are relevant to your business or brand. You can set an industry-related hashtag in your post's photo. It will grasp the audiences' attention and capture the hashtag in their subconscious. 
Moreover, you can make a hashtag of your products or service name. Therefore, those interested in rewards will get to know your brand.
#5 Hire a Hashtag Research Tool
Hire the best hashtag research tool to find the best hashtags for giveaways that suit your industry. If you desire to witness a fundamental change in your Instagram engagement, It'll be your hero! 
Indeed, AiGrow will let you do Instagram multiple hashtags research and make hashtags groups. Moreover, your specialist account manager will check if you are using banned hashtags in your post ere publishing them. Additionally, it confers you a lifetime solution if your Instagram hashtags are not working.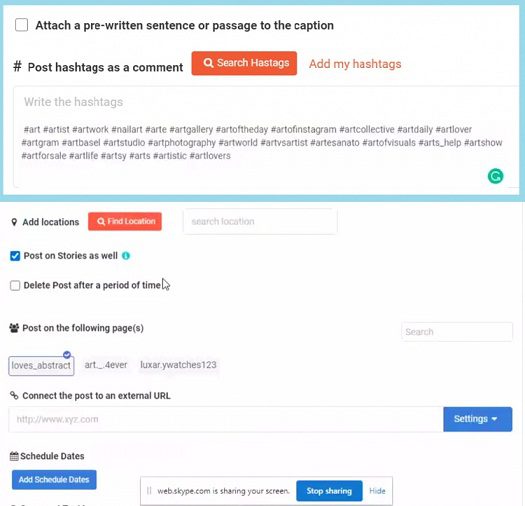 #6 Insert Hashtags in the First Comment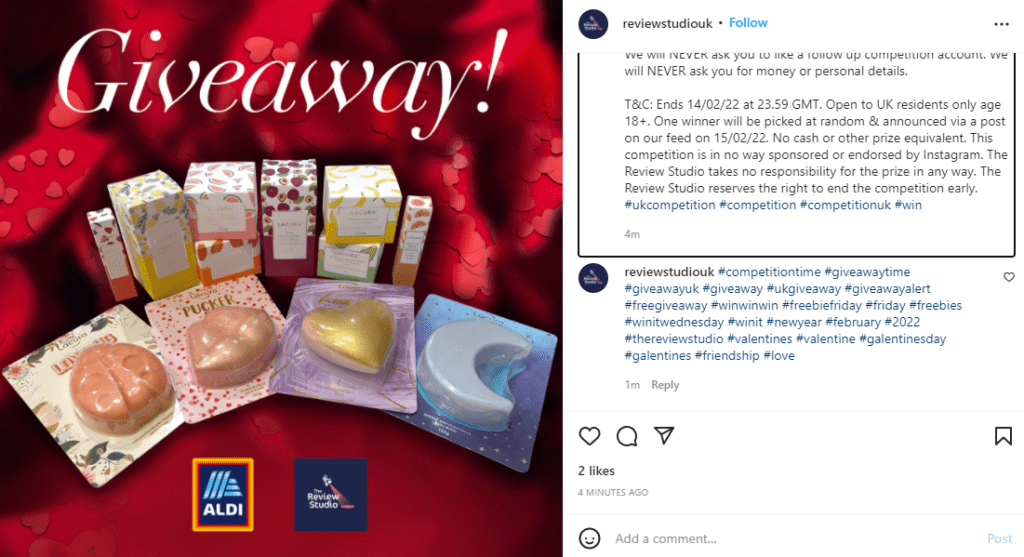 The best place to use a hashtag for a giveaway is your caption. However, many experts believe that applying them in a post's comment is ideal for having a neat caption while enjoying the hashtags' benefits. 
I recommend the AiGrow all-in-one Instagram management service that has the feature to apply hashtags in your first comment automatically.
#7 Save Hashtags to Save Time
After researching the best hashtags for giveaways, it would be great to save hashtags on Instagram to save time. Luckily, AiGrow provides a feature to keep hashtags and use them in your posts. Then, it will enable you to make an Instagram giveaway hashtag cheat sheet to get Instant views. 
So sign up for free and draw on its hashtags feature. Finally, experiment with the hashtags, and let the Instagram algorithm decide what Instagram giveaway hashtags are most popular.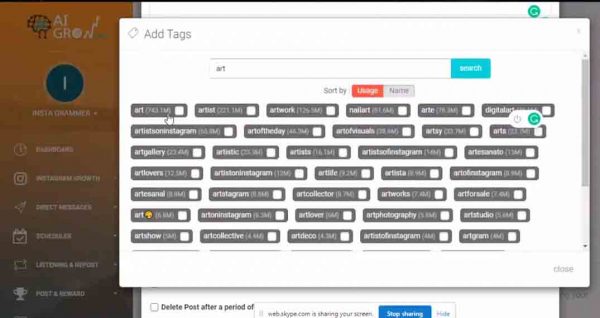 Top Instagram Giveaway Hashtags
According to the research I have been doing, here are the best giveaway hashtags for Instagram classified into three groups
1- Giveaway Hashtags
The best hashtags for giveaways are:
#giveaway, #giveaways, #contest, #competition, #giveawaycontest, #giveawayalert, #giveawaytime, #instagiveaway, #contestalert, #freegiveaway, #freegiveaways, #newgiveaway, #epicgiveaway, #raffles, #sweepstakes, #givingaway, #accountgiveaway, #hudabeautygiveaway, #makeupgiveaway, #fortnitegiveaway, #slimegiveaway, #giveawayiphone, #contestalert, #contestgiveaway, #giveawaywinner, #iphonegiveaway, #applegiveaway, #instagramgiveaway, #giveawayusa, #freestuff, #freeproducts, #freeiphone, #amazonfreebies.
2- Insta Hashtags for Giveaway
All of these hashtags start with the word 'insta.' Let's see:
#instagiveaway, #instacontest, #instagood, #instachance, #instawin, #instachristmas, #instagift, #instaholiday, #instavideo, #instagiftcard, #instaprize, #instacard, #instawinner, #instatime, #instaamazon, #instacode, #instacompetition, #instatoday, #instawinners, #instabook, #instathanks, #instadaily, #instalike, #instacool. 
3- General Hashtags for Giveaway
Here are the general giveaway hashtags for Instagram:
#win, #prize, #free, #fashion, #amazon, #handmade, #follow4follow, #like4like, #followme, #colorful, #style, #chance, #christmas, #gift, #holiday, #video, #giftcard, #card, #winner, #time, #amazon, #code, #today, #winners, #book, #love, #repost, #like, #gifts, #apple.
Just a Reminder
We have just covered three categories of giveaway hashtags for Instagram. Yet, you should never forget that the best hashtags for giveaways are the unique hashtags you made up. You can choose your hashtags based on your brand's name or how you want to reward your followers. 
Here are a few suggestions:
#yourbrandcontest, #yourbrandgiveaway, #yourproductgiveaway, #productgiveawayyourbrand.
Boost your knowledge of social media: Instagram Promo: Great Way to Share Instagram Coupons for Giveaways and Discounts
Simplify Running Instagram Giveaways
There are several giveaway types and ideas you could exploit. For instance, you could run a loop giveaway or an IG photography contest! However, we need to remember that posting giveaways is complicated and challenging. No matter how complex it may be, you get to simplify the whole process with a robust tool. 
AiGrow is an Instagram management service that has a lot to offer. Using this platform, you can schedule your giveaways, identify the best hashtags for giveaways, and select the winner with the best Instagram giveaway picker.
To use the giveaway picker feature, you just need to follow these steps:
Initially, create an account on AiGrow and follow the on-screen prompts to connect your IG account. 

Select 'Manage' and then open the 'Giveaway Picker' tab. 

Now, click on the 'Start a Giveaway Contest Now' button. 

You should specify the number of winners, your rules, and a deadline here. 

When everything is set, click on 'Submit Contest Settings.'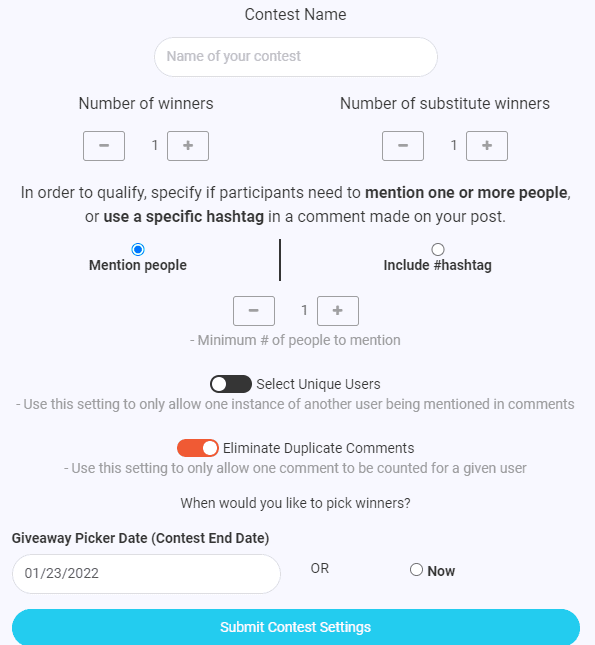 Pretty easy, right? Sign up on AiGrow for free and get access to all the excellent features offered!
FAQ about Instagram Giveaway Hashtags
We have addressed most of the questions related to the best hashtags for giveaways. Now, let's see what other questions you keep asking!
How Do You Do a Hashtag Giveaway?
You can start a hashtag giveaway following the straightforward instructions below:
First, pick a unique hashtag for your brand, business, or product. 

Then, post your giveaway, determining the rules and your deadline. 

Now, ask your followers to

repost on their IG

feed or complete a challenge and post the result. 

Specify that they should mention that unique hashtag in their captions to enter the competition. 

Finally, you can select the winners randomly or choose the person who has completed the challenge best! 
Et Voila! That's how you run a hashtag giveaway! Don't forget to apply the best hashtags for giveaways!
How Can I Know If My Giveaway Hashtags Are Performing Well?
To determine whether a specific hashtag has worked well with your audience, you should check your IG insights. The analytics will tell you how many Instagrammers have seen your giveaway post. And using the other tools, you can see how many have interacted with it!
If you have reached a large audience, your hashtags are performing well. If not, you should probably change them!
Final Thoughts on Instagram Giveaway Hashtags
Considering how confusing giveaways could be, we need the best Instagram giveaway hashtags to ensure our success! Apart from your business field, Instagram giveaway hashtags are an excellent way to reach new fans with your products or services and engage with them. 
I hope this post has provided you with enough information on the best hashtags for giveaways. Please, leave us a comment if you have any experience holding contests.