Don't wanna waste time learning how to repost on Instagram? Click here and repost any posts/Stories from around Instagram with this Free Tool.
People expect consistent content now more than ever. However, consistency alone is not enough; in order to get more followers on Instagram, you need quality and consistency to go hand in hand. That is, you have to find a balance, and this is why learning how to repost on Instagram is a necessity.
Disclaimer: Make sure to ask the post owner if they are okay with you reposting their content or not. Posting others' content without their consent violates Instagram user policy and could result in getting your account temporarily blocked or shut down. You can use a reverse image search tool to find the owner of each image.
Now, we get to the main question; how do you repost on Instagram? Well, all you have to do right now is to relax and keep reading. The answers are here, and we've broken the topic into two parts. First, we cover the best repost app for Instagram besides other tools, and then we get to techniques that do not require tools. 
Let's get to it then!
How to Repost on Instagram Using Apps and Tools
Knowing how to repost an Instagram post or story allows you to save time while producing consistent content that can boost your engagement on Instagram. In the following, you'll read about some useful tools that you can make the most of. 
#1 AiSchedul: The Best Tool to Repost on Instagram
Are you concerned about how to repost on Instagram story? To be honest, the best repost app for Instagram is AiSchedul. AiSchedul is an Instagram manager app that effectively grows your account using methods to schedule and repost Instagram reels, posts, and stories.
Using this tool, you can conveniently:
Schedule content on Instagram

Link your Instagram account to all social media websites

Run automated Instagram giveaway contests and

pick the contest winner
And more. However, reposting is one of the most powerful tools that you will find on AiSchedul. Why? 
Well, using this tool, you are relieved that you know how to repost a story on Instagram, as well as photos, videos, and reels. To use these features, sign up on AiSchedul for free, add your Instagram account, and then click on 'Manage Account' to access the dashboard.

Using the 'Repost' feature, you can repost content on Instagram by searching for a username, hashtag, and location and repost great content. Or, if you have already found the content you want, you can copy the URL, paste it on AiSchedul, and simply repost it. Additionally, it lets you easily repost stories on Instagram. 
However, the Aischedul features don't end here. Using this tool, you can also use a social calendar to see Instagram post ideas for each day of the year and repost content related to the events. So, Whether you need an Instagram manager or you need to know how to repost reels on Instagram, Aischedul is the way to go. Also, if you wonder how to repost a video on Instagram, this tool will perform this task for you with ease. Go ahead, sign up for free, and give it a try.
#2 Reposter for Instagram
With nearly 200,000 reviews on the Google Play Store, Reposter for Instagram claims to be the oldest repost app for Instagram. The many bells and whistles offered by Reposter that span beyond just reposting posts could also help to give your reposts a signature flare and help set you apart from the competition.
Reposter for Instagram Features
Repost photos

and

videos (by copying the URL and pasting it in Reposter)

Repost editor (crop photos and add stickers, emojis, texts, and drawings to your reposts)

Clear watermarks 

World and Local Trends (see commonly reposted posts)

Custom Chronological Feed (follow specific users to see when they upload new content and repost)
#3 InstaRepost

'How do I repost on Instagram using my iOS device?' a lot of you asked. Here's your answer in one single word: InstaRepost. It's an application compatible with both Android and iOS devices and provides reposting features. 
InstaRepost Features
Reposting any photo and video 

Clear watermarks

High security
Using InstaRepost, you get to double your engagement rate on Instagram by reposting any content without a hitch.
#4 Regrammer

Are you pressured by creating consistent quality content? Do you feel compelled to learn how to repost an Instagram post? Well, knowing how to repost on IG is indeed essential. And Regrammer is another app that helps you do it.
Regrammer Features
Reposting photos

and

videos (copy the URL and paste it into Regrammer)

Clear and non-distracting watermarks 
Regrammer is perfect for people who don't want to make a big deal out of this process. If you don't want non-essential features and just need to regram posts, Regrammer is right up your alley. However, read the Regrammer reviews before using it, learn how to repost on Instagram, and compare it to other similar tools.
#5 Iconosquare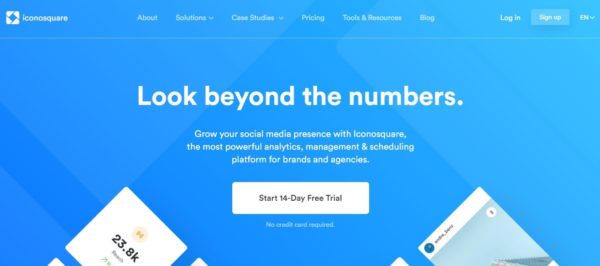 Iconosquare Features
Save Instagram photos for easy reposting (with Iconosquare installed, simply click 'Repost' at the bottom right of any Instagram post)
While Iconsquare offers many more features than just reposting (including Instagram scheduling, analytics, desktop account control), it's mostly known for its simple one-click approach to reposting. After clicking 'Repost,' the post is sent to your email, and you can then edit and upload the post.
#6 Story Reposter for Instagram

Have you been wondering about how to repost someone's Instagram story? Do you think that taking screenshots is a tedious process? If yes, then we are actually on the same page. Instead of taking screenshots, why don't you use the iOS-compatible Story Reposter? 
Story Reposter for Instagram Features:
Reposting photos, videos, and stories

A full-featured photo editor
If you don't know how to repost an Instagram story and you're already fed up with screenshots, this application caters to your needs. 
You may also like to read How to Repost Videos on Instagram Story.
#7 DownloadGram: Website to Repost on Instagram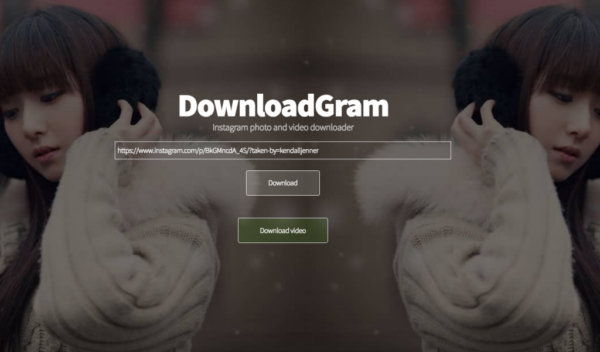 If you still don't know how to repost Instagram posts from a website, trust DownloadGram with the task. 
DownloadGram Features:
Save Instagram photos and videos for convenient reposting (just paste the URL into the search bar)

No signup required
DownloadGram is a user-friendly and completely free website that will take any Instagram URL and provide you with a JPG image or MP4 video of the post.
#8 Webstagram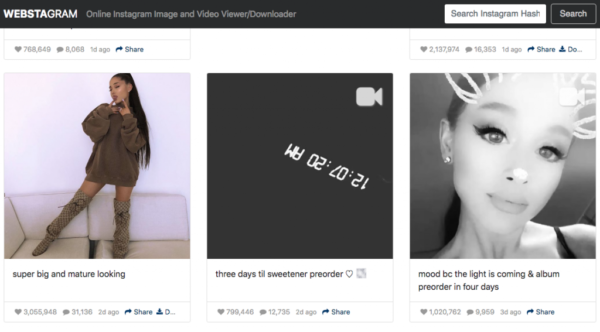 Indeed, Webstagram is another website that will allow you to repost on Instagram quickly.
Webstagram Features:
Save Instagram photos for easy reposting (search any hashtag or Instagram user and download posts right from their profile)

No signup required
This tool allows you to search for any Instagram user or hashtag. This website also views the posts associated with those users or hashtags just as you would on Instagram and lets you easily download any post right from the site.
How to Repost on Instagram Without Tools
Now, we know how to repost Instagram stories, posts, and reels with various apps and tools. But, the next question that comes up is how to repost on Instagram without tools. Let's find out!
#1 Screenshot 
While it won't automatically repost for you, screenshotting is the easiest way to save an Instagram post for reposting. Just find a post you'd like to repost, screenshot the image, edit out the caption, edit the image however you want, and upload it to Instagram. Using this method, you still need to ensure that you have credited the owner in your caption.
#2 Influencer Marketing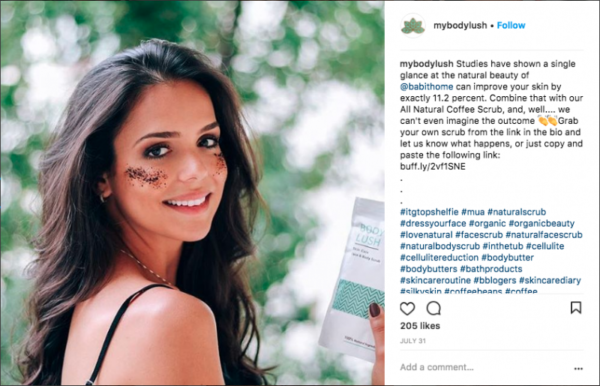 One of the most influential Instagram marketing practices is partnering with influencers. In the present atmosphere, we have many successful influencers and many trying to become influencers. That is, you won't be hard-pressed to find an influencer who can promote your business, brand, or products to an enthusiastic audience. 
After an influencer post on their channel about your brand, ask if they are okay with you resharing the post on your own page. Not only does this provide you with on-brand content, but also you're attracting attention to your products. So, if you are running a business account, you can showcase that influencers in your niche are promoting your product. This can turn into an excellent source of social proof for your followers and potential customers.
#3 Customer Experience Posts
Similar to influencer posts, posts from satisfied customers about your brand or product are a great source of accessible, on-brand content and social proof. Sharing customer experience posts will have a direct positive impact on growing your brand on Instagram. 
You may have to incentivize customers to post because their first reaction may not be to post about their experience with your business. Some simple ways to do this include:
exposure (offer to repost your customer's posts on your channel and tag them for easy exposure)

discount for their next purchase (offer a discount to your customers they can use in their next purchase if they post about their experience with your business/product. This also encourages your customers to make another purchase)
But how to find and repost all the posts you've mentioned with ease? Well, I recommend you use AiSchedul for this purpose. Actually, AiSchedul sports a fantastic feature that shows you all the posts you have been tagged in and allows you to repost them.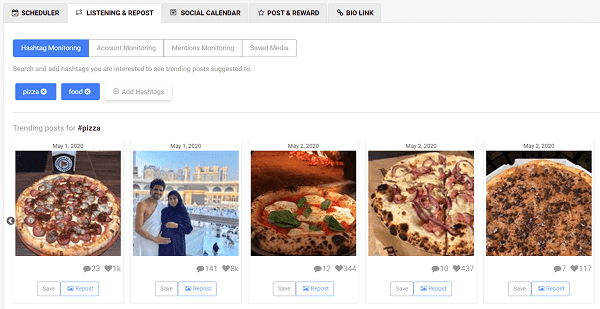 So, go ahead and try it for free.
You may also be interested in How to Turn Instagram Followers into Customers.
#4 Repost on Instagram Stories
If you need to know how to share an Instagram post without tools, we've got one more suggestion for you. It's easily accomplished through the Instagram app. Actually, Instagram allows users to share content they see on their feed or the content they have posted before on their stories. But how to repost on Instagram in this way? 
Well, open the intended photo and tap on the arrow icon below the post.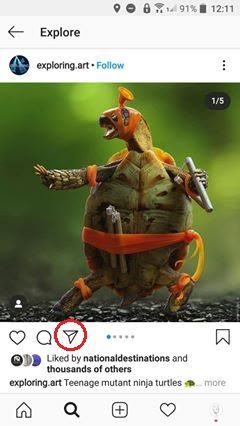 Then, tap on "Add post to your story."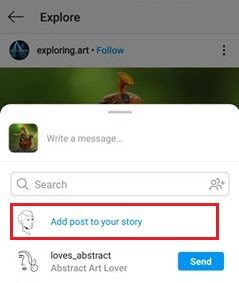 Now, you just have to edit it as you wish and post it on your stories.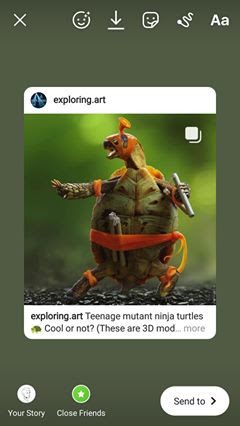 That's it! You have successfully reposted a photo on your Instagram stories. By the way, if you want to see how to repost an Instagram story, click here.
You may also like to read: How to Repost YouTube Videos on Instagram.
Recap 
So there you have twelve different efficient ways on how to repost an Instagram post. If you know any other great tool or method not explored above, please share your wisdom in the comments below!
NOTE: If you use one of the methods above that downloads the photo or video but doesn't automatically repost for you, consider using a scheduling tool like AiSchedul. Take this as a recommendation from us, the social pros! 
After downloading all the images/videos that you'd like to repost, you can quickly schedule them for days, weeks, or even months ahead right from your desktop using AiSchedul.
Don't just take our words for it! Start your free 5-day trial right now by clicking here (no credit card required).