It's easier than ever to explore the captivating world of Instagram videos! We all know the feeling when you stumble upon a mesmerizing video on Instagram that you wish to watch over and over.
The desire to save these incredible moments for later enjoyment is strong, but Instagram itself poses some limitations. While the app allows you to save videos on its platform, downloading them to your device for offline viewing is a totally different ball game.
No need to worry. Since we have provided you with a comprehensive guide on the 5 most efficient methods and third-party tools to download Instagram videos easily and quickly. Say hello to your personal Instagram video library. It's time to unlock the power of Instagram to MP4 conversion. Let's dive in!
1. SaveInsta
SaveInsta is an efficient Instagram to Mp4 video downloader that offers a seamless solution for saving Instagram videos of all types. Whether you need to save Instagram post videos, Instagram Story videos, or save Instagram videos for future use, SaveInsta has got you covered. The user-friendly web browser interface allows you to download Instagram videos online without hassle.
SaveInsta's notable advantage is its versatility. It supports video downloads from Instagram on all devices including PCs, Macs, Android devices, iPhones, and iPads. This tool's convenience lies in its ability to function without user registration or additional software. This streamlined approach ensures a smooth and hassle-free experience when downloading photos and videos from Instagram.
SaveInsta serves as a valuable tool for Instagram users seeking to download captivating content from the platform. Its compatibility with a wide range of devices, including PCs, tablets, iPhones, and Android phones, makes it exceptionally convenient. By eliminating the necessity to install support software, SaveInsta simplifies the process of acquiring photos and videos from Instagram, ensuring a straightforward and user-friendly experience.

SaveInsta; Here Is How It Works
SaveInsta offers a reliable Instagram downloader that enables users to easily download any Instagram video, including Instagram posts and Story videos. To download Instagram videos using SaveInsta, follow these simple steps:
Open the Instagram app on your phone or visit the Instagram.com website on your PC, and log in to your Instagram account.
Locate the specific Instagram video you wish to download and click on the icon (represented by three dots) positioned above the post.
From the options that appear, select the "Copy Link" option to copy the video link.
Visit the SaveInsta website using your preferred web browser.
Then, visit the website, find the input box, and paste the Instagram video link you copied.
Click on the "Download" button to initiate the download process.
The video you want to download will be displayed on the screen.
Beneath each video, you will find a "Download Video" button. Click on this button to download the video file to your device.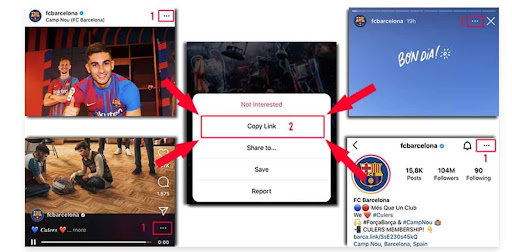 Following these step-by-step instructions, you can download Instagram videos using the SaveInsta Instagram downloader.
?Note: After downloading video content from Instagram using SaveInsta, the files are typically saved in the designated "Downloads" folder on your phone or tablet. On a PC or Mac, the video content is usually stored in the "download history" section of your web browser.
You may also like to read: The Best Youtube to MP4 Converter In 2023: A Comprehensive Guide
2. AIO (All in One Video Downloader)
All in One Video Downloader, also known as AIO, is a comprehensive online platform that allows users to effortlessly download videos in various formats, such as MP4, M4A, and 3GP, from multiple social media platforms and sources. Additionally, AIO supports the download of GIF, JPG, and PNG images.
With allinonedownloader.com, downloading videos from any platform becomes a breeze. Whether you want to download videos from Twitter, Facebook, Instagram, or any other platform, AIO simplifies the process. In just under a minute, users can easily download any desired video or image to their mobile devices, PCs, or Macs.
AIO supports a wide range of sources, making it a versatile and convenient option for downloading content. The supported sources include Twitter Video Downloader, Instagram Video Downloader, Facebook Video Downloader, Tumblr Video Downloader, Liveleak Video Downloader, Vimeo Video Downloader, Dailymotion Video Downloader, TED Video Downloader, Tiktok Video.

AIO (All in One Video Downloader); How Does It Work?
To convert videos using the Instagram Video Converter provided by Allinonedownloader, follow these simple steps:
Visit the official website of Allinonedownloader at https://Allinonedownloader.com.
Copy the link of the video or audio you wish to convert and download. This link can be obtained from popular video and music streaming services.
On the Allinonedownloader website, locate the input box provided.
Paste the copied video or audio link into the input box.
Choose the desired format in which you want to download the video or audio. Allinonedownloader supports various formats for conversion.
Click on the download button to initiate the conversion and downloading process.
By following these steps, you can easily convert and download Instagram videos using the Instagram to Mp4 Video Converter provided by Allinonedownloader. Enjoy the convenience of converting and saving your favorite content from a wide range of video and music streaming services.
3. SSSGram Instagram to Mp4 Convertor
SSSGram, the MP4 Instagram Converter, offers a user-friendly and hassle-free Instagram video downloading experience. This tool allows you to download Instagram videos, Instagram photos, and Instagram Reels effortlessly. Here are the key advantages of using SSSGram:
Safe and Secure: SSSGram prioritizes your download safety by promptly deleting all videos and photos from their server after downloading.
No Login Required: There is no need to register an account, log in, or share your email to use this free service.
Fast and Efficient: SSSGram's advanced server and high-class design ensure a smooth and speedy downloading and converting experience.
Multiple Download Options: With SSSGram, you can download Instagram photos, convert Instagram videos to MP3, and download Instagram reels.
Universal Compatibility: SSSGram works seamlessly on any device, whether PC, Mac, Android, or iPhone. All you need is an internet connection and a browser.
High-Quality Downloads: SSSGram ensures that Instagram videos are downloaded in MP4 format with original high quality.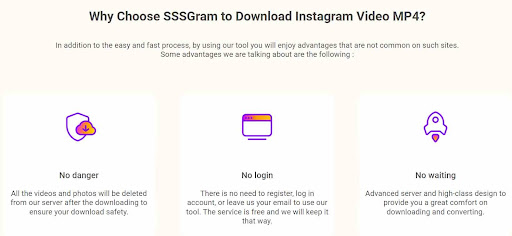 Rest assured, SSSGram is a 100% free service, and it will continue to provide excellent features and support in the future. It simplifies downloading Instagram videos, photos, and posts. This makes it a reliable choice for converting Instagram content to MP4 format in HD quality.
4. VidInsta
Vidinsta is a powerful online Instagram to Mp4 tool that enables you to convert Instagram links to MP4 format and download videos directly to your computer, providing a valuable resource for content creators. This feature is particularly useful for analyzing competitors and learning from industry experts, allowing you to gather content ideas and insights for your work.
With Vidinsta, you can conveniently download and store Instagram stories on your computer, ensuring they won't disappear after the standard 24-hour period.
Using Vidinsta is simple and straightforward. Just paste the Instagram link into the website, click the download button, and the video will be saved to your device. This eliminates the need for taking Instagram screenshots and provides a direct solution for preserving Instagram content. The best part is that Vidinsta is a free tool that doesn't require you to create an account, ensuring accessibility for all users.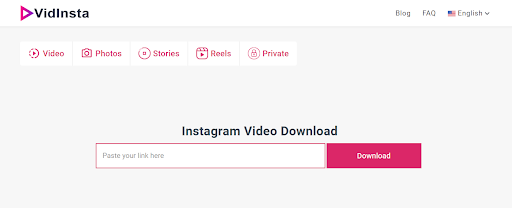 Whether you're using a computer, phone, or tablet, Vidinsta enables you to conveniently save and store Instagram videos, fostering connections and preserving precious moments.
Read More: Igram Review: The Fast and Easy Way to Download Instagram Content Online
Vidinsta.App Features
Vidinsta is a comprehensive platform that offers various features to facilitate the download of Instagram content. With Vidinsta, you can easily download videos, photos, stories, and Reels from Instagram, allowing you to freely create and share with friends. Here are the key features of Vidinsta:
Instagram Video Download:

Support fIor downloading any video on Instagram, enabling you to save videos to your device effortlessly.
Convert Instagram videos to MP4 format for easy playback and sharing.

Instagram Photo Download:

If you encounter difficulties downloading photos from Instagram, Vidinsta is here to assist you in effortlessly saving Instagram photos to your device.

Instagram Story Download:

Download Instagram Stories that don't have a built-in download button by simply copying the story link and using Vidinsta to download the story in MP4 format.

Instagram Reels Download:

Vidinsta allows you to download captivating Reels footage from Instagram and store it directly on your device.
Convert Instagram Reels to MP4 format, ensuring compatibility and ease of access.
The Vidinsta. app stands out with the following features:
User-friendly Interface:

Vidinsta.App offers an intuitive and easy-to-use interface, making the download process hassle-free for all users.

Versatility:

The platform supports a wide range of Instagram content types, including videos, photos, stories, and Reels, providing a comprehensive solution for downloading various forms of Instagram media.

Reliable and Fast:

Vidinsta.App ensures reliable and fast download speeds, allowing you to save Instagram content to your device swiftly and efficiently.

No Account Required:

You can enjoy all the features and benefits of Vidinsta.App without the need to create an account or provide any personal information.
By utilizing Vidinsta's diverse range of features, you can effortlessly download videos, photos, stories, and Reels from Instagram, converting them to MP4 format for easy accessibility and sharing. Vidinsta.App provides a user-friendly experience, ensuring a seamless and efficient process for downloading and preserving Instagram content.
By utilizing Vidinsta's diverse range of features, you can effortlessly download videos, photos, stories, and Reels from Instagram, converting them to MP4 format for easy accessibility and sharing. Vidinsta.App provides a user-friendly experience, ensuring a seamless and efficient process for downloading and preserving Instagram content.
5. PokoInsta
PokoInsta is another effective online tool that allows you to download and save Instagram videos in the highest quality MP4 format. With PokoInsta, you can easily overcome any challenges you may face while downloading videos from Instagram. Here are the key features of PokoInsta:
Download High-Quality Videos:

PokoInsta ensures that you can download Instagram video files in the highest quality available, including options like 720p, 1080p, and even 4K resolution.

Easy User Interface:

Working with PokoInsta's video downloader tool is a breeze. Simply provide the link to the Instagram post containing the video, and quickly access and save the video file with ease.

Completely Free:

One of the standout features of PokoInsta is its free-of-charge Instagram to Mp4 service. You can download Instagram videos without the need for any payment or credit card information.

No Need to Register or Log in:

PokoInsta eliminates the hassle of registration or login processes. Simply enter the Instagram post link you want to download in the PokoInsta search box, and you're good to go.

Compatibility with Any Device & Anywhere:

PokoInsta can be accessed and used on any mobile device or computer with an internet-connected browser. No additional applications or software installations are required to download Instagram videos.

Unlimited Access & Speed:

PokoInsta offers unlimited access to its services, allowing you to download Instagram videos as many times as you want. Additionally, there are no limitations on download speed, ensuring a seamless and efficient experience.
By using PokoInsta, you can effortlessly copy the link of the Instagram video, convert it to the MP4 format, and save it with the highest quality available. PokoInsta provides a convenient and reliable solution for downloading Instagram videos, and its user-friendly approach makes it accessible to all users without any technical complications.
Read More: YouTube to Mp3 Converter: 10 Top Free MP3 YouTube Converters
Conclusion on Instagram to Mp4
On Instagram, where captivating photos and mesmerizing reels abound, it's easy to lose track of time. However, fret not, for there is a way to reclaim precious minutes and enjoy the content at your convenience.
By utilizing an Instagram video downloader, you can save valuable time and unlock a world of possibilities. Imagine downloading Instagram reels to MP4, and preserving photos and videos on your device for offline viewing. This means you can enjoy them whenever you want, even without an internet connection. Additionally, the power to share these captivating moments with friends or repost them on the platform is at your fingertips.
By leveraging an Instagram to MP4 downloader, you can view content offline, repost it, preserve cherished memories, feature inspiring posts on your blog or website, safeguard against valuable content loss, and experience unparalleled convenience.
No longer will you be confined to online browsing limitations or screenshot or screen recording hassles. An Instagram downloader tool empowers you to convert your videos to MP4 format, providing a quick and seamless solution. By embracing these innovative tools, you unlock a world of possibilities, enhancing your Instagram experience and elevating your content consumption to new heights.
So why wait? Embrace Instagram to MP4 converters and unlock convenience, creativity, and endless inspiration.
Read More:
FAQs