Are you a fan of videos and want to know how to upload high-quality videos to Instagram? If you are one of those old Instagrammers, you surely remember that Instagram couldn't share videos when launched on 6 October 2010. But three years later, users could upload single short videos for up to 15 seconds.
Soon, Instagram HD video posts become one of the most important features of Instagram. Right now, Instagram videos receive twice the engagement of images. In 2020, it was estimated that Instagrammers in the USA would get the annual $13.86 billion of advertising revenue from Instagram ads. And guess what? 85% of businesses use video as a tool for advertising on Instagram. Long story short: Instagram videos are super great for your business; use them more!
But to catch your followers' attention, it is necessary to upload videos as high quality as you can. If you have no idea how to upload high-quality videos on Instagram or the suitable Instagram upload quality, this article is for you!    
Why Do We Face Instagram Quality Loss after Uploading on Instagram?
Yes, it is a bitter truth: Instagram quality loss happens because the platform ruthlessly decreases your video's quality once you upload it. You may wonder why? Well, did you know over 100 million images and videos are being published on Instagram daily? Can you imagine what would have happened if anyone could upload Instagram HD videos of any quality and duration to Instagram? For example, uploading a 4k Instagram HD video that lasts for more than three hours.
To prevent making the platform difficult to use and reduce the database it uses, Instagram has implemented some limitations for videos and images. This way, the app is faster and easier to use, and Instagrammers have a better experience. So, to offer the highest-quality video for your followers, you need to know about the maximum Instagram upload quality that allows you to use it along with other publishing factors. So, let's have a look.
How to Upload High-quality Videos to Instagram?
Here are the questions that you need to answer before uploading high-quality videos on Instagram:
   Which Instagram video feature to use?

   What Is the Highest Instagram Upload Quality for Different Types of Videos?

   How to record high-quality videos for Instagram?

   How to edit the videos for uploading Instagram?

   What's the best way to upload my video on Instagram?
In the following, we're going to explain these items, so you can have a clear mind about how to upload what you want in the best way on Instagram.
1- Which Instagram Video Feature to Use?
This is a fundamental question to ask in the process of knowing how to upload a high-quality video to Instagram! On Instagram, you can use three types of videos: feed videos, stories, and IGTV videos. 
It partly depends on your purpose of video (for example, creating video ads or entertainment purposes) and partly on how long you wish the video. You should decide which one of these three will best work for you. To make it easier for you to decide which Instagram video to make, here is a quick comparison:  
Instagram story videos
There are several ways to get more views on Instagram stories. Stories are short, fun, and various tools like quizzes, emoji sliders, and polls can increase your engagement tremendously. Each video story lasts up to 15 seconds. So, it won't take you that much time to record a story. Well, unless you want to make a series of them. The only problem with stories is that they will vanish after 24h. But thanks to the highlights, you can have them permanently on top of your page.
Instagram feed videos
Feed videos are the first and oldest types of videos on Instagram. The feed videos can last from 3 seconds up to 60 seconds. However, you can add a maximum of ten multiple clips, but I don't recommend it. If your video is longer than one or two minutes, you can simply upload it on IGTV. 
IGTV
Many Instagrammers prefer IGTV to upload long videos on Instagram. If you use a mobile device, you can upload a video for up to 15 minutes. But the great news is, from the desktop, you can extend the time to one hour! IGTV used to accept only portrait videos, but now, you can freely upload landscape videos.
2- What Is the Highest Instagram Upload Quality for Different Types of Videos?
Each one of these three types has a minimum and maximum size. Suppose you upload a video lower than these dimensions. In that case, Instagram will automatically enlarge it to reach acceptable formats (you don't want to do it as it damages the quality!). And if you upload something more extensive than these sizes, Instagram performs compression and will reduce its quality. So, here are the best acceptable dimensions:
Feed videos
If you want to share your video on feed, you should consider:
The maximum resolution that gives you the best quality is 1080 pixels by 1080 pixels for the square post. The aspect ratio is, of course, 1:1.

For portrait videos, the maximum acceptable ratio is 4:5, which gives you the maximum satisfactory resolution of 1080 pixels by 1350 pixels.  

For landscape videos, you can have the highest resolution of 1080 pixels by 607 pixels. These videos can have a ratio between 1.91:1 and 16:9. Therefore, if you upload a video at these specific rates, you can upload your video on Instagram without compression.
Story videos
For stories, the best dimension for Instagram videos to avoid compression is 1080 pixels by 1920 pixels, an aspect ratio of 9:16. 
IGTV
Using IGTV, you can upload portrait and landscape videos.
 Here are the best dimensions:
Portrait IGTV videos: The aspect ratio is between 1080 pixels by 1920 pixels for a 9:16 aspect ratio.
Landscape IGTV videos: The aspect ratio is between 1920 pixels by 1080 pixels for a 16:8 aspect ratio.
Tip: You can upload a thumbnail for the IGTV and also publish it as an individual post on the feed. It's a good idea to create a thumbnail that goes well on your feed. You can easily set custom photos as your Instagram video thumbnail.
For instance, if your IGTV thumbnail is a portrait, it will be cropped into a square after publishing the post, and the bad news is, you can't edit it after publishing! So, try to use an image that won't seem bad after cropping. The best dimension for an IGTV cover photo on Instagram without compression is 1.55 and a size of 420px by 654px.
3- How to Record High-Quality Videos for Instagram?
The third item on the list of how to upload high-quality videos to Instagram is about recording. The general rule is this: the higher your video recording quality, the best it will appear after uploading on Instagram. Here are some of our suggestions to record the Instagram HD video in the highest quality:
   Set the resolution of 4k UHD h.264. If your device does not support 4k, set the highest quality for recording.

   30 frames per second (minimum)

   Use a tripod to keep your recording device steady.

   If you use phone cameras, be careful with the lighting. The result won't be satisfying if you don't have adequate light.
4- How to Edit the Videos for Uploading Instagram?
To edit your original video and resize it to be fit to Instagram upload quality, use the acceptable resolutions that we've mentioned earlier. Then use an excellent video editing tool to resize and adjust other settings. Our suggestions for video editing apps are Adobe Premiere Pro, FFmpeg, Lightworks, and Final Cut Pro X.
Remember: the maximum size of IGTV for a video shorter than 10 minutes is 650 MB, and for 10 minutes to one hour, the video is 3.6 GB.
Tip: MP4 is the best format for uploading videos on Instagram to avoid compression. So, try to extract your files in this format.
5- What's the Best Way to Upload My Video on Instagram?
Finally, the last item on the list of how to upload the high-quality video to Instagram is uploading the file! Using a desktop will make your work a lot easier. Here is how to upload high-quality videos to Instagram:
For IGTV
If you want to upload a video as IGTV, the best way is to log on to your Instagram account on the web and click on "Upload."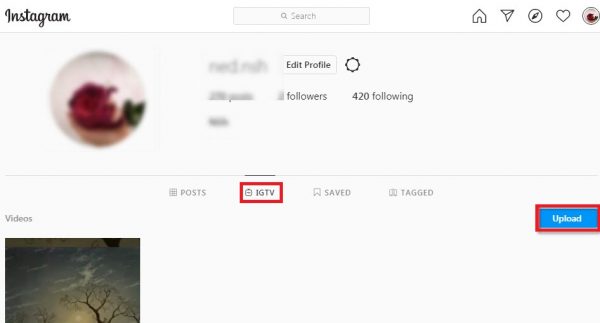 In the new page, as you can see, you can drag and drop your video. If it fits the requirements, there won't be an error shown by Instagram. Then you can add a cover (with the format of PNG or JPG), add a title and description, and now it's ready to post!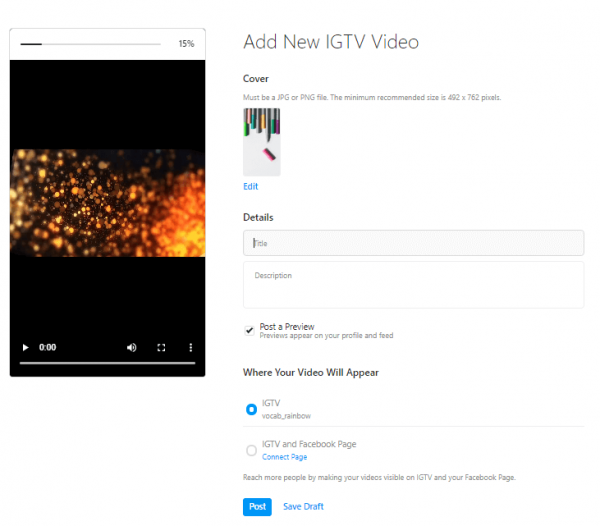 For feed and stories
The best way to upload your videos on a feed or story is to use an Instagram manager app. In this case, AiSchedul is your best option. AiSchedul offers many tools to make your Instagram more productive and more engaging. One of its best tools to achieve this goal is the scheduler. 
With AiSchedul, not only can you upload high-quality videos from your computer, but also, you can schedule a publishing time, find the best hashtags, and even add a unique URL for your video. For example, you can link your video to your YouTube channel. 
To upload a video this way:
2. Add your Instagram account(s) to the app.
3. Then go to "SCHEDULER" 
4. Choose "feed" or "Story."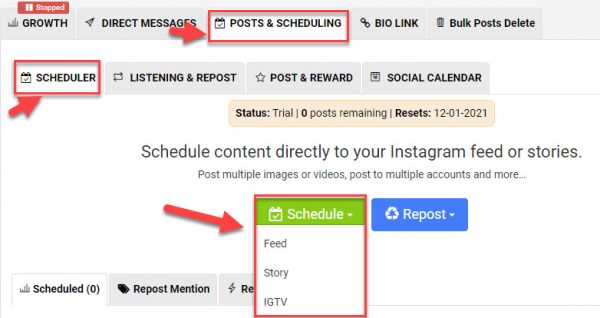 5. Drag and drop your video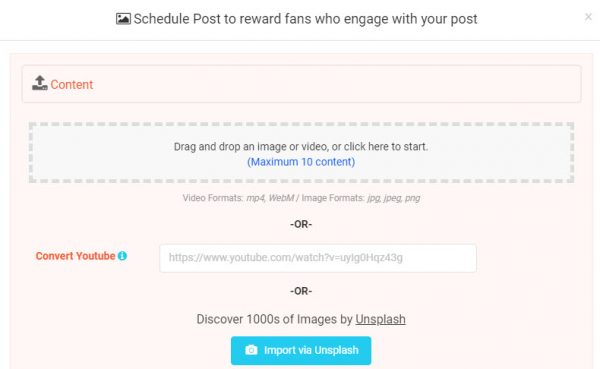 6. Then write a killing caption, and add a URL to your post if you wish. 

7. Now, easily search and add multiple Hashtags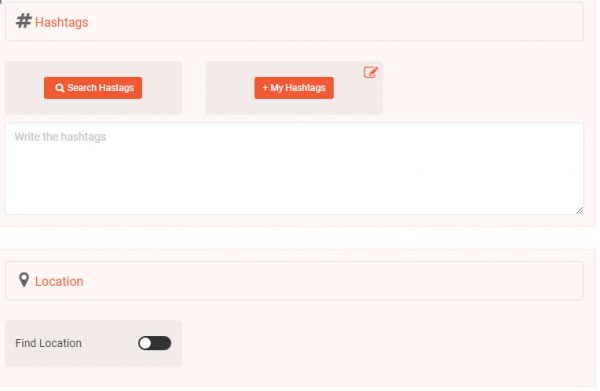 8. If you are uploading your video on your feed, you can also post it as a story by clicking on "Post on stories as well."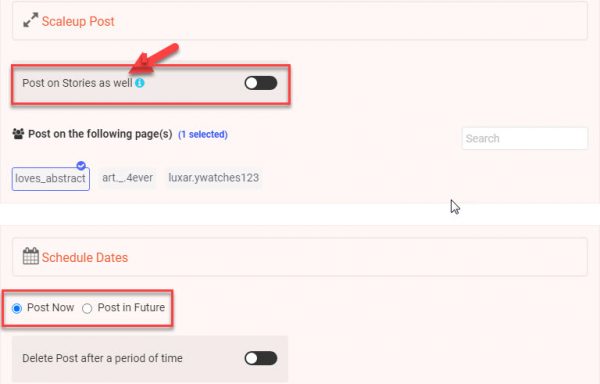 Warning: if you want to upload your Instagram posts traditionally using a mobile, make sure you won't damage your file's quality when transforming it. To avoid this, you can use Google Drive or Apple Airdrop.
Conclusion on How to Upload High-Quality Videos to Instagram
As you can see, creating a high-quality Instagram video may be time-consuming and challenging work to do. But we can assure you that having a great video will immensely help you get new followers and fans. After all, it is proven that videos gain twice as engagement and comments as images. So, make sure you consider creating high-quality videos for your Instagram.