Have you ever tried to plan a surprise party for your parents or partner, but failed because they saw the messages on your phone? Well, hold your horses, and don't go anywhere because you're about to discover a very interesting feature today: what is vanish mode on Instagram?
Vanish mode on Instagram is similar to that of Snapchat's self-erasing messages, or Telegram's secret chat. It is a powerful addition to Instagram's Direct Messages section. This innovative feature ensures enhanced security by automatically deleting messages in Instagram Direct once they've been read, leaving no digital footprint behind. Embrace Vanish Mode on Instagram and engage in confidential conversations, knowing your messages will vanish without a trace.
So far, you might have developed a series of questions in your mind regarding what's vanish mode on Instagram and the services it offers you. In this article, we'll address your questions one by one and give additional information regarding this fascinating feature. So keep on reading!
What Is Vanish Mode on Instagram
Exchanging messages on Instagram has become much easier and enjoyable these days with the new doors that vanish mode opens up for you. So what is vanish mode on Instagram and what options does it provide for you? Let's discuss it in detail.
What does vanish mode mean? From a linguistic perspective, the term "Vanish Mode" signifies the state of disappearing. It refers to a feature that allows messages or content to fade away, leaving no trace behind.
As mentioned earlier, this newly introduced option permits Instagram users to engage in temporary chat threads and exchange lots and lots of messages with each other. These disappearing messages will be automatically deleted when you're done with chatting so that the users do not have to spend much time deleting the direct messages themselves in case they don't want anyone to notice them.
Now, what does vanish mode do for you as an Instagram user? With this new feature, which was first launched on Facebook Messenger in 2020, and then on Instagram in late 2020, you can plan your surprise parties, or talk about your confidential work information without having to worry about the information being leaked!
What Does Vanish Mode Mean on Instagram
Now just because Instagram allows you to keep everything secret in vanish mode, doesn't necessarily mean that you have permission to do anything you want without any consequences! There are a couple of rules and regulations that you need to keep in mind while using this highly practical feature.
Firstly, it only works if you and your chat buddy are following each other on Instagram. Instagram takes this safety measure to prevent you from being forced to respond to anonymous messages in vanish mode. Secondly, it's a one-on-one option, meaning it can only function between two people and not a group of people.
More importantly, Instagram is very sensitive when it comes to its users' privacy. For one thing, sending a disappearing message on Instagram is an 'opt-in feature,' and you or the person you want to chat with can simply decline it if either of you doesn't want to enter it. Also, if you encounter a situation in which the person you're chatting with sends you inappropriate messages, you can easily block and report them.
As another attempt to ensure your safety and privacy, Instagram has set some limitations on the vanish mode chatrooms. For instance, if you try to take a screenshot or a screen recording of the chat, Instagram will notify your friend instantly. Also, you cannot copy, forward, or save Instagram messages sent in the vanish mode.
?Learn how to turn on Vanish Mode before sending any sensitive text or photo to safeguard your privacy. Otherwise, your message will remain permanently in Instagram chat. Be aware that all seen pictures, text, memes, stickers, or GIFs shared in Vanish Mode disappear once the chat ends.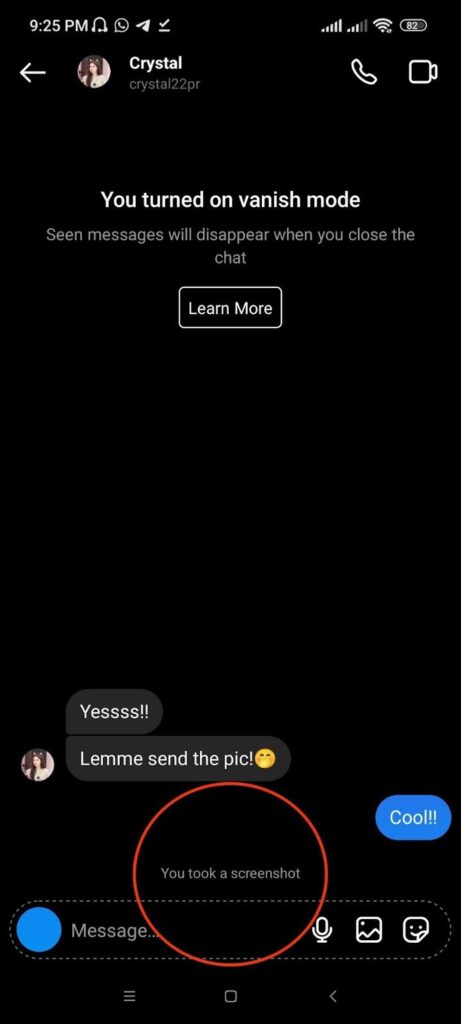 ✨Note: Unlock Instagram privacy with Vanish Mode! Seamlessly send self-deleting messages, elevating your conversations' confidentiality. Embrace this unique feature to empower your control over data, as the vanish mode in Instagram takes privacy to the next level.
Read More: Instagram Screenshot Notification: Awesome Tips & Tricks
Vanish Mode Instagram Meaning: How Does It Work?
When using Vanish Mode on Instagram, you should keep a few things in mind. Here is what happens in vanish mode on Instagram:
Vanish Mode means that once your messages are viewed by the recipient on Instagram, the seen messages will disappear when you close the chat. This feature offers an added layer of privacy and ensures that your messages are self-deleting, leaving no trace behind after they have been seen.
The Vanish Mode feature operates bilaterally. If you enable it, it will also be enabled for the recipient. Likewise, if the recipient turns off Vanish Mode, it will be turned off for you as well.
Therefore, the recipient will be notified that you've enabled Vanish Mode. Consequently, their chat window will turn black to indicate you've turned on Vanish Mode. Vanish Mode can be ended by either of you at any time. This ensures mutual control and synchronization of Vanish Mode settings between both parties during the conversation.
Vanish Mode only works in one-to-one chats, not in group chats.
Whenever you take a screenshot or record a screen in vanish mode, both parties will be notified.
While messages vanish in IG Message Vanish Mode, it's crucial to understand that conversations within this mode remain subject to reporting and monitoring. Despite the disappearing nature of messages, Instagram retains the ability to track and address any instances of inappropriate or abusive behavior. It is essential for users to practice responsible and respectful communication, even when utilizing Vanish Mode.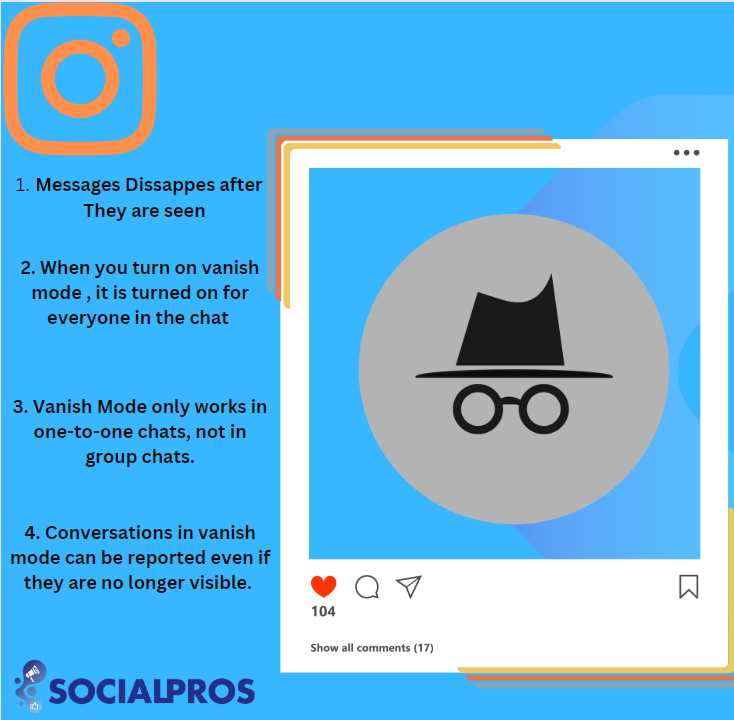 How to Turn on Vanish Mode on Instagram
Surprisingly, it only takes a few seconds to turn on vanish mode on Instagram! There are two ways through which you can use this feature. In order to get the hang of it, let's take a look at some steps you have to take to get going. Here's how to send a disappearing message on Instagram:
Open the Instagram app, and choose an existing chat in your direct messages or tap the 'New message' on the right top corner of the screen to start a new conversation
Swipe up and release to turn on vanish mode. Here, the screen turns black, and a number of "shush" emojis fall on the chat screen.
Now you're all set! Feel free to send as many disappearing messages as you want with total ease of mind!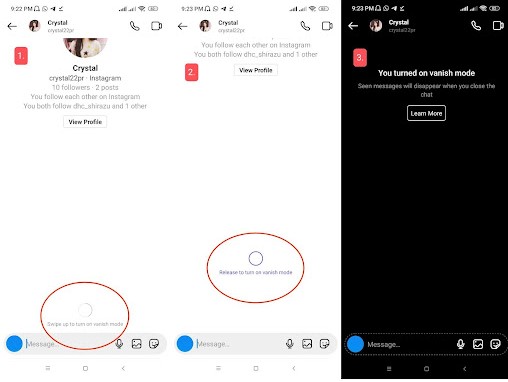 Second choice:
Open the Instagram app, then choose an existing chat or open a new one
Tap the username
Tap 'Vanish mode' in the 'Chat settings' to turn it on
Enjoy your secret conversation!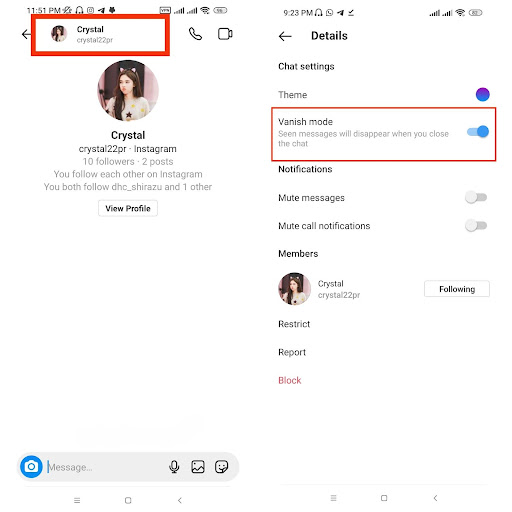 How to Turn Off Vanish Mode on Instagram
Now that you've entered vanish mode, it's time to learn the otherwise. So the question is, how do you turn off vanish mode on Instagram after you're done with chatting? Well, the answer is quite simple.
Go back to the chatbox you have turned on the vanish mode in
Swipe up from the bottom to all the way up and release
Now the vanish mode is turned off, and you can go back to the normal chatbox
Second choice:
Go back to the chat
Tap the username
Tap 'Vanish mode' in the 'Chat settings' again to turn it off
You should bear in mind that once you close the chat window, the messages you exchanged in the vanish mode will disappear for good. So make sure you no longer need those messages before you close the window.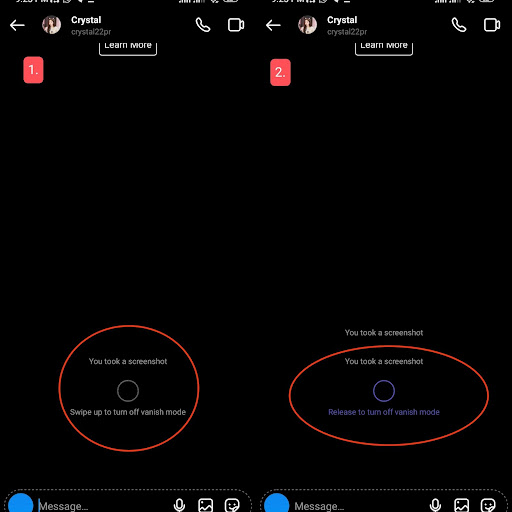 FAQs on What Is Vanish Mode on Instagram
So far we've helped you get a grasp on vanish mode and Instagram disappearing message feature. Now it's time to tackle some of your most frequently asked questions regarding it.
#1 How To Report Messages in Vanish Mode?
Instagram has provided an opportunity for its users to report messages that are against their community guidelines. Don't worry if the messages have disappeared! Instagram will decrypt the messages and review your request up to 14 days after the messages are gone. If by any chance, you report a message after it's gone, the report will not include that message. Here are the steps you have to follow to report a particular message sent in vanish mode:
Tap and hold the message you want to report in your chat
Tap 'Report' and choose the reason for your request
In case you'd like to report the entire chat, tap the username at the top and tap Report. Then, select the reason why you're sending this request.
Pro tip: here, you can restrict or block the account that sent you the message as well.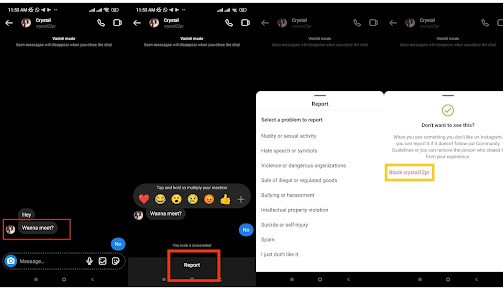 Note that your report will be anonymous unless you're reporting an intellectual property infringement.
#2 Is Vanish Mode on Instagram Available Everywhere?
Unfortunately, this useful feature is only available in certain countries. Instagram users in Japan and countries located in Europe may not have access to it. Therefore, if you have updated Instagram to its latest version and vanish mode still doesn't work on your phone, then most probably this feature is not available in your region.
To troubleshoot issues with Messenger's Vanish Mode feature, make sure your Messenger app is up to date. If you're using the latest version and still don't see the feature, it might be unavailable in your country. Stay informed and watch for future updates regarding Vanish Mode Messenger availability.
Related Resource: How to Update Instagram on All Devices
#3 Can Vanish Mode Be Used on A Computer or Laptop?
As an Instagram user, you have the opportunity to send direct messages on your desktop. Yet, as of today, the vanish mode feature has not been activated for users that use Instagram on their personal computers or laptops. This means that you can only use this feature on your phone, at least for now.
#4 How to conveniently delete messages when you have no access to vanish mode on Instagram?
If you don't have access to vanish mode for whatever reason and need to delete your DMs, you don't have anything to worry about! DMpro is here to make your direct messaging experience on Instagram as smooth and convenient as possible by enabling you to delete as many messages as you want in the blink of an eye!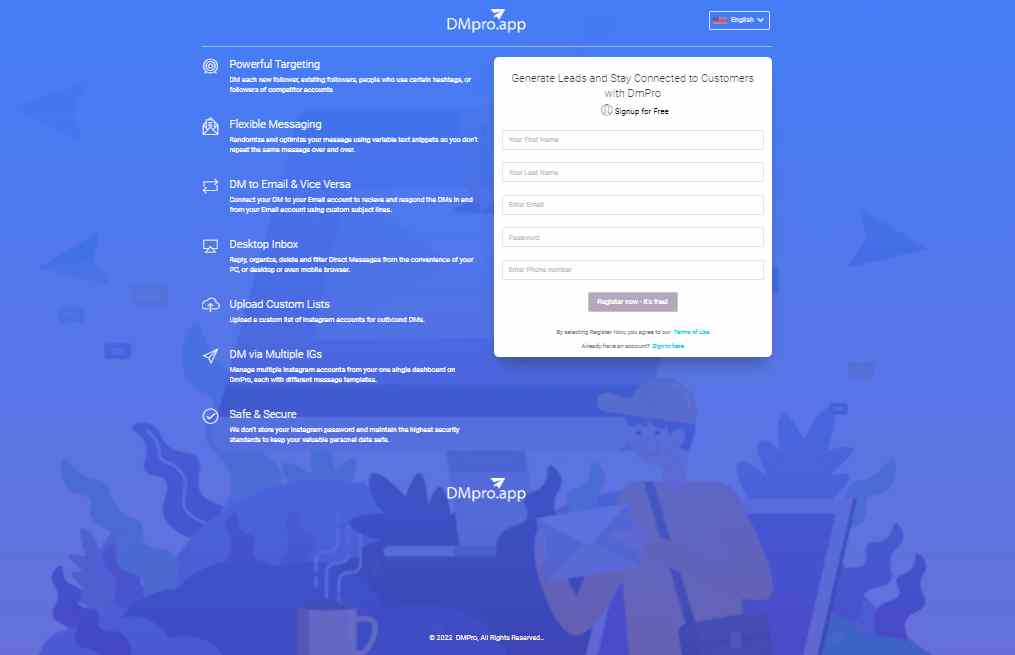 #5 What Is Vanish Mode on iPhone and How to Activate It?
To activate Vanish mode on your iPhone, ensure you have the latest Instagram app. The procedure is as follows:
To activate Vanish mode on your iPhone or Android, ensure you have the latest Instagram app. Then, follow these steps:
Open the Instagram app on your mobile device.
Tap on the direct message icon in the top right corner of your Instagram app.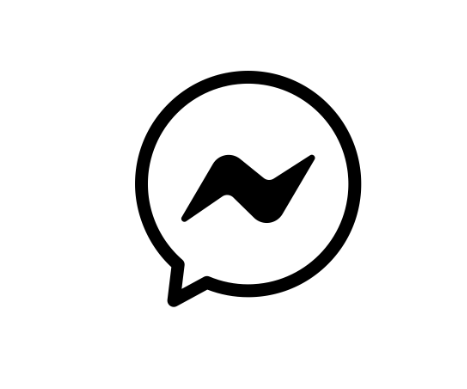 3. Open any chat you wish to use vanish mode in.
4. Then, swipe up from the screen's button to enable vanish mode. When you activate Vanish Mode on Instagram, the app's interface transforms into the dark mode, creating a visually distinct experience. Additionally, shushing emojis appear on your screen, indicating that you have entered Vanish Mode.
5. After you turn on the vanish mode, all read messages will vanish.
6. If you swipe up from the button screen in the vanish mode or tap on turn off vanish mode at the top of the chat window, you can turn off the vanish mode.
#6 Vanish Mode on Instagram: Why Should You Use It?
Vanish Mode on Instagram is an excellent solution if you have concerns about unauthorized access to your chats. It provides an added layer of security and privacy, both of which are important to you. By enabling Vanish Mode, you can engage in confidential conversations with peace of mind.
In addition to enhancing privacy, Vanish Mode is also useful when you want to discuss discreetly with another Instagram user. For instance, if you're organizing a surprise party for a friend or loved one, Vanish Mode allows you to share details without information leaks.
With Vanish Mode, you can enjoy disappearing messages in Instagram and enjoy increased confidentiality and secure communication. With this convenient feature, you can maintain control over your conversations and protect your privacy.
#7 Can I Recover a Vanishing Text Message that Was Sent or Received?
Once messages are sent in Vanish Mode on Instagram, they vanish after being viewed or when the chat is closed, making them irretrievable.
#8 Are All Your Messages Deleted When You Use Vanish Mode?
No, Vanish Mode on Instagram does not delete all of your messages within an existing chat. When you activate Vanish Mode, you enter a separate screen where you won't see any of your previous chat history.
Once you turn off Vanish Mode, the Vanish Mode chats will be deleted. However, you will return to your original chat window, and you will be able to see all the previous messages that were sent outside of Vanish Mode as if nothing ever happened.
Last Words on What Is Vanish Mode on Instagram
With the release of this new feature of Instagram, users are enabled to have safer and more private conversations with their e-pals without having to wonder whether they're kept safe and secret. This all-inclusive article discussed different aspects of vanish mode on Instagram and the ways one can turn it on/off in just a few seconds.
Introducing Vanish Mode on Instagram, a powerful feature that revolutionizes your chat experience. With Vanish Mode, you can effortlessly create and join temporary chat threads that automatically vanish once the conversation concludes.
It's your turn now to put your knowledge on what's vanish mode on Instagram into practice and have your heart-to-heart conversations. Go ahead and enjoy the experience!
And don't forget that you can always use DMpro to delete your messages on Instagram if you don't have access to vanish mode!
Read More from SocialPros:
How To Delete One Picture Out Of Multiple On Instagram Carousel
1000 Free Instagram Followers Trial [Are They Real Followers or Fake?]
Instagram Saved Posts & Collections [A Comprehensive Guide]
How To Turn Off Active Status On Instagram?
How To Get 1K Followers On Instagram In 5 Minutes?
Instagram profile Picture Downloader: Best Free Instagram pfp Downloaders
How to React to Messages on Instagram