Today, Instagram is more than just a social media platform to share personal photos and videos with your friends and family members. Right now, scrolling up and down on Instagram, you'll see great shoppable posts that allow you to purchase whatever you need through the Instagram app, amazing food recipes, and even informative posts about science.
So, sometimes you may want to save some of these posts in order to get back to them later and use the information mentioned in the post. Luckily, Instagram has a feature that enables you to save posts and even create collections to categorize the saved posts. But if you are a PC user, the story is slightly different. So, here I am to show you how to organize Instagram collections on a desktop.
Before going to see how to add Instagram collections on a desktop, delete saved posts and organize them properly, let's see how are these done using the official Instagram app on mobile.
How to See Instagram Saved Posts
Having trouble finding an Instagram post you saved? Here are the steps to see your saved Instagram posts:
Open the Instagram app on your mobile device and tap on the hamburger menu (three horizontal lines) in the top right corner of your profile page.
From the popup menu that appears, select "Saved" and you'll be taken to a page displaying all the posts you've saved.
If you have a lot of saved posts, you can use the search bar at the top to find a specific post. You can also scroll through the page to browse through your saved posts.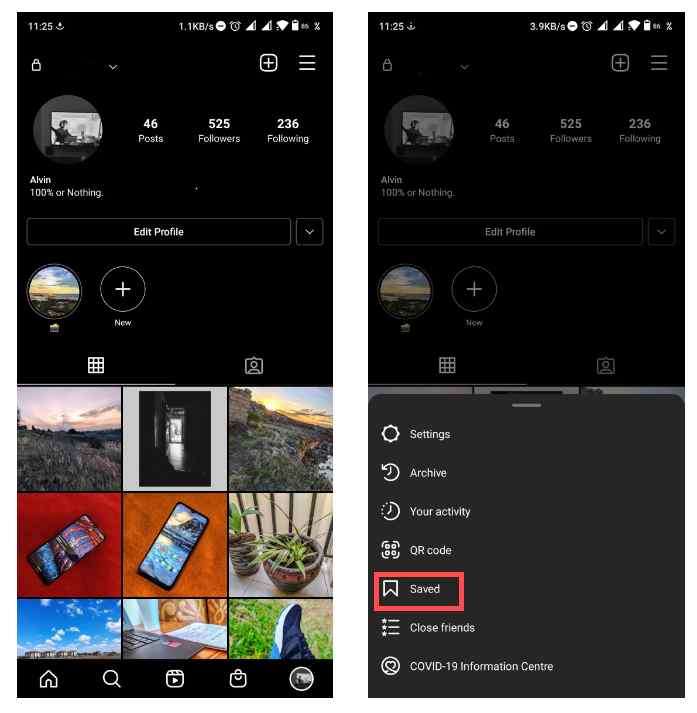 To keep your saved posts organized, you can create Instagram collections. Here's how:
Open your "Saved" page and tap on the "+" icon in the top right corner.
Create a name for your collection and tap "Next".
Browse through your saved posts and tap on the ones you want to add to the collection.
Tap "Done" in the top right corner when you've finished selecting posts.
Now that you know how to see and organize your saved Instagram posts, you can easily access your favorite content whenever you want!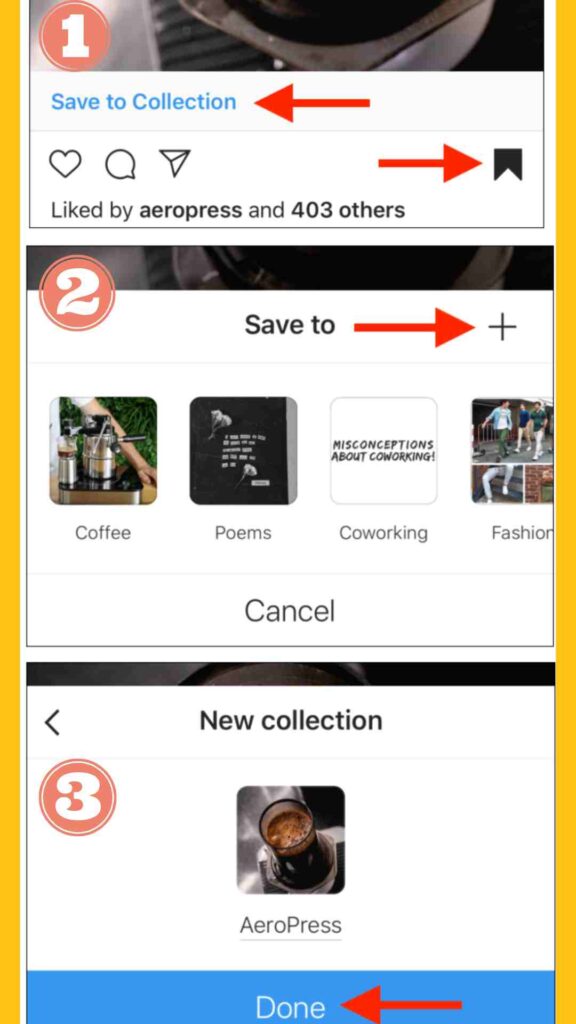 How to Organize Instagram Saved Posts and Collections on Mobile?
Saving posts on the official Instagram app is really easy. When you see a post that you like and want to save it for a later time, just tap on the "save" button. As you see in the picture below, right after saving, an item appears that allows you to save the intended post in one of your previously created collections, or even add a new collection.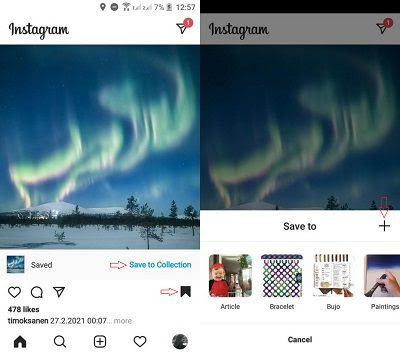 Editing and organizing the posts in a collection is also really easy. All you have to do is to follow these steps:
Open your Instagram profile and tap on the three lines icon on the top right corner of the screen.
Then, tap on "Saved".Here, you see all your collections. Just tap on the collection you want to edit and then, tap the three dots icon on the top right corner of the screen.
Finally, tap on "Select …" and choose all the posts you want to remove from a collection and/or move to another collection.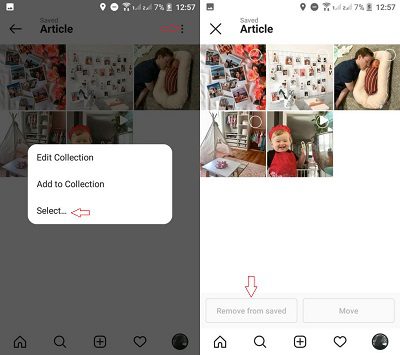 Additionally, Instagram allows you to delete a whole collection just with one click. To do so, do the followings:
After taking the first 3 steps you did when removing specific posts from a collection, tap on the "Edit Collection" button.
Here, you have the opportunity to change the collection's cover photo, edit the name, and delete the collection.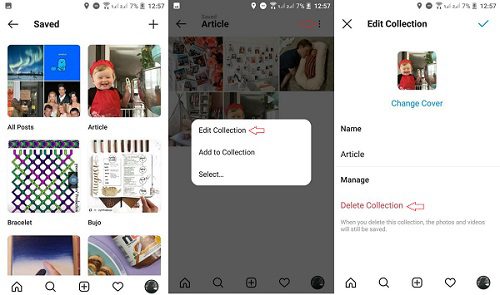 That's it! As you see, using the official mobile app, organizing saved posts and collections is really easy! But how can these be done using a PC? Let's see!
Read More: Instagram Drafts: How to Save and Delete Drafts on Instagram?
How to Save Instagram Posts on Pc?
Luckily, when you are scrolling Instagram feed on your PC, you can save the posts you want just as easily as you did on your mobile. You just have to click on the save button and it will be saved in your general collection.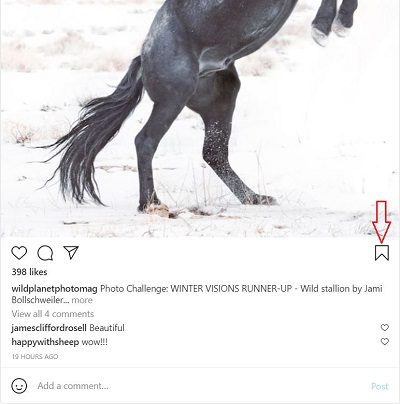 Just note that here, you don't have the option to save the intended post in a specific collection. But no worries! Jump into the next section to see how to organize Instagram collections on a desktop.
Organize Instagram Collections on A Desktop
Fortunately, you can access your saved posts and collections on the Instagram desktop version. In this case, you just have to go to your profile and open the saved section, and then, you see your saved posts and collections as follows: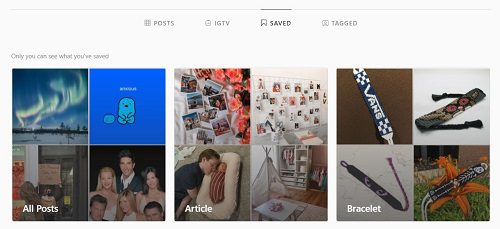 This is great! But unluckily, here you don't have any chances to edit the existing collections, add new collections, or even delete them. But no worries! Using a third-party app like AiSchedul, you can simply do all these tasks for free.
Actually, AiSchedul is a monitoring app by which you can track and monitor hashtags, accounts, mentions, and tags. Using this tool, you'll be able to view posts and stories without following people on Instagram, repost them if needed, and save them for a later time. To do this, just follow these simple steps:
Sign up for free on AiSchedul and add your Instagram account or accounts.
Go to your dashboard and under the "Posts and Scheduling" tab, go to the monitoring tool.
Here, after adding all the accounts and hashtags you want to track, you see new posts shared on Instagram. Right below the post, click on "Save".
Finally, you'll be asked to add the chosen post to an existing bucket or a new one that is the same as Instagram collections.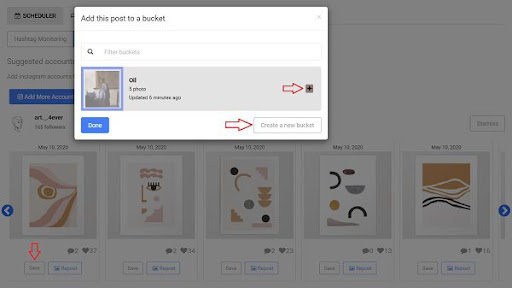 That's it! Whenever you needed the saved posts, just head to the "Saved Media" section and access all the buckets, posts, and stories.
Also Read: How to See Old Instagram Stories of Someone Else?
How to Delete Saved Posts on Instagram on a PC?
Using the Instagram app on mobile, to remove a specific post from a collection, you just have to open the intended post and click on the "save" button to remove it.
However, as mentioned above, you don't have the possibility of deleting an existing collection on your Instagram desktop. But hopefully, AiSchedul allows you to do so. For this, just go to the "Saved Media" section, and right next to the intended collection, click on "Delete This Bucket".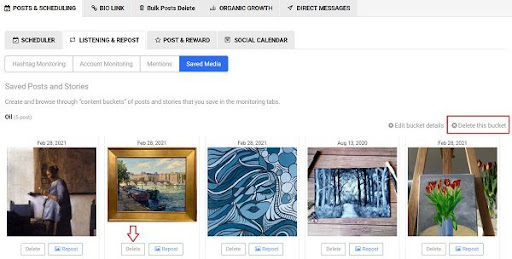 Also, you can delete saved posts one by one by clicking on the "Delete" button.
How to Download Instagram Saved Posts?
As you may already know, Instagram doesn't allow users to repost any content directly using the official app or even download whatever they need! But there's no need to worry. AiSchedul helps you with this issue as well. All you have to do is to click on the "Repost" button below the desired saved post. Now, you can either repost it on your account or download the photos and videos on your device to use on other social channels. So, go give it a try for free right now!
Keep Reading: Download and Repost without Watermark on Instagram for Free
Why Do Instagram Saved Posts Disappear and How to Fix It?
Sometimes you may notice that Instagram-saved posts have disappeared. Well, this may have a few specific reasons:
The post is deleted by the owner,
The account is changed to a private one,
The account you saved a post from has been temporarily deactivated their account,
Or Instagram removed the post due to community guidelines.
Actually, there's not much you can do to solve this problem in most cases. However, to make sure you are not missing any data, you can download the posts you wanted to save using the trick mentioned in the previous section.
FAQs on Instagram Saved Posts
Looking for answers to your questions about saved posts on Instagram? You're in the right place! Check out these FAQs to learn more about how to save, access, and troubleshoot issues with saved posts on Instagram.
1- Can people see your saved posts on Instagram?
Rest assured, your saved Instagram posts are completely private and personal. No one else can view them except you. This means that neither the author of the post nor anyone else who checks out your Instagram profile will be able to see which posts you've saved.
Instagram's saved posts feature is designed exclusively for your personal use and is not accessible to third-party users. So you can trust that your saved posts are completely secure and private.
You don't have to worry about anyone finding out which posts you've saved, as Instagram guarantees complete confidentiality. So go ahead and save all your favorite posts without any concerns about privacy or security.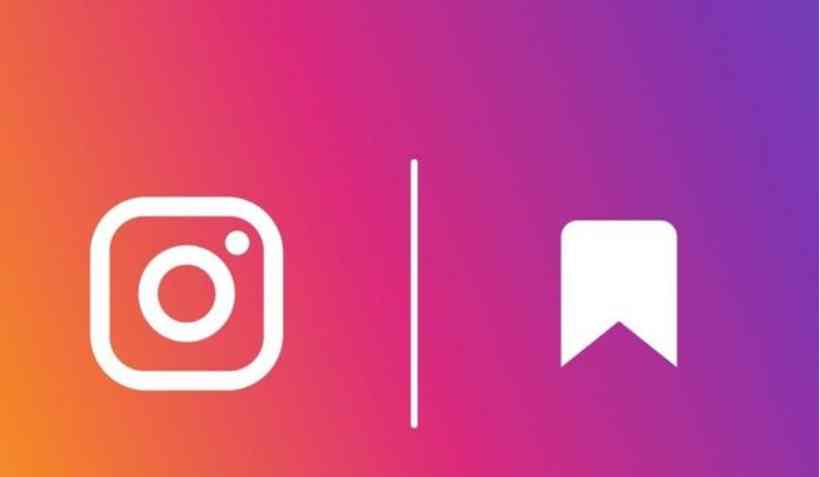 2- How to know who saved your Instagram posts?
Are you curious about who saved your Instagram posts? Unfortunately, Instagram doesn't provide a direct way to see this information. But don't worry, there are ways to find out how many people have saved your posts.
You can switch to a business account, which gives you access to Instagram insights. In this way, you can know how many people have saved your posts, among other metrics. To switch to a professional account, open your Instagram settings and select " Change to a professional account." Then choose either Creator or Business, depending on the type of account that suits your needs.
Another option is to ask your followers directly. You can post an Instagram story or reel or even an Instagram post to poll your users and ask if they've saved your posts. While this isn't a foolproof method, it can still give you an idea of who's saved your content.
While there's no way to see who saved your Instagram posts, there are still ways to learn how your content is received and engaged. By switching to a professional account or asking your followers directly, you can get a better understanding of your audience and how they're interacting with your content.
3- Why can't I see my saved posts on Instagram?
Instagram's saved posts feature is an effective tool that allows you to keep track of posts you want to reference later. However, sometimes the Save to Collection button doesn't work, causing frustration for users. Here are some troubleshooting solutions to fix your Instagram app when the Save button malfunctions or crashes.
Here are some tips on how to fix the Save to Collection button on Instagram:
Close and relaunch the Instagram app on your Android or iOS device. This simple step can often get the save button working again.
If closing the app doesn't work, try restarting your phone. This can refresh the app and fix any issues causing malfunctions.
Clearing the Instagram app's cache can also resolve the malfunctioning issue.
If other Instagram users can save posts to their collection but you can't, it may be because you have an old or buggy Instagram version installed. In this case, update your Instagram app to the latest version to fix the issue.
With these tips, you can troubleshoot and fix issues with the Instagram saved posts feature. Then you will ensure you never lose track of your favorite posts again.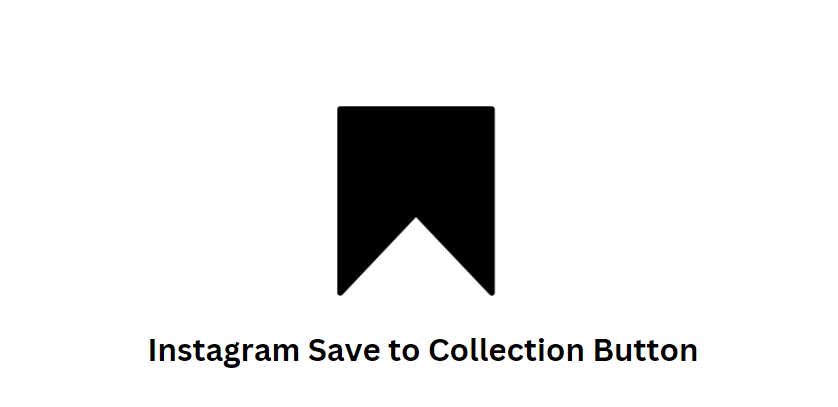 4- Instagram saved posts not loading. How to fix it?
Here are some steps to fix Instagram saved posts not loading:
First, refresh the app and check your internet connection. Sometimes the problem is just a temporary Instagram glitch.
If that doesn't work, try clearing your cache and cookies. This can reset the app and improve performance.
Another option is to uninstall and reinstall the app. This may seem extreme, but it can often solve issues like this.
If none of those solutions work, you can contact Instagram support for further assistance. They may be able to identify and fix the problem.
5- What's the difference between liked and saved Instagram posts?
Unlike liking a post, saving it lets you keep a copy to reference later. It's like having a private collection of things you love! The key difference is in purpose: liking a post is a way to show your appreciation to the content creator while saving a post is a way to bookmark or classify it for yourself.
And the coolest part? Instagram keeps track of your actions, so you can easily find those special posts you've saved. So don't just like a post, save it! There may be a time when you need it.
Read More: How to Put Saved Photos on Instagram Story?
6- Instagram saved posts: Why are they important?
Saved posts are crucial for boosting the visibility of your content on Instagram. As Instagram algorithms use a range of engagement metrics to determine which posts to prioritize in feeds, the more saves your post gets, the more likely it is to be deemed high-quality content and shared with a wider audience.
By saving a post, you're giving it a "super-like" that can help it reach more people, potentially even landing it on Instagram's Explore page. So, if you want your content to gain more visibility and attract more followers, encourage your audience to save your posts and watch your engagement soar.
Bottom Line
To sum it up, saving Instagram posts can help you access your needed information whenever you want and by categorizing them using Instagram collections, you can reach them much easier. However, using the official Instagram desktop version you cannot edit your saved posts and collections. So, read this article to see how you can manage and organize Instagram-saved posts and collections on a desktop.
Read More on Socialpros