Instagram gives you insights into your followers, their gender, the age range, and a variety of other factors that are very helpful for marketers, especially in attracting target followers. Information like this is very valuable to marketers because you could see what demographics you're reaching and also see if that's aligned with the focus of your company and the people that you're actually trying to reach. You can also see where your followers are located which is really good for targeting purposes. But how to use Instagram insights in order to grow organically? Let's see!
How to See Insights on Instagram?
First things first! Instagram insights are just available for business accounts and with a personal account, you cannot receive in-app reports of your performance. 
So, to see Instagram insights, you have to turn your account into a business one. When this step is done, to see your insights you have to follow these steps: 
Open your Instagram profile. 

Tap on the insights button.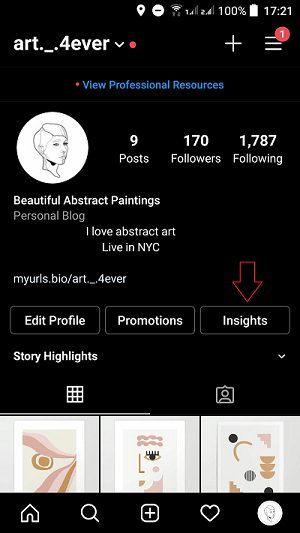 That's it! Now, you can reach all the demographics and information you need about your followers and performances. Now, let's know more about its features and how it can help you grow on Instagram!
Instagram Insights Features
Here, I'm going to describe all the features that are available on Instagram insights and how you can use them to get better results. So, stay tuned. 
Account Overview
When you open the Instagram insights, the very first thing you see is your account's overview. Here, you have the chance to see:
Accounts reached, 

And content interactions. 
By tapping on accounts reached, you'll see an overview of the number of accounts you reached in the last 7 days or 30 days. Also, as you can see in the following picture, it helps you find your top posts, stories, or IGTV videos based on the number of accounts you reached by publishing each content. So, all in all, this part helps you find your evergreen posts and try to use the same strategies for your upcoming posts.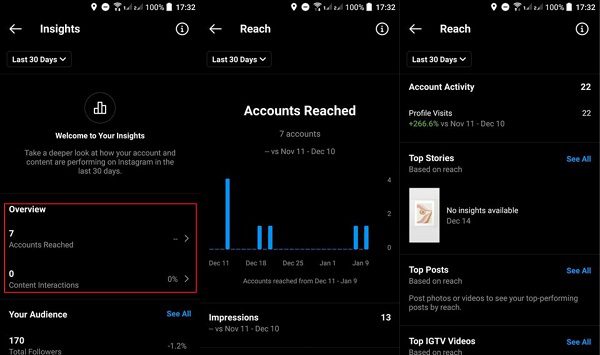 The other thing you'll find here is the number of interactions and demographics about it. Just like the reach section, here, you will find your evergreen posts and stories based on the number of interactions you have received.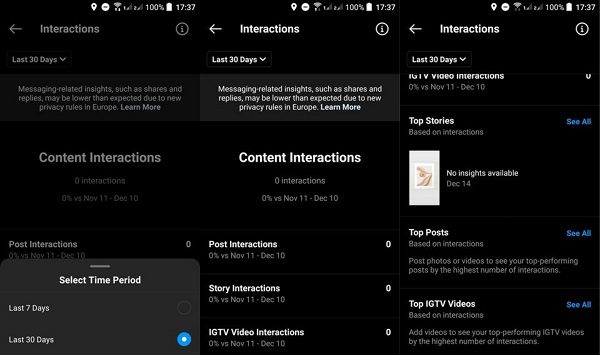 Read More: Instagram Views Vs Likes: Which One Is The Key To Grow?
Your Audiences
One of the best features of the Instagram insights is the part that informs you about your followers. Here, you'll find information about your audiences' gender, location, age, and also the time when they are mostly online.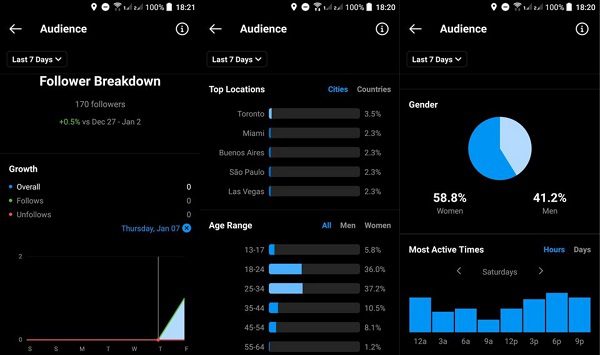 Provided with these details about your followers and viewers, you'll have the opportunity to re-define your customers' personas and try to: 
So, check these demographics frequently in order to keep yourself updated about your audiences and come up with suitable strategies. 
Instagram Insights on Content You Shared
In the previous sections, you access a brief review of your account performance. So, if you are looking for more details, especially about each post, story, or IGTV video you have shared, you must definitely check this part.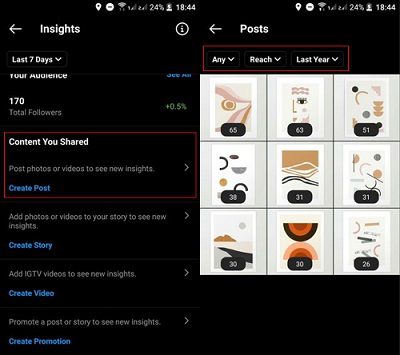 Here, you have the chance to filter your posts by many filters and see how you performed during a specific period of time.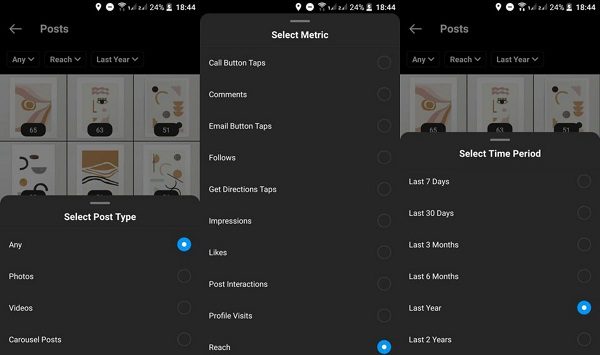 Additionally, by tapping on each post you see in this part, you will have the opportunity to get more details about your performance. To better understand what I mean, just take a look at the following picture: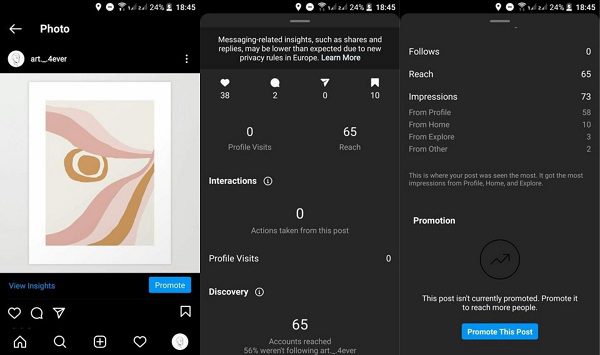 Analyzing your Instagram post insights, you will know:
The number of times your content has been saved, 

How many times it has been shared through Instagram directs, 

The number of impressions you have received by appearing on the feed, explore page, etc, 

And the number of times your post made people view your Instagram profile and follow you. 
So, analyzing each post by viewing these reports would definitely lead you to success in your future posts and stories. 
Keep Reading: Appear on Instagram Explore Page and Grow Followers
Share and Promote Content on Instagram and Draft Posts
Finally, using Instagram insights you can publish and promote content. Actually, Instagram allows you to publish content from your home page. However, when you use Instagram insights to publish and promote your posts, you'll be provided with more features. For instance, you can draft on Instagram and manage to publish your posts at a later time. Moreover, it enables you to: 
Promote your posts on other social channels, 

Share sponsored posts, 

Run Instagram ads, 
And much more than this. So, don't miss the chance to try all these amazing features for better results.
Also Read: Top 3 Apps to Monitor Instagram Activity
How to View My Instagram Insights on Desktop?
To view your Instagram insights on a Desktop, you have to use Creator Studio. As you may already know, this is one of the official Instagram and Facebook integrations that allows you to manage your Instagram and Facebook accounts all at once, schedule posts and stories, and get detailed analytics of your performances. So, to reach Instagram insights on a Desktop, simply login to Creator Studio and get whatever you want. 
Final Thoughts
With a solid understanding of your Instagram Insights, you will know who exactly you are attracting to your page, when your followers are online, what kinds of posts result in the most engagement, and exactly when to post on each day for the best possible engagement from your followers.
The more you monitor your Instagram Insights, the better decisions you can make regarding your business on Instagram.
If you want to take your Instagram to another level with even more data about your Instagram performance, like how many Likes, Follows, Unfollows, DMs, and Comments you are performing every day (and who you are engaging with), sign up for AiGrow for free by clicking here.