Found someone's video on Instagram engaging but do not know how to save it? If you want to learn how to save other people's Instagram videos, we will tell you in detail in this post.
Instagram is still the most popular online photo-based social media platform with about 1 billion monthly active users. Since 2010 when it was first launched, Instagram has grown tremendously to incorporate new and exciting features. You may want to save Instagram videos for various reasons:
Watch it later again and again

Share helpful or interesting content with your followers

Increase engagement

Interact with other users
Ways to Save other People's Instagram Videos
Instagrammers may want to keep the fantastic media that others share on Instagram to their own devices. Instagram finally gave in to popular pressure and began enabling users to save their own stories. It, however, refused to promote the saving of other people's content. Nevertheless, Instagrammers found some ways to save other people's Instagram videos. Here we will discuss some of them.
1. Use Third-Party Tools to Save Instagram Videos
Third-party tools have contributed a lot to Instagrammers who are confined by Instagram limitations to do different things. AiSchedul is an excellent tool that can allow you to repost, download, and save videos. Using AiSchedul, you can save other people's videos and repost them on your feed or story. In addition to saving videos, this tool allows you to do many things with its unique features such as scheduling, adding multiple links to your Instagram bio, hashtag research, social listening, tracking mentions, etc. 
To save an Instagram video via AiSchedul, you should first create an account for free.

Then, connect your Instagram account and choose the 'Scheduler' section. From there, you can choose if you want to download it from your Instagram feed or story.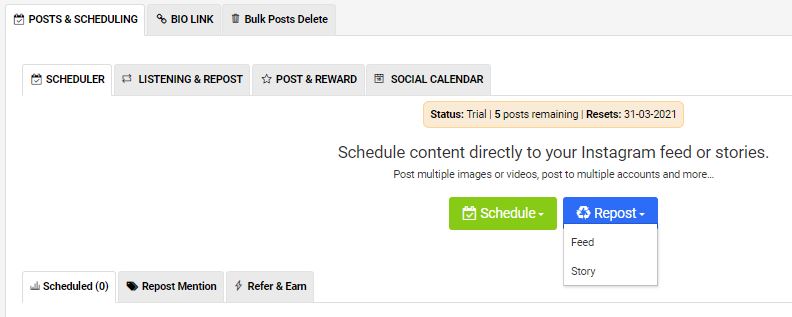 When you choose either feed or story, you are provided with some options:

Choose the post URL option that is more convenient for you and download your video. If you do not have a specific video in mind, you can choose the other three options to surf through many posts and select the one you like. 
2. Save Instagram Videos Using Screen Capture Apps
Capturing a live streaming video as it plays on your device screen is one of the simplest ways to save it. Older PCs lacked the video processing bandwidth required to conduct real-time screen grabs on their display, but that is not a big deal in recent years. Even a low-end PC should be able to screen-capture practically any video it can play.
Regarding the device you use, you can choose a screen recording app available in the digital market. So, no matter if you are on a mobile or desktop, on Android or iOS, many screen recording apps can record your screen while you are playing an Instagram video.
You can also screen record Instagram videos from your iPhone. All you need to do is to add the screen recording feature to your Control Center. Then, tap on it right before the video starts, and it will record your screen. 
This may be done in five stages:
To access the Control Center, swipe down from the top of your iPhone.

To start recording, press the circular Record button.

Start recording by tapping the Start Recording button. Before recording, a three-second countdown will begin.

Record your screen.

To stop recording, open the Control Center again and hit the red circular Record button.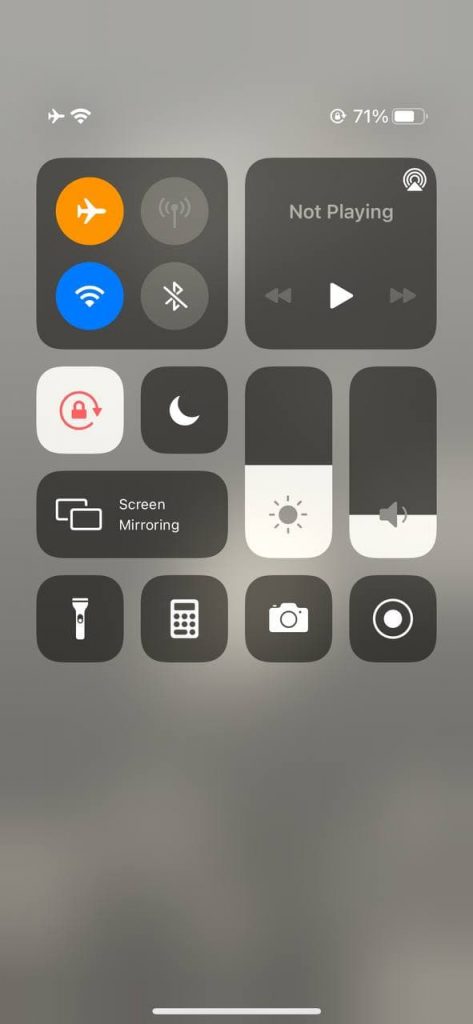 There is presently no built-in feature on Android that allows you to record a screen. However, there are some excellent apps available that enable you to do so.
3. Add Videos to Your 'Saved' Collection
If you do not want to use other apps, you should be looking for a way to save an Instagram video within the Instagram app itself. The Saved Collection allows you to better arrange the posts you save. All of the videos and photos that users save on Instagram are organized into collections.
Saving a post you like to Saved Collection is easy. You should just click the save icon to the right of it.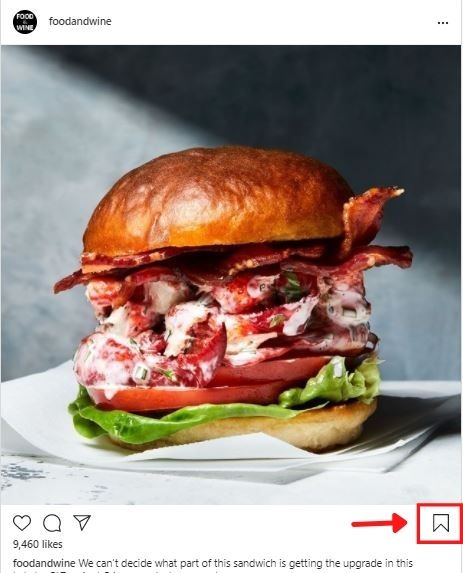 The post will appear on your profile's Saved page once you have tapped the save icon. Go to your profile page, click the hamburger icon in the top left corner, and choose 'Saved'.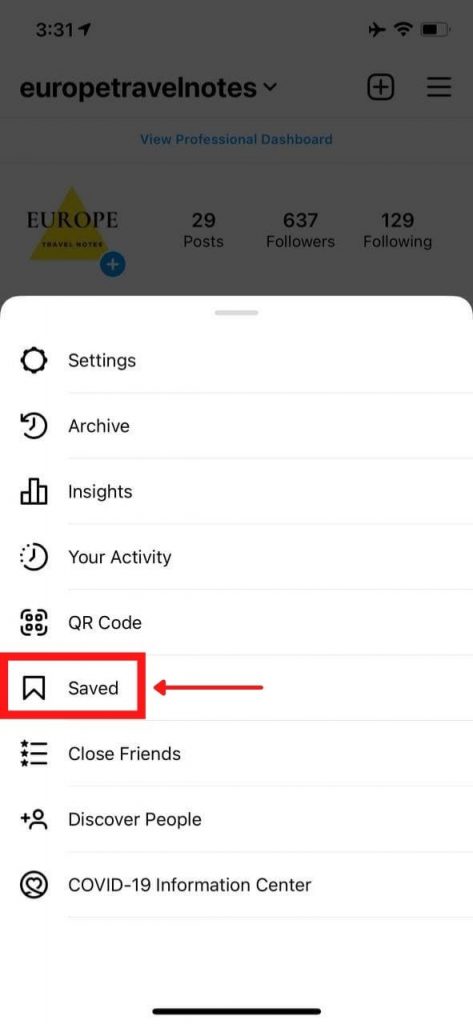 4. Save Your Own Videos
If you have made a video for your profile or story on Instagram, you may easily save it once you have done it. Simply record your video and then upload it to your feed or story by clicking the download option at the top. However, remember that you should be careful about Instagram video length.
This applies to videos you make for your Instagram feed and those you make for your Instagram story. You can still save the video if you have already uploaded it to your Instagram Story. 
There is also another way to save your Instagram videos, and that is to go to your Instagram and follow this command:
Settings > Privacy and Security > Story Controls > Save to Camera Roll
Doing so would save all your Instagram Stories to your phone.
The Wrap
Using the Instagram video saving ways above, you can save your Instagram videos from desktop or smartphone. So, just choose the best way you think is more convenient and enjoy rewatching your saved Instagram videos!