Purchasing goods online is a pleasurable experience. Especially when someone like an influencer informs you about a product and shows you how to use it, or when they try on a piece of clothing and you know what you're going to get. A lot of people want to know how to become an influencer and make money.
Influencer Marketing, from the very beginning of its arrival, has been unbelievably growing. Maybe that is because most people prefer buying goods from a reliable and knowledgeable person they can trust. In this case, if you are the one who seeks out how to become an influencer, you are in the right spot.
Influencer marketing platforms can also help influencers of any size contribute more to this market. However, before using such platforms, you will need some expert advice on how to become a social media influencer.
Keep reading this article, and you will find out the information you need in this area vividly.
Note: If you're looking for an influencer marketplace to find Instagram influencers, we recommend Ainfluencer, which we will talk more about it in this article.
What Is An Influencer
What is a social media influencer? A charismatic person with significant skills and knowledge is an influencer. They can influence others, particularly potential customers, by promoting or recommending social media items.
Influencers' followers become paying customers as a result of their credibility and trustworthiness. Many brands and businesses find influencers on Instagram, YouTube, TikTok, and other social media platforms and pay them to promote their services and products.
The word 'Influencer' started on Youtube and then entered other social media platforms such as Instagram and Twitter. The term 'Instafamous' also refers to Instagram influencers. Influencer marketing on Instagram is now a proven marketing strategy.
Influencers can serve as brand ambassadors on Instagram and other channels. They can even impact a brand's reputation. This is one of the ways influencers can monetize their accounts.
You can also become a TikTok influencer and also be famous on other platforms. Continue reading to discover how influencers make money on Instagram and other social media channels.
How Do Social Media Influencers Make Money
Being an Influencer is one of the best ways for those who want to learn how to make money online. In other words, influencer marketing is a multibillion-dollar industry with a slew of millionaire influencers who profit handsomely from their influence and power.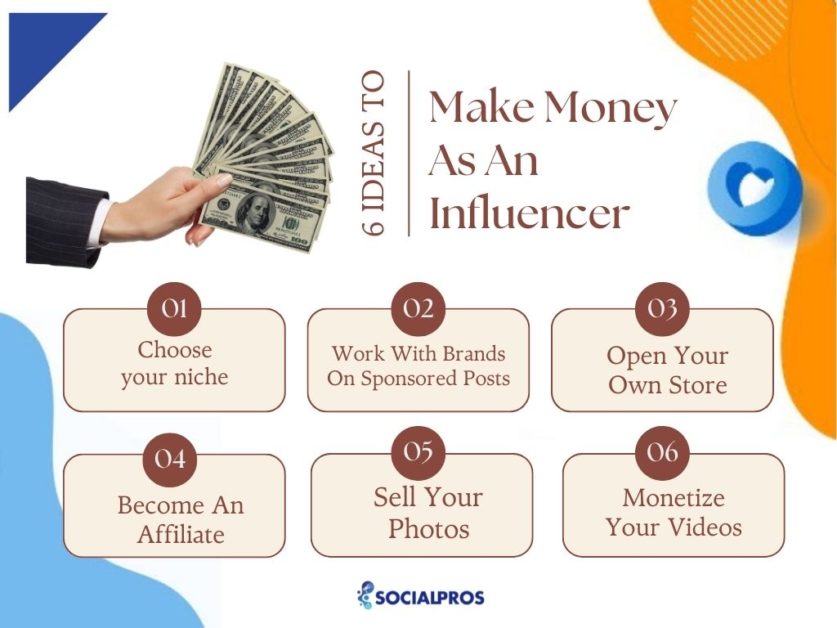 This is why a lot of people ask how to become an influencer and make money. There are a lot of ways to accomplish this, including:
Influencers can be paid to promote brands' and businesses' products and services.
Some social media influencers sell physical products such as their own or branded goods, while others sell digital products such as courses and books.
Another way to increase your influence as an influencer is through affiliate marketing (for example Amazon affiliate marketing)
You can earn money as an influencer by starting a podcast, hosting events, and providing services like high-end coaching, photography, visual effects, etc.
Depending on their niche, viewers, following, and business, influencers can earn money in a variety of ways. You may be wondering how much influencers make.
Instagram influencers' salaries, for example, differ tremendously depending on a variety of variables, particularly the number of their followers. Micro-influencers on Instagram, who have between 10,000 and 50,000 followers, can earn between $40,000 and $100,000 per year.
Macro influencers, or top Instagram influencers with 500k or more followers, can earn tens of thousands of dollars per post. In general, social media influencers with more followers make more than those with fewer followers.
Even a new influencer can earn a few hundred dollars per month. To do so, you can create an account, boost your presence, and sign up for an influencer platform.
Ainfluencer: The Best Platform for Influencers to Make Money
Ainfluencer is the leading Instagram influencer marketplace, designed to connect brands and influencers. This DIY influencer marketing platform enables micro-influencers to showcase their talent and get discovered by famous brands looking to promote their products and services. What's really amazing about this platform is that it ensures a safe partnership for absolutely no cost!
Read the Ainfluencer review to know more about this service. But before we go any further, let's first learn how to become an influencer.
How To Become A Social Media Influencer
Being an influencer can be a lucrative career if you know how to get started. Here's a guide on how to become an influencer to help you achieve this goal. You can be a part of this rapidly growing industry if you follow these steps. Keep reading!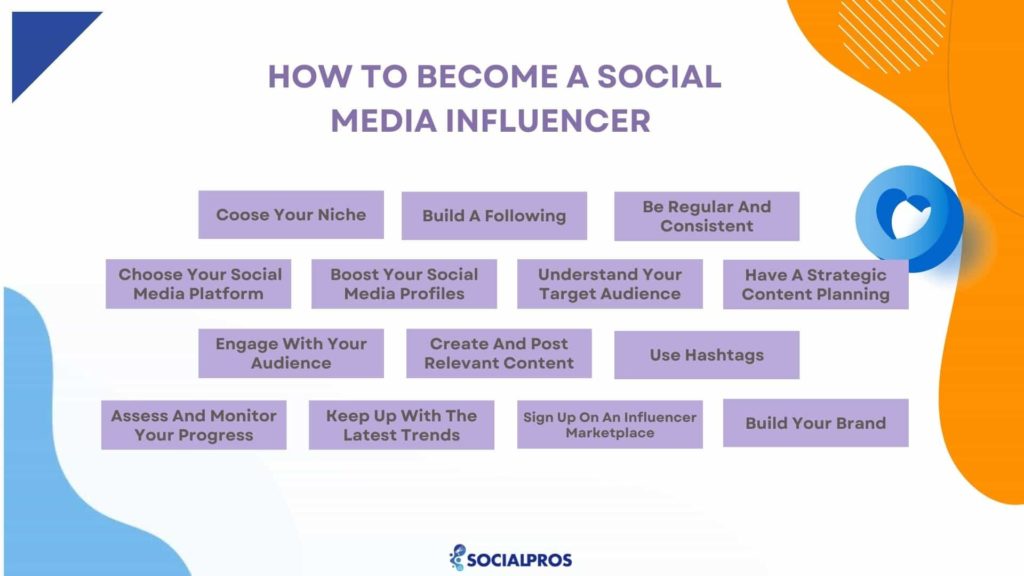 1. Select Your Niche
Before anything else, if you want to be an influencer and run your own business, you must first decide what domain you want to work in. Being an expert in your field allows you to post useful content and attract a large number of target audiences.
This way, you can share valuable content, and your audience will participate and show feedback. Some niches that can inspire you for choosing the best social media influencer jobs are as follows:
Fashion
Travel
Video Gaming
Lifestyle
Music
Dance
Tech
Food and Dessert
Beauty and Skincare
Movies
Health and Fitness
Books
Architecture
Fitness
Financial advice and Cryptocurrency
There are numerous other niches that you may be willing to take part in. You could, however, choose a niche in which you are an expert.
2. Choose Your Social Media Platform
Nowadays, influencers use multiple platforms and manage them simultaneously. However, some platforms are better suited to specific niches.
TikTok influencers, for example, share dance videos and participate in dance challenges; they also share creative videos and enhance them with TikTok filters.
Also, the LinkedIn platform is useful for advancing one's career and displaying one's resume and portfolio. Or, YouTube is beneficial for sharing tutoring videos, and so on.
As a result, if you want to know how to become an influencer, the second step after choosing your niche is to select the best platform that is best suited to your niche and targeted audience. It is also vital for expanding your following.
A way to determine the best channel is to identify who your target audience is, then find out which platforms they use the most and choose those platforms.
You can also take a look at the platforms that other influential people in your industry commonly use. The most popular social media platforms for influencers are:
Instagram
YouTube
TikTok
Facebook
Twitter
Pinterest
Social media influencers frequently switch between different social media platforms. However, because Instagram is so popular, many people are interested in learning how to become an Instagram influencer.
So, if you understand how to become a social media influencer, you will do well on Instagram and other social media platforms as well. Keep reading our next tips on becoming an Influencer.
3. Boost Your Social Media Profiles
After you've decided on a niche and your preferred social media platforms, it's time to create and improve your profiles. Influencers are typically widely known on only one or two social media platforms.
As a result, it is best to concentrate your efforts on only one or two channels. Consider the following points when optimizing your social media profiles:
Switch to a business account: If you use Instagram, switch to a business account to gain access to additional features such as Instagram insights, or create a business page on Facebook.
Create an effective bio: Your bio is the most important aspect of your influencer mission. On your Instagram bio, for example, you can briefly introduce yourself and explain what you do, as well as include a clickable link. On your TikTok bio and other channels also you can do so.
Add a profile pic or a cover photo if needed: A catchy profile photo of yourself or a photo of your brand's name can help you get recognized as an influencer. Some platforms, such as Facebook, allow you to upload a cover photo; it is also beneficial to design an eye-catching cover photo.
Enhance the appearance of your profile feed: To create a professional account, make your page aesthetically attractive. For example, choose a theme and a color palette to base all of your content.
4. Build A Following
You may be aware that one metric used to evaluate an influencer is the number of followers or subscribers. Consequently, gaining followers is also crucial.
You can do influencer marketing with any number of followers you have, but it is also necessary to have a specific number of followers. So, building a following in which businesses will be interested is also important.
You should also engage with your audiences, post content constantly, stay active on social media, hold giveaways on Instagram and other platforms, etc. to gain followers.
But as you can see, these are laborious tasks. You can use reliable social media growth services to save time. For instance, the Instagram growth solution AiGrow is a great option for helping you increase your following organically.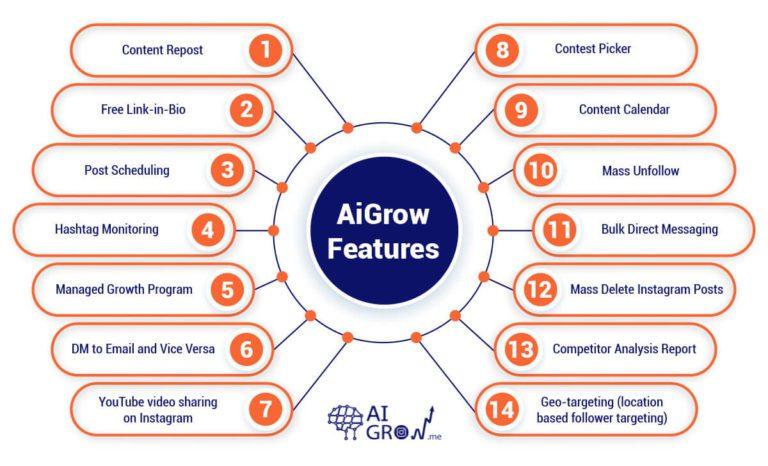 You can read the AiGrow review, to know more about this incredible service.
5. How To Become An Influencer; Engage With Your Audience
You must also be cautious about the followers you earn. When people feel valued, they are more likely to be loyal followers. Interact with your followers, engage with them, and show an interest in what they have to say to do this.
You can do this by asking questions in your captions or stories, creating polls in your stories on Instagram, and responding to their comments.
6. Understand Your Target Audience
You must know your target audience before you start producing content and sharing it on social media. Knowing your audience and executing your strategy skillfully will help you develop loyal followers.
Influencers have close relationships with their audiences. This is because they do not appeal to everyone, but rather to people with comparable interests in the same area.
The majority of social media networks have an analytics tool built-in that provides these details about your existing audience. Analyze your present followers to learn more about their characteristics and interests.
7. Have Strategic Content Planning
Make a plan for what you are providing your followers. Each post must be qualified and present some value for those who will read it. All photos must have professional quality, and all posts should be shareable.
For example, on Instagram, share high-quality photographs in the ideal size for this platform. If you don't have time, you can schedule your content to be automatically shared. These tactics are applicable to all social media sites.
7.1. Create And Post Relevant Content
The next step in learning how to become an influencer is to post relevant content. Sharing relevant content on your feed allows you to engage with your audience and attract more followers. This way, people will be influenced by your opinions and recommendations.
You must develop a content strategy and employ a variety of content formats, particularly those that your target audience prefers. Some influencers, on the other hand, keep their feeds entirely focused on their chosen subject of interest, such as travel, beauty, sports, fashion, and so on.
You can also share relevant material based on your audience's interests.
7.2. Be Regular And Consistent
When selecting social media sites and determining which platforms are best suited for that material, you must also plan and publish material on a regular basis. This fact is the most critical criterion for being an influencer and making your followers truly listen to you.
7.3. Use Hashtags
When sharing your content, use keywords, hashtags, and locations to make your post more visible. Popular hashtags vary by the social media platform.
Some hashtags are widespread across many platforms, but make sure you choose popular hashtags appropriate for the channel you chose. For example, the most popular hashtags on Instagram are not always widespread on Twitter, TikTok, or other platforms.
8. Assess And Monitor Your Progress
Evaluating and analyzing your progress will show you where you are succeeding as well as where you may need to improve. Most social media platforms, such as Instagram, provide insights and analytics on your performance, such as audience demographics, content reach, and engagement rates.
So, as you begin your influencer journey, keep an eye on this data since it will show you how quickly you are establishing a following. For example, you may realize that certain pieces of material you've published aren't performing as well as others, which will have an impact on your content strategy.
9. Keep Up With The Latest Trends
Sharing the most recent industry news, trends, and other important information with your audience, along with your viewpoint, can help you meet their expectations.
This can also help you grow your audience because you can post content based on what people are looking for right now and use social media hashtags to reach people who don't already follow you.
You can do this as an influencer by following your industry news sources, thought leaders' advice, and other experts. Staying up to date on Federal Trade Commission (FTC) guidelines is also useful for influencers to avoid breaking any rules.
It's also critical to stay on top of any changes to your social media platforms, such as new features, to ensure you're getting the most out of them and changing your content as needed.
When Instagram Reels were first introduced, many people were among the first to use them in order to acquire a larger following.
10. Inform Brands That You Are Available for Collaboration
You can't take the first step toward becoming an influencer unless you declare yourself as an influencer interested in brand collaborations. You can do this by taking the steps below:
You should state in your bio that you are an influencer looking for collaborations.
You can also include contact information for potential clients, making it simple for them to contact you. Add a clickable link to your TikTok bio, for example, and include other social media accounts and your website.
Another method is to do your own outreach and message relevant brands with a pitch on what you have to offer.
An indirect method is to tag brands, use their hashtags, and mention them when discussing their items in your blog.
11. Sign Up On An Influencer Marketplace
Brands and influencers can connect on a number of influencer platforms. You can use them to discover brands in your niche that are interested in working with influencers.
After completing the aforementioned steps, register on an influencer marketplace to begin working as an influencer. For instance, Ainfluencer which enables collaboration and growth between brands and influencers is one of the best influencer marketplaces you can rely on.

However, Ainfluencer is just for Instagram influencers, but it gives you a deep insight into influencers. Using Ainfluencer you will have access to its incredible features.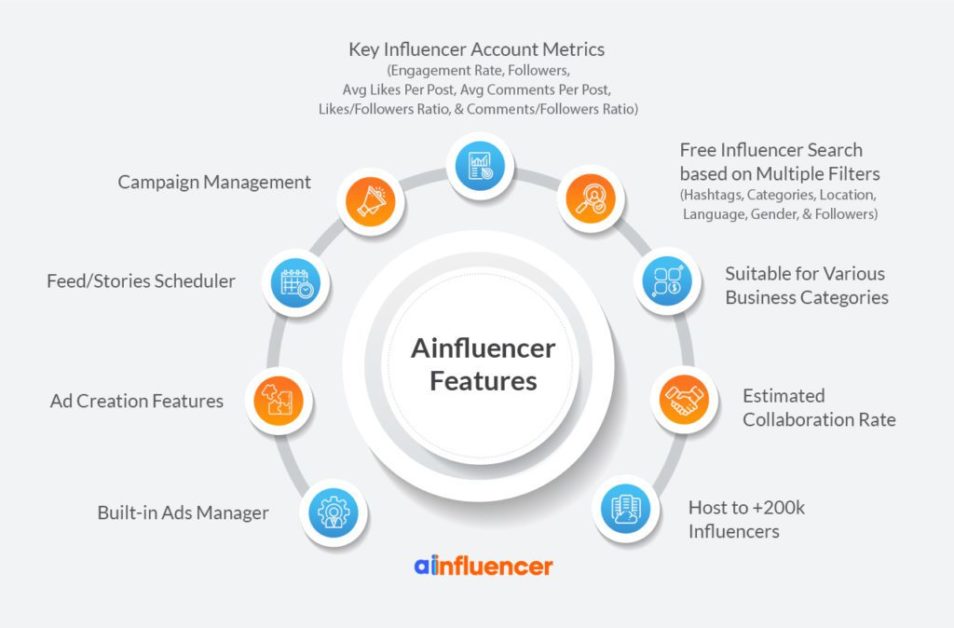 If you want to know how to become an influencer overnight, keep in mind that it is a difficult and time-consuming procedure. However, using effective influencer marketing platforms speeds up and simplifies the process.
12. Build Your Brand
To network with companies in your niche, it's critical to establish your brand. Consider any additional suggestions that can help you choose a memorable brand name, such as combining your name with a term that describes your characteristic.
Even though you might not see results right away, doing this will help you create long-lasting brand associations that could eventually result in partnerships. Your brand name may one day bring you business. Create your brand on Instagram and on other platforms of your choice.
Types Of Content Creators
There are many distinct types of creators due to the variety of material formats and income sources. The majority of influencer marketing today takes place on social media.
Here are the content creators classified according to the material that they post.
Bloggers
Some people think Bloggers are the same as Influencers, but they vary. However, blogging has been connected to influencer marketing recently. In a nutshell, a blogger is a person who manages a weblog and promotes a brand or one specific product.
Bloggers and influencers in social media have the most genuine and active connections with their audiences. Hence, brands and firms are now realizing and encouraging this.
If a famous blogger boldly mentions your product in a post, it can lead to the blogger's supporters wanting to try out your work. If a blog is extensive and influential enough, you may be able to buy a sponsored post on their site.
Instagrammers are sometimes referred to as 'bloggers'. Instagram influencers are bloggers on Instagram. They are engaged in many categories, such as travel bloggers who make a lot of money on Instagram.
YouTubers
Creators that consistently post a video on their YouTube channel, usually once or more each week, are known as YouTubers. Video is one of the most popular types of content. Consequently, rather than each video maker having their own site, most brands and firms build a YouTube channel.
You can also find them on other channels. For instance, those that specialize in productivity may be found on Twitter or LinkedIn, while those who specialize in beauty may be found on Instagram and TikTok.
Podcasters
Podcasting is an almost recent type of online content that is expanding in popularity. If you haven't yet had the chance to enjoy podcasts, Digital Trends put together a full list of the best podcasts on their site.
There is typically a large overlap between podcasters and other creator types; you can find podcasters who are also teachers, coaches, book writers, or journalists. Sometimes they promote their podcasts on Instagram or other social media channels.
There are many other types of content creators such as educators, coaches, authors, writers, artists, and so on that are not opportunities to be covered in this piece. If you want to know how to become an influencer, try investigate them to get inspired.
Types Of Influencers
You can divide different types of influencers in various ways. Some of the most common methods are follower numbers, content types, and the level of influence. You can also group influencers by the niche in which they perform their career.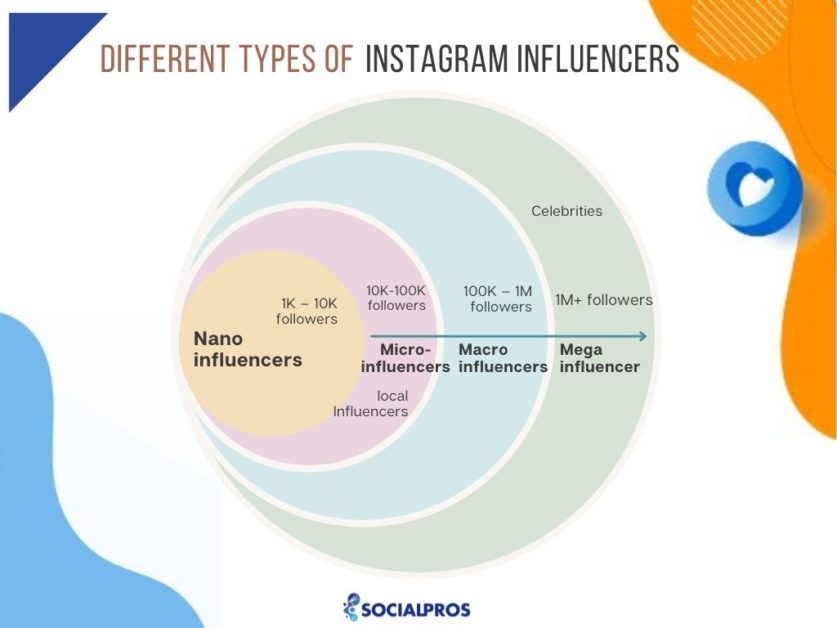 To become an Influencer, it is essential to know the types clearly:
Mega-Influencers
Mega-influencers are the ones with a large number of followers on their social media accounts. Typically, mega-influencers possess more than 1 million followers on a social media platform, if not more.
Most mega-influencers have gained their fame offline, such as football players, movie stars, sportspeople, musicians, and even reality television stars. However, Some of them have earned enormous followings through their online and social activities.
As their services will be expensive(up to $1 million per post) and they are cautious and fussy about whom they choose to partner with, only significant brands should propose mega-influencers for influencer marketing.
Mega-influencers have agents managing on their behalf to make any marketing agreements. Cristiano Ronaldo is the most followed Mega-Influencer on Instagram with more than 495M followers.
Macro-Influencers
Macro-influencers are a level down from the mega-influencers and may be more available as influencer marketers. They need to possess between 500,000 to 1 million followers on a social network to be macro-influencers.
This group includes two types of people; the first group is B-grade celebs, and the second group is successful online specialists who have earned more notable followings than the typical micro-influencers. The second type of macro-influencer is expected to be more beneficial for firms involved in influencer marketing.
Macro-influencers usually have a high profile and can be great at raising brand awareness. They are also more suitable for cooperating with brands than micro-influencers, making interaction more straightforward. However, This is the category most possible to engage in influencer fraud.
Micro-Influencers
Micro-influencers are ordinary people who have become identified for their expertise in some special niche. Of course, it is not only the number of followers that shows a level of influence; it is their interaction with their followers. Hence, influencers are often meticulous about who they work with.
You could consider micro-influencers followers from 10,000 to 100,000 on a social platform; Some of them are happy to promote a brand for free. Others will expect some form of payment.
Influencers' characteristics are changing, and Micro-influencers are becoming more common and more famous; some have become nearly as well known as traditional celebrities. This is especially the case for Generation Z, who consume more time on the internet than going to the gym or movies, or watching TV.
Certainty, micro-influencers are the influencers of the future.
Nano-Influencers
The latest influencer type to obtain attention is the nano-influencer. These people solely have a small number of followers; however, they tend to be specialists in a profoundly specialized area. Mostly, they have less than 10,000 followers – but they will be intent and interested followers, eager to engage with their nano-influencers and listen to their opinions.
FAQs On How To Become An Influencer
Below are some questions you may have as you learn how to become a social media influencer.
Q1: How Can I Become An Influencer Quickly?
Buy time and become an influencer quickly by contributing to multiple websites. The more websites you are on, the more you are exposing yourself to potential followers. It helps you create a name or brand for yourself, and it also helps direct traffic to your blog or website.
Another answer on how to become an influencer instantly is to use an influencer marketplace. For example, if you are an Instagram influencer, you can connect with brands to collaborate with them using Ainfluencer.
Q2: What Are The Tips To Consider To Become An Influencer?
By following these suggestions, you can advance on your path to know how to become an influencer:
Create a community around your niche while remaining consistent.
Defend something.
Set objectives.
Connect with other influencers.
Understand the distinctions between social networks and how they might benefit you.
Be open to new platforms and always learning.
Q3: How Much Do Influencers Make?
Influencers are compensated with $10.00 for every 1,000 followers. Micro-influencers, on the other hand, make about $250 per post and have between 50,000 and 80,000 followers. The cost will differ based on the number of followers and engagement rate.
Q4: How Many Followers Do You Need to Be an Influencer?
According to many, you need at least 1,000 followers or subscribers to qualify as an influencer. YouTubers also require an AdSense account. Also, Influencers on Facebook need a business page.
Q5: How To Become An Amazon Influencer?
You can make money on Amazon without selling products by using the Amazon Influencer program. You can work as an Amazon influencer full-time. It is a branch of Amazon's affiliate program designed to increase e-commerce sales.
Q6: How To Become An Instagram Model?
After completing the steps outlined in this article, you can submit an application to become an Instagram model. Through the use of services like 'topmodelcast,' you can become a global model.
Final Words On How To Become An Influencer
With the above information, you can start making your plans to become an influencer. The code to success in Influencer marketing is to define your objectives and scale them with engagement. This is how to become a social media influencer.
Remember to use third-party apps during this time-consuming and difficult mission. For example, if you want to be an Instagram influencer, you will need the assistance of services such as AiGrow to grow your Instagram followers organically, schedule your posts, hold giveaways, and so on.
Furthermore, if you are an influencer and want to begin working as an influencer, you will need an influencer marketplace such as Ainfluencer to connect with the right brands in your niche.