Facebook continues to be the most popular social networking platform, despite the rapid growth of other channels. Therefore, it is essential for any business to strengthen its presence on this network and build its Facebook business page.
Nowadays, more and more people are using social media instead of Google to search for and locate the information they need. Like it or not, Facebook is the largest and fastest-growing social media giant in the world. As a result, Facebook marketing strategies might assist you to become more visible to more individuals.
So, if you aim to promote your business on Facebook, your first step is to set up a Facebook business page. Thus, learning how to create a business Facebook page is a free yet highly effective way to connect and engage with many potential customers.
The good news is that learning how to set up a business Facebook page is pretty simple.
So, stay with us as we walk through this simplified tutorial on how to make a Facebook business page.
What Is A Facebook Business Page
A business Facebook page can help you raise brand awareness and increase your revenues and sales. But before learning how to make a business page on Facebook, let's talk about "what is a Facebook business page?"
A Facebook business page is a public account that brands and businesses employ to connect with their target audiences.
Moreover, Facebook business pages can easily connect with Facebook ads or the Facebook Marketplace platform, two powerful marketing tools you can employ to expand your marketing operations further on Facebook.
Advantages Of Creating A Business Facebook Page
You might wonder, "Why should I make a business page instead of a regular public page?" when you're deciding between the two options on Facebook.
Facebook business pages let you promote your offerings or your services and products, as a brand. A personal page, on the other hand, represents a single social media user and is used to provide updates about the user's personal life as well as communicate with friends and family.
With a business account, you get access to the following functionalities:
It is a free and easy-to-use marketing tool.
Facebook Advertising lets you target specific demographics based on geography, age, gender, and interests.
You introduce your business to billions of users on the FB platform and increase your revenues and sales.
Using a business page, you can build a community and develop relationships with customers by creating Facebook groups.
When your audiences like or comment on your post, this customer engagement can be a great starting point to generate business leads.
You can use Facebook messaging to communicate directly with your customers and gain feedback.
You can keep track of your Facebook page and improve your content by using data from your page's Insights.
Your audience with one click can share your content with people in their network or a select group of friends.
You can keep an eye on your competitors.
There are many other benefits to having a Facebook business page, and the list doesn't end here. So if you have a business, don't waste time and create your page ASAP!
So, let's get started on how to make a business Facebook page.
How To Create A Facebook Business Page On Desktop
Creating a business page on Facebook allows more than 2.91 billion monthly active users on Facebook to find and interact with your business online.
Are you interested in learning how to create a Facebook business page in 8 easy steps? So without further ado, let's begin.
Step 1. Create Facebook Business Page
If you wonder how to set up a Facebook business page on your computer, here is how:
First, log in to your Facebook personal profile. However, no need to worry since your personal information will not appear on your new business page. In other words, your personal account is like a key that only gives you access to your business page.
Click on the menu. Then select 'Page.'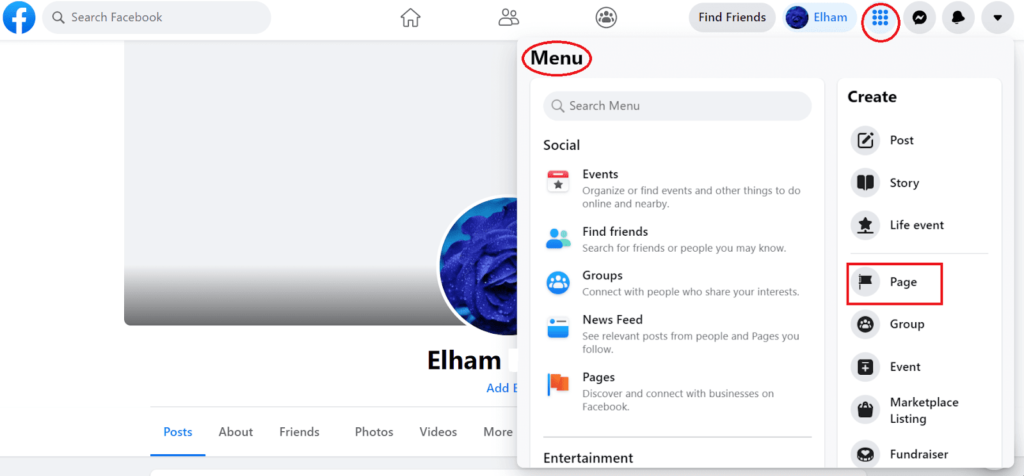 3. Now is the time to enter your business information under the left panel. To begin with, name your business page. It should be the same as your actual business name, or the name people are likely to search for when looking for your business.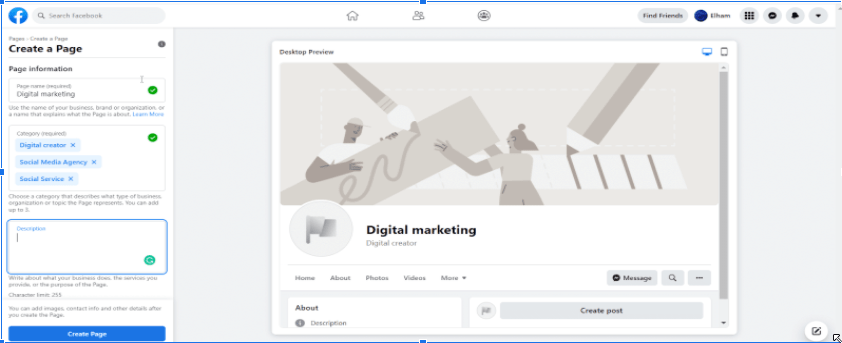 4. For 'Category,' add a few words that best describe your business. Facebook will suggest a few options. You can choose up to three of them.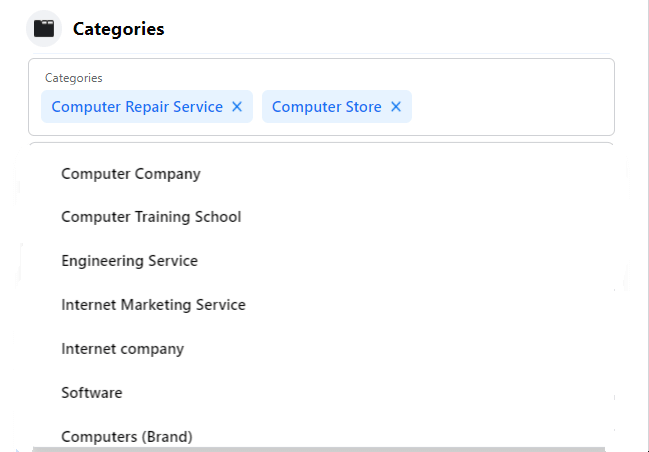 In the 'Description' section, you have a maximum of 255 characters to describe your business. For example, you can write about what your company does or the purpose of your page. Be aware that this short description will appear in search results.
When you're happy with your information, click 'Create Page.'
It was easy to create a Facebook Business Page, wasn't it?
Once you've discovered how to create a Facebook business page, you should continue customizing it according to your business needs and preferences.
Step 2. Upload Your Profile & Cover Images
When you create a business Facebook page, you need to upload your Facebook business profile picture. The business logo design is commonly used as a profile picture, but you may use any photo that best represents your business and its branding.
When you've selected a great image, click 'Add Profile Picture.'
Your next step is to add a cover photo, the most prominent image you use to create a business Facebook page. This cover image should convey the purpose of your business page.
You can check out our article on social media image sizes and specs to visually make a more effective impact on your audience.
When you upload a photo, you can toggle between desktop and mobile views by using the buttons in the top right of the preview.
You can use these to ensure your images look good on both displays. You can adjust the position of the images by dragging them in the left column.

Step 3. Create Your Username
Go to 'Create Page @Username' to set a username for your page. Using your username, or vanity URL, you tell people where to find you on Facebook.
You have 50 characters available to create a unique business name that is not already in use. You can quickly check its availability. If you get a green checkmark from Facebook, then everything is good! It is better to choose a username that is easy to type and remember. Your business name or a variation of it is a safe bet.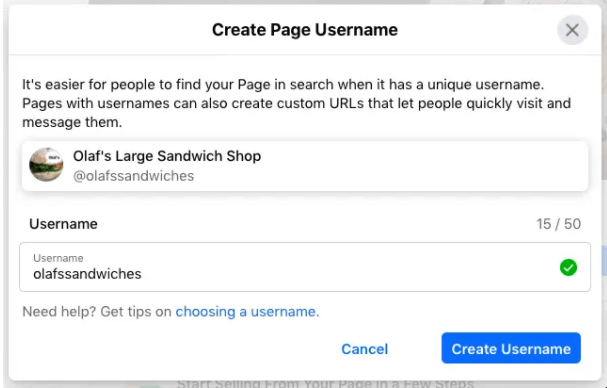 Step 4. Include Additional Information On Your Business
Adding more business information and details is also an essential step in your Facebook business account setup. Here's how to do it:
Find and select 'About' from the left-hand menu.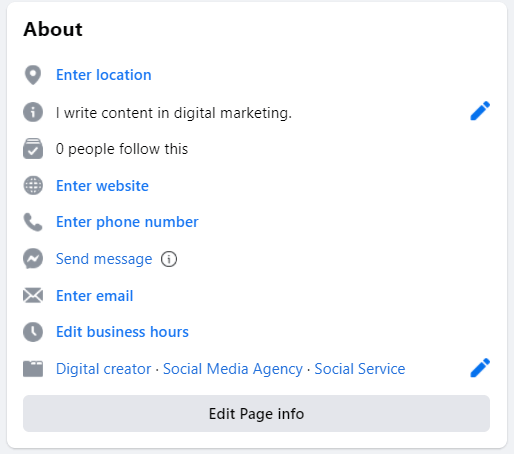 2. Besides knowing how to set up a Facebook business page, you should also provide all relevant information, including your location, website, opening hours, and contact details. Ensure all information is complete and updated, as this may be a potential customer's first point of contact with your business. Make sure to fill in all the necessary information, starting with your website.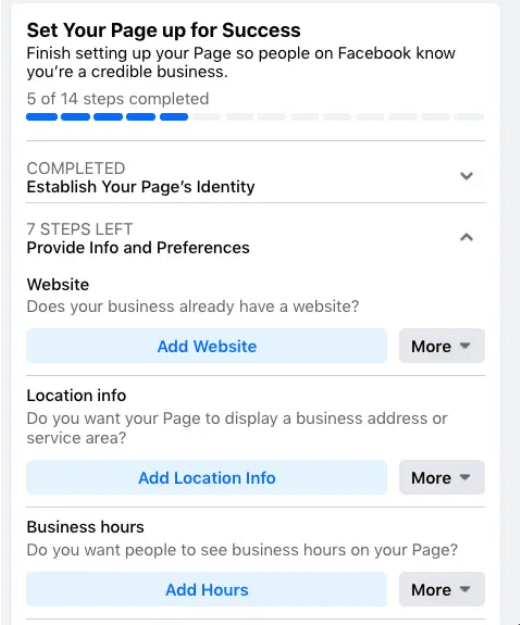 Step 5. Complete the 'Add An Action Button' Section
Call-to-action buttons on your page make it very easy for your consumers to find what they're looking for very quickly. Additionally, placing the right CTA buttons will encourage visitors to learn more about your business, download your app, or send you an email.
If you want to add a CTA, click on the 'Edit Action Button,' then choose which kind of button you wish to add.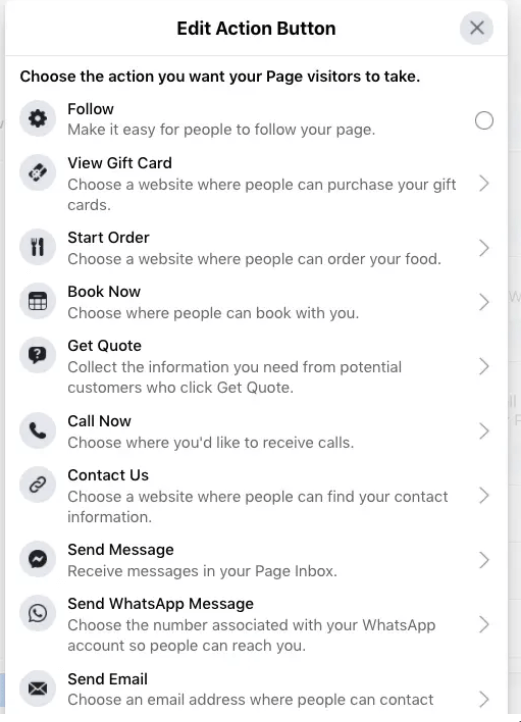 Pro Tip: If you're not in the mood to complete all the steps on how to make a page on Facebook now, you can always go back and edit or update it at a later time. To do so, in the 'Manage Page' menu on the left, scroll down and click on 'Edit Page Info.'
Step 6. Add Other Social Media Links To Facebook Business Page
The best way to improve your marketing exposure is to link your social media accounts. These links can provide your audience with quick navigation to your other social media accounts and make your FB business page appear more professional.
How To Connect Instagram With Your FB Business Page
First, go to the 'Settings' of your page.
Then, scroll down to Find Instagram.
Click on 'Connect account.'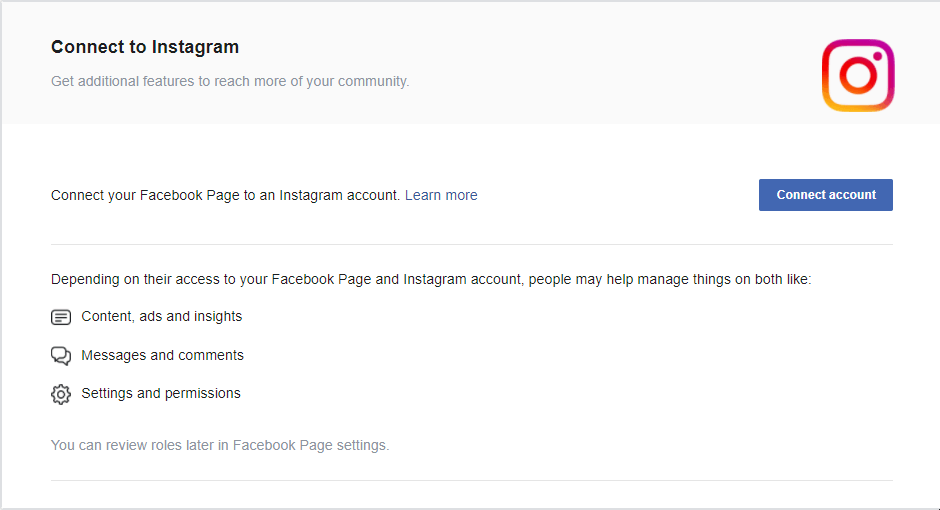 Now, turn on or off 'Allow access' to Instagram messages in your Inbox. It allows people who manage your page to view and reply to Instagram messages if enabled.
Click 'Confirm.'
Click log in after entering your username and password.
Select 'Connect Account,' then click 'Confirm.'
How To Connect WhatsApp With Your Page
If you click on Whatsapp, a pop-up box will ask if you want to connect your business page to WhatsApp.
If you want to connect your FB business page to WhatsApp, click on 'Send Code.' Otherwise, close the window to continue without connecting to WhatsApp.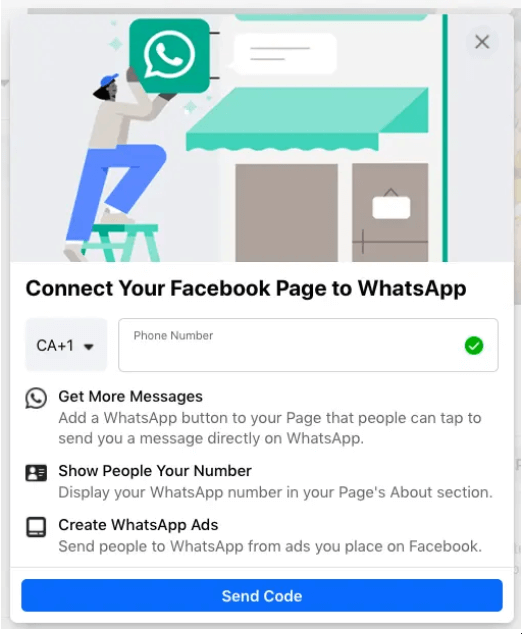 Step 7. Post Your First Content
Before inviting people to like your page, you should have some valuable and engaging content on the page. You can share relevant content from thought leaders in your industry or create your own posts. For inspiration, go to our article on 17 interactive Facebook post ideas to boost engagement.


Step 8. Invite Your Friends
After setting up their Facebook business pages, Facebook offers its users the opportunity to invite their friends from their personal accounts to like their new Facebook business page.
Since the support of existing Facebook friends can provide a good starting point for your new Facebook business page, it is highly recommended to go ahead and make an invite.
Moreover, sending a friend request to your Facebook followers and asking them to follow your new Facebook business page would also be a good idea.
For introducing your page to your friends, go to the bottom of 'the Set Your Page up for Success' box and open the section called 'Introduce Your Page. '

How To Invite Your Instagram Followers To Your New FB Business Page
Since Instagram is one of the hottest and most popular social media platforms across the globe, it is a good marketing strategy to put a link in your Instagram bio and invite your followers to visit your Facebook business page.
However, Instagram only allows you to include one clickable link in your bio. As a solution, our top suggestion is to use a practical tool like MyURLs.bio to provide a link to your Facebook business page in addition to other social media accounts.
Using MyURLs.bio, you can add as many links as you want to your Instagram bio and introduce all of your social media pages and website from there.
How To Create A Facebook Business Page On Mobile
If you can't build a Facebook business page on the website, you can do it from your Facebook mobile app anytime, anywhere! To create a Facebook Business Account using your mobile device, proceed as follows:
Log into your personal Facebook account.
Tap the three horizontal lines in the top right corner of the screen.
Select 'Create Page.'
Name your Facebook business page.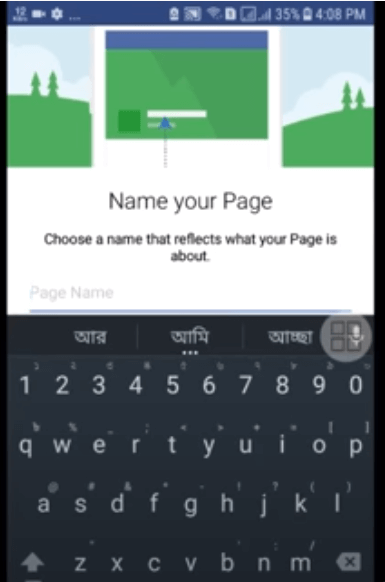 Then select a Category and Subcategory. After choosing a category for your page, you will be asked to pick a subcategory from the same pop-up window. Enter specific keywords to find related subcategories.
Tap on 'Get started.'
Add a description.
Enter your business website URL.
Click on 'Save Info.'
Try to make your page more attractive by adding a profile and a cover photo.
Next, select Invite your friends to increase your page's visibility.
As you can see, the process of setting up a Facebook business page on the Facebook mobile app is pretty similar to setting up a Facebook business page on your desktop.
How to Improve Your Facebook Business Page Engagement
You should keep in mind that after learning how to make a Facebook page, you are only beginning a long journey to promote your page using effective Facebook marketing strategies.
Engaging with followers and responding to their concerns can instantly turn a potential customer into a loyal customer. So, after creating your Facebook business page, your first priority should be to increase page engagement.
After you optimize your business page by working on your page details, try to follow these tips to improve your interaction with your fans.
The first thing that you should consider is to create and upload the most engaging interactive posts.
Using the best Facebook post templates or anything else that assists you with content creation can be beneficial.
Facebook CTAs can be an excellent way to motivate people to take action.
Enabling Facebook reviews (Facebook Recommendations) can assist you in developing your company's online reputation and increasing your search visibility.
Sharing your posts at the perfect time is also important.
Prioritize comments and replies and respond to them in order of importance.
Analyzing your most popular posts can also assist you in creating valuable content.
Although Facebook marketing may sound challenging and time-consuming, it is well worth your time and energy to boost your social selling tactics.
FAQs About Facebook Business Page
This section provides definitive answers to some frequently asked questions concerning how to create a Facebook business page. Please take a moment to review them.
Q1. How To Create a Facebook Business Page Without a Personal Account?
Sadly, you cannot create a business Facebook account unless you first have a personal account. To avoid violating Facebook's policies, you must use your personal account to become an administrator of a business profile.
Additionally, try not to create a fake profile on Facebook because you risk having your company's profile deleted for failing to follow their guidelines. But as Facebook sign-up is easy and a business page doesn't reveal your private information, there is nothing to be worried about.
Q2. What Is The Process For Getting My Facebook Business Page Verified?
Go to 'Page Settings.'
Select 'Page Visibility' and then click on 'Edit.'
Enter a publicly listed business telephone number, country, and language.
Click 'Call Me Now,' and Facebook will send you a verification code.
Enter that code and click 'Continue' to finish the verification process.
Q3. My Facebook Business Page Was Hacked. How Can I Get It Back?
If you think your page is hacked, secure it here. You can also file a report. If you believe someone else who works on your Facebook page was hacked, let them know to visit the Hacked Accounts section of the Help Center to get immediate help.
Please note that you may also have lost access to your page if you are not the authorized representative of the page's content or if your page has been reported and removed for infringement of intellectual property rights.
Final Note
As you can see, setting up a business page on Facebook is simple and free. Here you learned how to create a Facebook page for business and customize it with suitable images, CTA buttons, relevant business information, and more.
After following this step-by-step guide on how to set up a Facebook Business Page successfully, you can share it with your audience and attract new customers through it.

Now that you have learned how to create a business page on Facebook, you should employ effective marketing strategies to promote it and attract interested prospects.