Currently having 2.89 billion monthly active users, Facebook is one of the most popular social media platforms. Since the day Facebook, as the first social network ever to do so, hit one billion users, it's been clear that they're not going to lose the race quickly. But, with its ever-changing algorithm, how can you connect with the right audience? How can you create the best interactive Facebook posts? A while ago, people were obsessed with getting more followers on Instagram, Facebook, and Twitter; now, it's become clear that having a high follower count alone won't ensure success. These days, whether you're an influencer or using social media to promote your business and brand, one of your primary concerns should be creating high-engagement posts.
If you've been experiencing a drop in your engagement rate or you wish to start creating engagement posts for Facebook and don't know where to start, this article is for you! Here, you will learn how to exploit this massive platform to boost your audience's engagement. But, before we get to the main point, let's first understand what engagement is and why everyone is making such a big fuss about it!
What Is Engagement? Why Is It Important? 
To put it simply, any action that your audience takes on your content, including likes, comments, saves, and shares are called engagement. That's why your engagement rate is a critical indicator of your posts' efficiency and your brand's potential reach. It is all about how well people can interact or engage with your content. The higher your engagement is, the more traffic you can drive. And, if you're running a business page, a higher engagement rate means you can generate more quality leads and subsequently make more sales. 
Driving engagement, however, is not as simple as some people make it out to be.  Instagram, Twitter, and Youtube algorithms are changing fast and Facebook is no exception. In this atmosphere, boosting engagement on any platform is indeed challenging and time-consuming. But following the right strategies, you can create game-changing interactive Facebook posts to ensure your success.
Top Interactive Facebook Post Ideas to Boost Engagement
Below, we have 17 tried and tested tips for creating highly interactive Facebook posts; read on to find out how they can pave the way for your success.
#1 Exploit Live Videos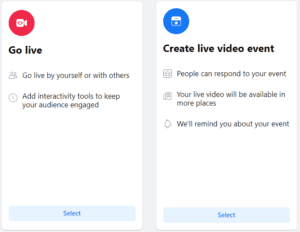 Even when they are not physically together, people have always desired to share moments and experiences. As a result, since the launch of Facebook Live video broadcast in 2016, its popularity has been steadily growing. However, in 2020, thanks to the remote lifestyle, its viewership increased by four times. 
Live videos allow your target audience to see you in your natural state. It adds to the authenticity of your brand and showcases the human side of it. Besides, the Instagram algorithm favors live videos. So, not only will your live videos have a better engagement rate, but also your other content will receive more exposure because of it. Therefore, Going live is among the best Facebook post ideas for businesses and individuals. 
Here are some suggestions for you to ado live on Facebook:
Trying something for the first time 'live.'

First chat about new gear, tech, or news

Product announcement

Q & A

A behind-the-scenes visit

Conferences
Boost your Knowledge about Social Media: How, When, and Why to Use Instagram Live
#2 Be Relatable
Whether you aim to become an influencer or run a business page, stop promoting products and be yourself from time to time. Don't turn into lifeless, cold robots that are obsessed with getting more sales. Facebook is a social medium. If you want to thrive on it, you can't take the 'social' out of it. Simply put, you need to be sociable, approachable, relatable, and all-in-all, a human being.  
Sometimes, the best interactive Facebook posts are personal ones. So, next time you're thinking about creative Facebook posts, consider the option of sharing an experience, personal opinion, or feeling. It might strike a chord with your audience and motivate them to comment and share their own experience. Such posts are usually among the most fantastic engagement posts for Facebook. 
Read more about Facebook: Facebook Ad Strategy Guide.
#3 Use Visuals: Interactive Facebook Post Ideas
Did you know that over 98% of Facebook active users access this social medium through their phones? 'So what?' you may say. Well, it means a lot of things as far as we're concerned. First and foremost, it means that your audience is probably not interested in reading long walls of texts. Instead, what actually makes for highly interactive Facebook posts are visuals. 
Posts that include images and videos would attract users' attention and are considered engaging Facebook posts. The good news is you don't need professional equipment for shooting photos and videos. You can do it with your phone. Just keep in mind that images and videos both perform exceptionally well when it comes to boosting your engagement rate.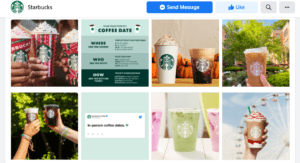 Facebook is not the only social medium for which visuals work miracles. If you're also running an Instagram page, make sure to upload quality photos.
Boost your Knowledge about Social Media: How to Post Multiple Videos on Instagram.
#4 Run Contests and Giveaways 
Have you run out of things to post on Facebook? Why don't you host a contest or giveaway? Hosting a contest or a giveaway is a win-win strategy. Facebook is becoming a super competitive arena, and everyone is vying for the same 5 seconds of attention in the news feed. This competition may cost you a little. But the benefits of increased engagement, including brand exposure and overall reach and followers that sponsoring a contest/giveaway, provides you outweigh the costs of the prize.
The best prizes you could give away are ones that are relevant to your niche. They could be subscriptions for your company's services or a product you sell. For determining the winner, you could go live and use another Facebook feature that works wonders for your engagement. However, hosting giveaways could be rather time-consuming. In order to make it less so, there are certain contest picker apps you could use.
Boost your Knowledge about Social Media: Instagram Contest Picker Apps 
#5 Offer Facebook-only Discounts
If you're running a business page to promote your brand, aside from offering giveaways from your products, you could also offer discounts on them. You can offer these discounts to everyone or just your Facebook followers. It's a great strategy to make interactive Facebook posts and also make sales. The discount can also serve the purpose of showing your followers you appreciate their engagement with your content. 
Paired with a call-to-action button, like 'Shop Now,' you can enjoy a rise in your engagement rate, both for your Facebook page and website. You could do the same thing on your Instagram account and gain blog traffic from your social media. 
Boost your Knowledge about Social Media: Best Way to Reward Your Followers on Instagram
#6 Share Stories: Interactive Facebook Post Ideas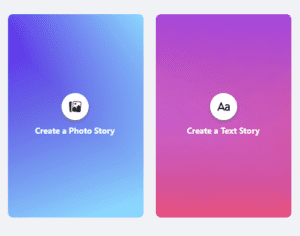 Snapchat pioneered the story format, which was later adopted by Instagram, Facebook, and, more recently, LinkedIn and YouTube. Facebook stories have a considerably greater organic reach than regular posts. As a result, using Facebook stories to build an emotional connection between you and your fans and promote your brand is a terrific strategy. Because stories are a more casual manner of sharing content, they can include more personal content, such as behind-the-scenes.
To make your post more viral, sit back, and share it on your story. You could also hide some elements on the photo to pique your followers' interest to check it out. 
Expand your Knowledge about Social Media: LinkedIn Stories: Everything You Must Know + Templates
#7 Create Content for Facebook
You're probably thinking, 'I'm already doing that; what are you playing at??!' Allow me to explain. If you have multiple social media accounts for promoting your brand or business, don't use the same type of content or caption on all of them. Different things work for different social media. 
When it comes to Instagram, hashtags work miracles for boosting engagement. For Twitter, there's a direct link between getting more retweets and an increase in engagement. Despite how well these work on Instagram and Twitter, they might not produce a favorable result on Facebook. That's why you can't repeat your strategies and content across different social media. Facebook engagement posts can be entirely different. So, You need to create your Facebook content groomed to Facebook algorithms.
#8 Analyze Your Top Posts
Did one of your posts do exceptionally well? Did it have a higher-than-average engagement rate? Don't just sit back and marvel at it! You must have done something that your followers really liked. You can't look for engagement post ideas as you ignore what worked for your audience. So, the first step to take is to go back and analyze your high-engagement post. Then, try to come up with more similar post ideas.
Bear in mind that this doesn't mean what worked once will always work. However, Your top-performing posts are excellent sources for developing interactive Facebook post ideas. They also allow you to better grasp your target audience. Don't forget that there are some marketing analytics tools available. They can contribute significantly to the could-be confusing process of analysis.
 #9 Ask Questions: Interactive Facebook Posts

Asking questions from your followers can bring about a quantum shift in your engagement rate. Triggering a conversation with your audience by asking questions can also help you build a strong relationship with them. The more creativity you put into it, the more active the comment thread would become. And, we all know active comment threads mean more interactive Facebook posts that are rewarded by the Facebook algorithm!
What you ask depends on you and can vary from simply asking your audience to share their mood to a random yet relevant question. A few of the common questions are:
'Have you had a similar experience?'

'What do you think about…?'

'Do you agree with…?'
#10 Use Various Content Types
There are various content types, such as images, videos, memes, status updates, reviews, etc. You could use them to appeal to a broad range of followers. The first reason why you should do this is the most obvious: for the sake of variety! 
On some pages, the followers see so much of the same type of content that they get bored with it. If your content strategy remains the same for all posts, there's a high chance that your followers will scroll past them. At this point, you need to use a different kind of content to create more effective engagement posts for Facebook.
Another reason why you should exploit this variety is to see how your followers react to each type. If you haven't figured out what kind of content your target audience is eager to see, you could experiment with various types. But, keep in mind that so as to retain their interest, you also need to draw on new content types once in a while.
Boost your Knowledge about Social Media: 6 Easy Content Marketing Methods to Boost Conversions
#11 Leverage the Trend: Interactive Facebook Posts

Are you looking for some interactive Facebook posts? Do you want to create high-engagement posts for Facebook but don't know where to start? That's alright. Our suggestion is you find viral photos and trending content. Thanks to Facebook's new algorithm, posts and hashtags about currently trending topics rank higher. Using trending hashtags and topics also pushes your audience to interact with your post or share it with their friends. 
Besides, your followers would be more excited to hear about a trending topic. So much so that they check all your other posts in search of more information or simply because they've become interested in what you have to offer.
Boost your Knowledge about Social Media: Trending Twitter Hashtags
#12 Share Blog Posts
Your website or company's blog posts can turn out to be great posts for Facebook. Share some of your top-performing articles on your Facebook page from time to time. They are proven content and might be able to drive more traffic and engagement for your Facebook page as well. It's needless to say that they also help promote your website while adding variety to your page!  
#13 Find the Best Time for Posts
The timing plays a significant role in how much engagement your posts receive. If you're running multiple social media accounts, make sure you know the best timing to post on Twitter, Instagram, Facebook, and the others, each separately. So, instead of looking for Facebook engagement post ideas, you could simply optimize the timing and watch your engagement rate rise gloriously. 
So, when is the best time to post on Facebook exactly? The highest engagement times are reported to be 10 AM to 1 PM. However, to be totally honest, no one knows for sure. The truth is your audience determines the best timing, not statistics or reports. You need to carefully observe the Insights on Facebook to understand when your audience is most active or what type of content suits what time of day. 
The best advice we could offer about the timing is to not blindly trust the statistics and data. They are not based on your target audience. So, do observe your audience closely and find the best timing yourself. This makes up a big part of getting to know your target audience!
Boost your Knowledge about Social Media: Predictions on the Best Times to Post on Instagram
#14 Post Product Preview: Interactive Facebook Posts
Posting product preview is an amazing strategy for producing creative Facebook posts. Not only does it inform the followers of the next big thing, but also they have great potential for becoming high engagement posts. By doing so, you're also building up to your fans' excitement. 
Boost your Knowledge about Social Media: How to Sell on Instagram for Any Business.
#15 Reply to Comments and Questions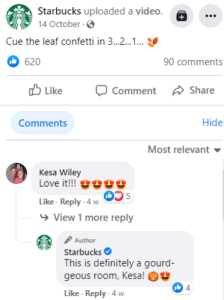 As we have already learned, having better engagement posts doesn't mean focusing solely on content. A huge part of growing your brand on social media is fostering a friendly relationship with your followers. And, the comments section on Facebook offers an excellent opportunity to do so.
When your followers leave comments reacting to your content or asking questions, make sure you answer every one of them. And don't take shortcuts, don't answer with a lazy emoji! Put in the time and effort to respond fully and in meaningful sentences.
#16 Publish Your Fan's Content: Interactive Facebook Posts
Share some of the posts your fans have created. The content could be related to your brand and business' services or any content you think your followers would like. You could also ask your fans to shoot pictures and unboxing videos from the products they've bought from you. Then, share the best ones on your page.
It helps you broaden your target audience, build a relationship with your fans, and make your followers feel appreciated and noticed. It's undoubtedly one of the best strategies when it comes to high engagement posts for Facebook.
Boost your Knowledge about Social Media: Top Content Marketing Examples
#17 Post Less
I'm aware that this has nothing to do with post ideas, but I feel a great urge to remind you that quality comes first. Yes, posting at least once a day is great for your reach. But, don't sacrifice quality for quantity. If you don't have time, focus on creating a few interactive Facebook posts rather than making many posts that aren't nearly good enough. 
Conclusion
No one can possibly claim that boosting your Facebook engagement rate and reach is straightforward. Nor that it can be achieved fast. It is a time-consuming process that only rewards those who are patient enough. However, knowing how to create interactive posts can give you a head start. So, curb your expectations, stay on the right path and stay true to your goals.