The organic relationship is the foundation of influencer marketing, and the industry has developed and grown over the past years. If you want to connect with customers on a personal level to promote your products and services, you need to work with the right influential people.
Finding the right influencers most closely linked with your business can be challenging. However, if done correctly, a successful influencer marketing campaign will play a significant role in building your brand on Instagram.
Although manual search is a slow and tedious process, there are numerous solutions available that will help simplify your job! With all the options you could leverage in your search, one of the most popular used software is Ainfluencer.
Let's take a look at the Ainfluencer review to see how it works and decide whether it can be your choice.
What Is Ainfluencer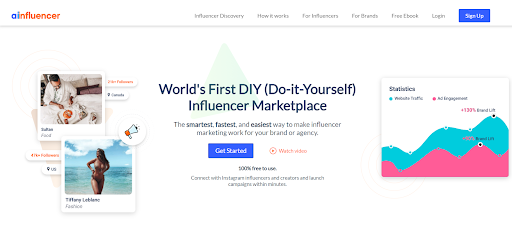 Ainfluencer positions itself as one of the leading influencer marketplaces. Ainfluencer acts as a middleman that can help both brands and influencers connect and collaborate.
As a brand, you can find relevant influencers on Ainfluencer, which will help improve your online presence and reach your marketing goals quicker. Ainfluencer aids in developing your influencer marketing strategy and helps you generate greater conversions, sales, and brand awareness.
As an influencer, you can download Ainfluencer's app to explore thousands of brands and send them invitations to collaborate.

In short, on all Ainfluencer reviews, you can see that Ainfluencer is a complete solution that enables you to find, get in touch with, and manage campaigns with influencers from all over the world. It also manages payments, tracking, and ROI calculations.
How Does Ainfluencer Work
This DIY influencer marketplace is the easiest, fastest, and most cost-effective solution to run successful influencer marketing campaigns.
Do you wonder how?
Read our Ainfluencer review to see how it works:
1- It all starts with creating an ad on the marketplace. In an ad, you upload sample creatives, add captions, and set the details of the suggested Instagram post that the influencer would publish. This ad will be published on the Ainfluencer marketplace, where thousands of qualified influencers can see and make offers.
Note: The only way to find influencers on Ainfluencer is not to wait for them to see your marketplace ad and send you offers. You can also search and find influencers yourself.
2- Once the ad is created, you can discover influencers using the AI-powered search engine or advanced filters to refine your search.
3- Ainfluencer offers you different metrics, such as quality score, engagement rate, etc., to help you decide whether an influencer is the best fit for you. The potential influencers will then receive emails and notifications after you click a button to invite them.
4- Once an offer is made, the workflow and built-in chat box pave the way to the perfect deal. Brands and influencers can negotiate their terms while chatting directly.
5- Ainfluencer also provides a SecurePay option where payment is held until the post is successfully published. Using the Ainfluencer platform, you will find Instagram influencers who are not only popular in your industry, but also relevant to your brand.
6- In the end, you can track your influencer marketing campaign by reviewing the engagement statistics and seeing the results unfold in real time.
Is Ainfluencer Legit
There are some influencer marketing platforms out there that might be sketchy. But Ainfluencer is one of the reliable and reputable solutions that is trusted by many companies and brands.
Let's take a look at some Ainfluencer's reviews on Trustpilot: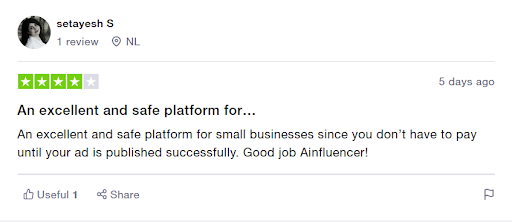 "An excellent and safe platform for small businesses since you don't have to pay until your ad is published successfully. Good job Ainfluencer!"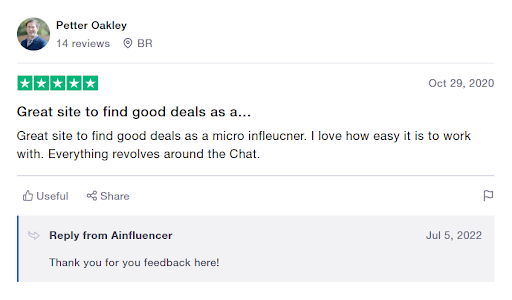 "Great site to find good deals as a micro-influencer. I love how easy it is to work with. Everything revolves around the chat."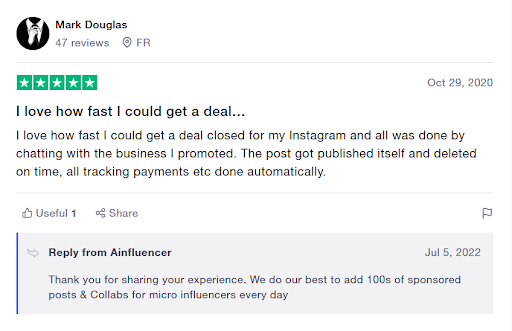 "I love how fast I could get a deal closed for my Instagram and all was done by chatting with the business I promoted. The post got published itself and deleted on time, all tracking payments, etc. done automatically."
Ainfluencer's Features
Our Ainfluencer review would not be completed without talking about the best Ainfluencer features you should know about. So, let's get started.
1. Ainfluencer is free to use.
It's 100% free to use with no hidden fees.
2. It is risk-free.
It keeps track of the campaign, makes sure an influencer's audience is real, holds funds until you confirm the necessary material, etc.
3. It is fast and easy.
4. It is smart.
It is AI-powered and Artificial Intelligence is used on the platform to help users discover influencers.
5. Ainfluencer helps track performance from start to finish.
You can get real-time analytics including likes, comments, Bio link publishing, clicks (if applicable), and more.
6. It lets you scale your efforts with macro and micro-influencers.
7. Ainfluencer provides a bustling marketplace of worldwide brands and Instagram influencers.
8. Ainfluencer provides users with a built-in chat box.
It allows brands and influencers to negotiate the marketing terms and close the deal right in the app.
9. It lets brands create marketplace ads that are posted to the marketplace where thousands of influencers can see and make offers.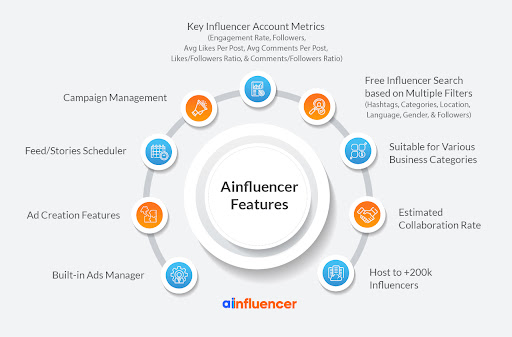 Ainfluencer Pricing
You must have already read on Ainfluencer reviews that Ainfluencer is 100% free to use with no hidden fees.
Due to the fact that Ainfluencer is a DIY influencer marketplace, brands can explore, find, connect and negotiate with potential influencers, and close the deal all for free on Ainfluencer.
But here is what you might not have known:
Ainfluencer provides some pricing plans and solutions for those agencies and brands that don't have enough time and energy to do the process themselves. They can leave everything up to Ainfluencer itself and take advantage of its paid plans.
Ainfluencer presents three different paid plans to get started with:
–DIY
With Ainfluencer's DIY plan, you can access all the following features:
Unlimited Influencer Discovery (200k+ profiles)
Unlimited Ads and Campaigns
Automated Invites
Unlimited Offers / Chat
Payment Escrow
Post-Analytics
And here are its three different paid plans: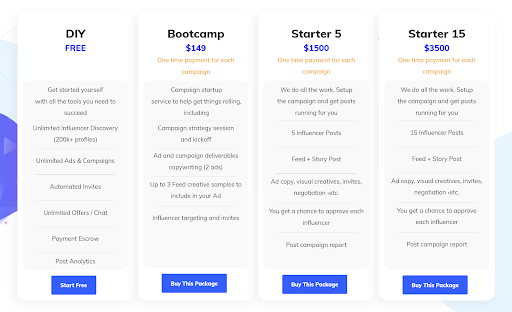 –Bootcamp
The first plan helps starters get things rolling on Ainfluencer by paying $149. Here is what this plan offers:
Campaign strategy session and kickoff
Ad and campaign deliverables copywriting (2 ads)
Up to 3 Feed creative samples to include in your Ad
Influencer targeting and invites
–Starter 5
This plan will do all the work for you to set up and run five campaigns for only $1500. This plan offers you:
5 Influencer Posts
Feed + Story Post
Ad copy, visual creatives, invites, negotiation, etc.
You get a chance to approve each influencer
Post campaign report
–Starter 15
'Starter 15' is the last pricing plan offered by Ainfluencer that costs 3500$. With this plan, Ainfluencer does all the following for you:
15 Influencer Posts
Feed + Story Post
Ad copy, visual creatives, invites, negotiation, etc.
You get a chance to approve each influencer
Post campaign report
Ainfluencer's pros and cons
All reviews need a list of pros and cons and this Ainfluencer review is no exception. Here is the list:
| | |
| --- | --- |
| Pros | Cons |
| Easy to navigate dashboard | The customer service and walkthrough sessions are not available on weekends. |
| Full control of your relationship with influencers, no intermediaries | Some brands may not be familiar with the ad creation process. |
| Affordable and customizable plans | |
| Expert customer support service | |
| Walkthrough sessions to see how to start with this marketplace | |
| Advanced search filters | |
| An extensive database of over 500,000 influencers | |
Ainfluencer's Alternatives
It is wise to consider some comparisons when choosing the right influencer marketing tool. So, in order to assist you in choosing between Influencer marketing platforms, we've gathered the top 3 Ainfluencer alternatives.
1. Upfluence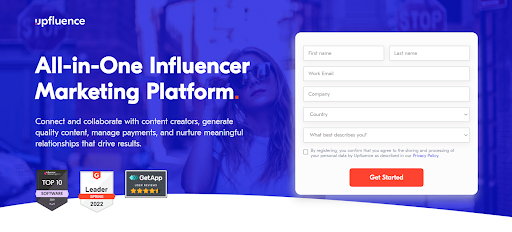 The best influencer marketing tool for e-commerce and direct-to-consumer brands is Upfluence. Brands and companies can use as many keywords as necessary to find their specialized influencers with Upfluence. Additionally, it covers all of the popular social media sites like Instagram, TikTok, Twitter, Facebook, Twitch, and Pinterest where you can create amazing, mutually beneficial influencer campaigns.
2. Heepsy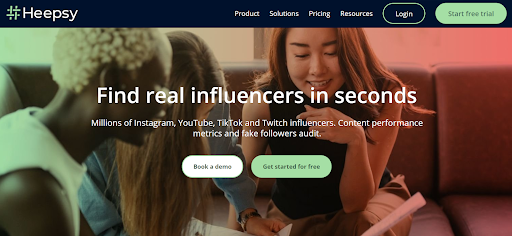 Heepsy is an influencer marketing tool that assists you with finding the right influencers.
Despite one huge downside, which forces you to pay for an account just to get access to the full range of influencers, Heepsy allows users to take advantage of an acceptable range of other key features such as influencers' history and records, audience demographics, custom search filters, etc.
3. Grin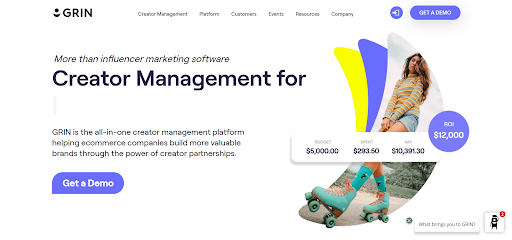 The goal of the influencer marketing platform Grin is to assist marketers in finding and establishing connections with relevant influencers.
A search engine on the platform lets you look up influencers based on their specialty or region, among other features.
FAQs on Ainfluencer Review
And last but not least section on our Ainfluencer review are some answers to your most frequently asked questions! Let's look at them:
1. How to Reach Out to Brands As An Influencer?
If you wonder how to reach out to relevant brands as an Influencer, the Ainfluenbcer marketplace can be an excellent solution for you.
Once you learn how to get more followers and master the art of creating consistent, high-quality content marketing ideas, reaching out to relevant brands for collaboration is the next step.
Your best bet is to join the Ainfluencer marketplace to let the right brands discover you for successful partnerships.
It helps influencers connect with the right brands in their niche and gain more exposure.
Moreover, Ainfluencer ensures that influencers are paid properly and on time upon completion of their job. So, join the marketplace for free to connect with thousands of successful businesses that are willing to pay you to spread the word about their products.
2. Why Use an Influencer Agency?
Working with an experienced influencer agency like Ainfluencer has the following advantages:
It saves you time and money
It helps you to regularly monitor the performance of your Influencer marketing campaigns by providing detailed analytical reports.
Your influencer marketing ROI will increase – and you'll see results faster.
The platform will provide businesses and influencers with the best match possible.
It has extensive experience in running successful influencer marketing campaigns.
If you have already worked with an influencer marketing hub and have any positive experiences to share, let us know in the comments below.
Conclusion On Ainfluencer Review
Ainfluencer is a recognizable influencer marketplace among marketers and influencers. Ainfluencer would be a good choice to assist you in the process of running and managing your next influencer marketing campaigns.
Moreover, if you have just started your journey as a social media influencer, Ainfluencer is a great place for you to start working with relevant brands and companies. The good point is that it is free to use. So you can sign up and see if you can find it beneficial or not. Read our Ainfluencer review to get to know all its features.