There's no doubt that influencer marketing has taken off. But, finding the right social media influencers and creators who are a good fit for your business can be a challenging process.
As a solution, the best Influencer marketing platforms and marketplaces have come into play to reduce the time and effort involved in connecting with the right social media influencers and strengthening your Influencer marketing campaigns.
Instead of locating influencers by going through their social media profiles or using other time-consuming methods, such Influencer marketing platforms offer sophisticated influencer search engines to ease the process of finding and connecting with the right Influencers and enhance your productivity and efforts.
That is why we decided to create this list of top Influencer marketing platforms and marketplaces available for you. So, without further ado, let's move on to the list.
Note: If you are too busy to read through the details and want to set up your powerful Influencer marketing campaign right now, click here to access one of the leading Influencer marketplaces where you can find your ideal influencers and negotiate your contracts with them easily and quickly.
What Is an Influencer Marketing Platform
An Influencer marketing platform or marketplace is an online software solution designed to help businesses and brands to run their influencer marketing campaigns more effectively and successfully.
Simply put, an Influencer marketing platform is where influencers and brands can find each other easily and quickly. The use of this type of software enables brands to reach new audiences and promote their products or services by collaborating with influential celebrities, micro-influencers, content creators, or brand ambassadors.
Therefore, Influencer marketing platforms can provide you with advanced influencer discovery tools, massive searchable databases of potential influencers, influencer campaign management analytics, Influencer content amplification, and many more.
These platforms feature social media influencers and creators who have established their names in a particular niche and have learned the art of growing their followers on social media networks.
Taking advantage of the best Influencer marketing platforms will allow you to improve your online presence and run more effective brand awareness campaigns.
20 Top Influencer Marketing Platforms
After learning how beneficial it is to use the best Influencer marketing platforms and marketplaces as part of your marketing strategy, let's take a look at the top 20 available options.
The purpose of this article is to help you understand what makes each Influencer platform and marketplace unique and what its strengths and weaknesses are.
1. Ainfluencer
Ainfluencer is one of the best Influencer marketplaces that can connect marketers with the most strategic and relevant influencers in similar niches or industries.
Since it is a free DIY marketplace for influencer marketing, you can manage your Influencer campaigns with success in-house.

Ainfluencer also offers some great, unique features including an AI-powered Influencer discovery tool to help you find the top Influencers on Instagram.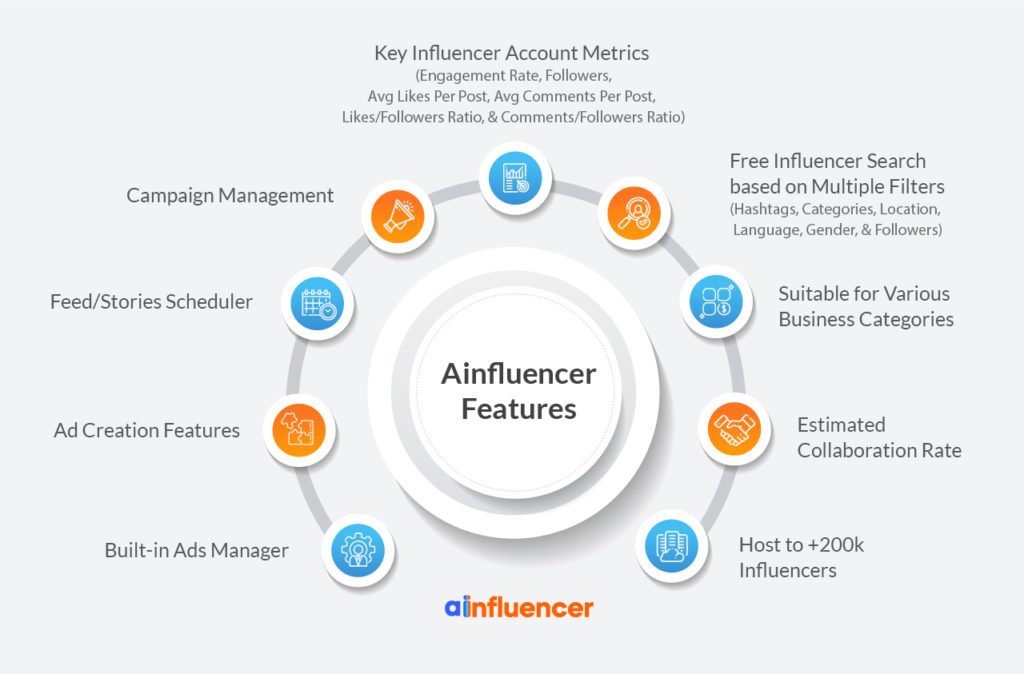 You can discover the most influential influencers in your niche by selecting a variety of filters like gender, location, keyword, language, hashtags, and more.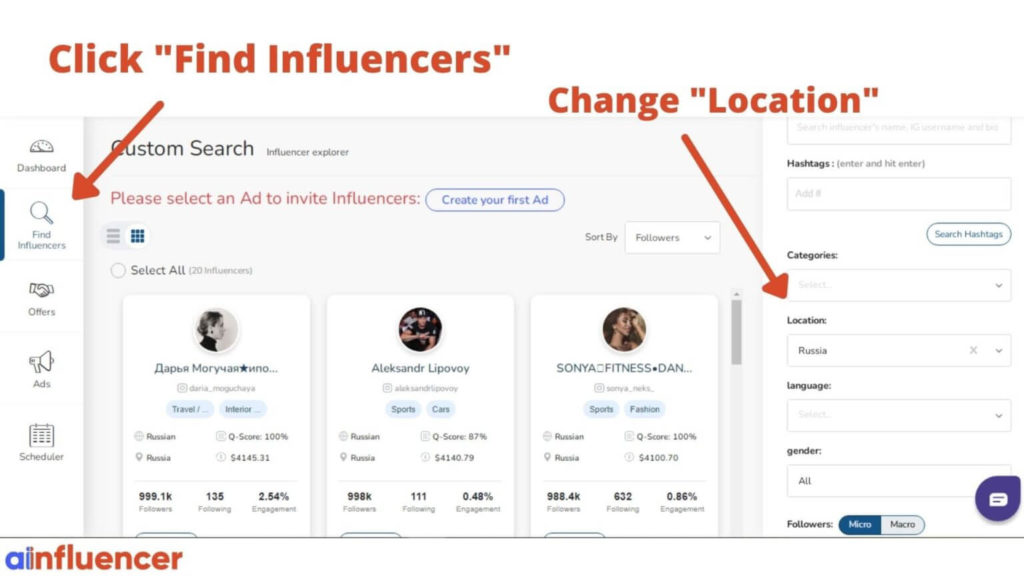 Ainfluencer provides support throughout all stages of influencer campaigns, from identifying and recruiting the ideal influencers to monitoring their performance and providing analytical data.
You can watch the video below to gain a better understanding of how Ainfluencer can help you in your Influencer marketing campaign:
Note: The Ainfluencer mobile app is also available for exploring Influencers and collaborating with them. The following are some of the key features that make it number one on our list.
Ainfluencer Pros
Ainfluencer has a user-friendly dashboard.
It offers a free DIY plan + very affordable paid plans
It has an extensive database of high-quality and verified IG influencers.
It offers all the tools that brands will need to close deals with Instagram influencers.
With Ainfluencer, a secure payment procedure is in place.
It is a %100 risk-free influencer marketplace.
with Ainfluencer you create Ads, discover influencers, and collaborate with them all for free without no hidden charges.
By offering precise analytical reports, Ainfluencer will help track your performance from start to finish
It provides you with a live chat box to negotiate directly with influencers on the platform.
Ainfluencer Cons
It is mainly focused on Instagram and TikTok Influencers and does not cover YouTube, Facebook, or other Social media channels.
Grin
2. Grin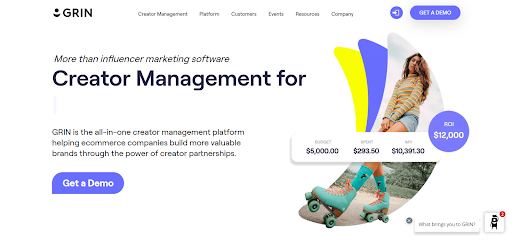 Grin Influencer marketing platform claims to provide you with a list of potential influencers who have previously purchased and enjoyed your e-commerce products.
In this sense, it is one of the best Influencer marketing platforms for e-commerce. The e-commerce integration simplifies the process of product seeding, generating discount codes, and posting affiliate links.
With Grin, you can search Instagram, Facebook, YouTube, Twitter, and TikTok influencers.
Grin Pros
Grin Cons
Grin does not offer up-front pricing plans. If you are interested in testing the waters with Grin, you can get a live demo and then ask for more information from the company.
3. Upfluence
Upfluence is one of the best Influencer marketing platforms for small and medium-sized businesses. It offers two helpful services:
1. Facade: a social media search engine
2. Publisher: an Influencer relationship management system

Businesses and brands looking for ambassadors and influencers can use its massive database to find influencers that match their content and niche.
Moreover, its influencer management system provides marketers with tools to manage each influencer relationship.
Upfluence Pros
This influencer website is easy to use.
It can provide you with detailed campaign analytical reports.
It has a free Chrome plugin.
A personal manager is assigned to each client.
Upfluence Cons
Upfluence plans are only available on an annual basis.
4. Traackr
It is one of the oldest influencer marketing platforms, founded in 2008. Traackr offers an Influencer relationship management system.
Thus, through its online management tools, Traackr aims to help medium and large-sized businesses to build more reliable relationships with Influencers.

Traackr's influencer database is hybrid – meaning it uses a mix of AI technology and human input to help businesses target different types of influencers in many different ways.
It offers influencer discovery, relationship management, and campaign management over the Facebook, Twitter, Instagram, YouTube, Pinterest, and Tumblr channels, as well as blogs.
Furthermore, this self-service Influencer marketing platform offers a social listening tool that allows you to track influencer content continuously.
Another interesting tool for this influencer marketing service is a network visualization map through which you can see the connections between an influencer and other people, inside and outside of the firm's network.
In this way, you can see other possible networking additions for your firm.
Traackr Pros
It is an established Influencer marketing platform.
Tracker is an expert in the beauty industry, featuring one of the largest global databases of beauty industry influencers.
Traackr Cons
According to many reviews, it has a steep learning curve to get started.
5. Refersion

Refersion is not an influencer marketing platform. It is an affiliate marketing platform.
Therefore, Refersion has a strong e-commerce focus and integrates with most major eCommerce platforms.
However, it has to be noted that Refersion has now added many influencer-specific features to its affiliate marketing app.
Refersion Pros
An effective tool to manage affiliate marketing at scale.
It runs on the Amazon web services cloud.
Refersion Cons
Payments cannot be processed on the platform.
6. Creatoriq
CreatorIQ is a cloud-based solution for brands needing influencer marketing support. The CreatorIQ influencer marketing platform gives you the tools you need for campaign execution, reporting, and insights to take an outcomes-driven approach to influencer marketing.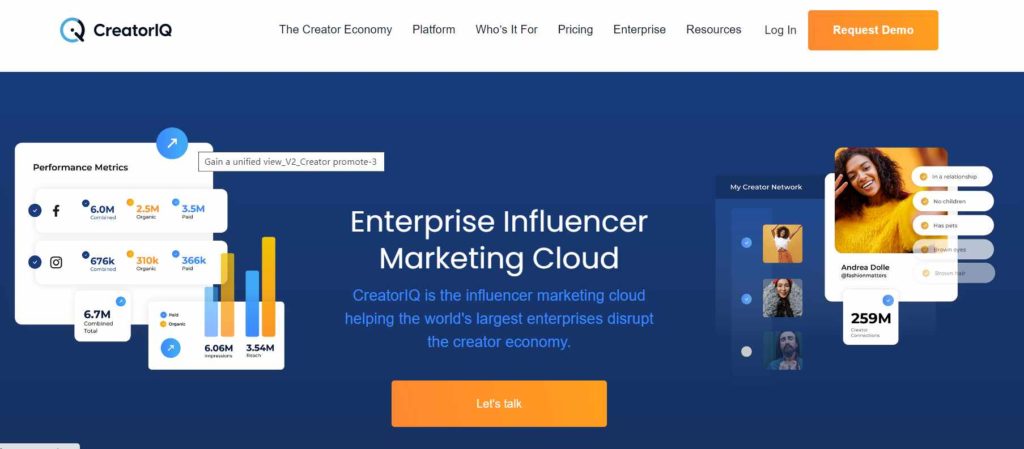 As part of its influencer discovery process, this platform focuses more on content quality. According to this platform, it is finally content that plays a key role in your digital brand strategy.
It includes over 20 million social media influencers across all social media platforms, with a very advanced set of filters to facilitate the process of finding the right influencer for your brand.
Creatoriq Pros
It has excellent customer service and a highly qualified account management team.
It has a super easy-to-use interface.
Creatoriq Cons
The Discovery tool can be difficult to use at first.
CreatorIQ lacks comprehensive and up-to-date statistical data.
7. Influencer Intelligence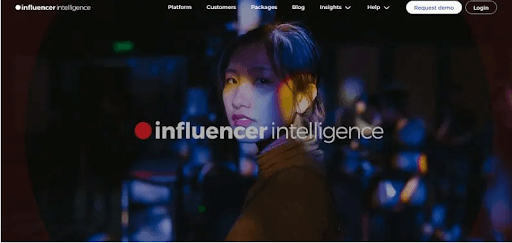 Influencer intelligence is the other great source for finding influencers. This influencer marketing platform can provide you with detailed information about influencers, including the number of their followers, engagement rates, and audience demographics.
Through this platform, you can apply various filters, such as influencer type, gender, location, social media topics, and more to find the best social media influencers and ensure you attract the right audience.
With this knowledge at hand, you can make informed decisions about who to work with next and adjust your upcoming campaigns accordingly. By doing so, you will be able to optimize your budget and spend your resources in the most effective way.
Influencer Intelligence Pros
This Influencer marketing platform provides analytical data to help you monitor the performance of your Influencer marketing campaigns.
It is a highly respected platform within the industry.
Influencer Intelligence Cons
In some cases, there is an overwhelming amount of information.
8. Find Your Influence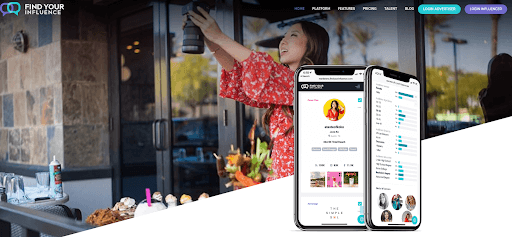 Find Your Influence (aka FYI) is an all-in-one influencer marketing platform that was created by marketers for marketers to help brands and businesses identify relevant influencers and track metrics.
This Influencer marketing platform is designed for businesses of all sizes to help them build efficient relationships, develop engaging social media content strategies, track campaign performance, and resolve billing issues, all within one online interface.
Find Your Influence Pros
It offers top-notch campaign planning and creation tools
Find Your Influence Cons
Audience data is not included in its campaign insights.
There are no psychographic data on influencers or their audiences.
Its Influencers are required to add badges to their site to disclose that they are working with the platform.
9. Impact
Our list also includes impact.com as one of the top influencer marketing platforms. This great partnership management platform allows marketers to optimize and scale their partnerships with influencers, creators, affiliates, mobile apps, and strategic business connections all over the world and recruit them through automated nurture campaigns.

Impact.com Pros
It simplifies the process of working with affiliates and partners.
Impact.com has some high-quality tools like Canva, Hubspot, buzzsumo.
Impact.com Cons
According to some reviews, The platform has a lot of low-quality influencers with almost no traffic and cheap websites that you don't want to associate with.
The prices are astronomical!
10. Klear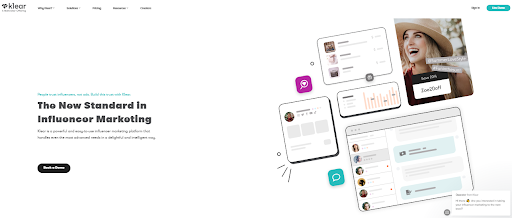 Klear aims to create a smarter way to access insights from the social web. You can either choose a free plan, with limited influencer search and demo monitors, or you can select the Advanced Plan.
As part of the Advanced Plan, you can find influencers, conduct influencer research, manage relationships with influencers, monitor campaigns, and social media, and have one-on-one consultations.
One of the unique features of Klear's approach is the ability to target influencers in your existing network.
Klear Pros
It has advanced analytics and Influencer relationship management tools.
Klear Cons
Since Klear is limited to YouTube and Instagram, it isn't as versatile as some other Influencer platforms.
11. Neoreach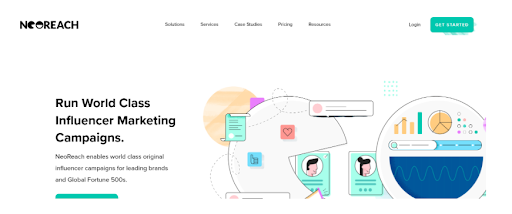 Neoreach came up with the idea for a digital marketing platform to connect social media influencers with brands.
NeoReach uses an algorithm to mine the social web for data and indexes it through the platform. The NeoReach database contains more than 3,000,000 influencers with a considerable quantity of data on each influencer.
NeoReach looks at influencer activity on Facebook, Instagram, Twitter, YouTube, Pinterest, and Snapchat, allowing you to easily find all types of influencers on different platforms.
Neoreach Pros
This Influencer marketing platform provides numerous tools for its clients, helping them to find influencers, run campaigns, track campaign performance, etc.
Neoreach Cons
It targets large companies and is not suitable for small to medium businesses.
It is a highly expensive service, ranging from $50K to $500K.
12. IMAI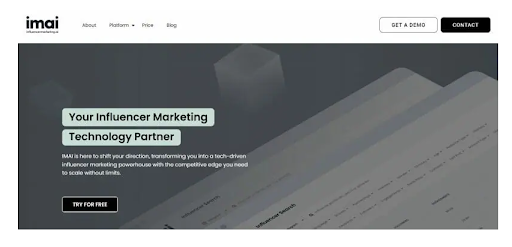 IMAI can assist you in growing your brand with data-driven analytics that will help you understand what works and what doesn't work in your Influencer marketing campaign.
The team at IMAI will help you find the best influencers for your brand. Its influencer marketing platform database consists of 220 million influencers across Instagram, YouTube, TikTok, Twitch, and Twitter.
IMAI Pros
IMAI has 230 million influencers in its database, along with tons of data about each of them.
IMAI Cons
Often, the search process takes a long time.
It has two different platforms and logins: one for search, and one for management.
13. Audiense

Audiense is one of the best Influencer marketing platforms that was founded in 2011 in London. Audiense is not just for Influencer marketing. It is also a helpful tool for gaining insights into audiences, and for finding the ones you're targeting for marketing of any kind.
Therefore, the platform has gained expertise in audience demographics and psychographics. Using AI and machine learning, Audiense is able to see who's connected to who—through mutual follows, conversations, and more—and generates highly targeted audience segments.
As a result, its efficient segmentation puts audiences into logical subgroups and identifies relevant influencers for that group.
Audiense Pros
Providing you with detailed analytical reports of your competitors' audiences.
Its powerful social listening tool adds insight to statistics, revealing consumers' personalities and mindsets.
Audiense Cons
Unfortunately, Twitter is the only source of data and analysis. So, you can not run this Influencer marketing tool on other channels like YouTube or Instagram.
14. Influencity

This social media influencer marketing platform has been operating since 2014, and its focus now is much more on Instagram, along with Twitter, YouTube, and TikTok.
Currently, it includes over 70 million influencers. Using Influencity, you can easily identify what types of audiences your influencers reached and how well their audience received these posts.
Influencity offers four plans. Among these four plans, you can customize your own plan by selecting the features that best suit your business and creating a custom bundle.
Influencity Pros
It offers a variety of search filters. Influencity claims there are over 100,000 ways to combine filters to find the most relevant influencers.
It helps you to detect reliable influencers.
It offers a free trial.
Any business, no matter how big or small can benefit from it.
Influencity Cons
Brands and influencers cannot communicate directly with each other within the platform.
15. Julius with Hypr
This influencer website offers a database of more than 50,000 influencers on a wide range of social media channels like YouTube, Twitter, Instagram, Pinterest, Vine, Snapchat, and YouTube.
So, using the platform, you can access the most in-depth information on micro and macro influencers, bloggers, and celebrities.

Moreover, you can use more than 50 search filters on Julius to find influencers that are a perfect match for your business.
Julius with Hypr Pros
It offers robust influencer search and discovery features.
It is one of the best SaaS (Cloud-based) influencer marketing software on the market.
Julius with Hypr Cons
Their Influencer profiles contain a number of errors.
A security code is sent to your mobile device every time you attempt to log in with this Influencer software. This process can be tedious.
16. Mavrck
Mavrck is the leading all-in-one Influencer marketing platform that is equipped with advanced search tools, helping you find influencers by audience demographics like age, gender, and location.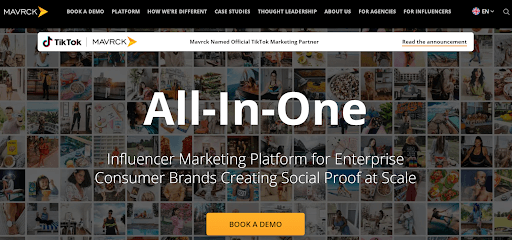 Mavrck also makes it easy for you to manage thousands of influencer relationships. Thanks to its programmatic nature, Mavrck allows you to customize your entire campaign workflow, from managing your influencer contracts to providing feedback on content and tracking influencers' performance.
Mavrck Pros
It is a very comprehensive platform.
Mavrck Cons
Mavrck is designed for enterprise-level brands.
17. IZEA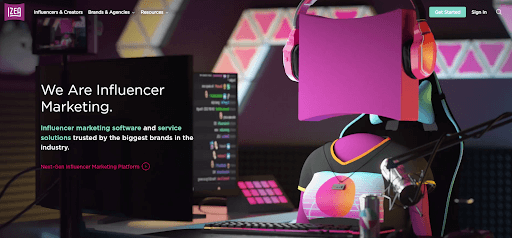 IZEA operates as a SaaS Influencer platform for agencies and brands, automating influencer and content marketing programs.
IZEA allows marketers to create lists of creators (IZEA's term for influencers) suitable for their campaigns.
The IZEA Platform breaks down all its influencer marketing process into eight steps:
1. Create opportunity
2. Target Influencers
3. Offer bids for opportunities
4. Accept bids
5. Preparing content marketing methods
6. Review content
7. Publish and track sponsored posts
8. Finalize Influencer payments
Thus, With IZEA, you can do as much, or as little, as you like.
IZEA Pros
Responsive customer service
Ease of use
IZEA Cons
The user interface is not outstanding, so this can be improved further in the future.
It is possible to expand its influencer pool further.
Search functionality has some glitches
18. Dovetale
Using this all-in-one free Influencer marketing tool you can find the right social media influencers for your brand, and keep track of affiliate payouts and special offers⁠.
Moreover, it is supported by Shopify, so you can use its 24/7 customer support in case of trouble.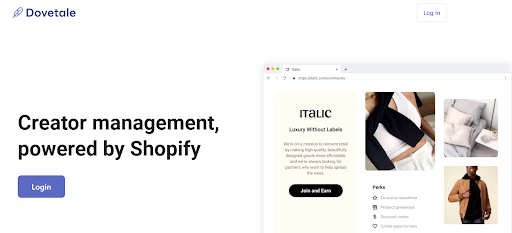 Dovetale Pros
The platform has extremely precise targeting filters to yield highly relevant discovery results.
The affiliate sales feature tracks commissions and sales statistics for each influencer
Dovetale Cons
It doesn't have a live chat box.
Dovetale Influencers only have access to the platform through their Facebook accounts.
19. TapInfluence
TapInfluence, as a brand, launched in 2013. The company used to be called Blog Frog before that.
Today, TapInfluence is one of the most recognized names in the influencer marketing platform space.
TapInfluence offers a wide range of filters to help brands find relevant, experienced influencers on its platform. Using TapInfluence, brands can target audiences by demographics like age, gender, location, and more.
TapInfluence Pros
Professionally designed tools for managing campaigns
Tapinfluence Cons
Highly expensive plans.
According to customers, the influencer analysis is not as thorough as it should be for the price. In fact, they are pretty surface-level information.
20. Post for Rent

As its name implies, Post for Rent literally reduces influencer marketing to its transactional core.
However, the platform is awesome because it comes with an interface that's almost fun to use. It helps you in all the tedious and boring parts of the process of finding and managing influencers and their content, examining profiles and data, and researching audiences.
Post for Rent offers Influencer marketing services for businesses of all sizes. Interestingly, the platform has caught the attention of large companies like Nike, HBO, Uber, and Coca-Cola.
Post for Rent Pros
It contains tons of useful data to analyze influencers
Post for Rent website is user-friendly and easy to set up campaigns.
Its customer service was very helpful.
Post For Rent Cons
The web interface occasionally fails
It took some clients a long time to receive their analytical reports
FAQs on Influencer Marketing Platforms and Marketplaces
In this post, we compiled a list of the most popular platforms and marketplaces. However, let's explore some of your most frequently asked questions on the topic. Ready to get started?
Q1. What Are the Best Influencer Marketing Platforms?
In this post, we reviewed some of the top influencer marketing platforms. We gathered this list based on overall user satisfaction and online scoring on reliable third-party review websites like G2 or Trustpilot.
Additionally, we tried to try some of their demos or free trial experiences to provide you with a more complete review in this post.
Q2. What Are the Advantages of Working with the Best Influencer Marketing Platforms?
If you choose the best influencer marketing platform for your online brand awareness campaign, you will have a better chance of achieving the following goals:
1. Increasing your revenues and sales through Influencer marketing.
2. Your message will reach the right audience.
3. It will reduce your workload in the area of Influencer discovery.
4. It will help you keep track of your Influencer marketing campaigns more conveniently and spend your resources more efficiently.
Conclusion
When done correctly, influencer marketing can provide you with many opportunities, such as increasing your online visibility and sales.
But we all know how difficult it is to find suitable influencers for your campaign and build reliable relationships with them.
That is why we decided to provide you with a list of the best Influencer marketing platforms and marketplaces to help you gain more success in your Influencer marketing campaigns.
Hopefully, after reading this article, it will be easier for you to pick the best one among so many available options for you on the market to succeed in your Influencer marketing campaign.
Having reviewed all these great influencer marketing platforms and websites, our top pick is Ainfluencer for your Instagram influencer marketing campaign. Due to its primary focus on Instagram, it can provide the greatest value to your Instagram marketing strategy.
Moreover, it is easy to use and offers all the tools needed to help relevant brands and influencers meet and make deals in one place quickly and easily.