Are top brands looking for ambassadors to win today's competition?
Well, more and more brands, now, tend to get into an ambassador program, as having brand ambassadors helps them build a stronger brand identity and more public trust.
They can be one of the most-followed accounts on Instagram or not, but they are only YOUR ambassadors under the terms of their contract!
In 2022, the number of brands looking for ambassadors and social media influencers began to surge, and yet one of the major issues between brand ambassadors and businesses is not still resolved – they don't know how to find each other!
So, if you are trying to pave your way towards an opportunity to become an ambassador on Instagram, remember that finding companies looking for brand ambassadors never gets easy without proper help.
Ainfluencer is the best way to find a perfect brand ambassador for your business. There are over a thousand brand ambassadors and businesses of all types on the Ainfluencer marketplace!
This article will show you how to become a brand ambassador for free and provides you with a list of 111 brands looking for ambassadors on Instagram in 2022.
What Is a Brand Ambassador
As their name is self-explanatory, a brand ambassador is a particular individual, say a loyal customer or an influencer, who promotes your brand.
Brand Ambassadors Vs. Influencers
While they both serve a similar purpose, there is a slight difference between collaborations with ambassador programs and brand influencer programs.
Usually, niche influencers have short-term contracts with different brands. For instance, they can promote three different makeup brands within 6 months.
In a nutshell, brand influencers:
provide one or two posts in each campaign
may not work with your brand again
are likely to represent multiple brands at the same time if it's not in breach of their contract
On the other hand, brands looking for ambassadors require longer commitments.
As a brand ambassador, you should work very loyal to the brand you are going to work with. In fact, you're either a big fan of that brand, or you are at least interested in their niche.
An ambassador program:
Offers multiple posts and Stories during the campaign
Often collaborates with one brand for a long time and runs multiple campaigns
Doesn't usually represent other brands
What Are the Different Types of Brand Ambassadors
There are ten different kinds of brand ambassadors to take into account. Each of these business ambassadors serves an important promotional function.
Keep in mind that an ambassador campaign has specific goals, such as increasing your brand's engagement rate, boosting sales, and so on.
Basically, brand ambassadors are categorized as formal and informal. In the following, you can see what are the different types of brand ambassadors in each category.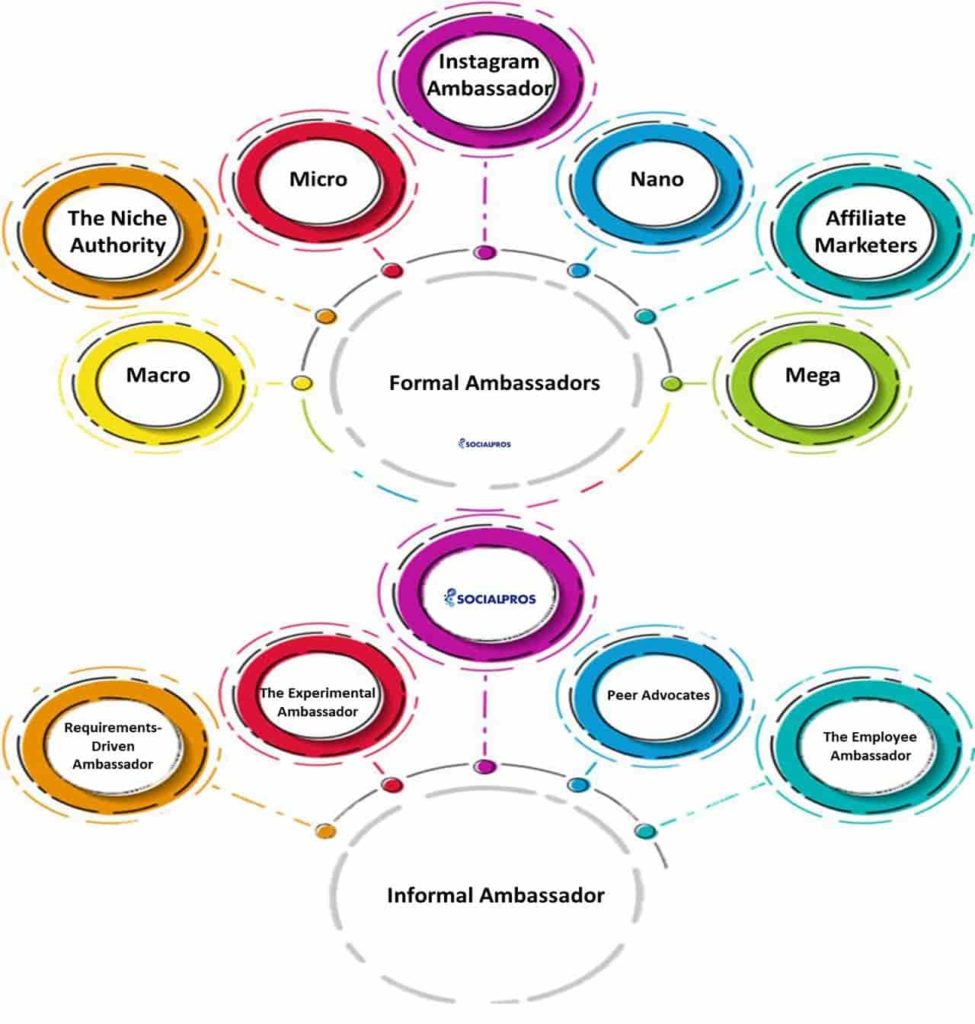 A Complete List of Brands Looking for Ambassadors
After you realize which type of ambassador you're going to be, you should be able to find a brand in the niche you're interested in.
Here, you can view 111 brands looking for ambassadors. If you need to see the best brands that are using brand ambassadors to make them special, let's go for it!
1. Yoga Tech
As a sports influencer, if you like yoga and are looking for brand ambassador opportunities, you can join the Yoga Tech brand ambassador program.
You are going to wear very nice sports outfits and have a heart-to-heart relationship with your audience.
Yoga Tech sells any products anyone needs for doing yoga. You should persuade your followers to buy from Yoga Tech, it is a kind, very cute clothing ambassador and product.
If you want to know about the conditions of Yoga Tech for cooperation, read the following sentences:
Run an Instagram giveaway contest
10% commission for all the sales from your channel
Special discount code just for your follower
2. Breezy Swim
Breezy Swim creates the prettiest swimsuits and accessories.
This is the best option for those who want to be ambassadors and work as models. Any influencer with light and dark skin can work with Breezy Swim.
3. PMD Beauty
PMD Beauty provides numerous beauty products and kits that are designed to help you take care of your beauty needs in your home, such as PMD clean body, Microderm, lip plump, PMD Beauty senior brand ambassador, and a lot more.
If you're interested in submitting such brand ambassador applications, PlainfieldMD is a great place to learn more.
4. Asics
ASICS offers ambassadors an array of outfits, shoes, and other merchandise free of charge.
ASICS has positions available for enthusiasts with experience in many different areas, including athletes, actors, and models.
Sounds interesting, right? ASICS encourages you to register for a position on the company's site. You'll get paid $15 an hour and get free ASICS merchandise.
5. One Tribe
This brand sells suits, shirts, pants, shoes, jewelry, and countless other goods from a specific catalog.
If it does sound like a perfect opportunity to become a brand ambassador, you should definitely try submitting an application for One Tribe.
Whether approved or not, you'll receive a store credit worth 25 percent of your successful sales and gift certificates you may use whenever you want.
6. Trendy And Tepsy
This clothing store offers various garments, such as tops, dresses, jackets, vintage attire, and more.
It is prepared to engage disciplined brand ambassadors to help with brand awareness.
Authentic, genuine content and the time to reflect on how to promote these items are of the essence for Trendy and Tepsy.
As a clothing brand ambassador, you can have a great collaboration with Trendy and Tepsy.
7. Winky Lux
Winky Lux is a luxury makeup brand with uncolored cosmetics that appears as one of the best companies that need promoters for skincare brand features. The company is looking for new brand influencers, especially women who like makeup and skincare and love working with their female counterparts.
As a Brand Ambassador, you get invitations to exclusive parties, promote your personal social media profile in association with this brand, receive a share of commission expenditures, and receive Winky Lux-branded products.
8. Timberland
Timberland invites brand enthusiasts to actively engage with your brand so you may reach as many customers as possible.
It is, therefore, important that brand enthusiasts collaborating with this brand have a good deal of Instagram followers.
9. Oakley
This company specializes in eyewear that was designed for specialized individuals, such as skiers.
A brand spokesperson sent to promote Oakley appears on Oakley's social media channels and should have the ability to reflect Oakley well and demonstrates quality in its product line.
Brand ambassadors need to be on a part-time basis.
10. Adidas
Adidas has very popular clothes and mostly sneakers. If you are a fan of athletic clothes, you can be a member of that partnership.
Also, an Adidas company brand ambassador is always required.
As a matter of fact, these kinds of brands looking for ambassadors need you to show your love for their sneakers and clothes.
Adidas announced that they are looking for brand ambassadors who are 'dedicated to the lifestyle and culture of Adidas and have a strong social media presence.'
11. Toms Shoes
Likely, the Toms Shoes brand is looking for ambassadors to promote its sneakers. So, it is a good brand ambassador opportunity.
In terms of storytelling, if you have a good story for their brand to represent the sneakers, they will collaborate with you!
12. Kate Spade New York
Generally speaking, if you want to be a fashion brand ambassador, Kate Spade New York could be a good opportunity for you.
Moreover, Kate spade is one of those brands looking for ambassadors and influencers that positively promote their products on their channels or Instagram accounts and convince people to buy from them. This is a simple way to make money as an Influencer.
13. Glossier
Glossier is of the best brands to collaborate with. Anyway, if you are a fan of makeup and beauty, this is the best opportunity for you to be known by Glossier.
Also, you will have the chance to connect with other beauty enthusiasts and learn about them better. This company helps you to become a great fashion brand ambassador.
14. Coca-Cola
'Things go better with Coke,' Coca is one of the loveliest companies all around the world.
This company wanted ambassadors who have more than 18 years old to advertise its sodas, and share their happiness and joy!
This is one of the biggest brands looking for ambassadors, what's more, this could be the best chance for you to be their ambassador!
15. Lay Low
Lay Low is a producer of casual and relaxing clothes in New York.
As a clothing brand ambassador, you can earn a good amount of money by working with Lay Low. For instance, You may opt for a 20% discount upon obtaining and sharing your promo code, in addition to $40 upon free shipping when using your code online.
16. Ralph Lauren
As far as I am concerned, Ralph Lauren best company to work with! This big clothing company is one of those brands looking for ambassadors!
As a full-time brand ambassador, you should have a customer-first mindset and be passionate about providing a personalized and inspiring shopping experience that exceeds the customer's expectations.
17. Mac
Global beauty brand Mac Cosmetics! This is one of the most popular brands looking for ambassadors!
Lots of famous makeup artists and celebrities work with Mac cosmetics. It may have some hard rules to being the Mac brand ambassador, but it is possible. Moreover, you can earn unbelievable money by working with them.
18. Anastasia Beverly Hills
Anastasia is one of the most special brands looking for ambassadors. This company was founded by Anastasia Soar in 1997 she is a bright makeup artist.
Furthermore, brand ambassadors who work with this brand make videos while they are using cosmetics and introduce Anastasia Beverly Hills products.
19. Estee Lauder
Estee Lauder has the most professional makeup cosmetics. Japenese model Koki is its new global brand ambassador.
If you have a good Instagram page and professional resume, you can be an ambassador of this amazing cosmetic brand.
20. Maybelline
Maybelline is another cosmetic brand that is in demand nowadays. And for sure, one of those great brands looking for ambassadors to encourage buyers.
Brand ambassador search for companies that accepts them as their member, so Maybelline could be a good option.
21. Charlotte Tilbury
One of the luxury cosmetic brands is Charlotte Tilbury. Lots of ambassadors like to work with this brand.
Fortunately, you can be that lucky person! If you have good patience and the talent to persuade people to buy their products, you can be one of their team.
22. Rolex
Rolex has partnered with Roger Federer and Tiger Woods since the millennium. The two men can lay claim to being the greatest tennis and golf players of all time.
The company also sponsors golf, motorsports, show jumping, tennis, and yachting competitions. If you have a good Instagram account or active YouTube channel, you may be one of the ambassadors of Rolex.
23. Chanel
Chanel is one of the brands looking for ambassadors.
This well-known brand is looking for ambassadors to make videos to promote them.
24. Nike
Furthermore, Nike is one of the largest companies working with influencers and brand ambassadors.
Nike also has some specific ambassadors who are micro-influencers, and they've been featured in a few of their brand campaigns.
25. Hello Fresh
Are you a fan of cooking and making new dishes?
You can join Hello Fresh! This company is looking for brand ambassadors to help spread the word about its meal delivery service. As a Hello Fresh brand ambassador, you would be in charge of promoting the company via social media, cooking demonstrations, and other creative means.
26. Poppy Apparel
Generally speaking, women love clothes, right?
Poppy Apparel is one of the well-known brands in women's clothing.
To collaborate with this brand as an ambassador, first, send your request, and if you are qualified, you will be contacted. After that, by every five sales, you can earn money while working with them.
27. Sand Cloud
'Every purchase saves marine life.' this is the popular slogan of Sand Cloud. They offer multiple things like accessories, towels, and swimming suits.
If you have the opportunity to be a member of their advertising team, you will be a special brand ambassador for them!
28. Enjoy Leggings
In terms of content creation, if you have a creative mind, you should join Enjoy Leggings. What's more, it offers you free leggings.
29. Benefit Cosmetics
Benefit is one of the best cosmetics company, this company produces all types of cosmetics.
They are looking for who is passionate about makeup to be their ambassador.
30. Althea Angels
This is one of the reliable brands looking for ambassadors. Good bloggers can promote their skincare and be their lucky ambassadors.
31. Walmart
Join Walmart if you can create amazing content and photographs for their online shop.
Also, as an ambassador, you can deal with customers and teach them how to take a photo of their products and send it to you.
32. Urban Outfitters
Urban Outfitters seeks brand ambassadors to help them promote their company and its products.
Urban Outfitters brand ambassadors will receive free merchandise and discounts, as well as access to exclusive events.
Submit your brand ambassador application today if you want to work with Urban Outfitters.
33. CVS Beauty
Obviously, CVS beauty has powerful customer support. In fact, it is really popular.
One of the most important parts of the CVS beauty team is brand ambassadors, especially micro and macro brand ambassadors because they help promote the company and its products with more targeted audiences.
34. Wet N Wild
Wet N Wild is another cosmetics company that is known for its affordable price and high-quality products.
In 1988 this brand was launched, but now, Wet N Wild is one of the big brands looking for ambassadors of many different types.
35. Evy's Tree
This company creates fashionable and comfortable women's clothing. Hoodies, tees, wraps, and cardigans are among their offerings.
This luxury fashion label is looking for female brand ambassadors.
They are excepting creative ambassadors to promote their products with great images on their social media and gain the commission.
36. Tarte Cosmetics
Generally, Tart is well known for its high-quality eye concealer.
They are using micro and nano-influencers to be their brand ambassadors. If you like to be with them, don't miss the chance!
37. Target
Target is looking for brand ambassadors who have more than 18 years old and are comfortable with working more than 10 hours weekly.
Promoting their products and getting feedback from the customers, is Target's requirement for brand ambassadors.
38. La Croix
This lovely beverage company has opened brand ambassador applications, so, you can easily apply for it from their website.
They are accepting brand ambassadors who are active on social media and have large followers.
39. Tweezerman
This company is looking for ambassadors who have a sizable fan base.
You will be given a welcome toolkit so you can participate in the launch of new products, get invited to exclusive events, and be the face of starting and reporting at events as a Tweezerman ambassador.
40. Orglamix
Orglamix is one of those professional cosmetic and skincare brands looking for ambassadors.
If you have a public Instagram and more than 500 followers, you can probably work with them.
41. Outdoor Products
Do you enjoy spending your time outdoors?
If you are an influencer and have a good Instagram account, you can use this company's products and advertise for them and get a 15% profit from their sales when your followers sign up on their shopping website from the link that you shared.
42. She is Clothing
This amazing company provides all the clothes you need for a fantastic night out with bandeau tops, cool dresses, and jackets.
Creating content and buzz for the brand, responding to community feedback, and answering community questions are some of the minimum requirements. As a brand ambassador, you will benefit from a flexible work schedule, exposure to social networking, and the opportunity to earn a commission.
43. NYX Cosmetics
All in all, this American cosmetic brand is one of the best in the beauty world. We can mention the wide variety of products and high quality as the advantage of them.
NYX Cosmetics is one of the big brands looking for ambassadors on Instagram. So, you can check their website to contact them and talk about your collaboration.
44. Crystal Wardrobe
A new wardrobe should never go out of style, so I believe now is an excellent time to purchase new Crystal Wardrobe clothing. Fashionable, chic, and sophisticated.
Do you want to add a new one-piece swimsuit to your wardrobe? Consider wearing a novelty item of clothing, such as a dress-up lace-up swimsuit. Crystal Wardrobe, an influencer program, is looking for fashionistas to collaborate with. Influencer compensation includes a 30% commission on sales.
45. Sincere Sally
You'll get a free enticing red bodysuit, lovely pink off-the-shoulder ruffle dress, cute figure-hugging yellow mini dress, or trendy line art tee as long as you post them on your feeds.
Sincere Sally is looking for a fashion brand ambassador who has a talent for taking amazing photos, in particular, on different trips.
46. Move Makeup
Wide range of waterproof colors is the main distinctive feature of Move Makeup. The brand ambassadors should promote them by making videos of their products or taking amazing images and sharing them on their social media. After that, they will earn 75$ promo code per month they can use for purchases.
They must indicate that they are an ambassador in their biography and public postings by posting two photos of their products per week.
47. Arvo
With Arvo, you can dress like an angel. They promote watches, and men's and women's dresses.
In terms of growing their business and attracting their target audiences, they are looking for active brand ambassadors.
48. Macy's
To be a Macy's brand ambassador, you should also participate in in-store events to promote their offers and sales.
49. Ross and Snow
'Ross and Snow' makes different types of boots in Italy. Its collection is designed for both men and women.
Footwear and fashion brand ambassadors with over 10,000 followers can join them and get a 15% commission.
50. Bold Dots
Bold Dots' glasses are a popular choice due to their comfortable frames, superior materials, and beautiful details in every frame detail.
Note that optical glasses are also available.
Bold Dots is for you if you frequently share fashion content and have at least 20K followers. This brand collaboration platform offers benefits like an 11% commission and free products.
51. Slipper Chic
Slipper Chic is another brand looking for ambassadors to be their company's voice in social media.
Are you game to wear cute and comfortable slippers?
52. Distract
Distacart is the most secure way to buy Indian clothing, jewelry, and makeup in the world. The e-commerce site sells a variety of Indian products.
With this brand's global recognition, it's not surprising that they maintain regular contact with a slew of foreign influencers.
This clothing brand welcomes both men and women; you do not need a large number of followers to join the network. This is a company looking for brand ambassadors in the clothing and makeup industries.
Ambassadors receive a 5% commission on any sales generated by their referral link.
53. Healthkart
If you are a lifestyle influencer and enjoy promoting healthcare things, this company is a good option for you.
This company produces physical and mental well-being. It is always on the lookout for proactive people.
54. Bliss
Bliss skincare brand loves to work with influencers to reach more audiences.
If your Instagram account has more than 5K followers and you are good at promoting skincare products, join the Blis team as a brand ambassador.
55. BK Beauty
This beauty brand looking for Micro-influencers and brand ambassadors to help them to promote their brand and sell their products and tell them about their proses.
56. Mophie
In the United States, Mophie was the first mobile battery case brand.
If you're interested in learning more about this company, apply to become one of their brand ambassadors!
57. Lemon
This company produces the cutest clothes.
Furthermore, if you are good at content creation on social media, let's be a Lemon brand ambassador.
You may get good offers from them.
58. NUYU
This brand directly works with colleges and universities.
If you can promote their products in a way that they want as a brand ambassador of them, you will receive 20% of the sales.
Moreover, you will gain a wide range of skills and have the opportunity to network with ambassadors from across the country.
59. The Great North
The Great North sells a variety of products, including graphic T-shirts, sweatshirts, and tanks. Corinthian ambassadors are given 50% off-the-shelf items.
They are given a referral link to share with their followers and may receive a commission if they use it. They will gain global exposure as a result of the Ambassador.
60. Oopsie Daisy
They are manufacturing fashionable streetwear.
This clothing brand is one of those active brands looking for ambassadors with you who will have good cooperation. Also, you will get a 13% commission on sales and many other advantages.
61. Coltorti
One of the Italian luxury brands that you can find in the market is Coltorti.
Also, they are men's and women's clothing brands. If you like to work with famous and large companies, Coltorti is one of that brands looking for ambassadors. But remember you should be the best in your job!
62. Missguided
This company is based in the UK, and this clothing brand admires by the youth. Also, they are working with influencers below the age of 25.
The company uses social media to promote its products and is noted for scouting trends and producing items in line with popular trends.
What is an ambassador program for them? Get in touch with them they will tell you the details of their ambassador program.
63. Gemvara
They promoted cost-effective jewelry with very beautiful designs and sparkling stones.
As a jewelry influencer, you will be a good option for them to be their brand ambassador.
64. Lululemon
Lululemon is an athletic clothing company with two types of advocates: global ambassadors and shop ambassadors. It designs technological athletic wear for yoga, running, working out, and other sweaty activities.
The company is actively seeking yoga instructors and fitness ambassadors, particularly female fitness influencers.
Brand ambassadors should connect this brand to communities all over the world and provide valuable input.
65. Canon
In terms of photography influencers, you can work with the best camera brand, like Canon to run fantastic advertising for them by showing the quality of their camera, and how to use them.
So, you can be a Canon brand ambassador.
66. Trek Light Gear
This company provides camping and outdoor products. Clothing, hammocks, and other things are included. Their brand ambassadors are referred to as 'ambassadors' in their brand's sense of humor.
Brand ambassadors who could be used as advocates for this brand include lifestyle influencers and people who enjoy the outdoors and have a social media following that can assist sell items. Those that fit the Trek Light Gear description and identity are encouraged to fill out the brand ambassador applications on the website.
67. Hollister Co.
Hollister clothing brand is popular among youth; they make casual dresses.
The brand is looking for an ambassador with an active Instagram account to promote them on Instagram and YouTube.
68. Nivea
I can remember that when I was a child, my mother always used Nivea soft cream.
So this lovely brand is memorable, at least for me! As a skincare and beauty influencer, you can contact Nivea and join their team.
69. Clinique
Clinique is a special brand for those who care about beauty and health together.
This is one of the cosmetic brands looking for ambassadors, influencers, and vloggers to make videos while they are using their products. You can gain expression by using this amazing opportunity and earn money.
70. Babe Cosmetic
Babe Cosmetics is looking for brand ambassadors to help promote its products. This is an excellent chance for anyone who enjoys cosmetics and wishes to share their enthusiasm with others.
You will receive free products and discounts as a brand ambassador, and you will be able to provide feedback. Fill out the brand ambassador application on their website if you want to be a Babe Cosmetics brand ambassador.
71. Coastal Scents
Coastal Scents, a luxury cosmetics, and fragrances online business is searching for brand ambassadors.
This is an excellent chance for those who are passionate about beauty and want to work for a developing firm. Submit your ambassador application today if you want to be a Coastal Scents brand ambassador.
72. Sleek Makeup
Sleek Makeup looking for brand ambassadors.
You can help Sleek Makeup to grow its business, and this is a good chance for you to promote yourself as a brand ambassador for the beginning of your job carrier.
73. Starbucks
The most popular coffee brand is Starbucks; people love its coffee and its packaging.
Starbucks is looking for people who are passionate about coffee and eager to share their enthusiasm for Starbucks with others.
74. BMW
BMW is one of the most powerful and luxurious car companies. BMW is welcoming ambassadors with new advertising ideas.
They want you to create special content for them because they are really special. They are usually given special perks, such as free cars or early access to new models.
75. Daniel Wellington
Daniel Wellington offers influencer gifts or prizes for promoting them on their Instagram account.
What's more, they let your post be made on their feed.
You can simply sign up on their website and fill out the application form, they will be in touch with you.
76. Asos
Asos, a British online fashion shop, is looking for fashion ambassadors with a strong social media presence.
Asos will provide the ambassadors with free apparel and accessories to promote on their social media accounts. Asos hopes that by doing so, they will be able to reach a larger audience and enhance sales.
77. Amazon's Audible
Audible looking for ambassadors to promote them on different social media and events to convince customers to buy from them.
They will also be in charge of developing and executing marketing campaigns and initiatives. The perfect ambassador is someone who is enthusiastic about audiobooks and enjoys sharing their enthusiasm with others. If you want to become a brand ambassador, Audible is seeking you.
78. Banana Republic
Banana Republic clothing brand, looking for good-looking and outgoing persons to be their ambassadors.
Anyone with strong social media and good influence is important. The best candidate is able to contact customers and will have a passion for fashion.
79. Forever 21
They are asking their customers to take a photo with their products and share it on their Instagram account with the hashtag "#F21xMe".
Those influencers who are working with them should post regularly and talk about this brand, moreover, and payment of the company is good!
80. Sephora
Sephora has one of the most active accounts on Instagram. This company has over 58,000 posts on Instagram.
So, Sephora uses influencers and brand ambassadors to make different videos for them, you can contact them from their website to understand how you can become a new member there.
81. Izzy And Liv
This online brand is looking for black lifestyle influencers and ambassadors who exemplify black culture, are comfortable in their own skin, and accept self-expression through fashion.
You must meet these requirements to be considered for the position. To be eligible for the ambassador role, you must have an active social media following on Instagram, YouTube, or your personal blog, as well as a public profile and a loyal following on your social media website.
82 . Happy Earth
This lovely company sells apparel and spends money on protecting the environment.
As a brand ambassador, you should promote them on your social media, and in exchange, they will give you a discount code. Also, you will be the voice of the environment!
83. Ferrari
Ferrari is Expensive but special; Ferrari is a clothing brand and somehow launched some accessories.
They are looking for very special ambassadors to promote them on their Instagram accounts. Their ambassadors have to have more than 50K followers, and they should be influenced.
84. Unemployed Denim
No matter where you are, you may choose from a variety of cozy clothes from this brand. That comes as no surprise, given the brand's specialty in denim.
You can check out their website to see where they are seeking new ambassadors. They are continuously looking to expand their brand ambassador team, so apply if you are interested.
85. New Balance
If you like shoes, this is one of the best companies for you.
You will receive its products and promote them on your social media and talk about the products or take special photos; so then, they will pay you!
86. Pura Vida
Pura Vida's adorable bracelets contribute back to communities! Their contributions have surpassed 1.5 million dollars and have benefited both local and national charities.
If you are a local influencer looking to contribute to charity while enjoying trendy charms, Pura Vida is your best bet. If you want to be a brand ambassador, you must be active on Instagram and Facebook.
87. Lash Factory
This company produces very fashionable lashes with different colors, eyeliner, and mascara.
Nowadays, people want to be pretty anytime, so they do lash extensions. This is one of those brands looking for ambassadors, so you can easily apply for it.
88. Trendship
Trendship is a lovely online clothing brand, you can order anything that you want from their Instagram account, and they will send you for free.
Unlike up to 5 links, you may sign up for up to 5 promotions, and if your brand name likes you, they will give you a product in exchange for you publishing a photo of it.
89. The Skincare Boutique
This company provides anything necessary for protecting your skin in the best way.
Also, they want to use influencers and brand ambassadors to boost their brand engagement. As an ambassador, you should post one video per week and use their product and promote it completely.
90. Amazing Lace
The amazing Lace clothing brand is looking for brand ambassadors.
They send ambassadors free clothes in return, they should post photos with their products. Brand ambassadors will receive regular products as well as recognition for their efforts in representing the firm. Those interested in the opportunity should contact the customer support department via email.
91. Discount Dance Supply
There you can find anything you need in terms of dancing customs.
They are looking for dance influencers to use their products and promote them. So, you will offer the newest products of the company to promote them. Moreover, they are working with Instagram music influencers too.
92. Blue Planet Company
This company sells lots of different models of eyewear, including reading glasses and sunglasses.
Ambassadors, those who have good-looking, can join their team. Promote them on social media and get commissions.
93. Cona Surf Co.
This surf shop focuses on clothing and accessories for men, women, and children.
They were also permitted to create their own surfboard designs. They are now looking for devoted fans and followers to help with community building and social media promotion. Fill out the form on their website and wait to discover if you are eligible to become a customer!
94. Findra
This brand produces sport customs, and the products of this clothing brand is extremely good for outdooring.
If you are a fan of camping and traveling and you can create good content for them, you can be their brand ambassador.
95. Cashmere & Company
This cute clothing brand looking for ambassadors over 16 years old.
Ambassadors should post for Cashmere & Company monthly and encourage the audiences to buy from them.
96. Dia & Co.
A great choice for plus sizes, Dia & Co. Its FILA capsule collection provides a stunning fit. Good looking clothes with special designs for big sizes. They are looking for ambassadors with 5K to 30K followers to join their team.
97. ShopBohm
ShopBohm produces cozy, colorful clothes, for both sizes, big and small.
They are seeking influencers and ambassadors to make good content and promote them.
98. Station 16
Where can one find a delicious meal? Sacramento's Station 16 is the place to go for seafood, according to the most current reviews and opinions.
They provide everything you might want for a perfect lunch, dinner, or delectable breakfast.
If you enjoy presenting your culinary skills as an artist, this is the one for you. If you're an Instagram food influencer who is always ready to photograph a wonderful meal as your profession, your followers will most likely be drooling over your Station 16 posts.
It is possible that you will be requested to upload images, videos, and articles on social media channels. Influencers will be involved in larger marketing campaigns and get access to promotions first.
99. Pop Bag USA
If you admire fashion bags, this is an extremely good choice for you, to be a member of their advertising team.
Pop Bag USA is one of those fashion brands looking for ambassadors to promote them, taking eBay-catching photos with their product.
100. Sprite
People love to drink soft drinks on hot days; imagine a rush day at work in summer, and soft drinks can refresh you.
This company looking for ambassadors to promote this soft drink brand.
101. Mulu Jewelry
Those who are active on any social media like Instagram, Pinterest, Facebook, and YouTube can be chosen by Mulu Jewelry as an ambassador.
102. S-Force Watches
Any kind of influencer, such as fitness, beauty, power-body is a good choice for S-Force Watches as this company ambassador.
103. Twelve Little
If you enjoy gorgeous bags (backpacks, bottle bags, diaper bags, lunch bags, and so forth), Twelve Little may be a good option for you.
You will receive up to 50% off your orders, and you can also spread the word to your followers.
104. Leela and Lavender
Leela and Lavender always looking for ambassadors to reach more and more audiences for them.
You can fill out their application on their website and be a part of their team.
105. The Jacket Maker
Rest assured that this company manufactures exquisite jackets for both men and women and is searching for brand ambassadors to advertise the brand.
In exchange, ambassadors will receive a 20 percent commission on sales referrals, 50% off garment purchases, and a lifetime discount for you and your friends.
106. Born Tough
Amazing gym bags, gym accessories, and workout clothes are looking for brand ambassadors or fitness influencers to promote their products and advertise them.
107. Fenty Beauty
Shining beautiful eye shadows of Fenty Beauty are so popular among makeup artists and beauty influencers.
This company is looking for ambassadors with very active Instagram pages to promote them on their profiles.
108. L'Oeal Paris
This famous French company produces beauty cosmetics, skincare, hair color, etc.
Those who have the talent of promoting people in the best way and making advertising videos. They should be nano-influencers, at least.
109. Huda Beauty
Huda Beauty is well known for its eye shadows.
This cosmetics company always looking for influencers and brand ambassadors to promote their brand and makeup themselves by using its cosmetics and encourage their followers to shop from Huda Beauty.
110. Too Faced'
'Born this way' is the slogan of Too Faced; they are looking for brand ambassadors to promote their cosmetics and show the audiences the quality of their products.
111. Makeup For Ever
Makeup For Ever is another high-quality cosmetics and beauty brand looking for ambassadors to talk to the audience and use their beauty cosmetics and promote them for better sales.
Ainfluencer; The Best Instagram Marketplace to Find Your Ideal Brand Ambassadors & Influencers

Ainfluencer is one of the best marketplaces that you can use to find out the best influencer and brand ambassadors. Moreover, if you want to be a brand ambassador, Ainfluencer makes the way so simple. So, you can join its team and start working.
On the other hand, brands can find reliable influencers and brand ambassadors on the Ainfluencer marketplace and contact them. The best point is that Ainfluencer guarantees to refund your money if the ambassador fails to fulfill the terms of the contract.
Ainfluencer – Top Instagram Influencer Marketing Agency
Let's know better about the Ainfuencer marketing hub. As we mentioned, earlier, this platform is the stable bridge between you and brand ambassadors. Now we are going to provide you with more about its dashboard.
Sign up on the Ainfluencer dashboard
Once you create a profile on Ainfluencer as a brand, you can switch tabs to take the following actions.
Create ads, promote a couple of sentences about your advertising strategy, set a date to publish, decide how long it is going to remain on the influencer's page, and explain your goals for the campaign.
Find influencers; the best feature of Ainfluencer is here. Ainfluencer going to connect you with the best influencers and brand ambassadors. By using a very sensitive search filter that categorized brand ambassadors based on the hashtags, keywords, niche of influencer, language, location, gender, and the number of followers.
We can also gain access to information about your potential Instagram ambassador's profile, such as engagement rate, number of followers, and anticipated pricing.
Get offers; use the Offers tab to have in-app conversations about your terms. Lock that deals down here.
Set up everything on the scheduler; Set your ads and campaigns on the scheduler and manage everything on your calendar – all in one convenient location.
Check out this video for more information on exploring and inviting targeted influencers in Ainfluencer.
FAQs on Companies Looking For Ambassadors & Influencers
People also ask these questions about brands looking for ambassadors. Therefore, let's take a look at these questions.
Q1. How do You Become a Brand Ambassador?
Using a social media marketplace like Ainfluencer is the best way to become a brand ambassador. Also, you can personally search for the brands looking for ambassadors and contact them.
Q2. What Is Brand Ambassador?
Brand ambassador is a person who is hired to promote brands, especially on social media in a long-term relationship.
Q3. Who Is the Global Ambassador of Rolex?
Carlos Alcaraz, Roger Federer, and Jannik Sinner are the most popular brand ambassadors of Rolex.
Conclusion
All in all, we provided you with a complete guide about brands looking for ambassadors, and now you know how to find your ideal ambassadors and influencers and contact them. Also, we provided you with the best influencer marketplace and the knowledge to use the Ainfluencer dashboard to its full potential.
So, don't miss this opportunity. Try Ainfluencer for now to reach your best candidates for promoting your business and taking it to higher heights.