Instagram is one of the most popular social media platforms out there. And social media influencers are becoming an increasingly important part of how businesses reach their target audience. Moreover, influencer marketing has become a significant element of digital marketing strategy.
With customer trust turning to word-of-mouth marketing and advice, firms invest in niche influencers to advertise their product and services and help them grow their brand. But an important question for most Instagram marketers or businesses is how to find influencers on Instagram or how to find Instagram influencers by location.
Utilizing sponsored content, brands can employ creative social media Influencers to create brand awareness campaigns on Instagram and grow key customer connections. To achieve it, you may think about finding Instagram influencers. But a social media marketing strategy to find influencers in your niche may take a lot of time and effort.
In this article, we'll provide you with some helpful tips and tricks so that you will understand how to find influencers on Instagram and how to find Instagram influencers by location.
Moreover, we'll show you the best social media influencer finder, called Ainfluencer, a free Instagram influencer search tool, which helps you find Instagram influencers instantly.
2 Important Steps to Take Before You Search For Instagram Influencers
Before we begin our search for the right Instagram influencers, from macro–influencers to micro-influencers, we should define some parameters that will make our efforts all the more efficient and effective. So, let's dive into key factors on how to find Influencers.
Understand Your Target Audience
Knowing how to find influencers on Instagram can be a great way to take your brand to the next level. Whether you are looking for someone to promote your products or services or just want more exposure for your business, partnering with a relevant influencer on Instagram can help you reach a whole new audience.
The first step in finding the right influencer is to understand who your target audience is. Who do you want to reach? What age group, gender, location, and interests do they have? Once you know who it is that you want to influence, use this information to narrow down potential influencers who fit these criteria.
You can then start searching hashtags and accounts related to them. If an account stands out or has high engagement levels with followers who match what you're looking for, then it could be a good option worth exploring further.
What Personality Type Is Your Ideal Influencer
How to find influencers on Instagram who will represent your brand best? One key factor is personality type – it's important to align yourself with an influencer who fits your brand's values and message.
To start, define what kind of qualities you want in an influencer. Think about their attitude, communication style, and interests. Are they positive and inspiring? Do they engage thoughtfully with their audience?
Once you have those criteria outlined, use online tools such as Ainfluencer to search for the perfect candidate. These tools let you review profiles by keywords and hashtags, so you can quickly narrow down potential matches.
How To Find Influencers On Instagram For Your Brand
If you want to know how to find Instagram influencers for your brand, try to find top Instagram niches, and what your industry demands precisely.
How To Find Influencers On Instagram
Here is a guide to help you vividly find Instagram influencers for your brand to take your Instagram marketing to the next level.
1. Use An Influencer Marketplace
If you want to get the answer to the question of 'how to find influencers on Instagram,' you should know how to use an influencer marketplace.
Finding influencers on Instagram can seem intimidating, but there are plenty of helpful resources to make the job easier. One of the best ways is to use the best influencer marketing platforms and marketplace. These marketplaces are a great way to find relevant and reliable influencers quickly and easily.
Influencer marketplaces provide you with access to hundreds of potential influence partners from various niches around the world. You can search for influencers based on their follower count, platform, and interests.
Also, you can find Instagram influencers by location, which is a very important point for businesses. With this information at hand, you will be able to identify those who fit your brand's target audience best and narrow down your selection.
Once you've found a list of potential influencers to work with, it is important that you take some time to research them further before making any commitments or spending any money.
So, one of the fastest and easiest ways to see how to find Instagram influencers to collaborate with your brand is to make use of a quality influencer marketplace like Ainfluencer.
How To Find Influencers On Instagram Using Ainfluencer
Ainfluencer is one of the trusted, free Instagram influencer search tools and marketplaces.
This marketplace operates as a link between brands and influencers, allowing them to connect and collaborate.
Here are some of the features of Ainfluencer in detail:
Free to use (It's 100% free with no hidden fees.)
Risk-free (The automatic system keeps track of your campaigns and holds funds until you confirm the necessary material.)
AI-powered (Artificial Intelligence is used on the platform to help users discover influencers.)
Influencer audit (Ainfluencer shows you account information like engagement rate, average comments and likes, comments to followers ratio, and likes to followers ratio for influencers.)
Ainfluencer fast, easy and smart
Creating marketplace campaigns (brands can create a free marketplace ad that is posted to the marketplace where thousands of qualified influencers can see and make offers.)
Built-in chatbox (brands and influencers can negotiate the marketing terms and close the deal in the app.)
Real-time analytics (Ainfluencer tracks your performance from start to finish).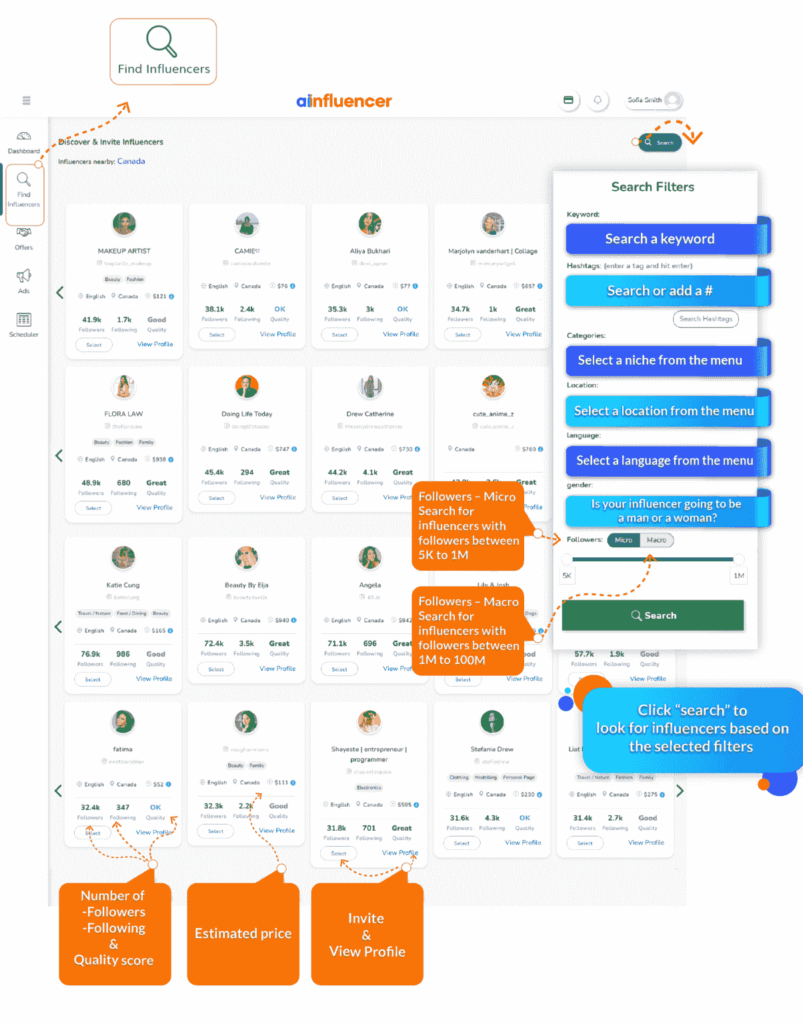 So, you can easily find Instagram influencers in your niche using the Ainfluencer marketplace. 
2. The Influencer's Bio Details
You may think of how to find Influencers on Instagram by checking the influencer's bio? is it a useful way or not? So, continue reading to get your answer.
This is the easiest part of finding social media influencers, you've probably heard about influencers on Instagram and the power of their reach. But do you know how to find them?
Now, look for an influencer's bio on their Instagram account. This is a great way to understand what kind of content they post and who they collaborate with.
Many influencers also include information about their field of expertise in their bio or links to interviews they have participated in. Reading through this gives you insight into why a person might be considered an expert in a certain industry or niche topic.
Next, pay attention to how often the influencer posts and interacts with other users on the platform.
For example, if you know an influencer, you can search for their name. Additionally, if you don't know their name, search for any relevant tags, or find Instagram influencers by location. With this method, you can locate some of them.
Instagram generally displays the most well-liked accounts first; after that, you may check their bios. It's not difficult to identify influencers. Typically, they make a perfect Instagram profile and bio with details to indicate they're open to collaborating with brands.
For instance, some influencers might highlight brand ties in their bio. Likewise, they usually add clickable social media links to their Instagram bio to make it easier to get in touch through DM groups. So you can know their interests and the brands they collaborate with.
This way, you can find Instagram influencers that are related to your business to work with. Relevant influencers know your specialty and value your authority as a thought leader or expert in that particular area. So they can effectively promote your services and goods.
If you want to know more about finding influencers on Instagram, keep reading.
3. Assess Their Instagram Followers And Engagement Rate
If you want to understand how to find Instagram influencers in your niche, you have to know about the engagement rate of those influencers that you want to work with.
Influencers gain engagement from their followers. Posting is excellent, but what if no one takes a move? Getting high engagement implies that the influencer is the right person to set off action among the audience.
But what is a good engagement rate on Instagram? There is no particular number to aim for, but anything in the ballpark of 10% is considered great engagement. However, according to the Hootsuite blog, experts in social media marketing agree that a suitable engagement rate is between 1% and 5%.
The engagement rate shows what influencers and their audience are worth. Basically, it determines how much audiences interact with a post.
Factors that indicate influence engagement are user reactions, comments, likes, shares, saves, mentions, and the number of followers. So, when you find an influencer to work with, check for them all.
To measure an influencer's engagement rate, add the likes to comments from all of the profile's posts, and divide the result by the followers' number. Then, once again, divide it by the number of posts per post on average.
4. Delve Into Their Content
Have you ever thought of how to find micro-influencers on Instagram?
Influencers, especially micro-influencers, can be found among your followers. Additionally, you can find them on the Instagram explore page. Everywhere your research to find influencers on Instagram, you need to understand whether their posts are an appropriate match for your brand and if their posts are the right types of content.
Moreover, check if their photos and videos suit your brand aesthetic. Most importantly, notice if their IG caption ideas are engaging, and follow your brand voice.
5. Look Through Their Comments
When you are searching for influencers on Instagram, it's not unlikely that you'll encounter fake ones. Fake influencers usually use bots or buy IG followers to look more popular. So, with fake followers and engagement, they can't help you. One of the ways to identify fake influencers is to check their fake followers.
Fake followers typically give comments that are similar or include just emojis. Influencers, on the other hand, do not respond to them. If you come across such comments, they must be fraudulent. Real comments are often queries that are relevant to the products and take the form of a dialogue.
Additionally, sometimes influencers don't react to comments. It's another issue. It is essential to find an influencer who takes the time to reply to their comments and cares about their audience engagement.
Ignoring the comments is a big mistake for influencers who aim to build trustable relationships with their followers. So, this is how to find influencers for your brand by reviewing their comments.
6. Go Over Their Non-Branded Contents
Take the time also to inspect an influencer's non-branded content. This grants you a better insight into who they are and what they might work with. When searching for Instagram influencers, keep in mind that the characteristics of the person you want to work with complement your brand and the products you offer.
This way, you can gain greater trust and, consequently, get more IG followers, which means you can easily convert your followers into paying customers.
7. Do Relevant Google Searches
Finding the right Instagram influencers for your brand can be difficult. It helps to do some research and use Google to conduct relevant searches. This article will provide tips on how you can effectively use Google search to find the best Instagram influencers for your business.
Google is a great tool for finding influencers on Instagram. By using keywords relevant to your business or product, you can quickly identify potential candidates that fit your criteria. You should also look at their past posts, followers, and engagement rate to determine if they are truly influential in their niche and whether they would be a good fit for your brand.
Lastly, make sure that their content aligns with yours, so you don't end up working with someone who has a different message than what you want to convey.
Also, by using the Ainfluencer marketplace, you can find Instagram influencers easily and freely.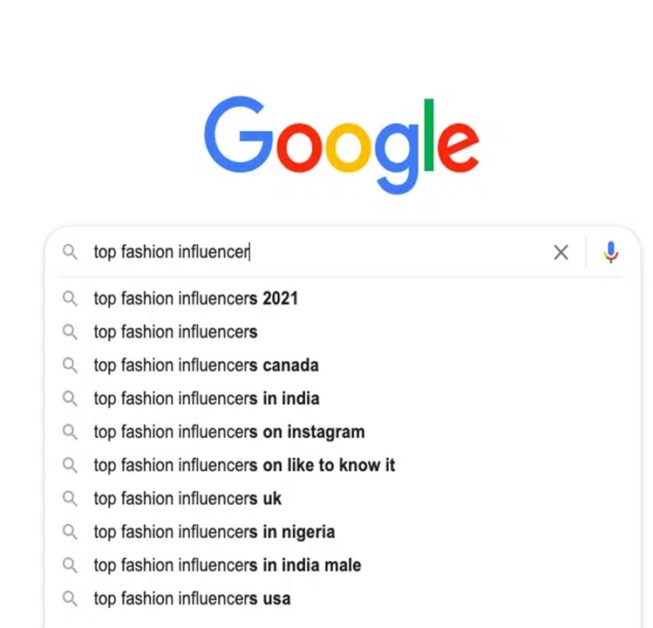 For instance, you can search for 'Best Fashion Influencers on Instagram' if you are a fashion designer. Or search for how travel bloggers make money on Instagram as an influencer. Numerous websites that collect data on them will be displayed. As the Google search engine is also becoming more intelligent, you can use some commands to get the best outcomes. You can use this command, for instance:
site:instagram.com "travel blogger"
This will cause a large list of Instagram influencers and travel bloggers to appear in search results. You can substitute any similar keyword based on your niche in place of "travel blogger." You can also enter the city where you want your influencer to be and the number of followers you want.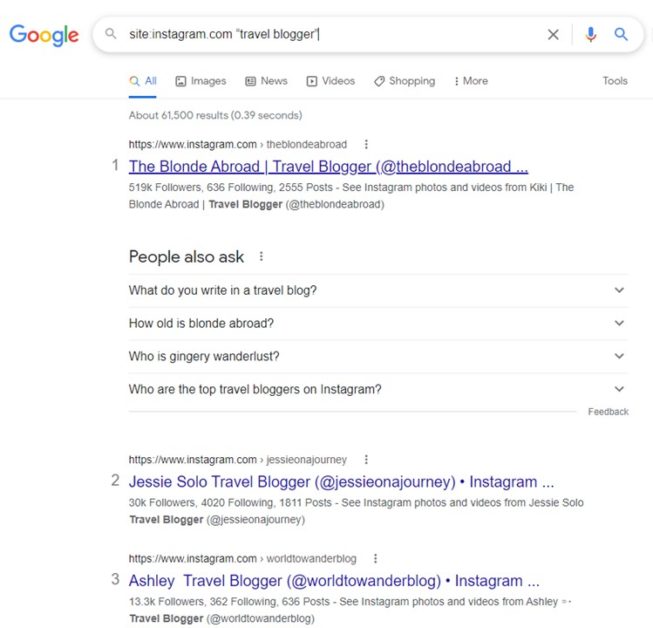 8. Monitor Your Competitors To Find Influencers On Instagram
Competitor analysis is an important criterion for finding real followers and customers. It is also useful for finding related influencers. When you inspect your competitors, be aware of what they are up to, which influencers they partner with, and how they promote their brands. You can get a lot of helpful information by following them.
Knowing how your competitors use Instagram influencers will help you identify your unique value proposition to explain your products using influencers. Also, if an influencer tags or mentions them in a post, it is best to note that information. You can learn more about what appeals to your target audience by examining their Instagram accounts and content strategy.
Thus, you can find the best influencers and take full advantage of them to promote your brand and products.
9. Do Relevant Hashtag Searches To Find Highly Engaged Instagram Influencers
Using influencers to promote your brand on Instagram can be a highly effective way to increase your reach and engagement. But with so many potential influencers out there, how do you find the right ones for your campaign?
A great way to start is by searching relevant and top hashtags related to your industry.
This will help you identify influencers who already have an active interest in the topic and who may already be engaging with other like-minded people in that niche.
When you've found a few possible candidates, take some time to closely examine their profiles. Check their follower counts and engagement levels – are they actively interacting with their followers? Who else are they following? How frequently do they post new content? All of this information can help you decide if the influencer is truly engaged with their audience or not.
10. Monitor Your Followers To Find Influencers On Instagram
If you have a business, have shared some of your products or services, and wonder how to find micro-influencers on Instagram, you can look for IG Influencers among your own followers. Because they tend to follow businesses that provide related products they like to promote.
In fact, one of the best spots to find Instagram's top influencers is among your existing followers, fans, and consumers. For instance, consider following those who frequently engage with your content on Instagram.
Also, watch your tags and mentions to ensure you're not missing out on partnering with influencers who already know you and your brand voice. Developing relations with existing brand reps is a smart move. Besides, they might be eager to collaborate with you without much of a price tag.
11. Find Instagram Influencers By Location
Using location tags or conducting an Instagram location search to find influencers is the other free approach. To achieve this, you can browse them, identify relevant postings, and seek out influencers that you believe will best promote your product or service. But it can be a little bit difficult because everybody can use them, even if they are not in that place.
So, to facilitate your task, you can use an influencer database that some influencer marketplaces like Ainfluencer give you. In the following, we shall explain more about it.
12. Use An Influencer Database
Influencer databases let you search for influencers. They analyze thousands of online influencers to generate a list. Using it, you may discover their social media platforms, follower count, location, posting frequency, and more.
Once you've chosen the ideal Instagram influencer to collaborate with, you can typically get in touch with them as well. Most influencer databases lack the necessary resources to implement and manage Instagram influencer marketing campaigns, while some may charge a fee for these services.
As a result, you'll probably need to use spreadsheets or other tools to organize and manage your campaigns. One of those systems is Ainfluencer, which gives you access to extensive datasets and tools.
Frequently Ask Questions About How To Find Influencers On Instagram
It's possible that you'll have some questions regarding finding influencers on Instagram. We compiled a list of queries that were requested repeatedly by users and provided responses to those questions. If you have any further questions, please do not hesitate to ask.
1- How To Find Influencers On Instagram For Free?
Here's what you can do to find Instagram influencers without spending a penny.
1- Conduct a manual Instagram search
2- Browse through your followers
3- Search Instagram hashtags
4- Google influencer in your niche
2- How Do I Hire An Influencer?
Before hiring someone for your influencer marketing program, you need to develop well-defined objectives and a target audience or buyer persona. Then decide on the type of influencer you need and create a short list of influencer candidates.
Have a price in mind and pick the influencer who offers the right price for your marketing budget. In the end, put everything in writing and sign a contract to formalize what might be a fruitful long-term relationship.
Final Thoughts On How To Find Influencers On Instagram
In conclusion, finding influencers on Instagram is possible with a little research and using the right tools. Once you have identified potential influencers, it's important to build relationships with them before launching any campaigns.
Consequently, you can build and promote your brand and fly off the chart. To sum up, finding a charismatic Instagram influencer helps you get instant results according to your niche.
Now that you know how to find influencers on Instagram, the point is that you, as a business owner or marketer, may not have enough time to find influencers on Instagram. In such a situation, extenuate your work and delegate it to reliable services like Ainfluencer to find influencers for you