It's been a while since you haven't seen your friends, and you couldn't find them by their names on Instagram!? Or craving a pizza and can't wait too long for grabbing a bite? Well, take your mobile phone and look for them on Instagram search location! 'Wait what?!' you may ask wondering how to find someone on Instagram by location!
Instagram has got different searching features built into the platform, and one of them is Instagram's search location. Not only can this feature be used for personal purposes, but also you can use it to target potential customers and followers in your locality and build your brand on Instagram. Therefore, it would be great to know how to find people near you on Instagram.
Moreover, if you have got a date tonight and have no extra time to go so far, the best idea is to find a restaurant near you, and an Instagram search location comes to help you find the best place for your special night.
This article will help you find someone on Instagram by location, and introduce AiGrow as an incredible tool to facilitate the process.
So, buckle up and let's start the journey!
Why You Need to Find Someone on Instagram by Location
As mentioned above, you might be looking for a restaurant near you to take your date to, or wish to find a friend that you only know their cities or streets. But if you are a freelance Instagram marketer or have a local business and want to find new followers and clients, it would be best to use Instagram search location and know how to find someone on Instagram by location!
If you're looking for ways to find new clients, collaborating with local influencers and taking advantage of local influencer marketing is another option you can have in mind. Therefore, using the Instagram location search feature you can find the right influencers to collaborate with.
This way, you can quickly build your brand on Instagram, grow your followers to help your business, and make big bucks out of it using Instagram search location.
As you can see, knowing how to find people near you on Instagram opens new gates to expand your business around you.
How to Make People Find You Using Geotags
Geotagging your location is an excellent way to drive new audiences and generate traffic to your account. Basically, once you take a photo and post it on Instagram, it will consider your smartphone's place as your location. However, if you turn off your location or tag a place as your current location, Instagram considers it.
Therefore, by adding location stickers to your posts and stories, Instagrammers can see your posts when searching your locations.
In the following, there are some location stickers ideas:
Tag your location
Use Events and openings locations
Tag your username in places photos
Tag location in contests and giveaways
Make most of the Location-based Hashtags
How to Find Someone on Instagram by Location
Instagram search location section automatically provides a list of possible locations around you. Therefore, to find someone on Instagram by location, you can choose one of the suggested locations or type in any other location of your choice.
When you start typing, Instagram will show you a new list of locations with the same or a similar name, as well as other popular locations nearby.
Basically, for performing Instagram search Location, use the typical search feature:
Open Instagram app
Tap on the magnifier icon at the bottom of the screen. The search console will come up.
The default option is the 'Top' view. Basically, that is a catch-all category for all the results, including hashtags, people, and places.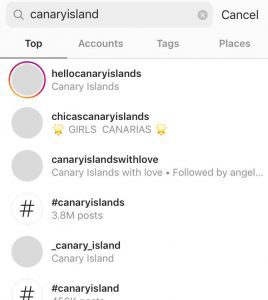 For instance, searching a place like 'Canaryislands,' you'll notice the hashtag #Canaryisland, the various repetitions users have used in the location field, and the accounts with Canaryislands in the name.
So it's the most common way, although the results may be relevant or irrelevant. Therefore, if you only need to find Instagram users by location tap on the 'places.' As a result, you will see the location-based posts.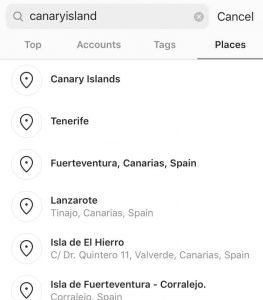 Then, if you tap on each one, you will notice two sections:
Top: The most followed and top accounts relating to "Canaryislands."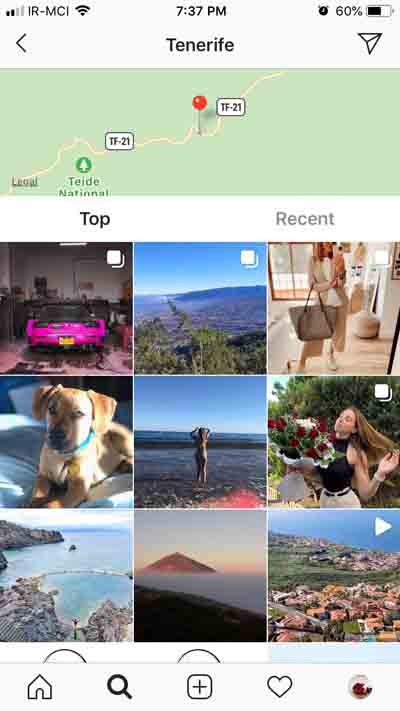 Recent: The most recent accounts tagging "Canaryislands."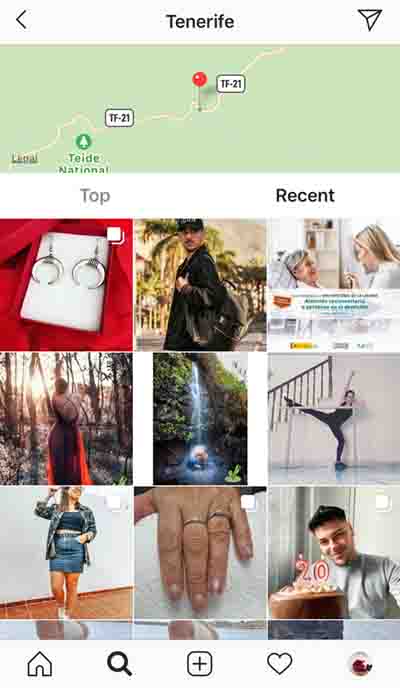 How to See Photos on Instagram with the Same Location
Has it ever occured to you that you were browsing through your friends' posts and suddenly saw a very beautiful photo? The landscape was breath-taking and you wondered where that place was? You check out their location tag and wonder what kind of a place it is? Well, the best way to understand is to use Instagram search by location.
To see photos with the same location, for Android or iPhone:
Tap onat the bottom
Enter the location name in the search console.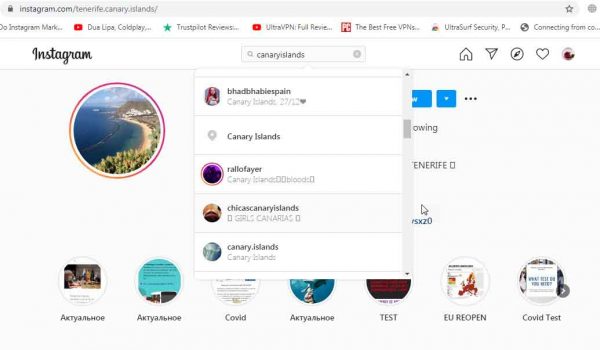 Tap on "Places" to see the locations that match your search.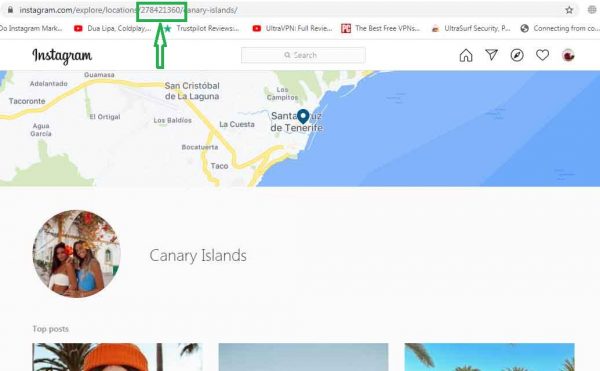 4. Choose the place that you want to see photos for.
In case you need more help on Instagram, click here.
However, if you don't want to go through all those steps, you can take another more simple approach.
How to See the Location for Instagram Posts
In order to find the photos and videos related to a location on Instagram, you can simply tap on the location above the post. This way, you'll be redirected to the section mentioned earlier and see the posts tagged under the same spot.
That's how to search by location on Instagram to find posts similar to the one you were curious about.
Pro Tip: When tapping on a location above an IG post, be careful not to tap on the username, If you do so, you'll be redirected to the profile of the owner of the post instead of the Instagram location search page.
How to Find Someone on Instagram by Location ID
Actually, location ID is a number that Instagram assigns to the locations when users register on the platform. Indeed, to find someone on Instagram by location ID, you must use a web browser to log in to Instagram and go through the following steps:
Go to instagram.com
Search the location you want
Go to the location section and notice the Location ID in the browser
As a local marketer, there are many people and locations you need to search daily. Of course, it is time-consuming to type and search locations every time. However, there is a much better and easier way to perform that.
So, stay tuned!
How to Find Someone on Instagram by Location Easily
AiGrow, an all-in-one Instagram management service, helps you find people near you on Instagram more efficiently.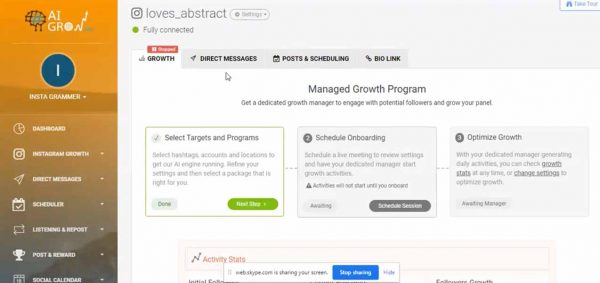 This app will let you save locations and geotags you need and search them whenever you want.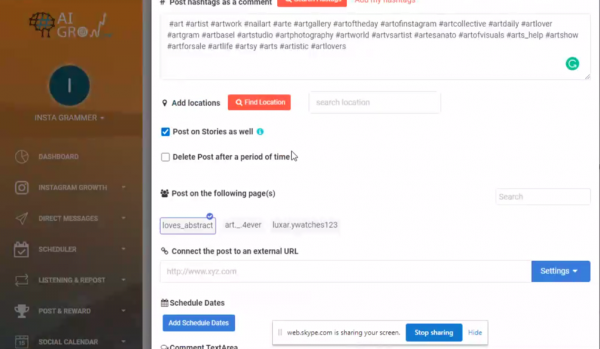 Moreover, you can add up to 80 accounts to your dashboard and post to them simultaneously.
Above all, using AiGrow and choosing locations, you can stay in touch with local influencers, make Instagram DM groups, and get more local followers.
So, don't hesitate and sign up for free and take most of the AiGrow features like:
If you're curious to know more about this awesome tool, you can read this complete AiGrow review we've provided for you before.
FAQs on How to Find Someone's Location on Instagram
So far in this article, we've covered everything you need to know about how to find someone on Instagram by location. Now it's time for your most frequently asked questions to close this chapter once and for all!
Q1. Can People See Your Exact Location on Instagram?
You may have seen viral posts claiming that Instagram reveals your exact location with other users and wonder if it's true. In short, this is nothing but a rumor. Instagram, Facebook, and other similar social media apps keep a record of your exact location, but there's no way for other users to see it.
Although there are solutions to how to find someone on Instagram by location which we have discussed earlier in this article, there's no way for stalkers and people with bad intentions to know your exact location on Instagram.
What Is 'Precise Location' on Instagram?
The precise location feature has been around since 2020 and allows users to provide some applications with their exact location. Some viral posts have accused Instagram of sharing these information with criminals and other users, causing concerns for Instagrammers all around the world. Yet, this is not true.
Instagram's PR team has thus responded to these accusations: "To be clear, we don't share your location with others. Similar to other social media companies, we use precise location for things like location tags and maps features".
So, you may rest assured that your privacy is not violated by any means.
How to Find Nearby Instagram Users 2022?
Suppose you've met someone, say an old friend, at a specific restaurant but forgot to ask for their Instagram id. You've searched for them on Instagram, but haven't been able to find them. After all, not everybody uses their real name on social media.
Under such circumstances, you wonder how to find someone on Instagram. Well, the answer is the location feature on this platform.
As illustrated earlier in this article, using the built-in search section you can search for your desired location and see the posts people have shared under that location tag.
If the person you're looking for has a public Instagram page and has shared a post with the location tag of that restaurant, you can simply type the name of that restaurant in Instagram's search bar and search Instagram by location to find them.
Just make sure you look at the 'recent' posts under that location. The 'top' posts are the ones that have received the most likes and comments.
Final Words on How to Find Someone on Instagram by Location
Instagram search location and hashtags are fascinating features to find people near you and help people to discover you. Also, finding local followers will strengthen your brand reach. Therefore, you can drive engagement, grow followers organically, and generate more leads by targeting your potential followers and customers based on their IG location.
However, finding people by their location can be a very daunting task to do. Thus, we suggest you use AiGrow to search Instagram users by location, gender, age, etc.
Sign up on AiGrow right now! 100% guaranteed!