In the ever-evolving world of Instagram, marketers and content creators continually strive to captivate their followers with fresh, diverse content.
While the platform is primarily visual, there are times when you want to make a bold statement with text alone. But how to post text on Instagram and make it pop amid the imagery?
You undoubtedly make an effort to enhance your engagement rate and grow your followers organically by showcasing your best content.
Posting text on Instagram is undeniably one of the most potent approaches to landing on the Explore page, grabbing attention, and conveying your message effectively. Now, we want to get to the point and tell you how to post text-only photos on Instagram.
Here, we'll show you how to add text to an Instagram photo, how to post long text on instagram, and also introduce you to some third-party apps.
Note: If you are a business and want to make engaging posts, carousels, and text posts that resonate with your brand. AiGrow content creation plan is here to help you!
What Are Text-Only Posts on Instagram
Text-only posts on Instagram are images or graphics that consist solely of written content, without any accompanying photos or visuals. These posts primarily focus on conveying a message, sharing information, or expressing thoughts through text.
These are simple yet effective Instagram content ideas to engage your audience and convey ideas primarily using written words as the main visual element in your Instagram content.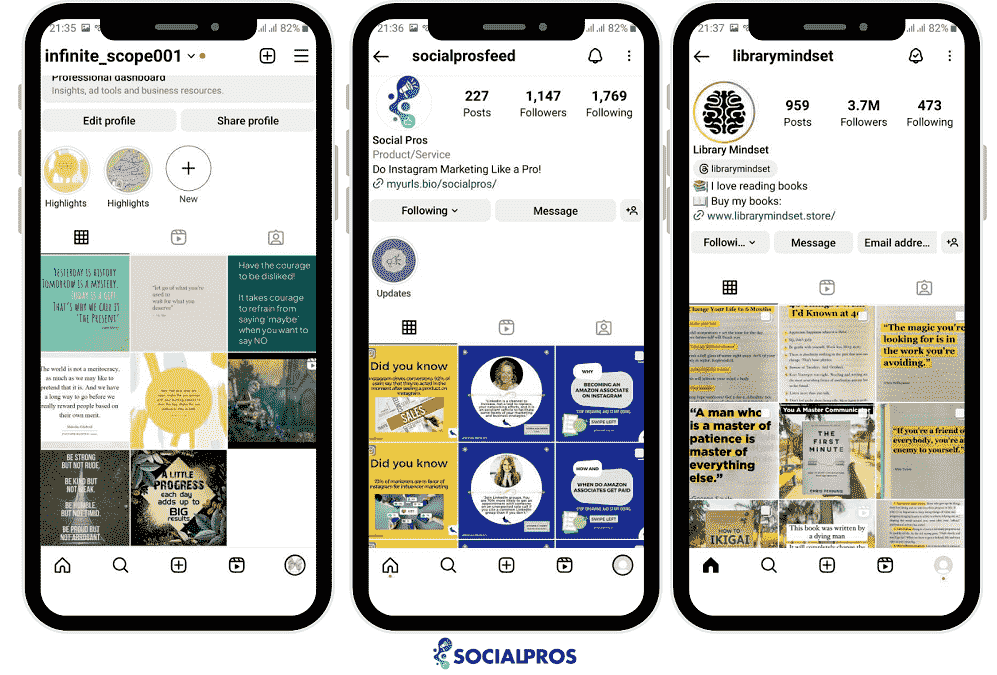 Different features on Instagram help you make engaging content like IGTV videos, Instagram reels, and carousel posts on your Instagram feed. An eye-catching text, illustrations, and a harmonic color palette will transfer bite-sized information to the audience too.
You may have seen minimalist pages that share memorable quotes, and inspiring sentences and spread positive vibes. If you want to be one of them you should know how to make a text post on Instagram.
Who Can Benefit from Text-Only Posts on Instagram?
Businesses and individuals can use text posts to make announcements, promote events, and share essential information with their followers.
Text-only posts on Instagram can benefit a wide range of Instagrammers, including:
Writers and Poets
Whether it's personal anecdotes or storytelling in a more professional context, text posts can be a great way to share narratives and engage with an audience.
Authors, poets, and wordsmiths can use text-only posts to share their literary creations, such as quotes, poems, or short stories, directly with their audience.
Inspirational Accounts
Those running accounts focused on motivation, self-help, or personal development can use text posts to convey inspiring messages, quotes, and affirmations to uplift their followers.
Educators and Coaches
Teachers, tutors, and life coaches can utilize text posts to share valuable insights, tips, and educational content with their students or clients.
News and Information
Accounts dedicated to sharing news, updates, or important information can benefit from text posts to provide concise and up-to-date content.
Infographics and Tutorials
Instagrammers looking to share informative content can create text-based infographics or tutorials for their followers.
Minimalists
Some Instagrammers prefer a clean and minimalistic aesthetic, using text posts as their primary content to convey messages, ideas, or humor.
Such thematic text posts can also be used as the cover of your videos or as story highlights.
Memorable Quotes
Accounts dedicated to sharing memorable quotes from books, movies, or famous individuals can use text posts to make these quotes stand out.
You may draw more visitors to your Instagram page by adding captivating captions, eye-catching hues, and so on.
But what is the best and simplest technique to make text-only Instagram posts? There are some tricks that you can use to save and post text on Instagram and on your phone. From the simplest to the most difficult way, we will show you how to create text-only Instagram posts in the sections that follow. Please bear with us.
How to Post Text on Instagram
Whether you're an artist, educator, influencer, or simply an individual with something to say, text posts can help you effectively communicate your ideas and engage with your Instagram community.
The platform allows you to put text on stories but what you can do to share text-only posts to your feed? Here are all you need from creative ways to third-party services for you. Keep reading.
1. Posting Text on Instagram by Taking Picture of Your Handwriting
Do you want to post text on Instagram without using any images or third-party apps? You can easily write a text-only post and take a picture of your handwriting!
Prepare Your Handwritten Message: Begin by writing the text or message you want to post on a piece of paper or any surface of your choice using a pen or marker.
Ensure Good Lighting: Make sure you have adequate lighting to ensure your handwritten text is clear and legible. Natural daylight or well-lit indoor settings work best.
Capture a Photo: Use your smartphone's camera to take a clear and well-focused photo of your handwritten message. Ensure that the entire message is within the frame and that it's easy to read.
Edit Your Handwritten Text: You can pinch and zoom to resize, move, or rotate the image to your liking. You can also use Instagram's built-in editing tools to adjust brightness, and contrast, or add filters if desired.
Add Any Additional Elements: If you want to enhance your story, you can add stickers, emojis, GIFs, or other elements to the photo by tapping the respective icons.
Add a Caption or Additional Text: You can also add a caption or additional text to your story to provide context or further engagement.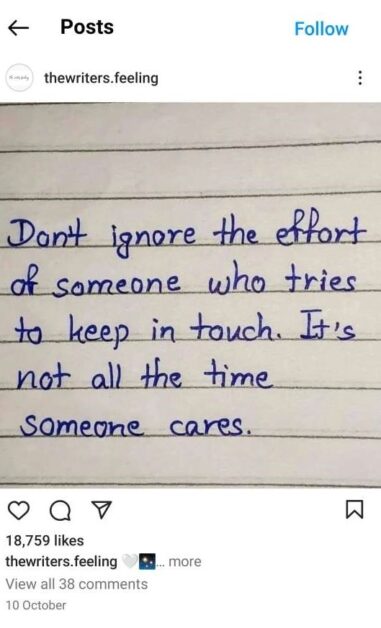 This is a quick and easy method on how to post text on Instagram. You can share your ideas or messages with your Instagram followers. You may even show off your handwriting to your audience this way!
Read more on our site: Top 10 Best TikTok Anonymous Viewers in 2023
How to Post a Text on Instagram Using Stories Create Mode
As mentioned above, it is possible to post a text on Instagram by accessing Instagram stories. Therefore, to post a text on Instagram using stories go through the steps below:
Go to the Instagram app on your phone.
Swipe right or tap on "Your Story" on the top-left corner of your home screen to open your Stories camera.
Select "Create" or "Aa" to start making your text.
Tap the screen to type your text.
Here, you can choose through different font options by tapping the top middle button. Change the size using the slide bar on the left-hand side. Create images with text and add gifs and stickers.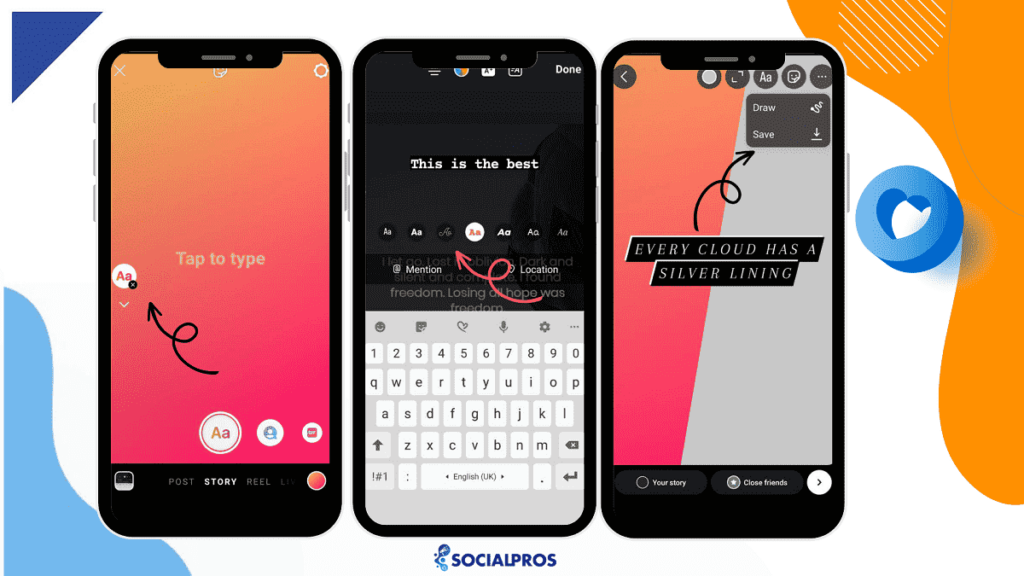 Here, you can edit your text image as you would typically do with a story. Also, you can tap the colorful circle on the top-left side of the screen to modify the background color. When you complete your task, you can save the image to your gallery. Finally, you can post the text-only image on your Instagram feed.
How to Post a Text on Instagram Using Third-Party Apps
Another way to add text to an Instagram photo is using a content maker tool. In the following, we'll go through some of these apps vividly to help you make your post text on Instagram.
#1 Kapwing Studio
Kapwing Studio is a web-based content creator that lets you make these posts easily for free. Indeed, this app has all the tools you need to make your text posts, including image search and a background editing tool.
In addition, you can start with one of its templates or customize the style, size, and color of layers to make an original layout. Also, this app uploads high-quality photos on Instagram on phones, tablets, or PC.
If you wonder how to add text to Instagram photo, you can add text to a photo using this app.
#2 Add Text to Instagram Photos for iOS
"Add Text to Photos" is an iOS free tool that lets you add text to an Instagram photo. Its unique feature is the 3D text design tool, which adds a 3D aspect to your text posts.
To add and post text on Instagram using "Add Text to Photos," go through the steps below:
Take a new picture or select an image from your phone's Camera Roll.
Then, you can rotate, flip, or crop the image to fit your Instagram, considering the best export settings on Instagram.
Here, it allows you to apply a free filter to your image, add your text choosing your desired free fonts.
Next, it lets you pick a font color, add a drop shadow, and adjust the opacity of the writing.
Also, you can add fun stickers to images.
#3 Font Candy
Font Candy is a convenient photo editor that lets you add various style text to an Instagram photo. Also, it allows you to upload pictures and backgrounds to post vertical photos on Instagram without cropping.
To understand how to add text to Instagram photos, see the easy steps below.
Download it on the App Store and the Android store.
Up load the image into the app.
Select the Text icon.
Then, you can drag the text box to the place you want it to appear.
Next, double-tap it to type your message or change the font.
You can also select the Artwork icon and add stickers and graphics.
Now, tap the Color icon to change your text or picture color and highlight it first.
Finally, you can post your text on Instagram. However, it is not entirely free, and to get the most out of it, you must make some in-app purchases for $2.99.
If you're a business owner, managing a startup, or aiming to generate income through your Instagram account but lack the time to produce content, you should consider a more all-encompassing third-party solution. AiGrow stands out as the top service to assist you. Keep on reading for more details.
How to Post a Text on Instagram Using AiGrow
AiGrow is a platform that offers various tools and features to help you manage and grow your Instagram account. It is a complete package of Instagram management tools to improve all aspects of your Instagram account.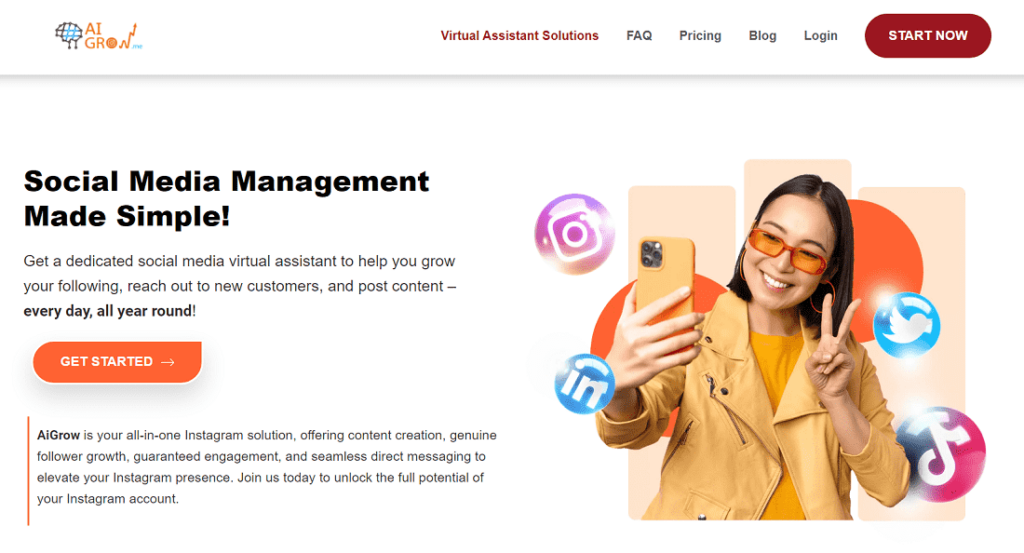 AiGrow offers a comprehensive set of features and tools to assist with content creation, scheduling, and various other aspects of managing an Instagram account.
Here are the details of how AiGrow's managers help in these areas:
Content Creation:
Content Ideas: AiGrow's managers can provide creative content ideas tailored to your brand or niche. They can help brainstorm and develop engaging content concepts that resonate with your audience.
Copywriting: AiGrow's team can assist in crafting compelling captions and text for your Instagram posts. They can ensure your messaging is on point and aligned with your brand's voice and goals.
Visual Design: AiGrow's managers can work on the visual aspect of your posts. They can create or recommend high-quality images, graphics, and videos that are visually appealing and consistent with your brand's identity.
Scheduling:
Content Calendar: AiGrow's managers help create and manage a content calendar. They can strategically plan and schedule your posts, ensuring a consistent and organized posting schedule.
Optimal Posting Times: They use data-driven insights to identify the best times to publish your content for maximum engagement and reach. This helps increase the effectiveness of your Instagram strategy.
Hashtag Research: AiGrow's team can research and suggest relevant and trending hashtags to include in your posts. Using the right hashtags can improve your post's discoverability.
Engagement and Monitoring:
Follower Interaction: AiGrow's managers can respond to comments and direct messages on your behalf. They engage with your followers, answer inquiries, and foster a sense of community.
Audience Analysis: They can analyze your audience's behavior and preferences to adapt your content strategy. This includes tracking engagement metrics, demographics, and user interests.
Competitor Analysis: AiGrow's team can keep an eye on your competitors, identifying successful strategies and potential areas for improvement.
Growth Strategies:
Follower Growth: AiGrow can implement growth strategies to attract new followers organically. This may include activities like follow/unfollow, engagement with target audiences, and more.
Reporting and Analytics:
AiGrow's managers provide detailed insights and reports on the performance of your Instagram account. This includes metrics like follower growth, post engagement, and reach.
Troubleshooting and Optimization:
They are available to address any issues that may arise with your Instagram account. If something goes wrong or needs adjustment, they can quickly troubleshoot and optimize your strategy.
Customized Support:
AiGrow tailors its services to your specific needs and goals. Their managers work closely with you to understand your brand and its unique requirements.
AiGrow's experienced team plays a crucial role in helping you achieve your Instagram marketing objectives. They combine their expertise with the platform's tools to create a customized and effective Instagram strategy for your business or personal brand.
How to Post Long Text on Instagram?
Posting long text on Instagram can be a bit challenging because Instagram primarily focuses on visual content. However, there are a few creative workarounds you can use to share longer text on Instagram:
Use the Carousel Feature
Instagram allows you to create carousel posts, which are essentially slideshows of images or videos. You can use this feature to share a longer text post in a series of images.
Upload a series of images or photos with your text divided into sections. You can use text overlay on the images to create the appearance of paragraphs or sections.
Create a Story Series
Instagram Stories can also be used to share longer text. You can create a series of Stories with text content.
Open Instagram and tap your profile picture to create a new story.
Use the text tool to add one part of your text.
Save the first Story as a Highlight on your profile.
Create subsequent Stories for the remaining parts of your text.
Add them to the same Highlight.
Encourage your followers to view your Highlights for the full text.
Link in Bio
In the caption of a regular Instagram post, you can write a brief introduction to your long text and include a call-to-action for your followers to click the link in your bio for the full text. You can use a URL shortening service to make the link more visually appealing.
Struggling to share all your important content through a single Instagram link? AiGrow has the perfect solution for you! With AiGrow's "Link in Bio" tool, you can post engaging long-form content and drive your followers to read the full text with a single click.
Sometimes, you might need to condense your message to fit within Instagram's limitations. Write a concise and engaging summary, and then direct your audience to your blog, website, or other platforms where you can share the full text.
Remember that the attention span of Instagram users tends to be shorter, so it's important to make your long text posts engaging and visually appealing to retain your audience's interest.
Final Thoughts on How to Post Text on Instagram
Posting text on Instagram is a popular way to deliver your message to your audience vividly. In addition, it will increase your brand awareness and reach. Therefore, you can make most of the above tools to create and post text on Instagram.
FAQs
Q1. Can I only post text on Instagram, or can I add images too?
You can add images along with text or choose to post only text. It's up to you.
Q2. Do text posts on Instagram get as much attention as visual posts?
Text posts can be attention-grabbing, especially if the content is compelling. However, images and videos still tend to get more engagement on the platform.
Q3. How can I make my text posts more engaging?
To make your text posts more engaging, use eye-catching fonts, include emojis, relevant hashtags, and post content that resonates with your audience.