Have you ever seen many people add location tags to their posts on Instagram? You may have tried to add one to your post but encountered a problem, such as the Instagram location not working.
Also, sometimes you search for people or a nearby location on Instagram, but it is not working and shows no results. Don't panic! All the problems with location on Instagram can be solved in a few minutes, and you can also prevent them from happening again.
In this piece, we will tell you how to fix Instagram location not working errors. So, keep on reading to see why it says the location is not available and how to fix it ASAP!
Note: We also introduce you to a service that works as an assistant for your Instagram called AiGrow. It is a growth tool that can help you add locations to your Instagram at any time and place!
Understanding the Instagram Location Feature
Before we delve into troubleshooting, let's understand how the Instagram location feature works. When you post a photo or story, you can add your current location. This not only lets your followers know where you are but also makes your content discoverable to users searching for posts from that location.
Instagram geotags, also known as location tags, have a great impact on attracting local followers and boosting your visibility. According to studies, by adding a geotag to your Instagram post, your engagement rate increases by 79%, which is great.
Common Issues on Instagram Location Not Working
Several issues can hinder the proper functioning of the Instagram location feature, such as posts not showing up on the location's page, incorrect location tagging, or the inability to tag locations altogether.
If you have a business on Instagram and want to add location to your stories or posts but you face a problem, you should immediately solve it.
So, if you wonder why does my business location on instagram disappear? Or your Instagram location not working at all, keep reading.
Why Is Location On Instagram Not Working?
Sometimes users encounter some problems, such as the Instagram location not showing up, or Instagram couldn't fetch locations.
Remember that, before going to fix the error, you should know why the location on Instagram not working.
Actually, problems with the Instagram location may have some simple reasons, or they may happen because of some technical issues. But, the most frequent reasons include:
Poor internet connection,
Full mobile cache,
Disabled location access on your phone,
Using an outdated version of Instagram,
And technical problems and bugs that are happening because of Instagram updates and reconstructions.
So, no matter if Instagram in nearby places not working, or the Instagram location has no results on iPhone, Android, or even a PC, figure out the reason, and then try the following solutions to fix it!
How To Fix Location Not Working On Instagram
Now that you figured out why does it say location not available and why location not working on Instagram, you must try to solve the problem.
In the following, you'll read about three easy solutions to fix Instagram location showing no results on iPhone, Android, and your PC. So, stay tuned.
#1 Try The Basic Solutions
Like most errors, you can troubleshoot the 'location on Instagram not working' error by checking some basics. These fundamental solutions include:
1. Check Your Internet Connection
Ensure you have a stable internet connection. Location services require an active data or Wi-Fi connection to function correctly.
2. Update Instagram
Ensure you are using the latest version of Instagram. Outdated apps can sometimes have issues with certain features. Go to your device's app store and check for updates to Instagram.
3. Log out and Log back Into Your Account
Logging out and back in can resolve various minor issues with your Instagram account, including location-related problems. This simple action can refresh your account settings and potentially fix the "Instagram location not working" issue.
4. Uninstall and Re-Install the App
Uninstalling and reinstalling the app can help refresh the app's settings, ensuring that it functions correctly, including its location services.
5. Clear Cache and Data
On Android, you can clear Instagram's cache and data by going to 'Settings > Apps > Instagram > Storage > Clear Cache and Clear Data.' On iOS, you may need to uninstall and then reinstall the app.
6. Restart Your Device
Sometimes, a simple restart can resolve location-related issues. Turn your device off and then back on.
7. Adjust Location Settings on Instagram
In the Instagram app, go to your profile, then tap the three horizontal lines in the top-right corner (or the three horizontal dots on Android) to access settings. Scroll down and tap on Privacy > Location and make sure it's set to "While Using the App" or "Always." Choose the option that best suits your preferences.
8. Check for Restrictions
If you have parental controls or restrictions enabled on your device, these might prevent Instagram from using location services. Check your device's settings for any restrictions and disable them if necessary.
9. Check Instagram Status
Sometimes, the issue may be on Instagram's end. You can check Instagram's status by visiting their official Twitter account or website for any reported outages or issues.
10. Contact Instagram Support
If all else fails, you can reach out to Instagram's support team through the app or their website for further assistance.
Remember that some features may vary depending on your location, so if you are in a region with limited access to location services, some Instagram features may not work as expected.
Additionally, if your Instagram location is not working, you may not know how to add a location to your Instagram stories, reels, or posts. In the later parts of this article, we will show you how to do this.
But now, let's explore what you can do if you're still stuck and don't know why it says "location not available." Usually, after trying these solutions, your problem is resolved. Nevertheless, if the issue persists, proceed to the next set of remedies.
#2 Use A Third-Party App
If you tried all the tips mentioned above and you still don't know why does it say location is not available on Instagram, you may have to try a social media scheduler to add location tags to your posts and stories.
For this, AiGrow is the service we suggest you use. Using AiGrow's scheduler, you are able to schedule Instagram posts, stories, and IGTV videos.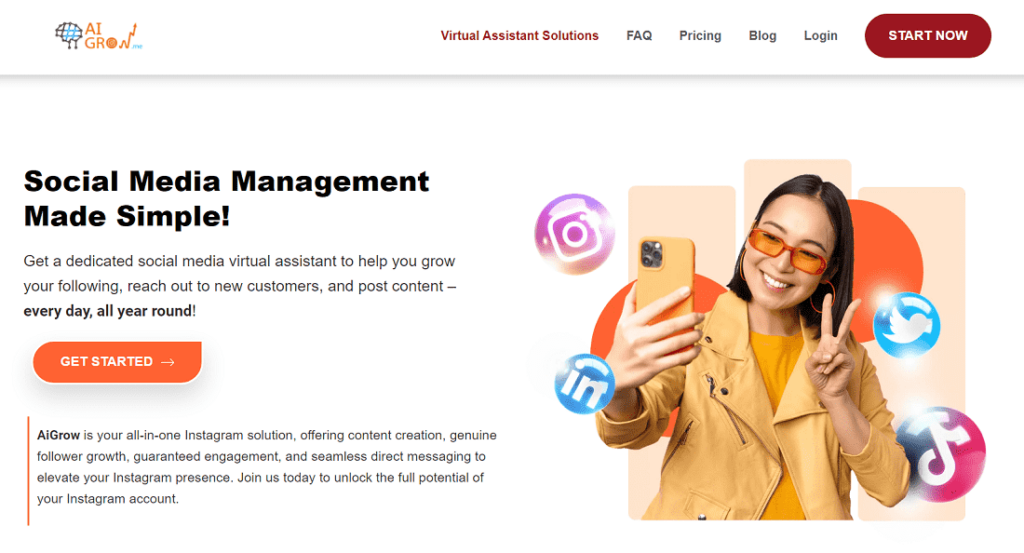 When scheduling your content, you have the options to:
Search and upload content from Unsplash,
Add multiple hashtags to your posts simultaneously,
Tag Instagram users, even if you cannot tag someone on Instagram using the official app,
Share your posts on stories as well,
Post on multiple accounts at once,
And geotag your Instagram posts.
So, hopefully, when you see that location on Instagram is not working, just log in to your AiGrow dashboard, and under the scheduler tab, upload your photos and add locations:
Using this scheduler, you'll never see that Instagram location has no results on iPhone, Android, or PC. So, sign up now and try it now to get rid of this annoying issue.
#3 Hire An Instagram Account Manager To Prevent & Fix All Types Of Issues
Luckily, you'll figure out why does it says 'location not available on Instagram' and fix it using the two tips mentioned in the previous paragraphs. But how to prevent this error from happening again? Apart from this error, Instagram users report many other issues every day. For instance:
Instagram is not posting,
And thousands of similar issues. Unquestionably, facing such errors would be unpleasant and they may stop you from using Instagram. But wait! We have a great suggestion for you!
Recruit an Instagram consultant and let an expert take care of your account issues.
Fortunately, AiGrow enables you to have a dedicated Instagram account manager. With this service, you won't face any Instagram bugs, and in case an error occurs, your account manager fixes it in a few minutes. So, you'll have the chance to have a better experience managing your business on Instagram.
Let's return to our main topic of "Instagram location not working." As previously mentioned, if you're facing difficulties adding a location on Instagram, here are the steps on how to do it.
How to Add a Location on Instagram
The Instagram location's usefulness has gradually increased. Adding a location provides numerous advantages for your company. Use the correct location tag if you want more people to find your brand on Instagram and tell your fans where they can find you.
If you wonder how to add a location on Instagram, follow these steps:
Add a new post by tapping the '+' button,
Then adjust your post and click 'next',
After that, there are some adjustments. One of them is 'adding location',
Now you can tap on 'add location' and search for the place you want to add.
Pro Tip 1: If you want to search location on Instagram for nearby places you can tap on 'turn on location services', then you can locate the place you are and add it.
Pro Tip 2: If you want to add a location after you share a post, you can:
Tap the three dots,
Then tap on the edit post.
Above your post, the 'Add Location' tab will appear,
And then you can add the location and save it.
As you may already be aware, Instagram allows you to add custom locations to your posts. Keep reading to learn how to accomplish this.
How To Add Custom Location On Instagram?
If you've used Instagram for more than 2 years, you've definitely noticed that some photos have custom locations, most of which don't exist at all. For instance, somewhere in the past people used 'home sweet home' frequently, but this didn't refer to a specific location.
The Best 3 Instagram Location Ideas
Did you know that you can add your personality or something else instead of a location on Instagram? Users sometimes create custom locations to be funny or show their status. Here are some examples and ideas for customized locations on Instagram.
Unfortunately, after the major updates in 2020, this feature was removed and you cannot add custom locations using the official app anymore. By the way, you still have the chance to add previously-defined locations like 'Somewhere out in the Middle of Nowhere'.
Additionally, if you wonder how to create a location on Instagram, you can add a custom Instagram location using your Facebook account. You can follow these steps:
Open the Facebook app and tap 'Check-in' at the top of your Facebook feed.
Using capitals, enter the name of the location you want to add in the search bar, then scroll down and hit 'Add.'
Choose a relevant category for your location and tap 'create'.
Then, open the Instagram app, create a 'New Post' and tap 'Add Location.'
Finally, you can select your newly created location and tap 'Share.'
1. Instagram Location Idea: I Need Coffee
If the thought of going to work on a Monday morning has you feeling depressed and you want to use location tags entertainingly, this Instagram location idea is for you. If you are in charge of handling social media for a coffee shop or café, you may also put this one to good use.
2. Location on Instagram Idea: Give Away Time
If you have great Instagram giveaway ideas and wish to host one, you can get your followers enthusiastic to join and use this location tab to reach out to new audiences.
3. Instagram Location Idea: Link In Bio
Another Instagram location idea is the term 'link in bio,' which can help you generate leads or engagement for your business. You can use it instead of a location. There are many posts on Instagram with this location so that you can attract more people to your IG account.
However, keep in mind that it does not function in the same way as an Instagram link in bio tool. If you want to generate traffic to your website or online store, including a link in your bio is one of the best ways to motivate your followers to act and buy from you.
The AiGrow-Link-in-Bio tool allows you to add buttons to any website on the web, as well as your WhatsApp link, to link viewers to the correct page. Plus, you can design it to make sure everything is consistent with your brand! You can read here to know how it works.
How to Add a Location to Your Instagram Story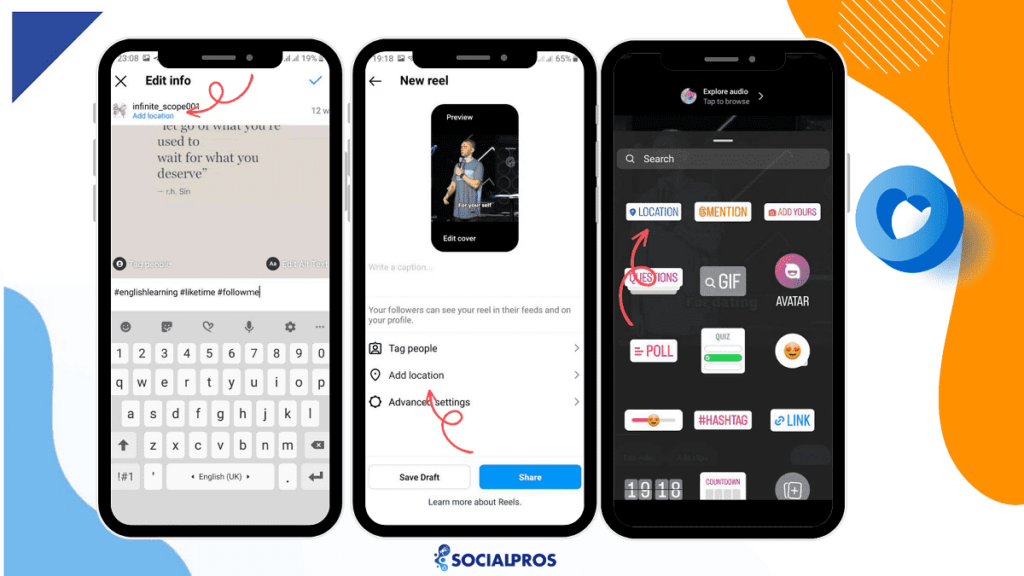 To add a location to your Instagram story, follow these steps:
Open Instagram: Open the Instagram app on your mobile device. Make sure you are logged in to your Instagram account.
Access Stories: Swipe right on your Instagram home feed or tap your profile picture in the top-left corner of the app to access the Stories camera.
Take a Photo or Video: Use the Stories camera to take a photo or record a video for your story. You can also swipe up to access your device's gallery and select a photo or video to use.
Add Location: After capturing or selecting your media, you will have various story navigation on the screen. Look for the "Location" sticker. It often appears as a small square icon with a location marker or map pin. Tap the "Location" sticker to add it to your story.
You can either manually type the location you want to add or use the search bar to find it. Instagram will provide you with a list of location suggestions based on what you've entered.
Final Words on Instagram Location not Working
For different reasons, the Instagram location not working. But here, we tried to cover all the possible solutions. Read the article to solve the issue, and if you know of any other ways to fix this problem, leave us a comment.
As we mentioned above, if you don't have time and don't want to deal with any troubles concerning your Instagram location, you can use AiGrow to help you schedule your posts and add any location you want.
So, don't waste your precious time and sign up from here.
FAQs on Instagram Geotags Issues
Q1. How To Turn Off Location On Instagram?
To turn off location on Instagram, you don't need the Instagram app. Actually, this can be done from your device settings. In other words, you must turn off your GPS or disable Instagram from tracking your location. For this, follow these steps: 
Open your phone settings.
Under the privacy settings, go to the location services.
Here, either choose to turn off the location services completely or from the list of apps you see, find Instagram and disable its access to the location services.
Q2. Why Isn't My Instagram Story Showing Up On The Location Tag?
Actually, this is just a more specific version of the location on Instagram not working. This means that the reasons are almost the same, and you have to follow similar steps to solve the issue. But hopefully, AiGrow also has a story scheduler by which you can properly add geotags to your stories and make them show up on the location tag.
Q3. Why Does My Business Location on Instagram Disappear?
You may ask why my business location is not showing up on Instagram anymore? To answer this question you can scroll up, then you will be able to solve your issue if you put the advice we gave into practice. But, if you are unable to resolve the issue, you can add your location once more.