"What is Linktree?", "Is Linktree free to use?", "Is Linktree safe to use?", "What are the best Linktree alternatives?" You probably have these and lots of other questions on your mind about Linktree. The good news is that you're in the right place. You'll find the answers to your questions in different sections of this article, and we'll also introduce a free Linktree alternative along the way.
Have you ever wished you had a space to include all the links you wanted people to see? Well, you no longer need to wish to have that space. Myurls.bio is an all-in-one bio link tool that lets users create a personal page and share multiple links.
This is excellent news for any one of us and especially those active on social media. In most social media channels, take Instagram, for instance; users are limited to adding only a single link to their profile.
This restriction is a significant hassle for users. You have to constantly update your bio link to make sure your audience is always clicking on the correct link. At first, maybe you think changing a link every few days is not really that big of a deal.
But let's think of it this way. Imagine you're a blogger, influencer, marketer, or in general, you're someone who relies on social media platforms to achieve their business purposes. So you'll have to keep your audience regularly engaged by putting up written content, videos, podcasts, Ebooks, or any other content format accessible.
In that case, you really can't change your bio link every day! Well, actually, you can. But you'll waste much effort and time on a meaningless task. Instead, it would be best to opt for using services like Myurls.bio to make things easier for yourself.
In this article, we'll discuss everything you need to know about Myurls.bio, such as how to use it, pricing, reviews, and compare it with Linktree.
So without further delay, let's jump in to find out more about this bio link tool.
Myurls.bio: The Best FREE Linktree Alternative
As you might already know, to get the full benefit from Linktree, you must pay six dollars a month. But what if you want to benefit from Linktree Pro features but don't really find it that valuable to pay for? Enter Myurls, one of the best free Linktree alternatives!
Myurls is one of the best Linktree alternatives on the internet. There are lots of sites like Linktree. But the reason we're recommending Myurls is that you get to access all the features of Linktree pro with a free Myurls account! These features include: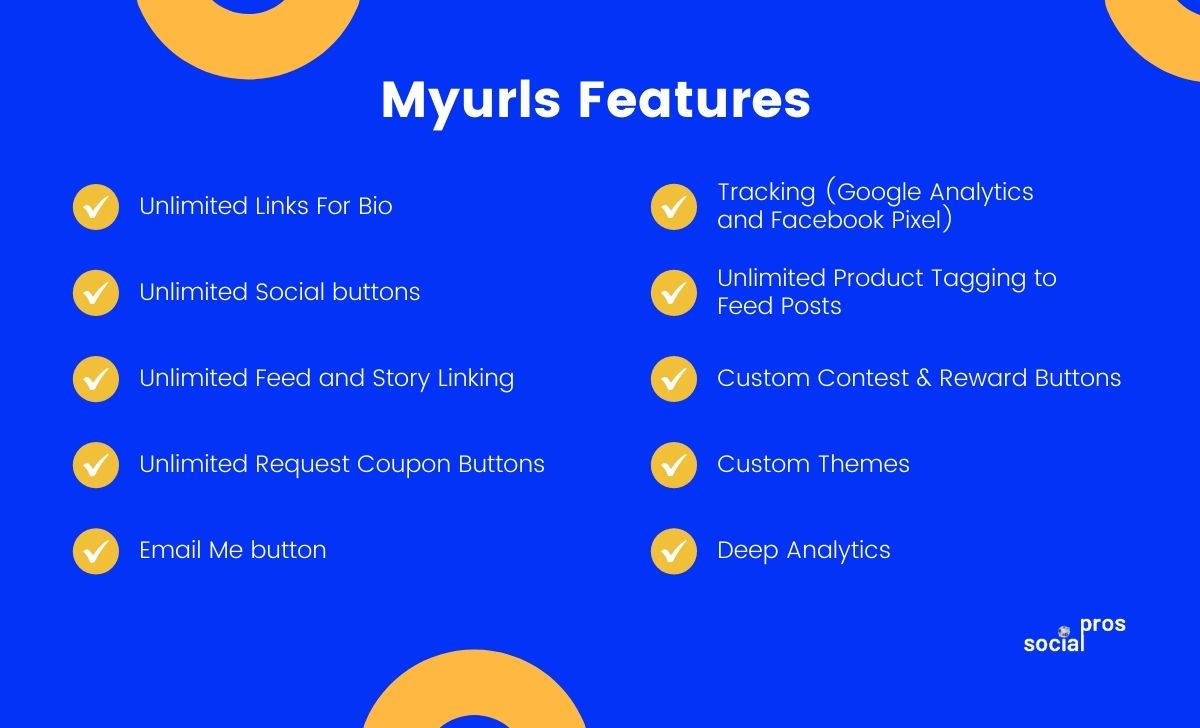 How to Use Myurls
To start using Myurls, you'll need to have an Instagram account. The reason is that the tool was initially built for Instagram bio link and later expanded for other purposes. This shouldn't be a problem since the majority of us are active on Instagram. Next, follow these steps to claim your free Myurls account:
Add your Instagram account and verify it (

NOTE

: none of the information you enter will be stored on their server. They'll only use it to connect to Instagram on your behalf)

On the page, click on the blue button that says 'Claim' (note that you can edit your username before hitting this button)

Finally, use the panel below it to add your links
If you don't have time to read through the steps, try watching this guide on how to get started with Myurls:
What is Linktree?
What is Linktree? And what is Linktree used for? ? Is Linktree free? Is Linktree safe? Good questions.
Let's begin by discussing what lies at Linktree's core. Linktree is a website that allows you to house every important link you want to share with people. This all-in-one link storing platform is the oldest yet most popular tool on the market. Marketers often call such platforms a "bio link tool" or "link-in-bio tool." You can find lots of similar services these days. We can refer to Campsite.bio, Allmy.bio, and Bio.fm, to mention a few.
Using Linktree, you can create a page for yourself and use it to keep the important links. We'll show you how to do so in the later sections of this blog.
Typically you'd use Linktree or similar services to add multiple links in one single link then place it in your social media accounts bio. This is super useful for Instagram users since they're not allowed to add more than one link to their bio.
Is Linktree Safe to Use?
Based on what they've shared on their website, Linktree claims that the biggest influencers, creators, publishers, and brands use their tool.
To mention a few, we see large companies like Red Bull and the French beauty products maker Loreal. You'll even see GaryVee and Selena Gomez featured on their homepage. Also, they claim to be mentioned on Forbes and Entrepreneur.com.
What's more important is that their website states they never track users' personal data, further guaranteeing their tool's security. So judging by all this information, we can say Linktree is probably safe to use.
User reviews, however, tell a different story. We'll go over some of the reviews in the next section of this article.
Linktree Reviews
Based on the reviews made on G2, Linktree users are mainly dissatisfied with:
The themes and designs are pretty basic and not business-friendly

It's not on-brand (meaning it doesn't rightly represent the identity of a business)

No integration or API access to manage a Linktree account through other platforms

Limited button animations

Not appropriate for business purposes

Hit or miss performance when using it for Instagram

Features are minimal for free users

No moderation on the quality of links added to their website
Keep in mind that these are other people's experiences with Linktree and may be inaccurate. You can't only rely on them to make a decision. It's best to try it yourself first.
Linktree Pricing
By paying 6 dollars a month or 60 dollars a year, Linktree will provide you with a new set of features. Some of the useful ones include:
Directly send users to a target website

Schedule when your links go live and off

Give animated styling to your priority links

Add Email and SMS links
You can see the Pro subscription fee is really cheap, and this alone could encourage you to buy it right away. But just because it's cheap, it doesn't mean you should purchase it. You can decide to go with the pro version depending on your needs. But as long as you need a space to add your links to, a free Linktree account will get the job done for you.
How to Use Linktree
Now let's move on to how to use this alternative to Linktree and add your links. You'll be stunned by how straightforward it is to get started with Linktree. Follow the steps below:
Go to the login page.

Enter all the information required and click on 'Sign up with email.'

Verify your Email

From the top menu bar, click on 'Links.'

Hit 'Add New Link'

Write a title and paste the URL
And that's really it for how to use Linktree! Once you've gone through all the steps, you only need to copy your Linktree profile link and place it anywhere you wish!
Our sample page on Linktree or the one on Allmy.bio are among the thousand examples you can create. Remember, you can go ahead and try out Linktree's other options. For instance, you may decide to add a thumbnail to a link. But using such features is really optional and up to you.
Wrapping it Up
We all need to use many links every day, especially if we're active social media users. Most social media platforms have strict rules when it comes to including links on accounts. So in these cases, the ideal solution is to use a link housing tool and allow access to all your links through tapping on a single one.
And when it comes to which tool to use, Myurls does a great job of beating its rival since it offers all the required features for free. So why not use a bio link tool that's completely free and customizable?