Finding your Instagram story not posting when you need it can be frustrating. However, you should know you are not alone, as many Instagram users have reported the same problems with their Instagram stories not uploading correctly.
Among Instagram's essential features, stories have proven incredibly popular. Because of this, marketers spend a lot of time and energy creating the best Instagram story ideas for their audience. Yet, what if you have great content, but the Instagram story is not posting?
If you have encountered this problem and wonder why can't I post on my IG story, don't worry. In this article, we will explore the common reasons behind the problem of 'Instagram story not uploading' and provide practical solutions to help you overcome this frustrating issue.
💥Note: AiSchedul is a fantastic third-party assistant tool that will aid you when your Instagram story is not uploading. This app is one of the most effective solutions to solve Instagram story issues. Continue reading to find out more.
Why Are Instagram Stories Not Posting
You may spend time crafting the perfect story only to find that it fails to upload. And when you encounter the problem of your Instagram story not uploading, it can be incredibly frustrating. This can leave you feeling disappointed and wondering what went wrong.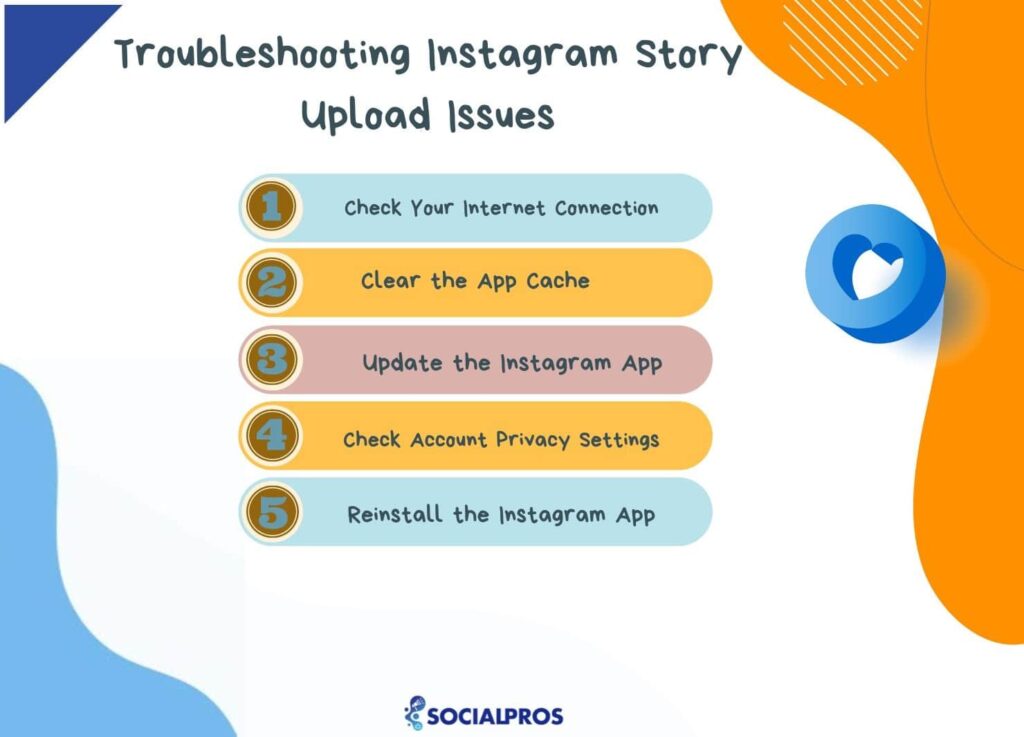 Instagram bugs, like when Instagram stories are not working or when you can't post on Instagram, may be due to many reasons. However, these are some most frequent reasons you may not post your stories on Instagram.
Your Internet connection is lost.
You are not permitted to share posts or stories from some private account to your story.
Your software is not compatible with your application's version.
You may have violated Instagram's terms and policy and are banned from posting stories.
It is simply because of Instagram's technical issues. In this case, you can only wait.
Now, let's see what to do when an Instagram story not uploading.
Instagram Stories Not Uploading! How to Fix
It happens quite often that users report that their stories have stuck while uploading and ask why is my Instagram story not posting. We will mention a few ways to solve this issue in the following.
#1 Instagram Stories Not Posting? Check the Basics
First, it is essential to pay attention to the primary causes. There are several reasons why your Instagram story may not be uploading. It could be due to a poor internet connection, software glitches, or even issues with your account settings. Understanding these causes will help you troubleshoot the problem effectively.
1. Check Your Internet Connection When Instagram Stories Not Posting
As mentioned above, a weak internet connection is one of the most frequent reasons you can't post an Instagram story. Try to check the connection, connect and disconnect once and see if the issue of the Instagram story not uploading is fixed.
Turning on airplane mode and then turning it off again is another simple and more convenient way you can reboot all your connectivity features.
2. Clear Your Cache When Instagram Story Not Posting
If your phone cache has become full, it can be the reason that your Instagram story won't upload. So try to clear your Instagram cache once and see if the issue is fixed.
If you are using an android, clean your app data on Settings> Apps > Instagram > Clear data.
If you are using iPhone, you can clean your app data on iPhone's Settings> General > Storage and iCloud usage. Find the Instagram application and click on the 'Delete App.' Finally, go to the App Store and reinstall Instagram once again.
Doing so will prevent your phone from using the cache data on your application, and may fix your issue of the Instagram story not uploading on your phone.
3. Close the Application Manually When Your IG Stories Are Not Posting
Sometimes when Instagram is not uploading stories, restarting the application manually and forcefully will help.
If there are no troubles with your cache or internet connection, try to force close the application and reopen it to check if the problem is fixed.
To close your Instagram application manually on your iPhone, follow the path below:
iPhone's setting > General > iPhone Storage > Instagram > Offload App
To close your Instagram application on your Android, proceed as follows:
Settings > Applications > Instagram > Force Stop
And after doing this, try to post the story another time. Hopefully, it will fix the problem of the Instagram story not uploading.
#2 Wait for Instagram Staff to Fix the Bug When Stories Are Not Posting
Sometimes there is a technical issue you cannot do anything about except wait for the bug to be fixed. The #instagramdown hashtag on Twitter is a good place to identify if this issue is from Instagram's end or not.
You can also simply ask other users or change your device to determine whether your issue is not unique to you.
#3 Post Instagram Stories via AiSchedul
Occasionally, it is hard to use the phone application to post Instagram stories. Maybe it is because of the many errors that may occur or simply because it is hard to convert files from your pc to your phone. In this case, the best way is to get help from a professional third-party assistant.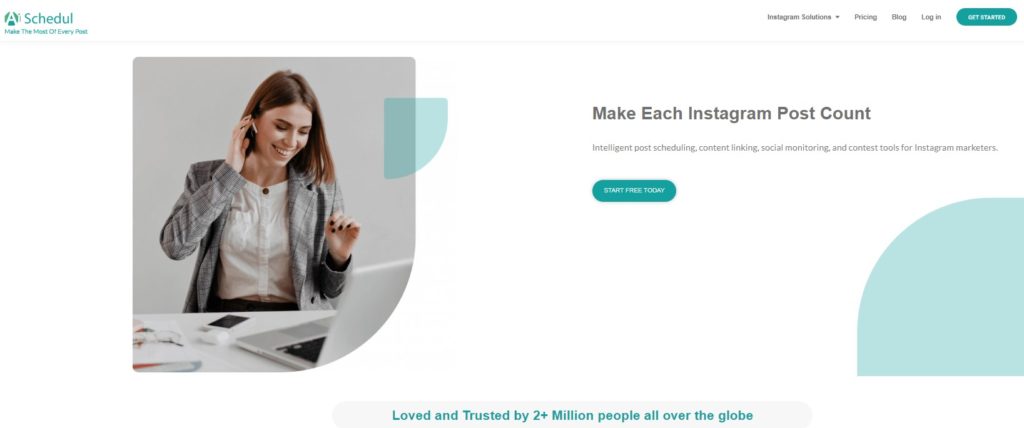 AiSchedul is a free third-party Instagram manager that can help you greatly when your story is not posting and you have management issues. You can use AiSchedul from your desktop to add music to your stories, add external links, and design your stories most professionally. In the following, we are going to teach you how you can use this application to post your stories most easily from your desktop. 
First, sign up for AiSchedul for free using your email address.
Log in to your Instagram account.
Choose your account from your Dashboard.
From the POSTS AND SCHEDULING tab, click on the Schedule button and choose the story button.
AiSchedul will provide you with different facilities to manage your story. Upload whatever you want to post from your PC.
You can add external URLs to your story from the URL section.
Finally, click on submit once you are done.
Sign Up for AiSchedul now to fix the story not uploading on Instagram.
#4. Stop Using Those Damned Emojis
Emojis are another possible reason for Instagram not uploading stories. According to comments, users added several videos, and they all managed to get posted when they were without any GIFs. However, after adding an emoji to one video, the issue of Instagram not posting stories occurred again!
To avoid this issue, here is how you should proceed:
After editing your Instagram story, hit save and exit Instagram stories.
Next, go to Instagram stories again and upload the Instagram story via your gallery using the previously saved photo/video.
Although a bit tedious, it may solve the problem with your IG story not uploading.
#5. Check for Instagram Updates
There is the best chance of fixing 'Instagram not posting stories' by hoping that Instagram resolves the issue with an upcoming app update. Therefore, if you haven't updated your app lately, maybe there is a pending update that hasn't been installed. For more information on how to update your Instagram app, click here.
#6. Inappropriate Content
Another common cause for the Instagram story not uploading is inappropriate content. The best way to prevent it is to be aware of Instagram's terms of use. If you post offensive content that violates the Instagram rules, you can also be punished, blocked, or even have your account banned!
#7. The File Format Is Not Compatible
None of the suggestions worked for you, and you still ask why is my Instagram story not uploading? Then, let's check the file format for the IG story not posting.
Keep in mind that Instagram's limits apply to files up to 15 MB in size and MP4 format. In addition, the video's duration can't exceed one minute, the frame rate has to be 30 FPS, not 60 FPS, and the video resolution can't exceed 1080p. Read our social media image sizes and specs guide for more information.
#8. Get In Touch with Instagram
Alternatively, you may contact Instagram directly about your technical issue, asking: why won't Instagram let me post on my story?
To do this, first, go to your Instagram profile and tap on the Menu icon. Next, tap Settings.
In Settings, tap on 'Help' and then select 'Report a Problem.'
Then, Instagram asks you to be specific about the issue (for instance, the Instagram story won't upload) and provide as much information as possible (for example, what type of device you're using or how often you have trouble with your Instagram story not uploading).
Note: If more people report this issue, the sooner Instagram can work on fixing the Instagram glitch and release a new Instagram update.
Why Are Instagram Stories Not Loading & How to Fix
Now that we have mentioned how to fix the issue when your Instagram story is not posting, it is time to consider the case from the other point of view. What if I can't see other people's stories? As with posting stories, there may be different causes for not being able to view other people's stories.
The weak internet connection and fundamental issues are still the leading causes. You can use any of the above methods to deal with these problems. However, in this section, we will teach you another highly efficient method that helps you with loading issues and lets you watch others' stories anonymously with the aid of the incredible tool AiSchedul. So keep reading!
You may always need to watch other people's stories without being detected for many reasons, so using this method is not only about fixing issues. In this case, AiSchedul has provided you with a Story Scheduler we will now cover.
Load Stories with the Account Monitoring Tool
To use this magnificent tool, sign up to AiSchedul, and log in to your IG account. You can find the account monitoring tool by taking the following path.
Choose your account from your dashboard.
Go to the Post and Scheduling tab.
Open the Scheduling section.
Click on Repost and choose the Story option.
Enter the username you want to view their story, click on Show posts
Open their stories. You can repost their stories on your account too.
Read our AiSchedul review to learn more about this handy tool.
FAQs on Instagram Story Not Uploading
Why can't I post stories on Instagram? Here are some frequently asked questions on the topic. Let's take a look at a few of them.
Q1. How to Delete IG Story That Won't Upload?
Unfortunately, there is no delete option for the stories not posting on Instagram. In other words, if you want to delete the story, you'll need to wait for it to fail or post. If Instagram can't post a story and it is stuck in the process of uploading, it is a wise decision to reset your Internet connection.
Putting your phone in airplane mode allows you to delete the stuck story. Afterward, you can attempt to post the story again.
Q2. Why Won't My Instagram Feed Load?
It is the other widespread problem that has recently affected many Instagram users. For more information, read this article on how to fix the Instagram feed not showing. We have related articles about other Instagram glitches, including:
Q3. Why Isn't My Instagram Story Posting from My Gallery?
To fix this, remove the app from your device and reinstall it. It seems to be a bug.
Q4. Why Can't People Share My Instagram Story?
There could be various reasons why people may not be reposting your story. It could be due to a lack of interest in the content, concerns about copyright or privacy, limited visibility, unappealing formatting, unfamiliarity or trust issues with the author, or a combination of these factors.
Technical issues could also contribute to the inability of people to repost your story. If there are glitches or limitations with the platform or medium where you've shared your story, such as a broken sharing button or a restrictive reposting feature, it can hinder others from easily sharing your content.
Q5. How to Let Others Share Your Post on Instagram Story?
To allow others to share your post on their Instagram story, ensure that your account is set to public. Create a compelling post and enable the 'Add to Your Story' option before publishing. Encourage your followers to share the post on their story by explicitly inviting them in the caption or through engagement.
Final Word On Instagram Story Not Posting
You may encounter the 'Instagram story not posting' error for many reasons. The causes may be fundamental or technical. Here, we identified a few solutions to help you resolve the annoying 'Instagram story won't upload ' issue.
However, it is always most beneficial to get professional assistance while dealing with Instagram bugs. AiSchedul is a scheduling and management tool that helps you get through these situations and overcome Instagram errors and bugs. So, if you do not want to lose your chance of sharing an Instagram story at the best time, get started with Aischedul now.  
If you have any problems with the above instructions, please feel free to leave us a comment, and we would be happy to assist you.