If you are looking for a solution to fix your Instagram Stories not working, you have come to the right place to find the answer. In addition to addressing Instagram Stroy not working problem, we will answer your frequently asked questions like why can't I like Stories on Instagram or why are my Instagram Stories upside down!? Hopefully, after reading this guide, you'll be able to fix the IG Stories difficulty you're experiencing. So, buckle up and follow along to the end!
Stories are one of the best features of Instagram and have become a real hit among IG users. There are many creative ways to use Instagram Stories. By checking the Stories, you will view your favorite brand's page at a glance or update your followers with your new service or product. Therefore, you don't have to scroll down your Instagram homepage to see your desired feed. Moreover, Insta Stories are an excellent way to increase Instagram's engagement rate. However, it is frustrating when 'Instagram Stories not working' and you only see the spinning circle.
This article will cover a complete list of solutions to help you troubleshoot when Instagram Stories are not working. However, if you are too busy to go through the details or deal with Instagram glitches and problems on your own, our top suggestion is to use a manual third-party application like AiGrow. With AiGrow, you can rest assured that your IG account runs smoothly and grows efficiently. To learn more, let's get started!
Instagram Stories Not Working Solutions
Usually, Instagram Story loading happens instantly, and you don't need to wait too much. If the video or sound is corrupted, it may cause the Instagram Story not working issue. Nonetheless, other factors may also cause this sort of problem, and we will discuss them thoroughly in this post.
Is the loading screen displaying a spinning circle? If you see the spinning circle on your Instagram Stories for a longer time, it means your Instagram Stories not loading correctly. Therefore, to solve this issue, go through the following steps and see how you can fix the problem.
1- Check Your Internet Access
Having a poor internet connection is the leading cause of Instagram Stories not working. A weak WiFi signal or a problematic network area may result in your Instagram Stories not loading.
To solve this root cause, open your other apps such as Facebook or YouTube to see if they are working correctly; otherwise, check your internet connection in the first step through speed test websites like Speedtest.net.
Your smartphone may be connected to WiFi, assuming you have an internet connection, but your Stories not working on Instagram. In this case, maybe your router is out of order, or you have no internet connection. Also, you may say you are using cellular, and your Instagram Stories are not working. So, switch it to WiFi and check if it is working. If WiFi isn't available, turn your phone on and off again.
Another easy way to reboot all your connectivity issues is to turn on and off your phone's airplane mode. Doing so often can help fix Your IG Stories not working.
If you are still having trouble with your Instagram stories not loading, keep reading for other solutions.
2- Restart Instagram App
If there is no connectivity issue, it is time to focus on the Instagram app to troubleshoot Instagram Stories not working. The first answer to any broken app is restarting it; it works in most situations! Whether you are using IOS or Android devices, you have to follow different steps to restart your Instagram app.
# How to Restart Instagram App on Android:
1. First, navigate to Settings and Apps on your phone.
2. Next, select Instagram and 'Force Close.' Now, restart the app to see whether Instagram Stories, Reels, and Feed posts are loading and whether you can see the new content or not.
If the Force close option is unavailable, your app is crashed.
# How to Restart Instagram App on iPhone:
1. Go to the home screen and swipe Instagram up to close the app.
2. Open it again from your app drawer and retest.
Still, your Instagram Stories not loading? Then, jump into the following method.
3- Restart Your Smartphone
To ensure the problem is not your phone, you can reboot your phone if your Instagram Story not loading and then retest the Story.
It's a straightforward process that can fix some glitches on Instagram. However, if Instagram Stories do not load, go through the next step.
4- Clear Your Instagram Cache
Another way to solve the problem of Instagram Stories not loading is to clear the Instagram cache. Sometimes, there can be issues with your cache, or it can simply get too large for your phone to handle it normally. If you wonder how to clear cache on Instagram, follow the steps below:
How to Clear Instagram Cache Android:
Go to Settings
Then select 'Manage Apps.'
Finally, select 'Storage,' and clear 'Cache.'
How to Clear Instagram Cache iPhone:
Open Settings
Tap on 'General' and 'iPhone Storage.'
Locate and tap on Instagram
In the end, tap 'Offload App.'
If it didn't help and your Instagram story is not working, the next solution may be helpful.
5- Update Your Instagram or Reinstall It
Sometimes, your Instagram Stories' sound and videos are not working because you use an outdated Instagram version. Therefore, update your Instagram app if your Instagram Stories not working correctly. Otherwise, you can try to reinstall Instagram, hoping to resolve your enigma. Remember that you need to be connected to the internet to update your Instagram or reinstall it.
How to Update Instagram on IOS:
1. Navigate to Settings and then General.
2. Choose iPhone Storage and select Instagram.
3. Tap Delete App and confirm.
4. Open the App Store and download and install the app.
How to Update Instagram on Android:
1. Go to Settings and Apps
2. Elect Instagram on your device.
3. Tap Uninstall.
4. Then, open Google Play and install the new version of the Instagram app.
6- Instagram Stories Not Loading? Check The Date & Time on Your Phone
Your phone updates the date and time automatically. But, a system glitch will cause mal functionality, and Instagram Stories won't load. Hence, to check your date & time go through the following steps:
On IOS:
1. Navigate to Settings and select 'General.'
2. Choose 'Date & Time.'
3. Then, make sure that the option to set your date and time automatically is on.
On Android:
1. Go to Settings
2. Tap on 'General Management' (or use the search console and type 'Date and Time' to go directly to the Setting.)
3. Select 'Date & Time,' then reset to automatic or update your Time Zone.
7- Inappropriate Content
Before uploading your high-quality videos, Instagram can detect their content, preventing them from being posted with inappropriate content. Therefore, if you're wondering, why aren't my Instagram stories loading? Maybe you'd better check this possibility too. The best way to prevent it is to be aware of Instagram's terms of use and respect them.
8- The File Format Is Incompatible
Not supporting your video or photo format is another explanation for why my Instagram is not loading my Story. Instagram Stories' optimal image size is 1080 x 1920 pixels with an aspect ratio of 9:16. In addition, its duration can't get over one minute, and the frame rate must be set to 30 FPS and not 60 FPS. You can check out our complete guide on social media image sizes and specs for more information on this topic.
9- Post Your IG Stories From Your Gallery
Another possible solution to your Instagram Stories not working problem is to share them directly from your phone's gallery.
To do so, capture your picture or record your video outside the social media app, open it in your phone's gallery, then follow the steps below for Android smartphones:
Tap on the photo in your phone's gallery and select the sharing icon (shown in the image below).
Next, a pop-up will appear with all the apps through which you can share the image. Look for the Instagram Icon that's captioned with the word Stories.
In this way, you will be taken to the default menu where you can post a new story. Many people have found this method helpful in solving their Instagram stories not working issue. So, take a chance and give it a shot. You may find it useful as well.
10- Your Phone Is In Battery Saver Mode
It could be another reason for your Instagram Stories not loading. In other words, when the battery saver mode is enabled on your phone, it may cause Instagram Stories not loading error to maximize your phone's battery mode. So, you'd better go to your smartphone's Settings and from there, check the Battery option. If it is on, turn it off. Sometimes, something so simple can result in your IG Stories not working correctly.
11-Use an Instagram Story Scheduler to Fix Instagram Stories Not Working
AiGrow is a safe and reliable Instagram scheduler that acts as a hero for busy managers. AiGrow has an Instagram repost app that lets you open the stories instantly. Also, you can download and Repost a Video on Instagram Story, watch them whenever you want, and regram a Story with ease.
12- Hire an Instagram Account Manager and Resolve All Errors
AiGrow will help you fix any types of bugs and errors. In fact, with an AiGrow, you can add 80 accounts on your dashboard, add music to your Instagram story, get 8000 likes, and gain Instagram comments for free from REAL people, no fake followers.
AiGrow group has a qualified Instagram account manager to watch out for your account problems about bugs and troubleshoot. Hence, you won't face any Instagram bugs, and in case of an error, your expert will fix it ASAP.
Grow your Instagram safely with AiGrow.
Instagram Stories Sound Not Working Solution
To check why Instagram stories sound not working, you can go through all the above solutions to fix it. If the issue stands still, try the below instruction:
1. Go to the Instagram app.
2. Navigate to the settings and click on Videos.
3. Select Sound.
4. Then tap on the Ringer.
All Instagram marketers are too busy to resolve any single problem on the platform. Therefore, it's better to prevent any further glitches, but how? The best answer to this question is a powerful Instagram management tool called AiGrow.
Get your mind off your Instagram growth worries.
This Story Is Unavailable Instagram
Instagram is a popular social media platform that allows users to share photos and videos with their followers. Sometimes, however, you may come across the message, "This story is unavailable Instagram." This message indicates that the story or post you are trying to view is not publicly available.
There are several reasons why this message appears. One reason is that the user who posted the story may have deleted or made it private. If a story or post is private, only the user's approved followers can view it. Another reason why you may see the message "this story is unavailable Instagram" is that the user's account may be temporarily or permanently suspended. If an account is suspended, all content associated with that account, including stories and posts, becomes unavailable.
If you see the message "this story is unavailable Instagram," you must respect the user's privacy settings and not view their content without permission.
Instagram Stories Repeating Solution
If you're experiencing Instagram stories repeating problem, there are a few steps you can take to solve the problem.
Firstly, try clearing your Instagram cache. This often resolves issues with the app and stops stories from repeating.
If that doesn't work, try uninstalling and reinstalling Instagram. Alternatively, you can update the Instagram app to the latest version. Instagram regularly releases updates that fix bugs and improve app performance. You can ensure the most stable version by keeping your app up to date.
Another solution is to check your internet connection. A poor or unstable connection can result in Instagram stories keep repeating.
Finally, if the problem persists, contact Instagram's customer support team. They may be able to offer further assistance or investigate if there is a technical issue with the app.
In short, if you're struggling with Instagram stories repeating, try clearing the cache, uninstalling and reinstalling the app, checking your internet connection, and contacting Instagram support if needed. By following these steps, you can fix the problem and enjoy uninterrupted story viewing.
FAQs On Instagram Stories Not Working
Why are Instagram Stories not loading? Here are some frequently asked questions on the topic. Check them out to get clear-cut answers to your questions.
Q1. Why Are My Instagram Stories Upside Down?
If you have encountered with Instagram Story upside-down issue, clear the app cache. In most cases, it will help you to resolve the problem.
But if you still have trouble understanding why my Instagram Stories are upside down after clearing the Instagram cache? I suggest deleting and reinstalling the latest version of the Instagram app.
If the above solutions did not work for you, then, lastly, restart your phone. After restarting your device, check to see if your Instagram Story is upside down or not. As a last resort, you can contact Instagram's support team to report the problem.
When you report the problem, make sure to include every little detail, such as;
The brand of cellphone (Apple, Samsung, etc.)
The main problem is: "My Instagram Story is upside down".
In the meantime, waiting for Instagram's technical team to resolve these technical issues is the only option.
Q2. Why Is Instagram 60-Second Story Not Working?
First, I would like to inform you that the Instagram 60 seconds story is not showing because Instagram temporarily removed it. As Instagram is testing the feature in some countries, only a small number of users have access to it. During the testing phase, Instagram may remove the feature without notice.
To fix Instagram 60 seconds story not working, you need to wait until it's made available to you. Meanwhile, it is better to update your Instagram app to the latest version. Also, try connecting to a VPN where the feature is available.
Q3.What Is the Best Third-Party App for Fixing Instagram Glitches?
AiGrow is one of the best Instagram account management services with all the features you'll need to run a successful account.
Using this tool, you will have access to a dedicated and professional Instagram account manager who is always there to help you with Instagram glitches and technical problems such as Instagram Stories not working properly.
If you want to gain access to a wide range of helpful tools and have a dedicated account manager who genuinely cares about your online success, sign up now to get started with AiGrow.
Q4. Why Is Music Not Working On Instagram Stories?
You can resolve this issue by following the steps below:
First, make sure your Instagram app is up to date.
The second way to troubleshoot your Instagram music feature is to sign out and sign back in again.
The other easy fix is to uninstall and then reinstall the app.
If none of these troubleshooting tips worked for you, get in touch with Instagram customer service.
Q5. Why Are My Hashtags Not Working on Instagram Stories?
There are some reasons why Instagram hashtags do not work on Stories. You may use the same group of hashtags in every content. Also, it may be that you are using the wrong amount of hashtags.
If you find it difficult to include strategic, top Instagram hashtags for your Instagram Stories, AiGrow also offers a hashtag generator tool, helping you search and find the right hashtags in a blink.
Q6. Why Are Instagram Story Likes Not Working?
In February 2022, Instagram's Story likes feature was just being rolled out. So if you have issues with Instagram Story likes not working, chances are it's just not available on your account or in your location.
Firstly, try to upgrade your Instagram version to the most recent one. Secondly, log out and back into your Instagram account. If none of these fixes the problem, you can contact Instagram's help center.
Q7. What Is the Fix to Instagram Draw Not Working on Stories?
Instagram Stories lets you draw on your Instagram pictures. Once you fix your Instagram Stories not working by following the steps above, you will also have access to this feature to start drawing all over your Stories.
In this way, you'll see two icons in the corner: A text box and a marker. If you tap the text box, you can add text, and if you tap the marker, you can draw. Three drawing tools are available: A pen, a highlighter, and a neon pen, which gives you a white line with a neon border.
Q8. Why Are Links Not Working on Instagram Stories?
The new feature of sharing links in your IG Stories can be highly beneficial to your Instagram marketing strategy.
If you want to fix links not working on Instagram Stories, first try to update your Instagram app to the latest version.
If your app is updated but you still have difficulty with link stickers on IG Stories, turn your phone off and on, which was an effective strategy for some users who were missing the Link sticker. Still, have difficulty with links not working on Instagram Stories? Then you may be experiencing a random bug.
In this case, after reporting the problem, you should wait for Instagram's support team to resolve the technical error.
Q9. How Can I Fix Instagram Live Not Working?
There are times when some users report that Instagram Live isn't working. If you have problems with Instagram Live not working, check out these simple solutions:
Restart your phone. It is the easiest and most practical solution.
Update your Instagram app and open it again.
If the Instagram live still does not work, clear the cache.
To fix Instagram Live not working, check if Instagram has permission to access your phone's camera.
Check also your Internet connectivity.
If Instagram live is not working, there may be a technical issue and the Instagram server may be temporarily down. Hopefully, this Instagram glitch won't last long, and Instagram will resolve the Instagram Story not woking problem as soon as possible.
Q10. What Can You Do to Ensure the Instagram Story Not Working Problem Doesn't Come From Your End?
In most cases, Instagram is down, resulting in your Instagram story not working properly. The first sign to detect Instagram is actually not working is to check the Outage.Report website. It is a good way to find out if the other users are facing similar technical issues to you when trying to reach Instagram.
It will show the percentage of complaints IG users face like Instagram not posting, Instagram DM glitches, or if everything is just not working, among others.
The website only gathers and organizes complaints by the type of report, or from where they originate. If Instagram isn't working for you, you can report it on the website and help other users.
Another option is to visit the Downdetector website. It will tell you if Instagram is down, if it is experiencing problems, or if it is working normally. Additionally, you are able to see the Instagram status in different countries, so you know if the platform is down worldwide.
Q11. How to Turn off Sound on Instagram Stories?
Here is how to turn off sound on Instagram Stories:
To turn off sound on Instagram Stories, follow these simple steps:
Launch the Instagram app and swipe left to access the camera screen for Stories.
Record or select the video or photo you want to post as a story.
Click on the 'Volume' icon at the screen's top. A speaker symbol represents this icon.
The volume icon will now display a line through it, indicating the sound is turned off.
Post the story without sound by clicking the 'Your Story' icon at the bottom of the screen.
You can also turn off the sound in a video posted to your story. To do so, click on the video and then select the 'Volume' icon again to turn it off.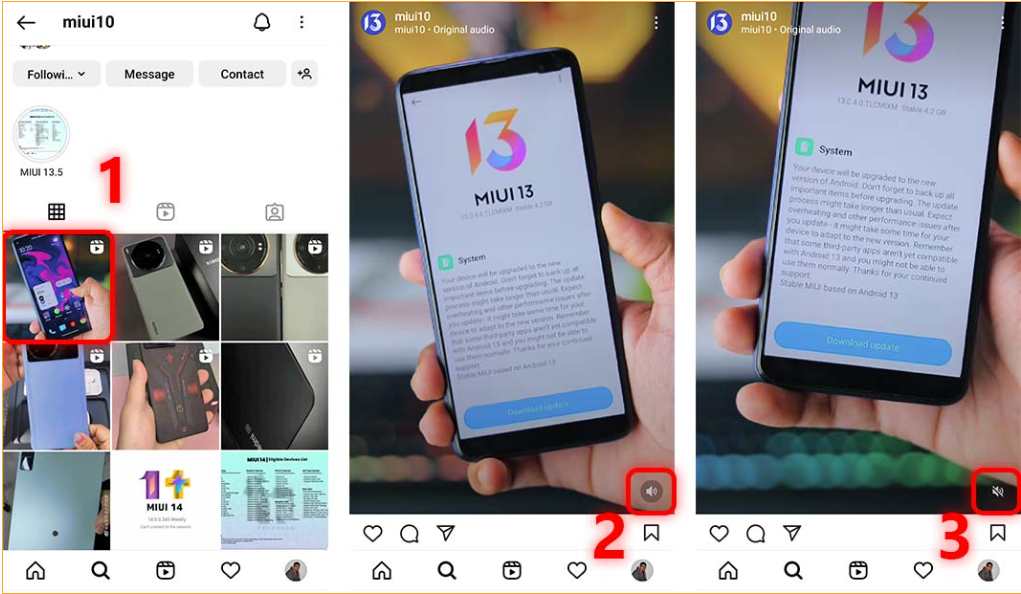 As you can see, turning off sound on Instagram Stories is easy and quick. Following these steps, you can turn off sound on Instagram Stories and share your content without audio.
Final Thoughts on Instagram Stories Not Working
This article discussed ten top solutions to your Instagram Stories not working correctly. To our knowledge, these solutions can quickly fix the problem of Instagram Stories not working on your IOS or Android devices without any further hassles.
However, if you do not have enough time to deal with Instagram glitches and issues on your own, our top suggestion is to use potent helper tools for Instagram like AiGrow. Using this tool, you will have access to a professional manager who will monitor your account, ensuring its smooth operation at any time.