Are you facing the vexing issue of constantly getting logged out of Instagram?
Many users get tired of the inconvenience and wonder, 'Why my Instagram keeps logging me out?' Is Instagram down, or is there another issue? They wish to reclaim control of their Instagram account, enjoy their Instagram without interruption, and stay in touch with their followers.
In this comprehensive guide, we'll delve into the reasons why Instagram couldn't log you in and see if it is an Instagram bug or something wrong you've done. Additionally, we will see if it can be resolved or if it needs an Instagram account recovery.
So, if you ask 'why does Instagram keep logging me out', and want to know practical solutions to help you stay logged in, bear with us.
Note: AiGrow is a web-based Instagram management and growth tool utilizing professional Instagram marketing experts to help you manage your IG account seamlessly and effectively. Throughout this article, we will discuss this helpful tool in much more detail.
Why Do You Keep Getting Logged Out of Instagram?
If you're asking why does Instagram keep logging me out, you're not alone. Many Instagram users encounter this problem. Instagram logs users out of their accounts for various reasons.
First, you should know that Instagram servers cause problems for their users in various ways every few years. Sometimes, when you're logged out of Instagram for no reason, it may be because Instagram is down. In such situations, you should wait for the server issues to disappear.
However, there could be other reasons, such as unusual activities. Instagram operates on the assumption that someone might be attempting to gain unauthorized access to your account in order to compromise it.
As a security measure to safeguard your account, Instagram may log you out and prompt you to take control of your account. In these instances, Instagram will require you to reset your password or recover your Instagram account.
Other Instagram issues may also happen. Whatever the problem, this issue disrupts your social media experience, and you need to know the possible causes and solutions.
Keep reading to know their details and know how you can fix the 'my Instagram keeps logging me out' error.
Reasons Why My Instagram Keeps Logging Me Out
Repetitive Instagram log-out can happen for various reasons. Does the bug cause it? Most likely! Join us as we explore the possible reasons and solutions that can help to solve the 'Instagram logged me out' problem effectively and quickly.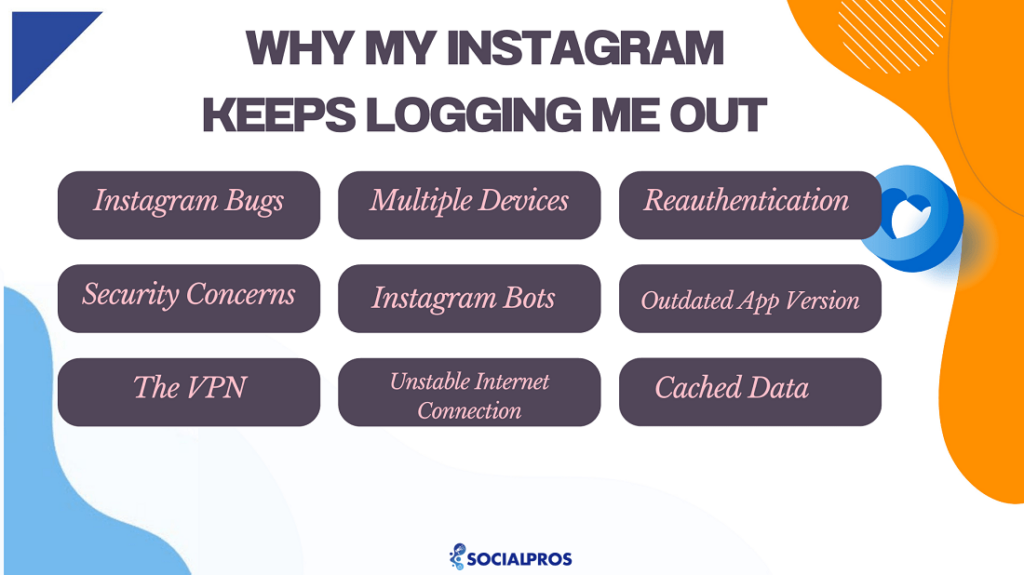 #1. What to Do If Instagram Bugs Are the Reason Why Does Instagram Logs Me Out
Instagram bugs are the first possible reason we blame when we encounter a glitch on Instagram. It can happen to you even if you haven't done anything wrong.
In this case, the situation is out of your control, and all you have to do is to wait for a few hours till this Instagram glitch is fixed. To check if Instagram is down or if there are any issues like DM glitches with Instagram, you can go to downdetector.com.
Or you can go to Twitter and search for 'Instagram logged me out.' If you see tons of people tweeting that 'Instagram is down' or 'Instagram logged me out,' you can rest assured that you are not the only one experiencing this problem with the app, and Instagram will fix it as soon as possible.
#2. What to Do If Security Concerns Is the Reason Why Does Instagram Keep Logging Me Out
The problem with my Instagram keeps logging me out can be due to having multiple accounts on Instagram. When you have multiple accounts with multiple passwords and keep switching from one to another, it may cause problem.
Instagram takes account security seriously. If they detect any suspicious activity on your account, such as multiple login attempts or unusual location changes, they might log you out to protect your account.
To prevent this, enable two-factor authentication (2FA) and regularly change your Instagram password. You can also log out from other accounts to see if it helps.
#3. The VPN Is Why You Logged Out of Instagram
The third reason to your question on 'why my Instagram keeps logging me out' is that you have done something suspicious on Instagram!
If you keep logging in via different IP, Instagram assumes someone is trying to break into your account, so it keeps sending you to the log-in page.
Therefore, if you use VPNs on your mobile devices, we advise that you try disconnecting the VPN to see if it solves the 'Instagram logged me out' problem.
#4. Instagram Bots Is the Reason Why Does Instagram Keep Logging You Out
Another reason why you've been logged out of Instagram is that you use dangerous Instagram bots to grow your Instagram account. Instagram followers apps sometimes use bots for Instagram activities.
Instagram does not like bots. So, if you use bots on your account, Instagram sends you to the sign-in page to verify you are a human.
The error 'Instagram logged me out' can occur if you violate Instagram's daily limits. That is to say, if you are following, commenting, or liking too much, Instagram may log you out.
#5. Using Multiple Devices Is the Reason Why Does Instagram Kick You Out
If you use multiple devices, check if you've changed your Instagram password on another device without changing it on the other device you're using now. It can be the other possible reason why you logged out of Instagram.
#6. Unstable Internet Connection Caused You Logged Out of Instagram
Your internet connection plays a crucial role in keeping you logged in on Instagram. Instability or weak signals can lead to frequent logouts. To resolve this, ensure you have a stable and fast internet connection. Consider switching between Wi-Fi and mobile data to find a more reliable option.
#7. Reauthentication Is the Reason You've Got Logged Out of Instagram
Periodically, Instagram may require you to reauthenticate your account for security reasons. This often happens if you haven't logged in for a while or if you've made significant changes to your account.
If you've considered all these factors and your issue on Instagram remains, keep reading to answer, 'why do I keep getting logged out of Instagram?'
Instagram Logged Me Out; How Can I Fix It?
If your question on 'why does Instagram keep logging me out' hasn't been solved. You can take other actions to fix the continuous Instagram logout issue. Let's explore them together:
#8. Update Your Instagram App
Using an outdated Instagram app can trigger login issues. Regularly update the app to the latest version available on your device's app store. Updates often include bug fixes and performance improvements that can address login problems.
If you are wondering why my Instagram keeps logging me out, we recommend updating your Instagram app. This can help to fix the 'my Instagram keeps logging me out' problem.
If this doesn't work, you can also try uninstalling and reinstalling the app. Uninstalling and reinstalling Instagram does a few things in your favor. It will clear the app's cache and update it to the latest version.
#9. Clear Your Instagram Cache
Caches are small data files that make mobile apps run faster. However, Instagram caches may be an answer to 'why did Instagram log me out?'
So, try to clear your Instagram cache to see if the problem is fixed or not. If not, restart your mobile device and log back into your IG account as an alternative.
#10. Set a New Password for Your IG Account
Sometimes, logging out of Instagram is a sign of insecurity. As a result, it is best to set a new password. To change your Instagram password, go to Instagram settings > Privacy & Security > Password. In this way, you can change your password whenever you like.
#11. Hire An Instagram Specialist To Help You With The Logging Error
Since Instagram bugs keep coming each year in different forms and ways, hiring an Instagram specialist with expertise in dealing with all Instagram bugs is a good idea.
If you hire a reliable Instagram manager, you don't need to scroll through articles to fix the errors. All you need to do is inform your manager and watch your problem go away.
AiGrow is a good company to refer to, given the fact that they only hire professional experts in digital marketing with eye-catching resumes.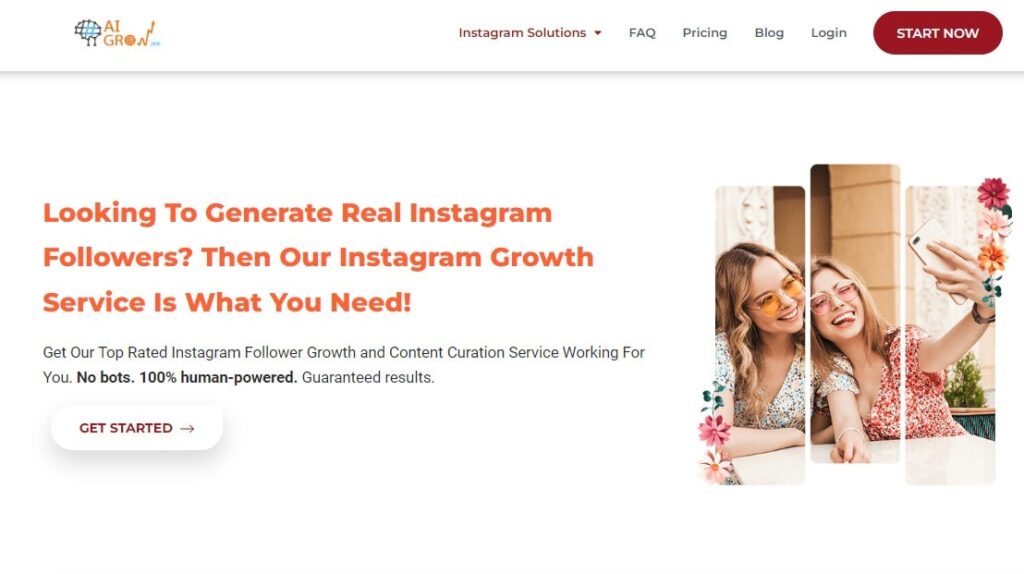 Instagram managers of AiGrow;
Fix any bug and problem relating to Instagram.
Guarantee to grow your follower organically to attract more targeted audiences to your page.
Continuously monitor your account and take manual growth strategies so that your posts appear on the explore page.
Create 2-3 highly engaging posts each week.
Provide you with unlimited features of AiGrow [Read the AiGrow review to see what those features are]
If you are reluctant to refer to a specialist, you can try one of these given methods as a DIY solution for the problem. So Keep reading.
#12. Manage All Your Accounts On PC
It can be understandable to have multiple accounts but try to manage all your Instagram accounts on PC or keep only one account on the app.
So if you have more than two accounts, keep one on your cellphone and manage the rest of them on your PC.
In addition, many Instagram users were able to log into their accounts through their PCs when they encountered this error. It means that the web version of Instagram continues to function flawlessly.
Therefore, access your Instagram account on your PC to bypass the 'You've Been Logged Out' error message.
AiGrow is your go-to solution for efficiently managing multiple Instagram accounts right from your PC. With its user-friendly interface and robust features, AiGrow simplifies the task of maintaining and growing your Instagram presence. Whether you're a social media manager, influencer, or simply a user juggling multiple accounts, AiGrow offers a comprehensive suite of tools to streamline your Instagram experience. From scheduling and automating posts to engaging with your followers and tracking performance metrics, AiGrow empowers you to take control of your Instagram accounts like never before.
#13. Verify All Your Accounts With Both Email And Telephone
Still asking why my Instagram keeps logging me out. Then, it would be wise to verify all your Instagram accounts. To verify your account, you should go to your profile>Setting > Account > Request Verification.
Here you need to fill out the application form and then tap on Send.
They may or may not accept to verify your account.

If They Don't Accept to Verify Your Instagram Account, you will receive the message below:

Tap To Access Your Instagram Account Scam: A Word of Caution
The "tap to access your Instagram account" scam typically involves fraudulent messages or emails that appear to be from Instagram, asking you to click on a link to access your account. These messages often contain phishing links or malware designed to steal your login credentials or compromise your device. Here are some steps to help you avoid falling victim to such scams:
Verify the Sender: Always check the sender's email address or username. Legitimate communication from Instagram will come from official domains or usernames. Be cautious if the sender's information looks suspicious.
Don't Click on Suspicious Links: Avoid clicking on links in emails, messages, or texts unless you are absolutely certain they are legitimate. Instead, go directly to the Instagram website or app by typing the URL (https://www.instagram.com) into your browser or opening the app.
Check the Message Content: Scam messages often contain poor grammar, spelling mistakes, or unusual language. Be wary of any message that seems unprofessional or out of character for Instagram.
Enable Two-Factor Authentication (2FA): Enable 2FA on your Instagram account if you haven't already. This adds an extra layer of security and makes it more difficult for hackers to access your account.
Use Strong Passwords: Ensure that you have a strong, unique password for your Instagram account. Avoid using easily guessable information such as birthdays or common words.
Verify Requests for Personal Information: Instagram will never ask you for sensitive information like your password or financial details through unsolicited messages. Be cautious if you receive such requests.
Report Suspicious Activity: If you receive a suspicious message or believe your account has been compromised, report it to Instagram immediately through their official channels.
Update Your Device: Keep your device's operating system and antivirus software up to date to protect against malware and phishing attempts.
Educate Yourself: Stay informed about common scams and phishing techniques. The more you know, the better you can protect yourself.
Remember that scammers often try to create a sense of urgency or fear to trick you into taking action. Take your time to verify the legitimacy of any message or request, and err on the side of caution when in doubt.
Final Words On 'My Instagram Keeps Logging Me Out' Error
Instagram keeps logging you out because of the bugs, but this type of bug normally happens to those who have multiple accounts on their Instagram app.
To avoid frequent logouts, it's essential to maintain the security of your account by regularly changing your password, enabling two-factor authentication (2FA), and monitoring your login activity. If you find yourself logged out, you can simply log back in using your username and password or use the "Forgot Password" option if needed. In summary, recovering your Instagram account is usually possible in most situations, except for instances involving severe bans or deliberate page deletion.
Since the process of fixing repetitive Instagram logout is time-consuming, we would suggest you refer to an Instagram specialist to have this bug fixed.
FAQs on Instagram Logout Issue
So far, you read why Instagram kept logging you out and how to fix it. Here are a few FAQs about Instagram logouts. Let's take a look at them.
Q1. My Instagram Keeps Logging Me Out Of My Second Account; What To Do?
Since Instagram introduced the business account feature in settings, many users have reported being logged out of their second accounts. To resolve this issue, start by clearing the Instagram cache. If the problem persists, you can report the issue to Instagram support. If you're unable to find a solution, consider submitting a complaint through the provided channels.
Q2. My Instagram Keeps Logging Me Out And I Can't Get Back In; What To Do?
Being unable to log into the Instagram app after being logged out, especially for business accounts, can be a significant issue. Given that the causes of this problem can vary, the solutions are also diverse. For more details and to explore potential fixes, refer to the article and make sure to try the solutions discussed there.
Q3. Instagram Logged Me Out Once; Is There A Bug Involved?
Yes, perhaps. Don't forget to check for updates on both your app and device to see if it helps.
Q4. How To Log Out Of Instagram?
To log out of your Instagram account, navigate to your profile, then go to Settings, and finally, select Log Out.
Q5. Instagram Doesn't Let Me Log Out; How Can I Fix it?
If Instagram has your login details saved and you want to log out, follow these steps:
Tap 'Settings'.
Scroll down to 'Log In'.
Add a new account.
Log out of the username to remove the login information of the account you wish to log out.
Q6. How To Log Out Of Instagram On All Devices At Once?
To log out of Instagram from all devices simultaneously, you need to reset your Instagram password. Here's how:
Tap 'Settings.'
Navigate to 'Privacy and Security.'
Select 'Password' and change it.
Wait for a moment.
Then, log out. This action will log you out of Instagram on all devices.
Q7. How To Log Someone Out Of Your Instagram?
To check and manage devices with access to your Instagram account, follow these steps:
Go to your profile and find 'Login Activity.'
Review the list of devices that have access to your account.
If you notice unknown devices or suspicious activity, tap the three dots and select 'Log Out' to remove them.
Alternatively, you can enhance security by changing your Instagram password. By doing so, you'll sign out from all devices, ensuring that only you have access to your account.
Q8. How Many Devices May Be Logged Into Instagram At The Same Time?
Instagram users can undoubtedly be logged in on two devices at the same time. According to the Instagram Help Center, you can log into up to five devices at the same time.