You may wonder why my Instagram keeps logging me out. Is it an Instagram bug or did I do something wrong? What is it, and how can it be resolved?
First, you should know that Instagram servers cause problems for their users in a variety of ways every few years. So you're not alone in being logged out of Instagram for no reason. That is to say, it may happen if Instagram is down.
And it takes time for the server issues to go away. But there are a few things you can do to make sure everything is fine on your side. Let's see what they are and how you can fix the 'my Instagram keeps logging me out' error.
However, if you do not have enough time to go through the details and are looking for the best quick way to fix the 'Instagram logged me out' issue immediately, sign up on AiGrow now.
AiGrow is a web-based Instagram management and growth tool utilizing professional Instagram marketing experts to help you manage your IG account seamlessly and effectively. Throughout this article, we will discuss this helpful tool in much more detail. So, let's get started.
You might also like to read;
Why My Instagram Keeps Logging Me Out
Repetitive Instagram log-out can happen for various reasons. Does the bug cause it? Most likely! Join me as we explore the possible reasons and solutions that can help to solve the Instagram 'logged me out' problem effectively and quickly.
#1. Why Does Instagram Logs Me out? Instagram Bugs
Instagram bugs are the first possible reason we blame when we encounter a glitch on Instagram. It can happen to you even if you haven't done anything wrong or culpable.
In this case, the situation is out of your control, and all you have to do is to wait for a few hours till this Instagram glitch is fixed.
For checking if Instagram is down or if there are any glitches with Instagram, you can go to downdetector.com. Or you can go to Twitter and search for 'Instagram logged me out.' If you see tons of people tweeting that 'Instagram is down' or 'Instagram logged me out,' you can rest assured that you are not the only one experiencing this problem with the app and Instagram will fix it as soon as possible.
#2. Why Does Instagram Keep logging me out? You Have Multiple Instagram Accounts
The problem with my Instagram keeps logging me out can be due to having multiple accounts on Instagram. When you have multiple accounts with multiple passwords and keep switching from one to another, Instagram logs you out for security reasons!
In this scenario, you'd better log out from other accounts to see if it helps.
#3. Why Did Instagram Log me out? Disconnect Your VPN
The third reason why my Instagram keeps logging me out is that you have done something suspicious on Instagram!
If you keep logging in via different IP, Instagram assumes someone is trying to break into your account, so it keeps sending you to the log-in page.
Therefore, if you use VPNs on your mobile devices, we advise that you try disconnecting the VPN to see if it solves the 'Instagram logged me out' problem.
Also, check if you've changed your Instagram password on another device without changing it on the Instagram device you're using now. It can be the other possible reason why Instagram logged me out.
#4. Why Does Instagram Keep Logging Me out? You Use Instagram Bots
The last reason why you've been logged out of instagram is that you use dangerous Instagram bots to grow your Instagram account. Instagram does not like bots. So if you use bots on your account, it sends you to the sign-in page to verify you are a human.
The error 'Instagram logged me out' can also occur if you violate Instagram's daily limits. That is to say, if you are following, commenting, or liking too much, Instagram may log you out.
Instagram Logged Me Out; How Can I Fix It?
There are other actions you can take to fix the continuous Instagram logout issue. Let's explore them together:
Hire An Instagram Specialist To Help You With The Logging You Error
Since Instagram bugs keep coming each year in different forms and ways, it is a good idea to hire an Instagram specialist who has expertise in dealing with all Instagram bugs.
If you hire a reliable Instagram manager, you don't need to scroll through articles to fix the errors. All you need to do is just inform your manager and watch your problem goes away.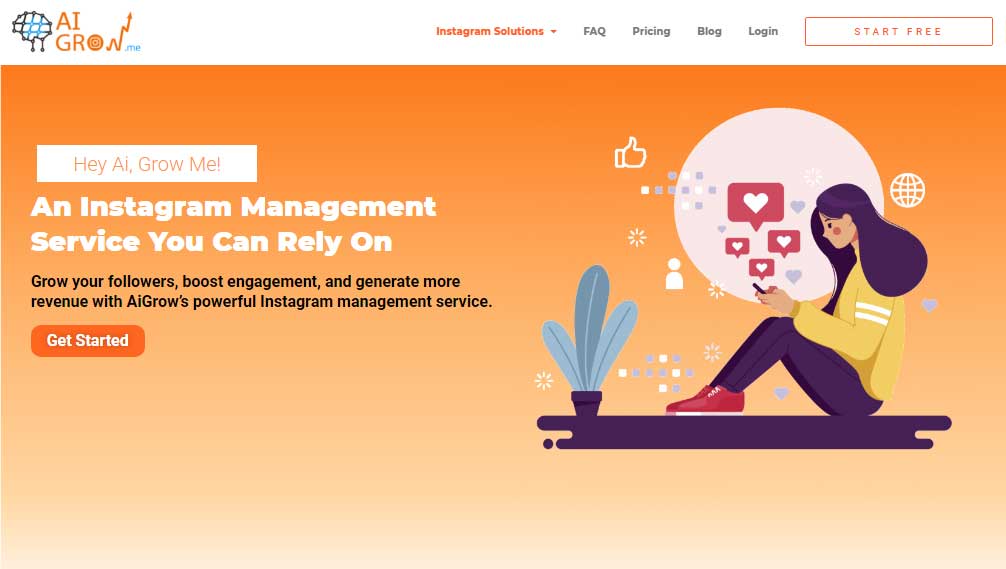 AiGrow is a good company to refer to, given the fact that they only hire professional experts in digital marketing with eye-catching resumes.
Instagram managers of AiGrow;
1. Fix any bug and problem relating to Instagram.
2. Guarantee to grow your follower organically to attract more targeted audiences to your page.
3. Continuously monitor your account and take manual growth strategies so that your posts appear on the explore page.
4. Create 2-3 highly engaging posts each week.
5. Provide you with unlimited features of AiGrow [Read the AiGrow review to see what those features are]
Sign Up on AiGrow Now to Get Your Mind Off Your Instagram Growth Worries.
If you are reluctant to refer to a specialist, you can try one of these given methods as a DIY solution for the problem. So Keep reading.
Update Your Instagram App
If you are wondering why my Instagram keeps logging me out, we recommend updating your Instagram app. This can help to fix the 'my Instagram keeps logging me out' problem.
In case this doesn't work, you can also try uninstalling and reinstalling the app.
Uninstalling and reinstalling Instagram does a few things in your favor. It will clear the app's cache and update it to the latest version.
Clear Your Instagram Cache
Caches are small data files that make mobile apps run faster. However, Instagram caches may be an answer to 'why did Instagram log me out?'
So, try to clear your Instagram cache to see if the problem is fixed or not. If not, restart your mobile device and log back into your IG account as an alternative.
Set a New Password for Your IG Account
Sometimes, logging out of Instagram is a sign of insecurity. As a result, it is best to set a new password. To change your Instagram password, go to Instagram settings > Privacy & Security > Password.
In this way, you can change your password whenever you like.
Verify All Your Accounts With Both Email And Telephone
Still, asking why my Instagram keeps logging me out. Then, it would be wise to verify all your Instagram accounts. To verify your account, you should go to your profile>Setting > Account > Request Verification.
Here you need to fill out the application form and then tap on Send.
They may or may not accept to verify your account.

If They Don't Accept to Verify Your Instagram Account, you will receive the message below:

If you got accepted, good for you. If you didn't, chill down and carry on to the next solution.
Manage All Your Accounts On PC
It can be understandable to have multiple accounts but try to manage all your Instagram accounts on PC or keep only one account on the app.
So if you have more than two accounts, keep one on your cellphone and manage the rest of them on your PC.
In addition, many Instagram users were able to log into their accounts through their PCs when they encountered this error. It means that the web version of Instagram continues to function flawlessly.
Therefore, access your Instagram account on your PC to bypass the 'You've Been Logged Out' error message.
You might also like to read:
FAQs on Instagram Logout Issue
So far you read why Instagram kept logging you out and how to fix it. Here are a few FAQs about Instagram logouts. Let's take a look at them.
Q1. My Instagram Keeps Logging Me Out Of My Second Account; What To Do?
Since Instagram added the business account to the setting, many users decided to have a business account, and ever since, they kept reporting that Instagram logged them out of the second account!
To fix the problem, clear the Instagram cache, if it doesn't work, report the problem to Instagram support.
You can also submit a complaint if you cannot find a solution to your problem on the page.
Q2. My Instagram Keeps Logging Me Out And I Can't Get Back In; What To Do?
That's a big deal if you can't log into the app after Instagram logs you out especially if you have a business account. Since the causes vary, fixing them varies as well.
For further information, go through the article and be sure to try the solutions discussed here.
Q3. Instagram Logged Me Out Once; Is There A Bug Involved?
Yes, perhaps. Don't forget to check for updates on both your app and device to see if it helps.
Q4. How To Log Out Of Instagram?
To log out of your Instagram account, go to your profile> Settings> Log out.
Q5. Instagram Doesn't Let Me Log Out; How Can I Fix it?
You can't log out of Instagram just because you have the app remember your login detail. To log out of an Instagram account that is remembered, you must;
1. Tap 'Setting'
2. Scroll down to 'Log in'
3. Add a new account
4. Log out the username to remove the username's login information you want to log out.
Q6. How To Log Out Of Instagram On All Devices At Once?
To log out of Instagram from all devices at once, you should reset your Instagram password. That is the only way!
To reset your Instagram password, tap Setting > Privacy and Security > Password and finally change it.
Give it a moment. Then log out. You'll be logged out of Instagram on all devices.
Q7. How To Log Someone Out Of Your Instagram?
First, go to your 'Login Activity' of your Profile to see the list of all devices that have access to your account. In the case of unknown devices or suspicious activity on your Instagram account, tap the three icons and then tap log out to remove them.
You can also change your Instagram password to sign off from all devices at once. By changing your password, you will be the only one who has access to your account.
You might also like to read:
Final Words On 'My Instagram Keeps Logging Me Out' Error
Instagram keeps logging you out because of the bugs, but this type of bug normally happens to those who have multiple accounts on their Instagram app.
Since the process of fixing repetitive Instagram logout is time-consuming, I would suggest you refer to an Instagram specialist to have this bug fixed.
If you prefer to fix it on your own, you should verify your accounts, clear your Instagram cache, or try to log in to your Instagram account through your PC.
That was the article, I hope you find it useful.