Instagram users may sometimes encounter an error message that says, 'There was a problem logging you into Instagram. Please try again soon.' This error can be frustrating, especially when you're eager to access your Instagram account.
Sometimes, the message may alter in words, but the problem remains the same! For example, Instagram logs you out, and when you want to get back in, you read, 'Sorry we couldn't log you in Instagram,' 'Instagram invalid parameters,' 'Instagram account you entered doesn't belong to an account,' or anything that makes it seems like you're having trouble logging into Instagram!
It's always a pain in the neck when Instagram keeps crashing. It is also tiresome enough when Instagram keeps logging you out and you encounter difficulties logging into Instagram!
So what to do when receiving Instagram login errors? Is there a way to fix it, or you and your account are doomed? In this article, we will discuss several troubleshooting steps to help you fix this issue and regain access to your Instagram account.
💥Note: If you don't have enough time to deal with Instagram errors, we recommend hiring an account manager. Thus, we'll introduce you to the best Instagram growth service with a dedicated account manager; called AiGrow.
Quick Solution To Instagram Login Error 'Sorry We Couldn't Log You In Instagram'
Before we dive into the solutions, let's explore some possible causes of the error message 'There was a problem logging you into Instagram. Please try again soon.' There are many reasons why you can't log in to Instagram, and for each reason, there are multiple solutions.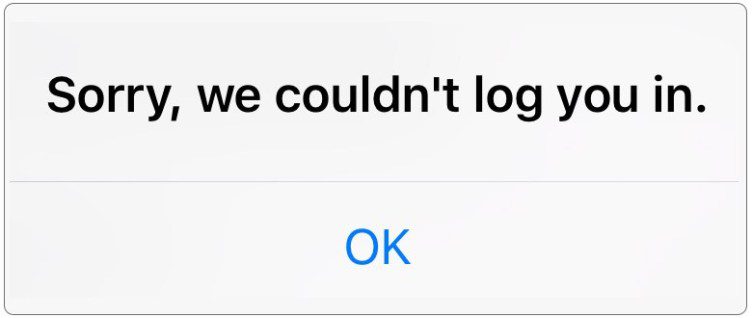 Understanding the underlying reasons can provide valuable insights into resolving the issue effectively. Here are some scenarios that could result in this Instagram error:
Incorrect login credentials: If you enter incorrect login credentials, Instagram cannot authenticate your account. Because Instagram passwords are case-sensitive, try not to forget them.
Server issues: Instagram's servers may experience temporary glitches or maintenance, causing login problems. In this cases, Instagram may be temporarily unavailable.
Account restriction: For some reason, your account has been disabled or blocked.
IP issues: Instagram can ban you if you connect from a different IP address.
Switching between devices: You logged into Instagram on a new device.
Outdated app version: Using an outdated version of the Instagram app can lead to compatibility issues and login errors. So, your Instagram app needs an update.
Memory issues: Your smartphone's memory is running low.
Poor internet connection: A weak or unstable internet connection can prevent Instagram from logging you in properly.
You should first find out the cause and finally try one solution after another in hopes of fixing your problem, or you can refer to a specialist and be over with it!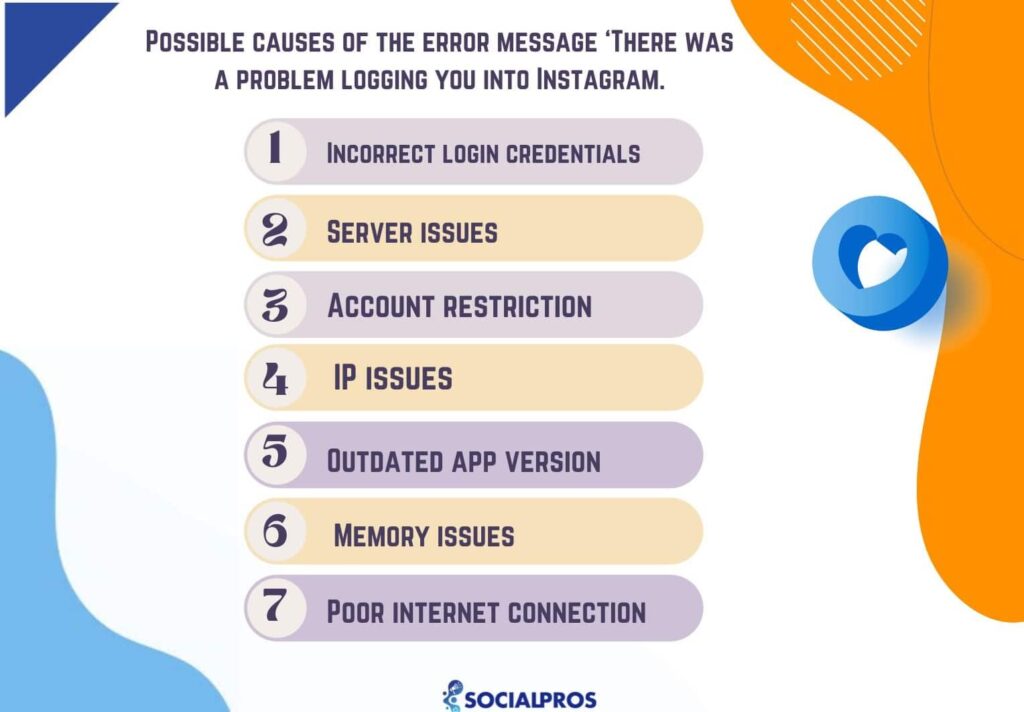 Therefore, start by attempting to pinpoint the source of the problem. However, if the issue persists and Instagram keeps logging you out, read on to learn about a different option.
Hire an Instagram Manager to Solve Instagram Login Issues Immediately
The thing is that if you use Instagram for your business or something similar, you may not always have time to deal with such issues. In these situations, a dedicated Instagram manager can be quite helpful.
AiGrow is one of the companies that offers Instagram services to its customers. There you can hire the best Instagram account manager and get help logging in Instagram and over with this or any type of bug you might ever face in the future.
Instagram managers of AiGrow, not only can solve any problem your Instagram is facing but also help you set a strategy, create content according to your marketing strategy, and guarantee to gain a certain amount of organic followers depending upon your niche.
Once you sign up to AiGrow, other than an Instagram manager, you will have access to unlimited features of it. Read all about it in AiGrow Review.
Now that we understand the potential causes, let's examine the most common Instagram login errors and explore the solutions to fix the 'There was a problem logging you into Instagram in more detail.
Why Can't I Log Into Instagram? Here Are Different Errors & Solutions
When encountering an Instagram login error, a message pops up, upon which you can fix your problem. Which one is your Instagram login error? Find it in the article and fix your issue of can't log in to Instagram.
#1. Sorry, We Couldn't Log You In Instagram!
So, you may encounter this Instagram login error if you have multiple accounts on Instagram. You get logged out, and you can't log back into one of them.
You may know that you can add up to 5 accounts to your Instagram, but for more than 5, you should log out of one of them and add another.
To fix it, follow these steps:
Log in to any Instagram account
Go to setting
Select Add Account
Enter the information of the account you want to log in
%90 of those who referred to us with the same problem fixed the problem.
Note that in this way, you have multiple accounts and can't log in to a specific one. If you have only one account and you cannot log in to that, you should read the following solutions.
#2. The Username You Entered Doesn't Belong To An Account. Please Check Your Username and Try Again
Sometimes you can't log in to Instagram, and the message 'The username you entered doesn't belong to an account' pops up. To solve it, check your username and try again.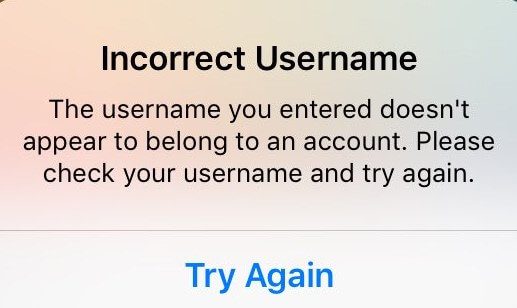 Also, sometimes the message 'Instagram Username Does Not Exist' appears on the screen, the reason can be either of these situations;
You forgot your Instagram Username
Instagram disabled/deleted your account
#3. There Was A Problem Logging You Into Instagram. Please Try Again Soon.
You may occasionally run into the error message 'There was a problem logging you into Instagram. Please try again soon.' Similar to other login issues, you can try the prior fixes or wait (between 12 and 48 hours) for the error to be fixed. And should the issue persist, you can clear Instagram cache and data.
Clearing the cache and data of the Instagram app can help resolve various issues. Please note that this process may vary slightly depending on your device.
#4. Instagram Error; Sorry Your Password Is Incorrect
The other Instagram login issue happens when you enter your password incorrectly.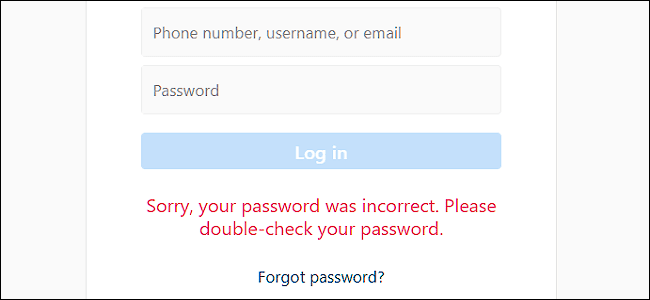 To get the Instagram password reset request;
Go to log in
Tap on 'Forgotten Password'
Type username, phone number, or email address
A reset password link will be delivered to you
Sometimes, Instagram password reset not working. It's because the reset password link expires soon. That is why users assume the Instagram password reset link is not working. So, request again and act immediately.
#5. We Couldn't Connect To Instagram
Another Instagram login error says: 'We couldn't connect to Instagram. Make sure you're connected to the internet and try again.'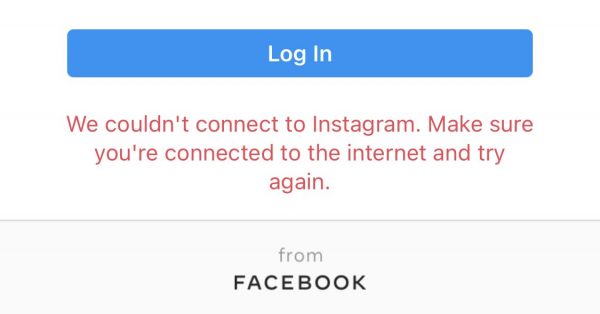 If you see this message, it only means you are not well-connected to Instagram. To fix it, make sure you're connected to the Internet and try again.
#6. Sorry, There Was A Problem With Your Request
Normally, this message pops up when you are banned or something like that. If you are banned for spamming activities [like violating community guidelines], let it go because Instagram takes a decisive stance on such actions.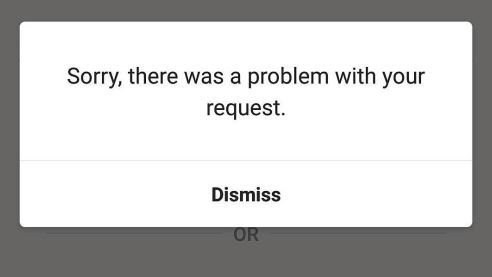 But if you are a victim of a bug, you can fix it and log in to Instagram.
To understand which one applies to you, log in to Instagram via the website, not the app. If you can log in, go ahead and read the rest. Because we are going to let you know how you can get away with this bug.
Go to Instagram.com, log in to IG, go to settings, and unlink your Instagram account to Facebook.
Now via a new tab, open Facebook and create a new account. Uninstall Instagram, and download again. Now connect your Instagram to The Facebook account you just created. And then, log out from Instagram.
Now open Instagram and log in with Facebook. The login error no longer pops up.
#7. Instagram Invalid Parameters
Instagram's invalid parameters error is one of the most common issues Instagrammers face when logging in or resetting their password.
It happens when you log in to your IG account using the two-step verification method or when you confirm your phone number when creating a new account.
If you have such a problem logging into Instagram, read the next section to find a solution.
Can't Log Into Instagram? Here's the Solution
When users encounter a glitch on Instagram, we advise them to do a certain action, regardless of what the glitch is. So, start with clichés if you're having trouble logging into Instagram. By doing this, you avoid making it difficult to identify the issue.
In most cases, the 'Instagram Sorry We Couldn't Log You In' error goes away!
1. Check Your Internet Connection
To ensure a stable internet connection, connect to a reliable Wi-Fi network or switch to a different network if possible. And if you're using mobile data, ensure you have a strong signal. You can also restart your router or modem to resolve any network connectivity issues.
2. Restart Your Cellphone
A simple restart can often resolve temporary glitches and issues. Follow these steps to restart your device:
Press and hold the power button until the power options menu appears.
Tap on 'Restart' or 'Reboot' depending on your device.
3. Update the Instagram App
Keeping your Instagram app updated is crucial for optimal performance. To update the app on your device:
Open the app store on your device (App Store for iOS or Google Play Store for Android).
Search for 'Instagram' and tap on the app when it appears.
If an update is available, tap the 'Update' button next to the app.
4. Clear Your Instagram Cache
Clearing the cache can help resolve any corrupted or outdated data that might be causing the login error. When you clear the cache, you remove temporary files that may be causing conflicts or issues with the app. Here's how you can clear the Instagram cache:
Open the Settings app on your device.
Navigate to the 'Apps' or 'Application Manager' section.
Locate and tap on 'Instagram' from the list of installed apps.
Select the 'Storage' option.
You should see the 'Clear Cache' button.
Tap on it to remove the temporary files associated with the Instagram app.
Optionally, you can also tap on "Clear Data" to reset the app to its default settings. Note that this will log you out of the app.
You can try to log in again after completing these steps. If it still doesn't work, remove the app and reinstall it after clearing the data.
5. Check Instagram's Server Status
Sometimes, the error message may appear due to server problems on Instagram's end. You can check the status of Instagram's servers by visiting their official Twitter page or other reliable sources. If there's a known issue, you may need to wait until Instagram resolves it.
6. Verify Your Login Credentials
Ensure that you're entering the correct login credentials for your Instagram account. Double-check your username and password to avoid any typos or errors. If you've forgotten your password, you can use the "Forgot password" option on the login screen to reset it.
7. Try Forgot Password
The 'Forgot Password' option on Instagram can help fix the login errors. Simply click on the 'Forgot Password?' link on the login screen, provide your email address, phone number, or username associated with your account, and follow the instructions sent to you via email or SMS to reset your password.
8. Use a VPN
If you are in a restricted area, use a VPN. Using a VPN can potentially help resolve the login error 'There was a problem logging you into Instagram. Please try again soon.' In some cases, your internet service provider (ISP) or network administrator may have imposed restrictions on accessing certain websites or services, including Instagram. By connecting to a VPN, you can bypass these restrictions and access Instagram without encountering the login error.
9. Consider Logging Into Instagram Via PC
As said before, you read the 'sorry we couldn't log you into Instagram' error when you have multiple accounts on your app.
Consider logging into Instagram via PC and even managing your Instagram there. It is not a bad idea at all given the fact that many businesses do so.
If you can't log in to your Instagram by computer and you are sure you have entered your information correctly, it is a technical issue, and you'd better report the problem to get help logging in Instagram from Instagram's help center.
You can also take the following actions to resolve the Instagram invalid parameters error:
Boost Your Wi-Fi Signal; Instagram may give you the error of invalid parameters if it doesn't receive a strong signal from your wireless connection.
Using Facebook as your login method could be another way to access your Instagram account.
If the cliche fixing methods don't work, report the problem to Instagram or move on to the next solution.
Use AiGrow To Solve Instagram Login Errors
AiGrow is one of the best Instagram management services. Using this comprehensive solution, you can organically improve all aspects of your Instagram account. The AiGrow group consists of a human-based team.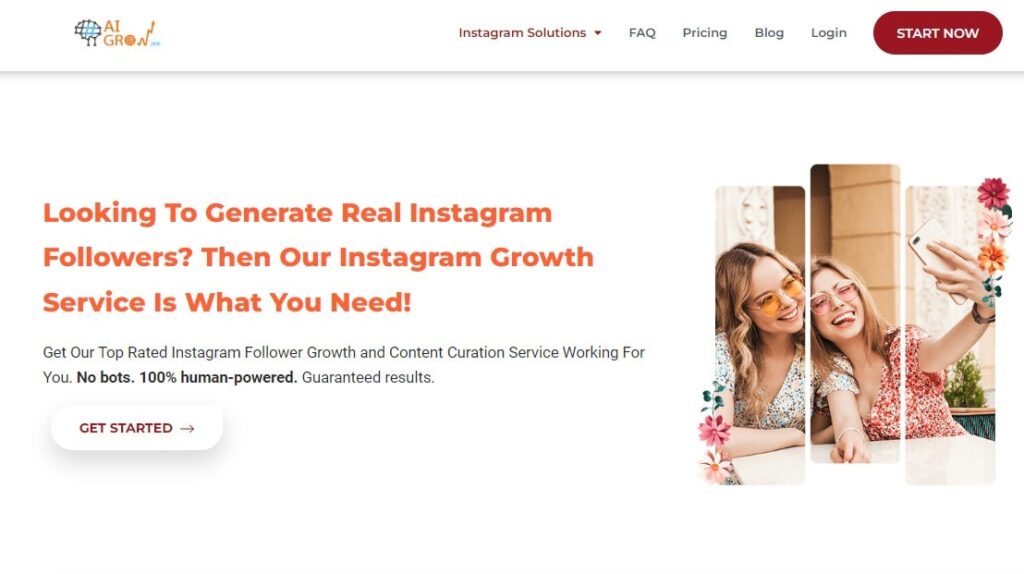 They are experts on Instagram and are familiar with its algorithms. Your Instagram account manager will look after your account around the clock and respond to any questions you might have. You can confidently assign them the challenging task of administering your account.
AiGrow has all of the Instagram tools in one place. You also don't have to be concerned about Instagram blocking or restricting your account. Among the many amazing characteristics of this service are:
Using AiGrow you can gain organic likes, follows, and views
Access to the best Instagram content scheduler
Use the best giveaway picker tool
Mass delete Instagram posts
Send automated IG DMs
Instagram content creation
Third-party services such as AiGrow allow you to manage your Instagram account from your computer. You can use this to post Instagram stories on your computer, upload videos from your PC, and so on.
Using a PC, you can manage as many Instagram accounts as you like, and you don't have to be worried about Instagram login errors anymore.
Quick Solutions to Some Instagram Login Errors
There are various reasons behind failure in Instagram login that reflect on the type of Instagram login error that you see in the summary here;
| INSTAGRAM LOGIN ERROR | HOW YOU CAN FIX IT |
| --- | --- |
| Sorry we couldn't log you into Instagram | Go to setting>Select Add Account>Enter your information |
| The Username You Entered Doesn't Belong to An Account. Please Check Your Username & Try Again | Recover your username if you forgot it. But if your account is disabled/deleted by Instagram, there's nothing to do. |
| Sorry, your password is incorrect | Instagram password reset request |
| We couldn't connect to Instagram | Check your connection |
| Sorry there was a problem with your request | Unlink your Instagram from Facebook & link it to a new FB account |
| Instagram invalid parameter | Report the problem |
What To Do If You Forgot Instagram Username
Some users refer to us, saying they probably forgot their Instagram username, and that is why they can't log in to Instagram! That shocks us because it is vital to come up with an easy-to-remember Instagram username to attract more followers.
If you can't remember it, how do you expect others to recall it?
The easiest way to fix the issue is to refer to your friends who follow you or whom you have DMed already. And ask them to take a screenshot of your username.
If it is not possible for you to do so;
Go to your app and tap on sign in
Tap the forgot password
Tap 'Username or Email'
Type your email address
Check your email inbox
Here, you see an email from Instagram in which you can read your Instagram username.
What To Do When Instagram Disabled/Deleted Your Account
If you are sure you have entered your username correctly and you get the same message via different devices, it means Instagram disabled/deleted your Instagram account!
Why? Because you have not followed community guidelines or pushed Instagram's daily limits! What can be done about it? I'm afraid there is nothing to do!
One option for resolving this issue is to contact the company directly. Try contacting them by mail or customer care.
The only legal option to reactivate your Instagram account and fix the issue is to fill out the 'My Instagram account has been deactivated' form.
You'll undoubtedly want to fill out as many forms as possible in order to get your account restored, but please resist the urge. Because Instagram may block your IP address and you will lose access to your account.
What To Do If You Can't Log Out Of the IG Account to Re-login?
As you may know, if you have already added a maximum of six Instagram accounts, you will need to log out of all of them in order to remove the Instagram account that you are unable to access.
To resolve this extremely vexing problem, and regain access to your Instagram account, follow the instructions below.
Go to Settings (gear icon) on the Instagram app,
then scroll down to the bottom and select Log Out of All Accounts.
Click Log out of All Accounts once more.
You will be returned to the Instagram app homepage, where your accounts will be listed, as well as the account you were unable to enter previously. Log in with your new Instagram password now.
Conclusion
Encountering the error message 'There was a problem logging you into Instagram. Please try again soon' can be frustrating, but with the troubleshooting steps outlined in this article, you should be able to resolve the issue and regain access to your Instagram account.
It is annoying when trying to log in to your Instagram account and receiving messages such as 'we couldn't log you in with what you just entered,' 'We couldn't connect to Instagram,' and many others.
We attempted to solve all of the Instagram login errors in this post; if you did not find a solution, please read it again!
And if it doesn't work, seek the assistance of AiGrow Instagram account managers!
FAQs
Q1: Can I fix the 'There was a problem logging you into Instagram' error on my own?
Yes, in most cases, you can resolve this error by following the troubleshooting steps mentioned in this article.
Q2: I've tried the troubleshooting steps, but the error still persists. What should I do?
If none of the solutions provided in this article work, you can try uninstalling and reinstalling the Instagram app or contacting Instagram support for further assistance.
Q3: Will uninstalling the Instagram app delete my account?
No, uninstalling the app will only remove the app from your device. Your Instagram account will remain intact.
Q4: Are there any alternative methods to access Instagram if the error persists?
If you're unable to access Instagram through the mobile app, you can try using Instagram's website on a desktop or laptop computer.
Q5: Why does Instagram ask me to verify my account after encountering the error?
Instagram may ask you to verify your account for security reasons or to ensure that you're the rightful owner of the account. Follow the instructions provided by Instagram to complete the verification process.
Q6: Can a problem with my device's operating system cause this error?
While it's rare, a problem with your device's operating system can potentially contribute to login errors. Keeping your device's software updated can help prevent such issues.