It is crystal clear how important the role of social media marketing is in our lives. Now, social media is an excellent path to expose our business to the public and fulfill customers' expectations. On the other hand, to make most of this opportunity, marketers need dedicated plans and the best social media scheduler. 
There are plenty of social media apps with various peak times of visiting users. In this case, it would be time-consuming for managers and marketers to post on time. Therefore, each one needs its own social media scheduling tool to help marketers do their best and accelerate their performance.
This article will help you grow your business by introducing the best social media schedulers.
Let's keep in touch!
Also, you might like: How to Use Social Media for Link Building: 8 Effective Strategies.
The Best Instagram Scheduling Tool
Undoubtedly, Instagram is the most favorite social media platform of the decade. Therefore, most business owners count on it as a launching pad. However, to stand out in the crowd, a safe and trusted social media scheduler acts as a hero for managers. 
AiGrow: All-in-one Social Media Scheduler
AiGrow, the most powerful Instagram management tool, is a precise assistant for busy managers. Moreover, it is an integration of DM management tools, growth services, and an all-in-one bio link tool that all help you boost engagement and grow your Instagram followers organically.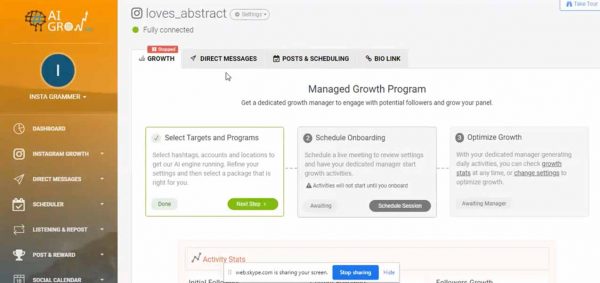 Sign up for free and add up to 80 accounts you desire to your single dashboard. This is wonderful that you can manage multiple accounts with only one AiGrow account.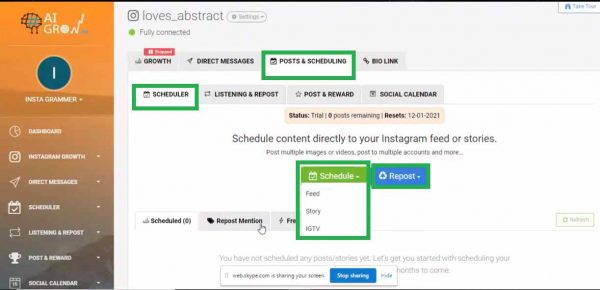 Contrary to Instagram bots that may cause Instagram action blocks and bans you, this app performs the task according to the Instagram algorithm and helps you get real followers and likes manually. 
AiGrow is a precise social media scheduler for Instagram that lets you schedule each post's day and time.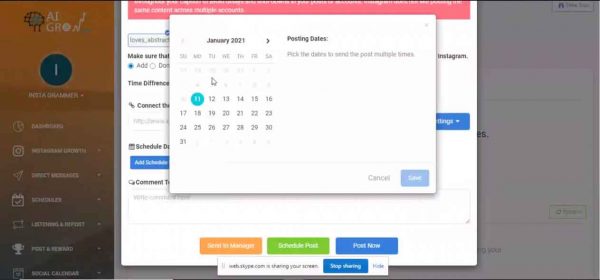 Additionally, you can select your target users and interact with them. 
In brief, using this AiGrow, you have the opportunity to:
Schedule posts and stories for free

Schedule your posts on stories

Share hashtags on your first post comment

Auto- delete the scheduled posts after a specific period of time

Import photos via

Unsplash

instead of uploading them

Share posts on your multiple accounts simultaneously
The Best Tools to Schedule Facebook Posts
Facebook is the most popular social media platform globally, which provides excellent features for its users to grow their business. Therefore, you can make passive income on Instagram and Facebook in 2021 easily. 
In this case, to help you manage your tasks in your Facebook efficiently, here is the introduction of the two most popular social media schedulers for Facebook:
Hootsuite: Social Media Scheduler
Hootsuite is an excellent social media scheduler that integrates Zendesk, SalesForce, Slack. As a matter of fact, it allows you to schedule your content and share multiple posts on your Facebook. Having the best and most accurate messaging services helps you boost your engagement rate.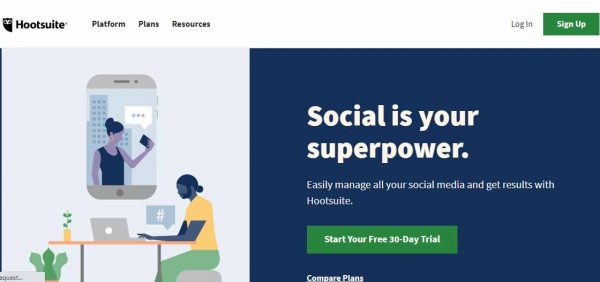 Sendible: Social Media Scheduler
Sendible is an all-in-one social media scheduler that gives users direct access to Cavna, DropBox, and Google Drive, which enable your team members to manage all their tasks better. Actually, Sendible lets you schedule your posts, plan campaigns, and get content suggestions.
To make it more clear and get inch-perfect insights about these two social media scheduling tools, please read Sendible vs. Hootsuite: Tutorial, Review, and Alternatives.
How to Schedule Tweets for Free
Posting Tweets randomly won't help you reach your optimum engagement on Twitter at any time of the day. Accordingly, here are two of the best social media scheduling tools for Twitter:
Keep Reading: Link Instagram to Twitter: The Ultimate Guide
Twitter 
Twitter Lets you schedule your Tweets to go live at a particular date and time. Also, you can schedule your Tweets in your ads account and add them to campaigns. It is awesome for Tweets to be published on busy times when you don't have time to Tweet manually. However, Scheduled Tweets only appear in Ads Manager once the Tweet has gone live at the scheduled date and time you set. Moreover, Tweet scheduling will appear after inserting a credit card.
TweetDeck
TweetDeck is a powerful social media scheduling tool for Twitter that performs real-time tracking and organizing. Also, this app lets you reach your audiences and increase engagement. Above all, using this social media scheduler, you can manage multiple Twitter accounts and create Tweet collections.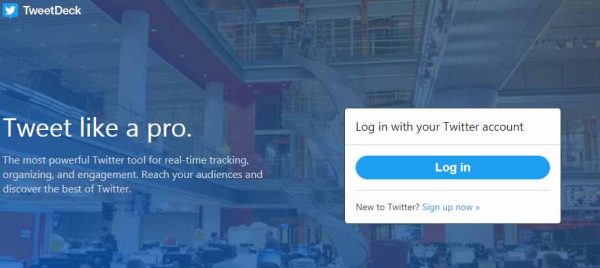 The Best Pinterest Scheduler
Pinterest is a visual discovery engine helping you reach your audience early before they've made up their mind. Clearly, it's a win-win deal, they find what they love, and you grow your business. You can save and categorize your ideas in the app itself. Also, if you have new ideas, Pinterest will find you people who are looking for them.
Pinterest
With a Pinterest business account, you can schedule 30 Pins for future posting on desktop and iOS. However, you can schedule Pins up to two weeks in advance. Also, you can only schedule one Pin at a time. 
Tailwind
Tailwind is a great social media scheduler used for Pinterest. This app has a free trial, and you don't need to have a credit card. Actually, its scheduling algorithm gives your Pins the best exposure. Also, it provides you a weekly summary to see how many new followers you gain each week. Most importantly, its Pin Inspector gives you insight into what is working across the board. You can read a complete Tailwind Review: Features, Pros, and Cons here.
The Best App for Scheduling LinkedIn Posts
LinkedIn is a business and employment-oriented online service that functions via desktop and mobile apps. Actually, job seekers post their CVs, and employers post jobs. Therefore, professional managers crave scheduling their company's LinkedIn page accurately. Below is a brief introduction of an excellent social media scheduler for LinkedIn.
Socialpilot: A Professional Social Media Scheduler for LinkedIn Users
Socialpilot is a social media scheduler used for scheduling Linkedin posts. This app helps you to improve engagement and analyze the results. Moreover, this social media marketing tool assists you in increasing brand awareness and traffic.
Let's get to know more about Socialpilot features in the following:
Drive business results

Hire people 

Collaborate with your audience by mentioning them

 Scheduling visually interactive and highly customized posts and promote your product and services

Final Thoughts on The Best Social Media Scheduler in 2021
If you want to grow your business or be popular as a social media influencer, a social media scheduler supports you to reach your goals. Definitely, a powerful social media scheduler helps you understand if you are standing out or if you are one of the many succeeding people in your niche.
Above all, if you want to engage with more people, you need to post on peak times. Consequently, be a smart marketer, blend your marketing information, and link social media account(s) – all at once.