If you have ever wondered how to grow fast on Instagram, you have definitely noticed that some services offer you a dedicated Instagram account manager who professionally manages your account and helps you win the marketplace. However, among all the companies and agencies, claiming to be the best, which one offers a safe Instagram management service?!
In fact, reliable Instagram growth services are hard to find, and one that doesn't merely sell followers and likes but provides an excellent social media manager is genuinely rare! In this article, we will find the best Instagram management service, compare its features to the competitors, and help you come up with the best choice possible. Let's get started.
Note: Not interested in details? Start using the best Instagram management services right now.
Why Use an Instagram Management Service
Did you know that 90% of Instagrammers follow at least one business profile? It is true! Yet as essential as Instagram success is, it does not come easy. And let's face the truth; we're not experts and we're definitely not blessed with infinite resources of time, energy, and patience.
If you're trying to grow a brand on Instagram, you have surely noticed how arduously you must work to catch up with every task! In this competitive world where every brand is trying to find its place and grow organically on Instagram, you simply can't sit on your hands and watch as they engage with your audience and turn them into their customers!
You need to start getting more followers on Instagram but managing the tasks single-handedly is merely impossible! As a brand or business, you already have a lot to do; you simply can't dedicate too much time to Instagram.
One day, you'll wake up and finally come to the realization that: 'Hmm, I need a social media manager!' but hiring an Instagram expert requires a lot of money which means that not all brands can afford it. And honestly, why would they pay someone to manage Instagram when there are several Instagram management services that are more affordable and efficient?!
So, by using a trustworthy Instagram management tool, you get to save your time and money while experiencing a safe, steady growth that would otherwise be impossible. However, not every Instagram growth / management service can live up to your expectations and meet your needs.
How Does an Instagram Management Service Work
So far, we've come to the conclusion that exploiting the best Instagram management services has become a necessity these days. But what do these tools do that makes them so helpful?!
An all-in-one Instagram management service is not just a followers app that only lets you buy followers or likes. In fact, it offers every feature you might ever need for efficiently managing your Instagram page. So, an excellent Instagram management service should enable you to:
Now, these are just the bare essentials that you should be able to conveniently access with any Instagram management tool. Do you see how such a tool can speed up your tasks and lead to instant growth?! So long as you ensure you're using the best, most reliable service, you can access all those features in one user-friendly dashboard!
The Best Instagram Management Services
We have already covered how essential such tools are and what criteria we use to identify the ideal ones. Now, it's high time we introduced the best Instagram manager service to set your mind at ease!
1- AiGrow: Professional Instagram Management Service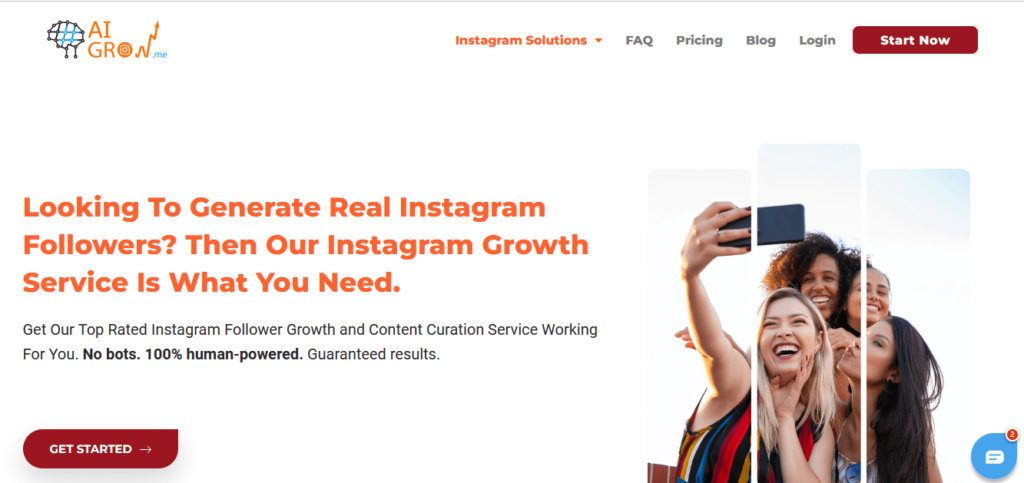 I heard you say, 'I want to hire someone to run my Instagram!' and I'm here with all the answers! One of the best Instagram management services that are worth trying is AiGrow. Being a complete package of Instagram management tools such as post and story scheduler, monitoring app, DM automation tools, and growth services, AiGrow helps you with every aspect of your Instagram account management.
With AiGrow, you'll also hire a professional team composed of a dedicated Instagram account manager who manually keeps track of your accounts and plans to grow your followers organically, a seasoned designer that will create and publish highly converting posts on your accounts, and a support team that'll help you with in-app issues 24/7. In fact, this service allows you full access to all the tools you need plus a professional team of managers. Sounds like a pretty good deal, right?!
The time and energy you have to spend on your Instagram account(s) will be drastically decreased, and you'll have enough time to focus on improving your products and services.
AiGrow Features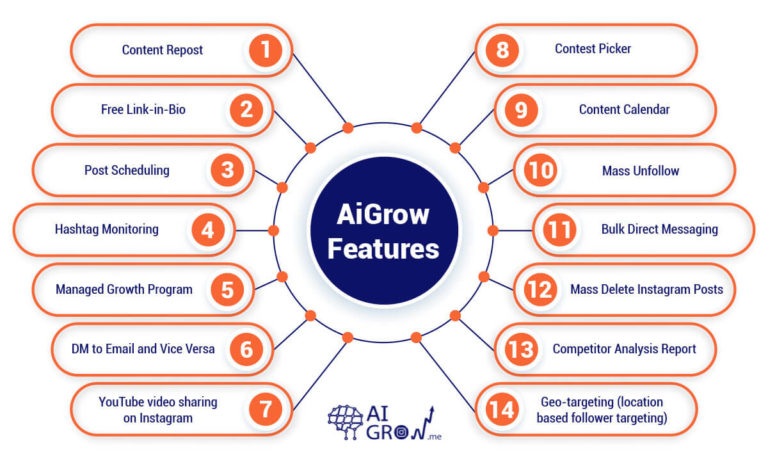 Now, let's see if AiGrow checks all the boxes for an all-in-one Instagram management service.
AiGrow enables you to:
And more! So, not only does AiGrow provide all the basics but much more than that. What tool or feature would you want that's not already included on your dashboard?!
Why not guarantee your success with AiGrow right now?!
How AiGrow Works
Well, as mentioned above, by using AiGrow, you are actually hiring an Instagram account manager. After signing up on the platform and adding your Instagram accounts, you define your target audience personas. For this, you have to choose niche-related hashtags, your target locations that result in more local followers, and influencer accounts active in your business category.
After defining these personas, the AI engine starts creating a list of potential followers. These accounts are the ones who are interested in your industry. So, turning them into followers and then into customers is going to be really easy.
When the list of prospective followers gets ready, your Instagram account manager starts working. They'll like 1-2 posts of your potential followers, follow-unfollow them, or send them direct messages and inform them about your business and account. Additionally, since these managers are real marketing experts, you'll never get shadowbanned because of the Instagram daily limits.
Plus, the professional designers will create engaging posts for your Instagram account. Your dedicated account manager will share them at the best time possible, which results in higher engagement rates. So, your business will be in the right hands, and you can make sure that you're using the right Instagram management services.
By the way, to know more about this amazing service, its features, and pricing, click here and read the complete AiGrow review.
AiGrow Instagram Management Service Cost
Let's be honest; money does matter! Especially a new brand or business should consider how much money they're spending and where they're spending it! So, let's see how much you'll need to pay for AiGrow's management packages!
AiGrow offers a long list of packages to suit everyone with any need! You can find their various packages with clear pricing here. For now, let's cover what their management and growth packages cost.
Their pro-managed weekly plan costs $29 that promises safe and organic growth with AI targeting and scheduling.
For their pro-managed monthly, you have to pay $169 which is pretty reasonable for all the tools they're offering!
The pro-managed quarterly and pro-managed annual come at $129 and $99 respectively.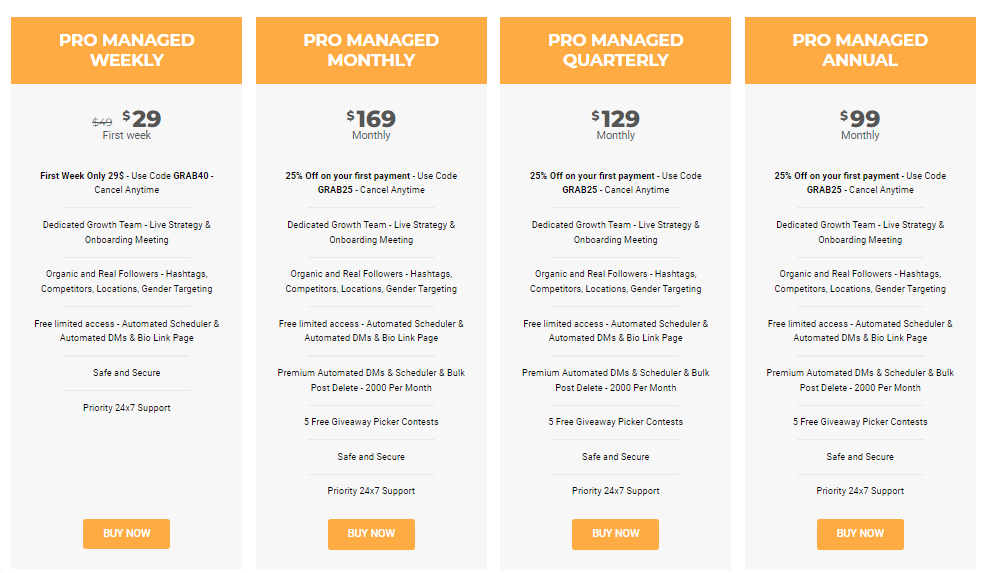 Their expert Instagram handler and managers would suffice for us, and the reasonable pricing can only add to our reasons for recommending this platform. So, in case you're looking for Instagram management in the USA or any other part of the world, you can rely on this service.
Sign up on AiGrow right now to get instant access to all the tools!
2- AiSchedul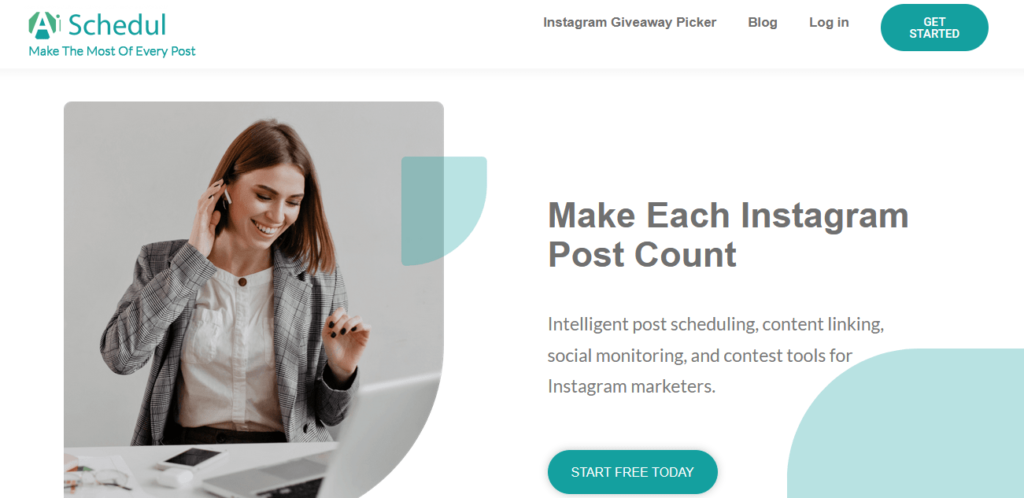 Similar to AiGrow, this tool is a highly efficient, dependable Instagram management service with much to offer. As the name indicates, AiSchedul was first designed to make content creation and scheduling straightforward and effective. However, it grew to do much more than that!
AiSchedul allows you to:
So, AiSchedul too checks all the boxes for reliable Instagram management services! To get started with this services, you only need to follow the steps below:
Simple, right?! To see this ideal Instagram management service costs, you can go to their pricing page here. Plus, if you have any questions, you can always contact their ever-present support team!
Now, Don't miss out on so many features on AiSchedul, and sign up for free!
3- Digital Marketing Agency: Instagram Management & Advertising Services
I've heard a lot of Instagrammers say, 'I'm sick and tired of the changing Instagram algorithm, I want someone to manage my social media!' Another Instagram management service they can go for is the Digital Marketing Agency or Degom Global Instagram services. Using this package of Instagram account management services, you will get services like:
However, Degom Global services are not offering any Instagram schedulers, monitoring apps, or other management tools essential for your business. What you get using this set of services is an account manager who plans to grow your account on behalf of you and nothing more.
Apart from all these, this agency will help you with more business goals. For instance, they have:
However, unfortunately, they have not shared their packages and prices on their website. To know more about the services, you have to schedule a free consultation.
4- Fiverr: Hire a Personal Instagram Account Manager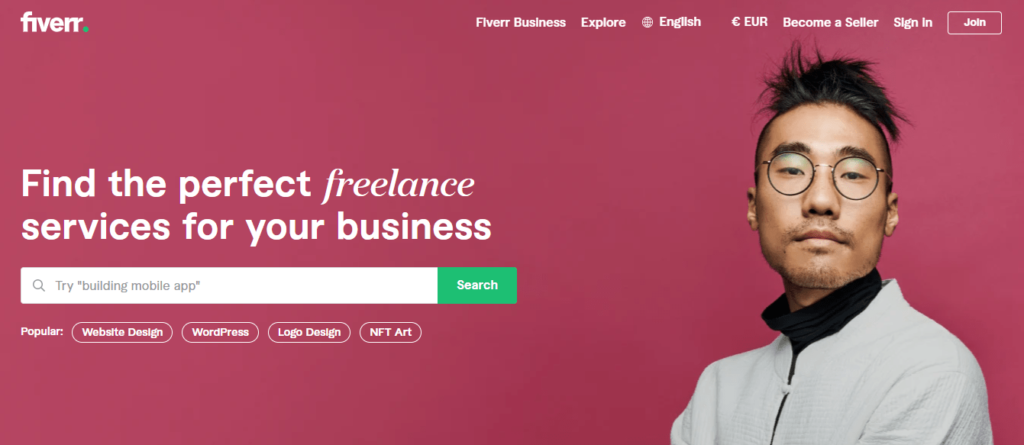 As you may already know, Fiverr is a platform for freelancers following different industries. Each freelancer is offering a variety of services to its clients. If you're one of those people who say, 'I need someone to manage my Instagram account,' Fiverr might be the best choice for you.
However, since there's no direct control over the service, prices, and activities, trying to get Instagram management services from Fiverr managers may waste your time and money.
To have an exact idea of what I'm talking about, take a look at the following image:

As you see, one starts its services from $5 while the other starts at $200. In this case, you'll definitely get perplexed, and opting for the best Instagram account manager offering what you exactly need would be an arduous task.
Additionally, users have reported that some of these account managers use fake followers and bots to grow their businesses. So, we suggest you use Instagram account management services instead of hiring freelancers who cannot guarantee real and instant results at all. If you're still not sure if Fiverr can fulfill your needs, check out our Fiverr review here!
5- Nitreo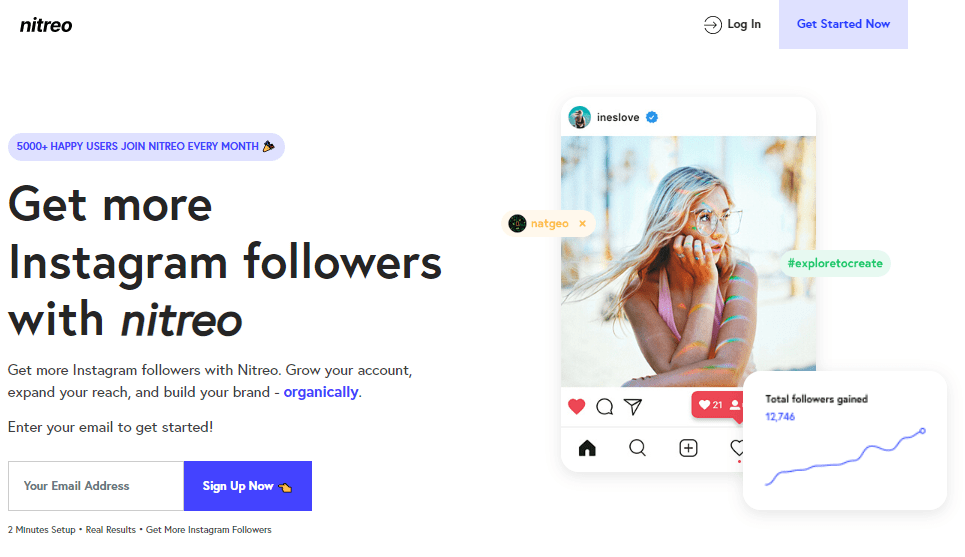 This platform also provides a neat dashboard where you can manage your Instagram account. Nitreo is an Instagram followers app that enables you to target your audience and engage with them. However, Nitreo clients often complain that their targeting tool is simply not functional.
If you want to know more about this tool and how it works, you can read our full Nitreo review!
FAQs about Account Managers
When we talk about Instagram account managers, some questions may come to your mind. Here, we'll answer the most frequent ones:
#1 Is it Legal to Use Instagram Management Services?
Well, it depends on the type of services you are using. When hiring an account manager, you pay someone to grow your business and manage your account, and this part is totally legal. However, some of these managers use dangerous Instagram bots and fake followers to grow your account.
In this case, Instagram identifies you as a spam account, and you may lose your page. So, before purchasing any services, make sure that they're offering organic growth.
#2 How Can I Become an Instagram Account Manager?
Being a professional account manager is not that easy. You always have to keep yourself updated about the latest Instagram marketing strategies. Additionally, since many successful managers are out there, you have to offer something new and valuable at lower prices to get your first clients. However, platforms like Fiverr may be great places for you to start.
#3 How Much Should I Charge to Manage an Instagram Account?
Maybe you're already in the business and wondering how much to charge for managing an Instagram account. As for a new Instagram manager, the average fee is somewhere between 25 and 35 dollars for an hour. That is, for each hour you spend working on their Instagram page, you should get $25 to $35.
Final Thoughts on Instagram Management Service
To wrap it up, Instagram account management services do save a great deal of time for you. Recruiting one of the services mentioned here, you'll get the chance to concentrate on other tasks. Hence, you'll improve your marketing strategies and win the marketplace in a short period. So, read the article, compare the services, and make the best choice for your needs.
However, to ensure your success, you should rely on AiGrow and AiSchedul which have proved to be the ideal choices here! Also, feel free to leave us a comment if you have any questions.