Social media is critical in developing and sustaining an online presence in today's digital world. Managing many social media platforms, on the other hand, may be stressful and time-consuming. Loomly appears to be a solution for individuals as well as businesses looking to streamline their social media management efforts.
But what exactly is Loomly? Is it among the best Instagram management services available? Can you fully manage your Instagram account, as well as your accounts on Facebook, Twitter, Pinterest, LinkedIn, YouTube, and TikTok, with it?
This in-depth investigation will examine Loomly's pricing, features, advantages, available options, and reviews. So, read this Loomly review to learn how it can support your social media strategy and help you reach your marketing objectives.
💥Note: If you want to focus on Instagram and need a comprehensive Instagram management tool, AiGrow is the best option for you.
What is Loomly?
Loomly is a flexible social media management application that allows users to easily organize, create, and schedule content. Loomly provides a centralized platform for any type of influencer, marketer, or social media team member to enhance their social media strategy and improve audience engagement.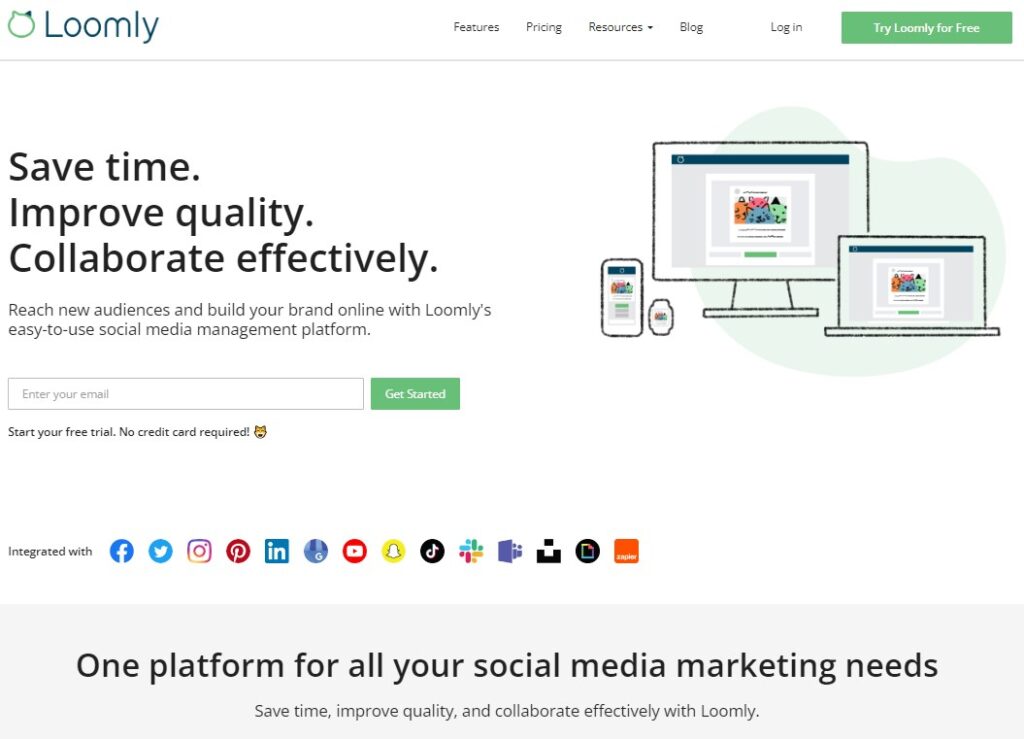 Suppose you are tired of the never-ending struggle to keep up with your social media posts and content planning. In that case, Loomly may help you schedule your post on Instagram and share them on other social media channels simultaneously.
However, it is not the only function available to customers. Let's take a look at all of this platform's features.
Key Features of Loomly
Loomly, as previously said, is a social media scheduling tool. However, it includes multiple additional functions that can assist you with this. Here are all of the features that this platform offers to users.
Content Planning and Hashtag Suggestion
Loomly is compatible with Facebook, Twitter, Instagram, Google My Business, Pinterest, LinkedIn, TikTok, Snapchat, and YouTube. Loomly's content planning feature allows you to organize and schedule your social media posts. This social media calendar tool lets you visualize your content schedule with its calendar view, ensuring a consistent and cohesive online presence across platforms.
Additionally, when you log in to Loomly and want to schedul your post for Instagram, you may also discover top Instagram hashtags or receive suggestions based on your caption.
Social Media Scheduling
According to its website, Loomly makes scheduling social network postings easy. Facebook, Twitter, Instagram, LinkedIn, and Pinterest are among the social media networks supported by the platform. You may schedule posts, create reminders, and even get real-time advice for the best times to post on Instagram and other social media platforms.
Loomly Analytics and Reporting
Loomly provide in-depth analytics and reporting tools to track the performance of your social media campaigns, the performance of your Instagram Stories, etc.
According to their blog, once your IG story is up, you will be able to track information such as reach, forward and back taps, exits, and more! But even Instagram insights cannot supply such information like how many times a person tap on your story and view it, or exit.
Team Collaboration
Collaboration is crucial for successful social media management, especially for businesses with multiple team members involved. Loomly simplifies collaboration by offering features like content approval workflows, commenting, and task assignment.
Mobile App for On-the-Go Management
With Loomly's dedicated smartphone application, you have the flexibility to manage your social media accounts from anywhere, at any time. This means you can stay connected and make timely updates or schedule posts even while on the go. By utilizing this feature, you won't miss out on valuable opportunities to engage with your audience, even if you're not at your desk.
Unfortunately according to Loomly reviews, their mobile app does not support hashtag groups.
As you can see, Loomly can provide insights on engagement, reach, and audience demographics. The data can then be analyzed to help you fine-tune your plan and achieve greater outcomes. But, how much should you spend on it? Continue reading.
Loomly Pricing
Loomly offers various pricing plans to cater to different users' needs. The Loomly pricing packages include:
Base: Ideal for individuals or small businesses, this plan includes basic features such as 10 social accounts, 2 users, and 100 scheduled posts per month.
Standard: Designed for growing businesses, the Standard plan offers additional features like 20 social accounts, 5 users, and 500 scheduled posts per month.
Advanced: Suitable for larger teams or agencies, the Advanced plan provides more extensive capabilities, including 35 social accounts, 10 users, and unlimited scheduled posts.
Premium: Tailored for enterprise-level businesses, the Premium plan offers advanced features, custom solutions, and priority support. Contact Loomly for pricing details.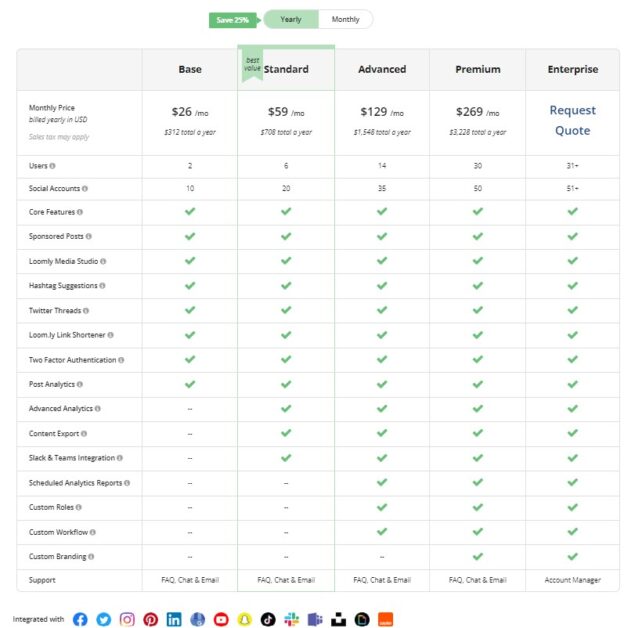 Loomly also provides a 15-day free trial, allowing users to explore its features and determine the plan that best fits their requirements. But is using this platform worthwhile? Let's look at the benefits and drawbacks of this service.
Pros and Cons of Using Loomly
You can compare Loomly's benefits and disadvantages here. It assists you in determining whether it is the ideal social media management tool for your company. Remember to take your criteria into account.
Loomly Cons
While Loomly offers several features for social media management, it is important to consider the potential drawbacks before making a decision. Here are some cons associated with using Loomly:
Less Emphasis on Growth Strategies
Although Loomly prioritizes content planning and collaboration, it may not provide as extensive growth-oriented features compared to certain other social media management tools. If your main objective is to achieve substantial audience growth and engagement, particularly in terms of getting more followers on Instagram, you might discover alternative platforms that offer more comprehensive growth strategies and a wider range of automation options.
Limited Platform Support
Loomly primarily focuses on major social media platforms such as Facebook, Instagram, Twitter, LinkedIn, and Pinterest. However, if your social media strategy involves niche or less popular platforms, Loomly may not provide extensive support or integration options for those platforms.
Pricey for Small Businesses
Loomly's pricing structure may not be the most cost-effective option for small businesses or individuals on a tight budget. The subscription plans can be relatively expensive, especially when compared to other social media management tools available in the market.
Limited Advanced Analytics
While Loomly provides basic analytics and reporting features, it may lack the depth and granularity required for advanced data analysis. If you require in-depth insights and analytics for your social media campaigns, you may find Loomly's analytics capabilities to be somewhat limited.
Complex Setup Process
Some users have reported that the initial setup and onboarding process of Loomly can be complex and time-consuming. It may require a learning curve to fully understand and utilize all the features and functionalities offered by the platform.
Loomly Pros
Loomly also offers benefits for individuals and businesses seeking to level up their social media presence. Here are a few key advantages:
Time Savings: By automating your social media scheduling and content planning, Loomly frees up your valuable time.
Enhanced Organization: With Loomly's intuitive calendar and content planning features, you can stay organized and maintain a consistent posting schedule.
Data-driven Decision Making: The comprehensive analytics and reporting capabilities of Loomly empower you to make informed decisions about your social media campaigns.
It is important to assess these potential drawbacks of using Loomly alongside its benefits to determine if it aligns with your specific social media management needs. Considering alternative options and conducting thorough research can help you make an informed decision that best suits your business goals and budget.
Loomly offers customizable features, allowing you to tailor the tool to suit your specific needs. From content categories and post labels to approval workflows and user permissions, Loomly adapts to your workflow. But are these allegations real? See what Loomly Reviews found out.
Read more: Influencers Gone Wild: Shocking Tales of Misconduct & Scandal in Influencer Marketing
Loomly Reviews
According to Loomly reviews, this platform offers a good function and a powerful social media management tool that is designed to streamline your workflow and improve your online presence.
But don't trust the reviews as this platform is annoying sometimes. These are the issues that some users were face utlizing this platform.
Large videos are not supported by Loomly.
The so-called 'link shortener' is unreliable.
Link-sharing preview is not supported across all platforms.
It is not convenient to resize images.
Facebook's tagging features aren't dependable, and there's no simple way to handle engagement.
Groups mentioned are not available.
Reels and Stories cannot be scheduled directly from the platform.
On the getapp.com website, a user complained that Loomly's customer service is terrible. Additionally, the analytics and report plan has to be updated.

Loomly's failure to offer users a growth strategy for Instagram or other social media sites where a strong presence is essential will truly let you down. For instance, they don't give you access to a full Instagram management solution. Therefore, you need another app to help you grow your Instagram organically, specially if you use Instagram for business.
Let's evaluate Loomly in comparison to other social media sites.
Loomly vs. Other Social Media Tools
Loomly may have drawbacks when compared to other social media management services available on the market. Let's compare another social media management service, Hootsuite, to Loomly. Then, we contrast it with AiGrow and AiSchedul, two of the best Instagram-specific solutions.
Loomly vs. Hootsuite
Loomly and Hootsuite are two platforms that aim to streamline your social media efforts. Loomly is renowned for its user-friendly interface and intuitive features, prioritizing a seamless experience for content planning, creation, scheduling, and collaboration.
On the other hand, Hootsuite has positioned itself as a comprehensive social media management tool with a wide range of features and integrations. It enables you to monitor and engage with conversations on social media platforms, allowing you to stay connected with your audience and respond to mentions or comments in real-time.
Therefore, when deciding between Loomly and Hootsuite, take into account that Loomly offers a user-friendly interface, making it an ideal choice for beginners or those seeking a streamlined experience. In contrast, Hootsuite provides an extensive set of features that may require some learning to fully master.
If team collaboration and content approval workflows are crucial to your social media strategy, Loomly's collaboration features may be a better fit for your needs. On the other hand, Hootsuite offers advanced features such as social media listening and extensive integrations, whereas Loomly focuses primarily on content planning and simplicity.
Ultimately, it's crucial to note that the absence of robust social media growth strategies for platforms like Instagram, TikTok, and others cannot be disregarded. Now, let's shift our focus to comparing Loomly with AiGrow, which is widely regarded as the top Instagram management and growth tool.
Loomly vs. AiGrow
In the world of social media management, there are various tools available to help streamline your efforts and enhance your online presence. Two popular options in the market are Loomly and AiGrow. AiGrow shines in its specialization in Instagram management, making it the go-to tool for individuals and businesses looking to leverage the potential of this popular platform.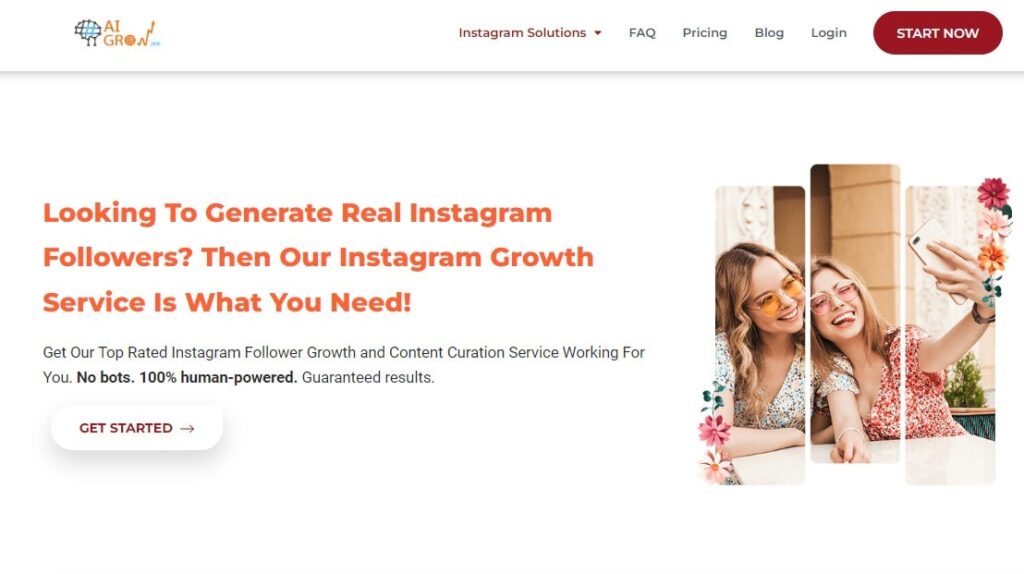 Unlike Loomly, which offers management capabilities for multiple social media platforms, AiGrow goes above and beyond to provide Instagram-centric features that truly maximize your impact. AiGrow is an Instagram Growth service and management tool that focuses primarily on Instagram and provides features specifically tailored to enhance your presence on this platform.
AiGrow offers a range of Instagram-centric features, such as post-scheduling, story scheduling, and hashtag research. They also provide you with a dedicated Instagram manager who takes care of your account 24/7. These features enable you to effectively plan and optimize your content for maximum engagement on Instagram.
AiGrow's focus on growth strategies sets it apart from the competition. By leveraging automated direct messages, you can significantly boost your Instagram following and foster genuine connections with your audience. AiGrow's targeted approach ensures that your efforts are tailored to the specific requirements of Instagram marketing, resulting in more effective and efficient growth.
Furthermore, AiGrow's engagement and community building features enable you to actively interact with your Instagram followers. With easy-to-use comment management and direct messaging tools, you can respond to comments promptly, address customer inquiries, and build lasting relationships with your audience. Read this AiGrow review to know more about this service.
Loomly vs. AiSchedul
AiSchedul excels in providing robust automation capabilities. From scheduling posts to automatically engaging with your audience and even running contests and giveaways, AiSchedul offers a comprehensive set of automation tools. This level of automation significantly reduces the manual effort required to manage your social media accounts effectively.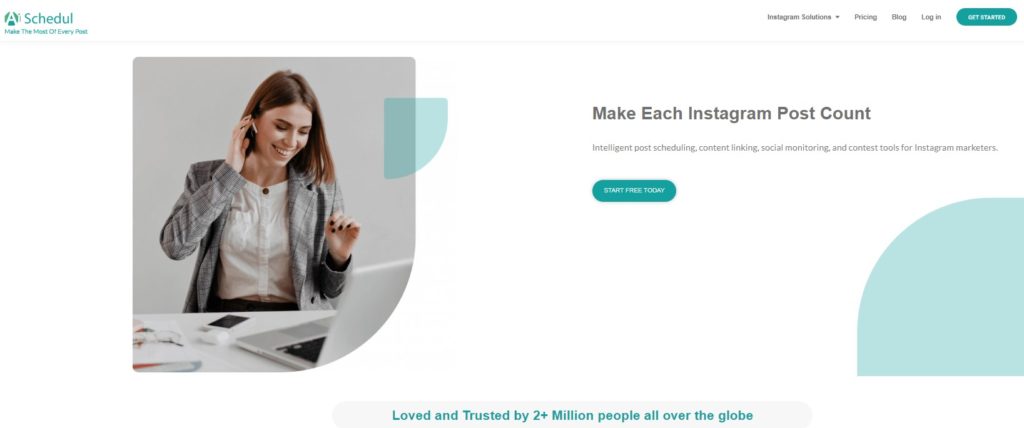 Let's explore AiSchedul features:
Growth-focused Features: AiSchedul places a strong emphasis on audience growth and engagement. With features like targeted hashtag monitoring, automated DM campaigns, and post scheduling for optimal engagement, AiSchedul provides the necessary tools to drive significant growth and boost your online presence.
In-depth Analytics: AiSchedul offers detailed analytics and performance insights to help you measure the impact of your social media efforts. By tracking important metrics such as follower growth, post reach, engagement rates, and more, AiSchedul enables you to make data-driven decisions and optimize your social media strategy effectively.
Comprehensive Instagram Management: AiSchedul specializes in Instagram management and offers a wide range of features specific to the platform. From post scheduling, multiple account management, and hashtag analytics to reposting user-generated content and monitoring tagged posts, AiSchedul provides a comprehensive toolkit for maximizing your Instagram presence.
Affordable Pricing: AiSchedul's pricing plans are competitive and offer excellent value for the features and functionality it provides. With various subscription options to suit different budgets and needs, AiSchedul ensures that businesses of all sizes can access its powerful social media management capabilities without breaking the bank.
Conclusion
Loomly is a social media management tool that can pave the way for you to plan, create, and schedule your content. With its intuitive interface, extensive features, and robust collaboration tools, Loomly empowers individuals, marketers, and businesses to optimize their social media strategy, save time, enhance team collaboration, and drive better results.
But if you are seeking a social media management tool that prioritizes Instagram and delivers exceptional features for growth, engagement, and content optimization, AiGrow is the superior choice. Its Instagram-centric approach, specialized features, and dedicated growth strategies make it the ultimate tool for businesses and individuals looking to make a significant impact on Instagram.
FAQs
1. Can I schedule posts for multiple social media platforms simultaneously using Loomly?
Yes, Loomly supports various social media platforms, allowing you to schedule posts for multiple platforms simultaneously, saving you time and effort.
2. Is there a mobile app available for Loomly?
Yes, Loomly provides a mobile app for both iOS and Android devices. The mobile app allows you to manage your social media accounts on the go, schedule posts, engage with your audience, and stay connected with your social media strategy wherever you are.
3. Does Loomly provide a growth solution for social media?
While Loomly offers valuable features for social media management, it does not specifically focus on providing a comprehensive growth solution for social media. Loomly's primary strengths lie in content planning, collaboration, and scheduling capabilities. However, if your primary goal is to achieve significant audience growth and engagement on social media platforms, such as gaining more followers or increasing brand visibility, you may find other tools like AiGrow that offer more specialized growth-oriented features and strategies. It's important to carefully assess your specific growth objectives and consider alternative solutions that align with your desired outcomes.