Using macro influencers to promote your business on social media is very effective, and here's how.
Social media influencers are not only famous figures on Instagram but are also important for businesses to reach more audiences.
What's more, macro influencers have a big stage on their page because of the number of their followers.
But how can we reach out to macro influencers?
Through a free influencer marketplace like Ainfluencer. This platform is perfect to find the best macro influencers on Instagram and TikTok!
Continue reading to understand macro influencers' definitions and how you can use their influence to gain more followers and generate more leads. 
Why Your Brand Needs Instagram Influencers
To grow the number of your followers, fans, and potential customers, Instagram is a great platform to invest in.
That said, it's not that easy to be recognized on Instagram single-handedly. That's why you need Instagram Influencers to put you on the radar.
And by using influencers you will experience significant growth.
Try the Ainfluncer Instagram influencer marketplace now!
What Is A Macro Influencer
The easiest way to identify macro influencers is to see their followers count. Those who have more than 100K followers and less than 1 million followers are macro influencers.
Also, their engagement rate is at least higher than 3%.
Macro influencers target fewer followers compared to mega influencers, which is not necessarily a drawback as macro influencers can be more targeted and yet provide you with a big enough audience.
The average macro influencer is somewhere between a micro and a mega influencer.
They regularly produce content and have a large audience that trusts them.
Different Types of Influencers
If you want to run a great influencer marketing campaign you should have enough information about all types of Instagram influencers. So, let's take a look at the difference between nano, micro, macro, and mega influencers.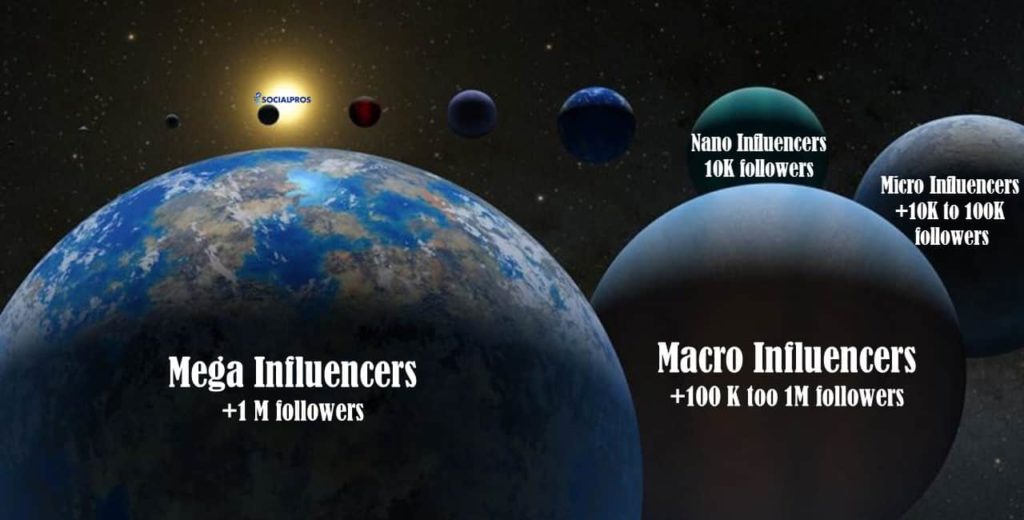 Nano Influencers
As shown in the image above, influencers with less than 10K followers are nano influencers. They are good for collaborations with local or small businesses because they are friendly and have the most targeted audience.
Also, working with nano influencers is cost-effective and suits tight budgets best.
Micro-Influencers
Next, micro-influencers are well-known in some specific niches. They have 10K to 100K followers. Actually, they have a good engagement rate too.
Also, brands looking for ambassadors usually find micro-influencers a good option to pursue.
Macro Influencers
As we said earlier about macro influencers, they have between 100K to 1M followers with an engagement rate at least higher than 3%. They are good for brands that need to reach a larger audience compared to local ones.
Mega Influencers
Last but not least, mega influencers are the most expensive influencers with over 1M followers.
Influencer Vs Celebrity
Moving on, let's dig deeper and learn more about Influencers vs celebrities.
Although there is often a fine line between a celebrity and an influencer, celebrity influencers are mainly followed by people who are a fan of their music, movie, or performance.
However, users follow social influencers because they share the same interest in a niche, hobby, etc.
The Difference Between Micro and Macro Influencers
With their various traits, macro and micro-influencers can be clearly distinguished. Consider the following points regarding macro vs. micro-influencers.
You can use micro influencers to reach your target audiences, mainly best for businesses of smaller size. On the other hand, macro influencers reach more audiences and increase your brand visibility.
Micro-influencers work with small and large businesses; However, macro influencers mostly work with large businesses.
Macro influencers are more expensive than micro-influencers.
Should Your Brand Leverage a Macro Influencer
All in all, working with macro influencers, depending on the size of your business, is so beneficial that you can't ignore it.
However, there are different factors to consider before you contact one, say, their niche, location, etc. Here is a quick checklist of things to run through:
First and foremost, you should make sure the influencer you choose has the exact niche as yours.
Secondly, you should keep in mind that there are many Instagram accounts out there, claiming to be an influencer worthy of collaboration. But, they won't be able to help you boost your engagement unless they themselves have a high engagement rate.
Another thing that plays a major role in the successful collaboration is professionalism. By professionalism, we mean an influencer should not only create professionally designed content marketing methods for your business but also make sure to meet deadlines and perform as agreed in their contracts.
How to Choose the Right Macro Influencer
First of all, you should determine your target. You have to know what you want from your influencer. It is the only way to evaluate the success of your campaign, whether it is to increase your brand awareness, boost sales, or anything else.
There are different types of influencers with different niches. So, you ought to choose the right type of influencer who has the same niche as yours based on your target, budget, and business size.
The best solution is to use a reliable Instagram marketplace like Ainfluencer because they guarantee you will be linked to the right person and they will fulfill their contract so you won't lose a penny you've spent.
Ainfluencer Instagram marketplace
Ainfluncer is a reliable platform to help you find the best influencer. This Instagram influencer marketplace guarantees to help you find the right influencer for your campaign when you book influencers from its platform.

With the advanced search feature of Ainfluencer you will find out different types of influencers and you can target them to find the best based on the following filters:
Gender
Location
Hashtag
Number of followers
So, you can find the best influencers match to your business.
On Ainfluencer, you may create descriptive advertising about your campaign goals, research top macro influencers in your field, and invite them to collaborate with you.
Watch this video to learn more about working on the Ainfluencer dashboard.
Macro Influencer Examples
Before launching an influencer marketing campaign, a brand must first determine who to collaborate with.
You must consider variables such as following and followers count, audience demographics, followers' quality, typical content, and prospective reach among others.
Let's get to know some of the macro influencers now:
Therealdrjackie
Dr. Jackie Walters is an obstetrician-gynecologist who was born in Mississippi in 1958. She also appears on Bravo's TV show 'Married to Medicine.'
Jackie rose to prominence after surviving breast cancer by founding the 50 Shades of Pink Foundation. Her Instagram has over 1M followers and a great engagement rate.
Dr. Jackie's point of V discusses feminine health and offers her personal experiences and recommendations on her Instagram account as well as her podcasts.
If your company is in the healthcare industry, she could be an excellent macro influencer with whom to partner.
Ashleygalvinyoga
She is an American yoga influencer, born in 1987. She became well-known for her strength, flexibility, and distinct teaching style.
Ashley is one of the most famous macro influencers on Instagram. She has been viral for lots of fitness and yoga training.
Also, she provides all the things related to yoga and fitness on her Instagram business account. So, if she is a good option for your brand you can ask her to advertise for you.
Meganmayw
Meganmayv is a 28 years-old British model and macro influencer. Who walked in three Victoria's Secret Fashion Shows in a row in 2016, 2017, and 2018.
She is an active personality in the fashion sector with approximately 788k followers on her Instagram account, making her an appealing collaborator for many brands in the same field.
Alison_ _ wu
Next, the top Instagram macro influencer is Alison Wu with a high engagement rate. She is a wellness influencer who posts on her Instagram about healthy eating, self-care, and physical and mental well-being.
With her 148k followers, she also discusses veganism and promotes healthy recipes. So, if your brand is related to wellness, she is an excellent pick for an Instagram influencer marketing campaign.
Laurengiraldo
She is an American actress born in 1998. She has been famous since 2013. Moreover, she has 920K followers on her business account.
Also, she has another business account, twelvethreethirty, where she uploads her training exercises.
Lauren Giraldo is very active in many filed, and she is a good brand ambassador.
Jill The Squirrel
The amazing thing is that Instagram macro influencers are not only humans. Jill The Squirrel is a macro animal influencer account.
There's a lot going on in the world, and people need to unwind. Jill the Squirrel, for example, is a macro animal influencer.
Jill the Squirrel, a seven-year-old squirrel who was rescued from Hurricane Isaac, has 270K Instagram followers under the handle this girl is a squirrel.
Isabellath
Isabella is a lifestyle and travel macro influencer.
Also, she is interested in fashion. When she started as a blogger, she wasn't a celebrity.
How Much Do Macro Influencers Make
According to Mediakix, here you can see the estimated amount of each sponsored post for each type of Instagram influencer. So, you can choose better:
Nano influencers: Free products or a small amount of money (up to $500)
Micro-influencers: Several hundred to several thousand dollars ( $200 to $4000)
Mid-tier influencers: Several thousand dollars to ten thousand dollars ( $2000 to $10000)
Macro influencers: A few thousand to a couple of thousand dollars ( $5000 to $25000)
Mega influencers: Several thousand to hundreds of thousands ($10,000-$150,000)
Challenges Of Working With Macro Influencers
Credibility: You should be sure about the credibility of the influencer you want to cooperate with.
If the users don't trust that influencer they don't trust any of the brands they promote.
Engagement: The engagement rate of the influencers is so important. Engagement is not related to the number of their followers, it is related to how much their followers interact with the account.
Cost: Macro influencers are usually well-known on social media. So, they may have lots of different offers. They may also be signed to influencer agencies which cause high fees for partnership.
FAQs
Let's read the short questions and answers that people also have about macro influencers.
Q1. What Is The Macro Influencer?
Those influencers with over 100K to 1M followers with high engagement rates are macro influencers.
Q2. What Is the Difference Between Micro and Macro Influencers?
Micro-influencers have 10K up to 100K followers on social media. On the other hand, Macro influencers have 100K followers up to 1M.
Q3. How Much Does Macro Influencer Make?
Usually, they make between $5000 to $25000.
Conclusion
All in all, now you know everything about macro influencers and the difference between macro and micro-influencers. We provided you with all aspects of using macro influencers to reach your target audiences.
Furthermore, you are familiar with the Ainfluencer Instagram marketplace to make a deal with influencers.
If you are looking for the best and most relevant macro influencers, don't miss any more time, and sign up on Ainfluencer now.