Being one of the most popular social media networks all over the globe, Instagram updates its algorithms, features, and services frequently for better user experiences. As you may have already noticed while updating Instagram on your device, some of the updates only include bug fixes that don't have much to do with new experiences. However, sometimes the Instagram update includes new features, permutations on previous features, and even some changes on the home screen which may be bewildering for users at first. 
In this article, we are going to cover all the Instagram new updates, explore the newest changes and features, and help you with a better experience on this platform. Let's get started. Also, if you are interested to know about the future of Instagram, make sure to read this article. 
New Instagram Update in 2021
2021 was the year in which Instagram added a bunch of new features. They even tried to update the home page which resulted in many critical reactions. A few months ago, Instagram released an update which included a major change in the home screen and new features like Instagram reels, guides, and new shopping features.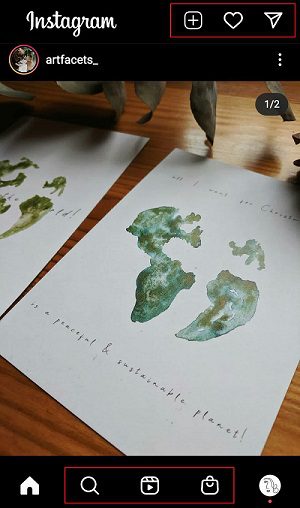 In that update, which was released officially in November 2020, the reels and shop tabs replaced camera and activity tabs. The reason behind this update was to help creators and business owners to build their own Instagram brand through the pandemic. However, after a month of testing, Instagram decided to unmake the changes in the home screen. So, right now, the Instagram home is like what it was. Plus, no one knows if Instagram brings up the new pages at any time in 2021 or not. 
By the way, apart from all these changes that were just tested, Instagram added some new features that are available right now and help users with better experiences. Let's know more about these Instagram updates. 
Instagram Feed Posts Updates
One of the best parts of Instagram update in 2021 is related to the feed posts updates. Instagram now allows users to control their posts' accessibility. Using these features, users can restrict some groups of people from commenting on their posts or even viewing the posts by setting a minimum age range or location. 
Additionally, right now, users can connect their Instagram accounts to Facebook, Twitter, and Tumblr and cross-promote their posts on these channels when posting on Instagram which is great for business and brand accounts. 
All these restrictions and changes can be done using the advanced settings as shown in the picture below: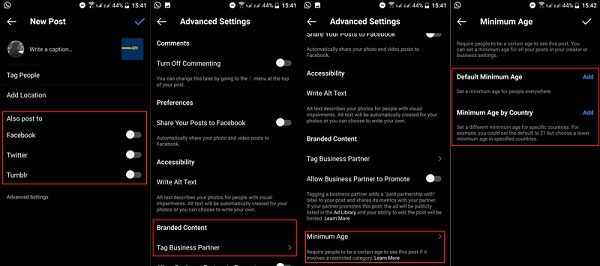 Apart from all these settings, Instagram has added a feature that'll help users cooperate with brands and influencers in a more beneficial way. In the new Instagram update, when you are posting your content, you have the opportunity to tag a business partner. Using this feature, your Instagram post will be shared with a "paid partnership" label that results in a more advantageous way of getting sponsors on Instagram.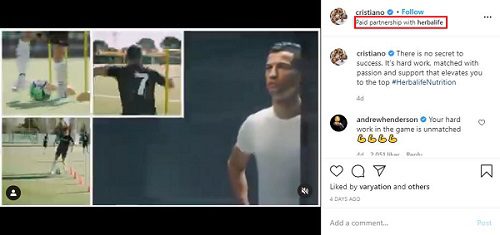 Instagram Update for Stories
One of the features of Instagram that is being updated frequently is Instagram stories. Every single day, Instagram updates the stories which include new stickers, filters, and also new features. 
As you may already know, Instagram users who had an approved business account were able to create a shoppable feed for their Instagram account to easily turn followers into customers. However, users were not able to tag products to their Instagram stories and they could just add links to stories and lead people to purchase pages on their websites. 
Right now, in the new Instagram update, users also have the opportunity to share shoppable stories and let their followers buy products even easier than before.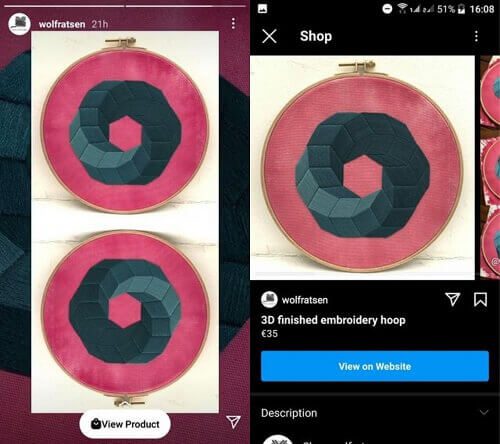 This is by far one of the best Instagram updates in 2021 and helps business managers increase their sales conversion, attract target audiences, and perfectly promote their new products and services. 
New IGTV Updates
In 2021, Instagram also updated IGTV. This new update includes changes in both video lengths and dimensions. About the video length, it must be at least 1 minute long. If you try to upload your content from a mobile phone, it can be at most 15 minutes long, and in case you are uploading a video from a PC, you have the opportunity to upload a video with a maximum length of 60 minutes. 
Moreover, previously, users were allowed to share vertical videos only. But now, the new Instagram update enables users to share a horizontal video as well. Plus, they can set a cover for their video which is great. 
Instagram Messenger Update
Right now, Instagram direct messages are really popular among people and also business accounts. In this regard, Instagram is adding new features to the messenger to help users better manage their messages. 
The current Instagram update for messages includes some amazing features that enable users to: 
Mark their messages as general and primary in order to avoid unnecessary notifications, 

Select multiple conversations to delete, flag, mute, and

mark as unread

, 

Call other users and have video chats, 

And share photos and videos that disappear after being viewed by the other recipient.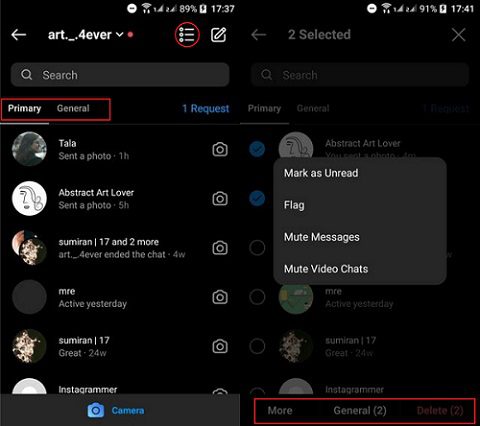 Using all these features, you are capable of sorting and filtering Instagram messages appropriately and monitor your DMs to avoid missing important ones. 
Instagram Algorithm Update
In December 2020, Instagram started to unveil home and explore feed ranking systems and algorithms. In this Instagram update, the feed and explore algorithms have changed in a way to help users find related content much easier than before. According to the Instagram blog, for the home page feed, Instagram engines rank the posts of users you follow according to the number of likes and comments and then, show you the best posts. 
And for the explore page, Instagram keeps track of your latest activities, then ranks the posts based on the amount of engagement and shows you the best ones. But what are the latest activities? Well, when you search for travel accounts on Instagram a few times, like some travel-related content, and save or share those posts with other users on Instagram, all these pieces of data will be saved on the Instagram servers. Instagram uses this data in order to offer similar content. The rationale behind this three-stage funnel is that Instagram wants you to "feel like home" when you open your Instagram account to check for new posts. 
Keep Reading: How to Change or Reset Instagram Explore Page Settings
Instagram New Policy Updates
Apart from features and services, Instagram updates its policy to let users have a better experience. These policies keep you away from spam accounts, inappropriate images, and also offensive comments and messages. Here are some of the most important Instagram new policies you must care about to keep your account safe:
Instagram New Policy for the Number of Followers/Followings
In the new Instagram update, users are not allowed to follow more than 7500 users. This limit is regardless of the number of followers. Instagram claims that the reason behind this follow limit is to stop bots from working and getting too many spam accounts out there. So, if you are among the users that try the follow-for-follow strategy to expand your audiences, try to unfollow a reasonable portion of users before following new users. 
Read More: 3 Instagram Management Services Worth Paying For
Instagram New Policy for Posts and Stories
The current Instagram update is very strict about inappropriate photos and videos. Actually, due to the new policies, Instagram holds the right to remove your content if it is against the guidelines. In this case, you'll see a message like the following. It informs you about the content removal and notifies you that in case of posting similar content, your account will be simply deleted: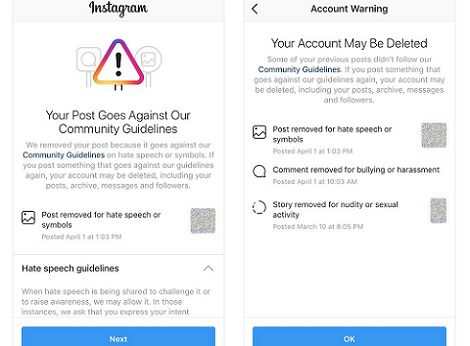 So, if you want to keep your account safe and prevent it from being eliminated by Instagram, avoid sharing: 
Nudity, 

Gambling posts, 

Hate speech, 

Copyrighted photos or videos,

Offensive comments, 

Self-injury content, 

And news from untrusted resources. 
How to Use the New Instagram Update to Grow Your Business?
Instagram has always helped users in expanding their audiences, boosting their sales, and advertising their products fruitfully. In this respect, the new Instagram update obviously applies some changes to help business managers with more sales and benefits. 
The current features that help you grow your business are: 
Instagram business accounts: 
I guess you all know about business accounts. These accounts enable you to:
share shoppable posts and stories,

add a business category to your Instagram bio,

promote your posts directly on Facebook,
and more. 
One of the tools that must belong to your toolkit is an Instagram analytics tool. Luckily, if you manage a business account, Instagram offers you an in-app analytics tool. This tool informs you about the best time to post on your account, your audience's age, gender, locations, number of clicks on Instagram bio link, and more. So, all in all, it helps you with better performance. Also, provides you with the chance to find your evergreen content and post more intellectually. 
If you want to advertise your products on Instagram, you can do it in 3 different ways. Create ads directly on Instagram, from your Facebook page, or the ads manager. Using each of these ways, Instagram runs the best ad campaign for your business by targeting your potential audiences. 
And finally, Instagram provides you with the opportunity to go for paid promotions through the official app. Using this service, Instagram makes your posts more visible and allows you to reach a greater group of users. 
Trying all these services combined with a professional management service, you'll definitely grow on Instagram in a short period of time. 
How to Update Instagram on PC?
If you are a desktop user, you definitely know that Instagram doesn't have any official application and the only way to manage your Instagram using a PC is to use the web version using your browser. 
In this regard, you don't even have to try to update Instagram on your PC. Every single change is made through the website automatically. So, every time you refresh the Instagram tab, you'll be able to use new features if there are any. 
By the way, in 2021, Instagram made some amazing updates on its web version. Most of the users are still not aware of these updates. Here are the most important updates that will help you have a better experience: 
Send DMs on Instagram from PC
One of the best Instagram updates in 2021 is the ability to send messages using the web version.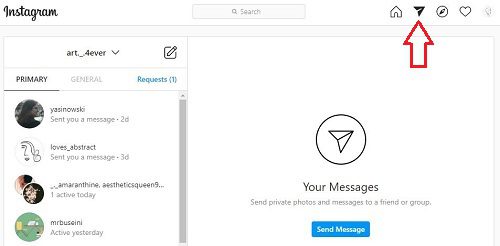 Right now, users can easily manage and monitor Instagram DMs only by clicking on the arrow button on the top right side of the screen. So, there's no need to use third-parties anymore.
Also Read: How to Sort and Filter Instagram Messages: The Complete Guide
Switch Accounts on Instagram Desktop Version
During the past few years, managing multiple Instagram accounts from a PC has always been an issue for users, especially business managers. Luckily, Instagram update in 2021 included the feature of switching accounts to the web version. 
To switch accounts on Instagram on a PC, after on the top right corner of the screen click on your profile photo and then, click on the "switch accounts" button. 

Using this feature, you'll be able to log in to up to 5 accounts and switch between them without logging out of one. However, if you have more accounts to manage, you may want to try some third parties to easily switch accounts on Instagram on a PC. 
Is the Instagram Screenshot Update Real?
One of the biggest concerns of Instagram users is whether Instagram sends notifications when they screenshot a DM and story or not. Well, to find the answer to this question, we may take a closer look at the new features and updates. 
Instagram Screenshot Update on DMs
On Instagram, you can send direct messages that include texts, voice messages, photos, and videos. Actually, if you take a screenshot of the whole conversation, Instagram won't notify the other recipient. However, when taking screenshots of the photos, you must care about some factors. 
Using Instagram direct messages, you can send photos and videos in 3 different ways: 
You can send permanent photos that will always stay in the chat, 

Replaying messages, that will disappear when the chat is closed, 

And messages that can be viewed once and are sent in the

vanish mode

.
When you send permanent photos, you will not get notified if the other recipient takes any screenshots. However, when you send a message in the vanish mode, by checking the message details, you can know if someone has taken a screenshot of the photo you sent.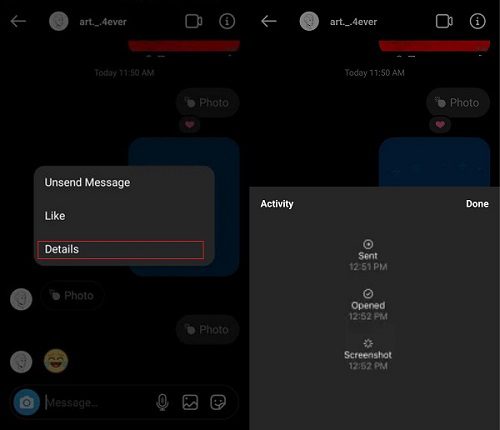 By the way, note that this new Instagram update is being tested and not all the users may have the opportunity to see who has taken a screenshot from their messages. 
Does Instagram Notify Users when You Take a Screenshot of Stories?
In February 2018, Instagram started notifying users when someone took screenshots of their stories. However, after a few months, they stopped it. So, the new Instagram screenshot update for stories doesn't include any notifications and you can screenshot stories anonymously. 
Final Thoughts
To wrap it up, Instagram releases new updates almost every week. To have a better experience with the new features and in order to grow your followers organically, keep up with the new Instagram update and learn how to use the new services. Also, I recommend you to check this article frequently to know about the smallest changes as well.