During the Covid-19 pandemic, health and fitness issues have become ever more important. Subsequently, fitness influencers have gained tremendous popularity by putting up creative Instagram fitness posts and tutorials. On the same note, Instagram fitness models have managed to grow their IG followers organically and become a source of inspiration!

This article will introduce the top 16 Instagram fitness models who can genuinely encourage you to reach your fitness goals! But, before doing so, let's cover the basics!
How to Find Fitness Models on Instagram
As the fitness industry continues to grow, many businesses are turning to Ainfluencer's marketplace to discover top fitness influencers. Fitness influencers have gained popularity over the years as more and more individuals strive to share their fitness journeys and expertise with their followers. With Ainfluencer, businesses can now easily find potential fitness influencers who can help them reach a wide audience, promote their brand, and increase their brand awareness.
Ainfluencer has simplified the process of searching for fitness influencers within minutes. With a clear idea of the type of influencer you're looking for, Ainfluencer utilizes its sophisticated algorithms to narrow down the list, saving businesses valuable time and effort.
Ainfluencer – A Marketplace for Quality Fitness Influencers
Ainfluencer's marketplace is a valuable resource for finding high-quality fitness influencers. With an extensive database of over 500,000 influencers, this platform connects brands with reliable and highly-rated fitness influencers who can effectively promote their products and goals. Brands can easily find the right influencer for their business based on specific criteria such as niche, location, language, and gender.
We understand the importance of delivering the right message, which is why Ainfluencer's team meticulously vets each fitness influencer before they join the platform. This ensures that brands have access to trustworthy influencers who align with their values and objectives.
Ainfluencer's marketplace provides robust metrics, detailed profiles, and comprehensive analytics to equip brands with all the essential information needed to find the perfect fit for their project. This allows businesses to evaluate which influencers will be most effective in reaching their target audience.
Whether you're a fitness brand, a health supplement company, or simply seeking fitness inspiration, Ainfluencer's platform offers a streamlined approach to discovering influential fitness accounts that can amplify your message and connect you with a dedicated audience.
Start your search on Ainfluencer today and unlock the potential of fitness influencers to elevate your brand to new heights.
Why Are There So Many Instagram Fitness Models
It's time to admit that the pandemic has drastically changed our lifestyle. Once, we would gladly attend the gym, chat with our trainer, and exercise. Now, we feel unsafe training in a gym with many restrictions and limitations!
So instead, many choose to exercise in the comfort of their home. And they choose to learn from Instagram influencers ( Instagram female models and Instagram male models) and micro-influencers who are experienced and knowledgeable in the field of fitness.
In this atmosphere, motivation is hard to come by, but Instagram fitness models can be excellent sources of it! Seeing their success, pictures, and how healthy and happy they are can encourage us to follow their example.
So, it is reasonable to assume that the growing number of Instagram fitness influencers, in part, stems from their popularity and potential for success. And they are popular because they can push us towards a healthier life.
How to Grow as Instagram Fitness Models
If you have something to offer in the field of fitness and would like to work among Instagram models, you don't need to worry! We have the perfect growth service to help businesses, brands, influencers, and even fitness models get more IG followers!
AiGrow is an effective, reliable Instagram management tool that brings many practical features to the table. Using this platform, you can:
And much more. But above all, AiGrow enables you to get followers fast and for free!
Sign up on AiGrow right now to access all the fantastic features!
16 Best Instagram Fitness Models for Inspiration
As mentioned earlier, the primary purpose of this article is to share 16 Instagram fitness models you can turn to for motivation! Now it's time for us to deliver our promise!
So, here we go!
#1 SommerRay: Top Instagram Fitness Model
Even those new to the world of fitness have probably heard her name a couple of times! With more than 26 million followers, Sommer Ray is indeed one of the most, if not the most, famous fitness models on Instagram!
According to the news, she is also a successful entrepreneur who has recently started her skincare company. If you're looking for a big push towards your goals, Sommer Ray's IG account is it!
#2 KrissyCela
One of the top fitness models on Instagram is Krissy Cela. She entertains 2.6 million followers and is unbelievably successful.
Krissy has recently published her second book 'Happy Healthy Strong' in which she has included recipes and build-your-own workout guides!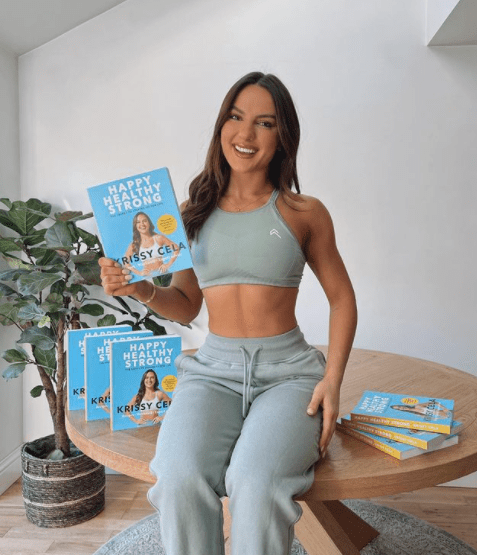 On her Instagram, she usually shares videos of her intense workout routine with one important message: Do it for YOU!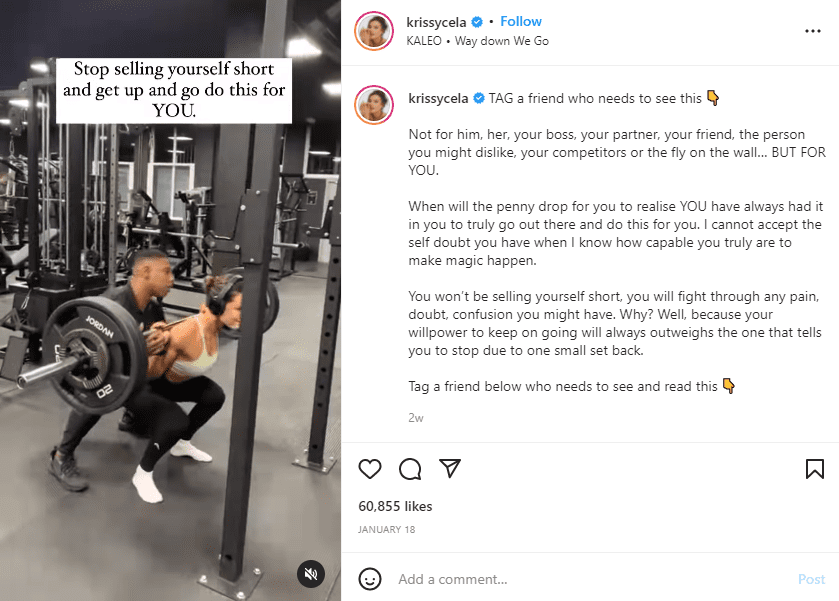 Such videos are excellent, engaging posts for Instagram. But apart from that, they are also pretty inspirational!
#3 Pamela_Rf
The 25-year-old Pamela Reif is one of the successful female fitness models on Instagram. She has more than 8.3 million followers with whom she shares her pictures and videos.
Pamela also runs a food account, @PamGoesNuts, where she shares food recipes!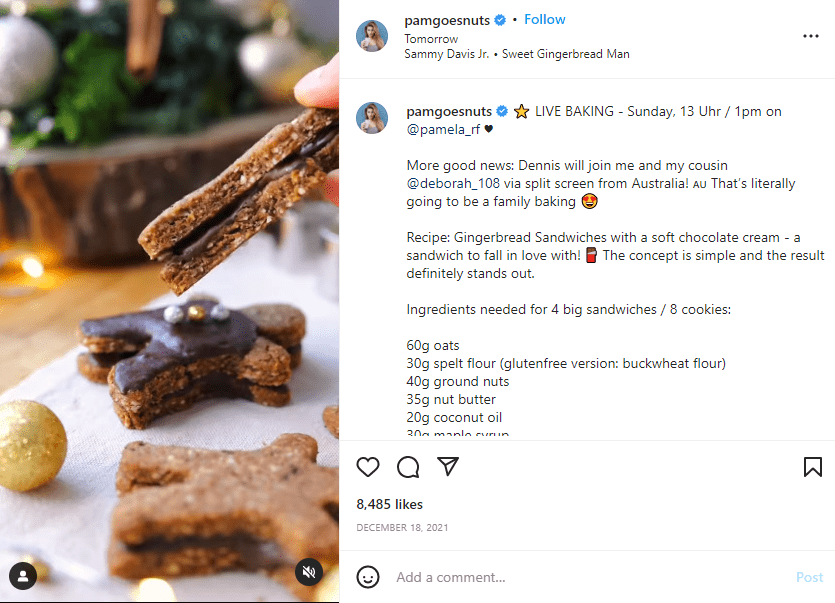 If you're a social media influencer or model and would like to learn from her, you'd better know that she also collaborates with big brands. For example, she has collaborated with Puma quite recently.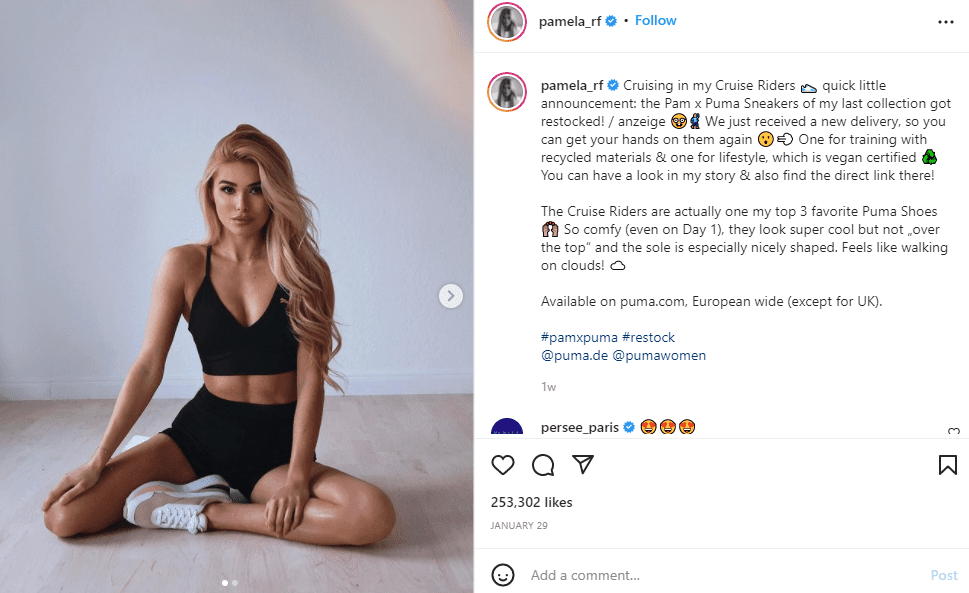 #4 Kayla_itsines
Having 13.9 million followers, Kayla is indeed a fantastic Instagram fitness model. She's a co-founder of a workout app, and on her Instagram, she shares some of her hardcore workout routines.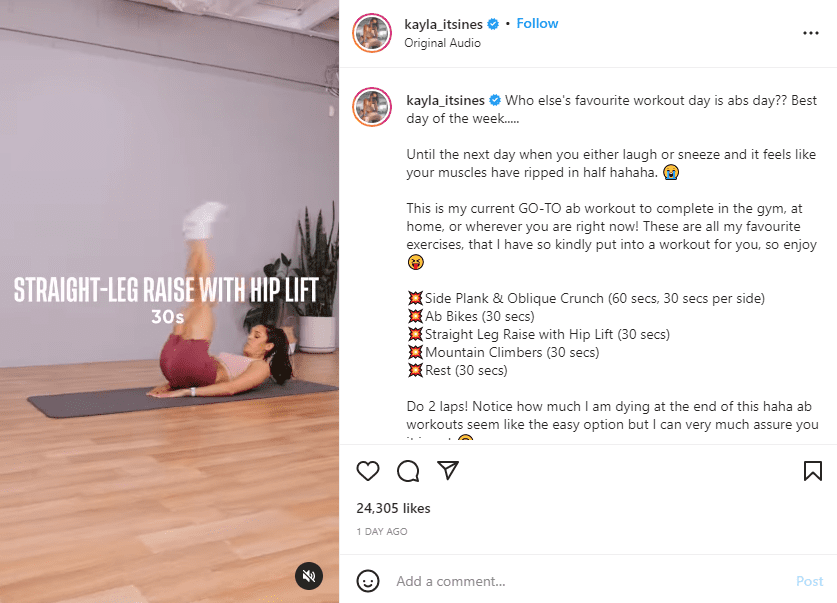 #5 KelseyWells
Kelsey is one of the sensational female fitness models on Instagram. But she's also a trainer with a program that can help those interested in their workout plans.
She often shares before/after images of those who have stuck to her program. These transformations can motivate you to keep going!
On her Instagram, Kelsey also shares videos of her workout routine with her 2.8 million followers. In these videos, she also urges us to love ourselves and find our purposes!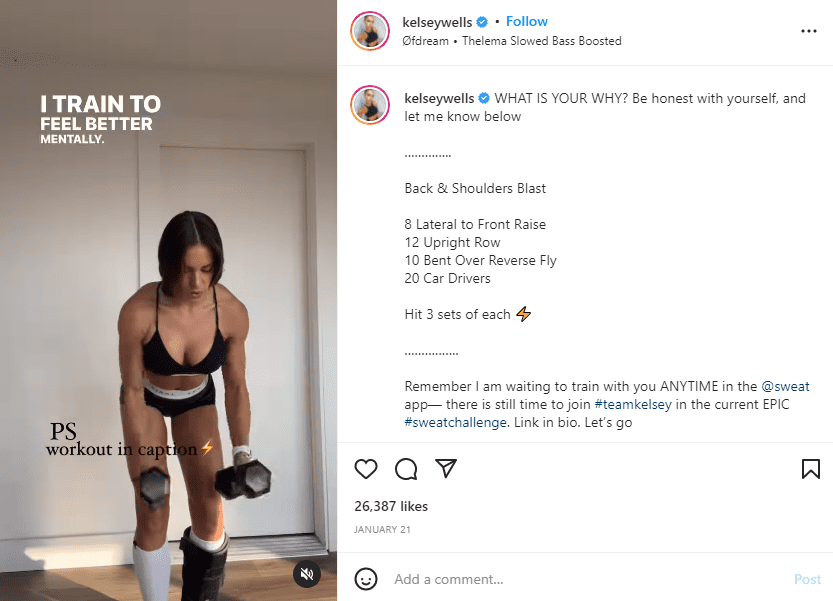 #6 UlissesWorld: Male Instagram Fitness Model
So far, we have only introduced Instagram fitness models who were female. Now it's time to turn to a thriving male fitness model, Ulisses Jr, with a whopping 8.5 million followers.
In the world of fitness on Instagram, one of the best strategies is to upload high-quality videos of workouts and routines. And Ulisses certainly knows that!
Ulisses Jr is indeed one of the best black Instagram models. If his fitness and stamina don't make you run to the nearest gym and start working out, I don't know what will!
#7 Ashleigh_Jordan
Ashleigh Jordan is a fitness model with more than 3 million followers. She has a clothing brand that she promotes in her aesthetic captions. On Instagram, she also shares fantastic workout tutorials.
#8 Anllela_Sagra
Anllela is one of the top-rated Instagram fitness models. She often posts motivational workout videos for her 14 million Instagram followers.
Her immense success has led to her collaboration with some brands. Recently, she has partnered up with Bang Energy.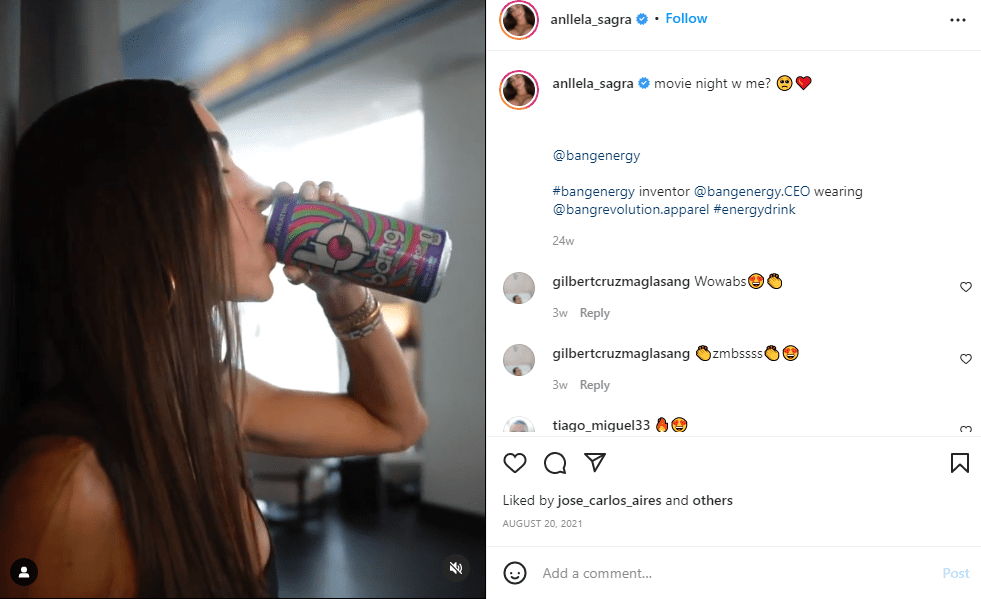 #9 Jeff_Seid: Charming Instagram Fitness Model
Another healthy male Instagram fitness model is Jeff Seid. He has managed to gain 4 million followers and increase the engagement rate. If his fit figure isn't inspiring enough, you can refer to his videos where he shares his routine.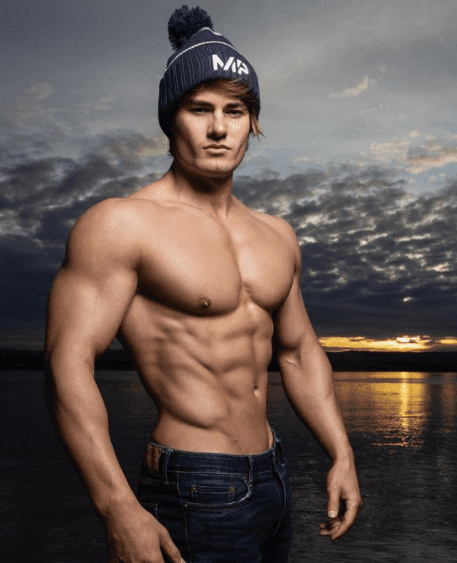 #10 LibbyPowell_: Hot Instagram Fitness Models
Libby Powell is one of the hottest Instagram models. She is an Australian athlete and a WBFF(World Beauty Fitness and Fashion) champion.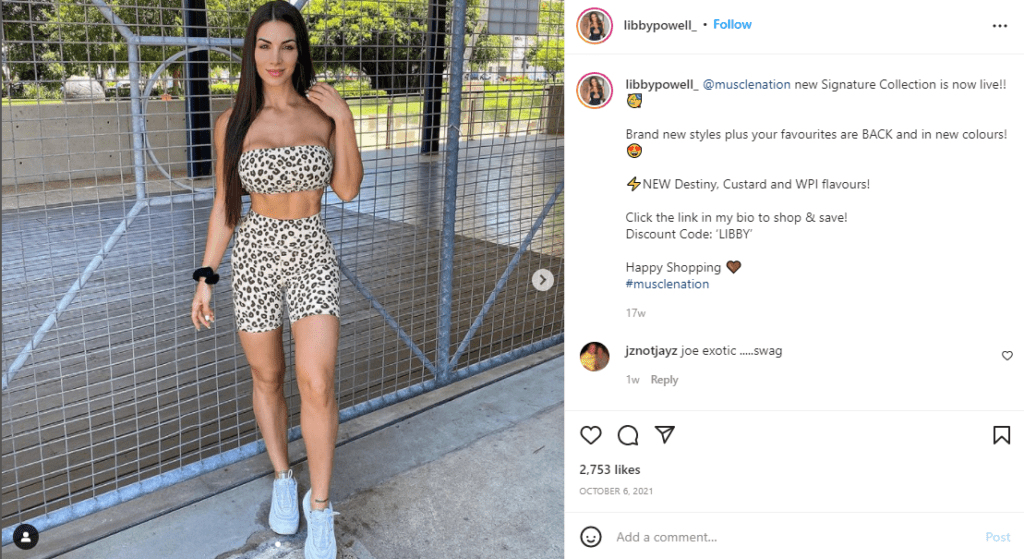 She has created successful Instagram posts to attract a target audience. She currently has 1.1 million followers!
#11 IsabelleMathersx
We also have Isabelle, another brilliant Australian, on our list of Instagram fitness models! She shares her routine and favorite outfits with her followers(1.6 million).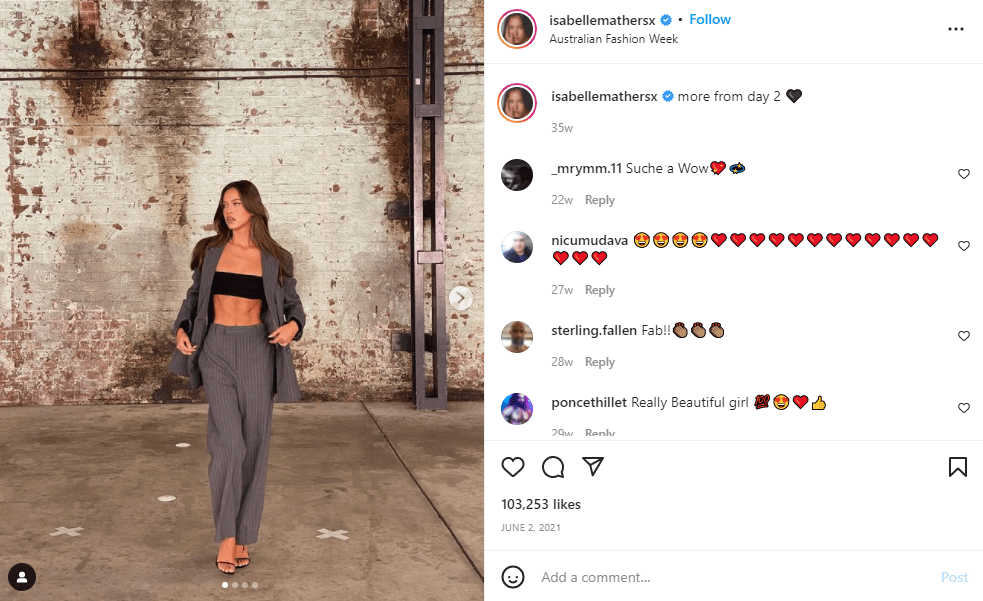 #12 Tanaashleee
Having precisely 1 million followers, Tana Cogan is a fitness model and personal coach. Seeing her workout tutorials, you might find it hard not to roll up your sleeves and get started!
Besides, she often shares her post-natal images to show the transformation her body has gone through. It is genuinely impressive!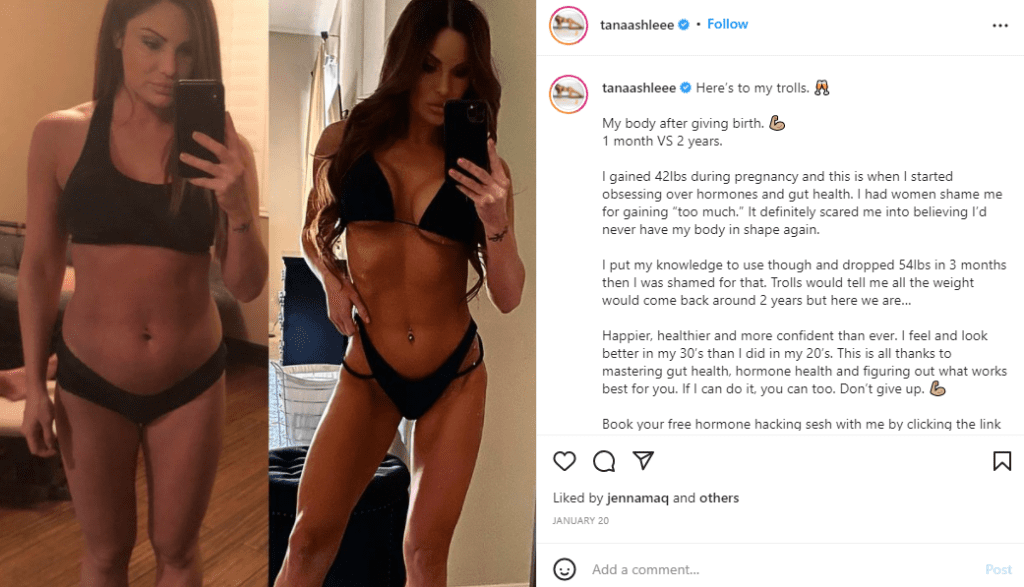 #13 Anita_Herbert
Anita, a successful model, shares her workout tips with 2.6 million on Instagram. Plus, she is one of the smartest Instagrammers who has figured out the new Instagram algorithm! She shares different types of content at the right time.
Besides, she shares before/after pictures of her clients. Not only do these images make us take action but also they work as social proof for her!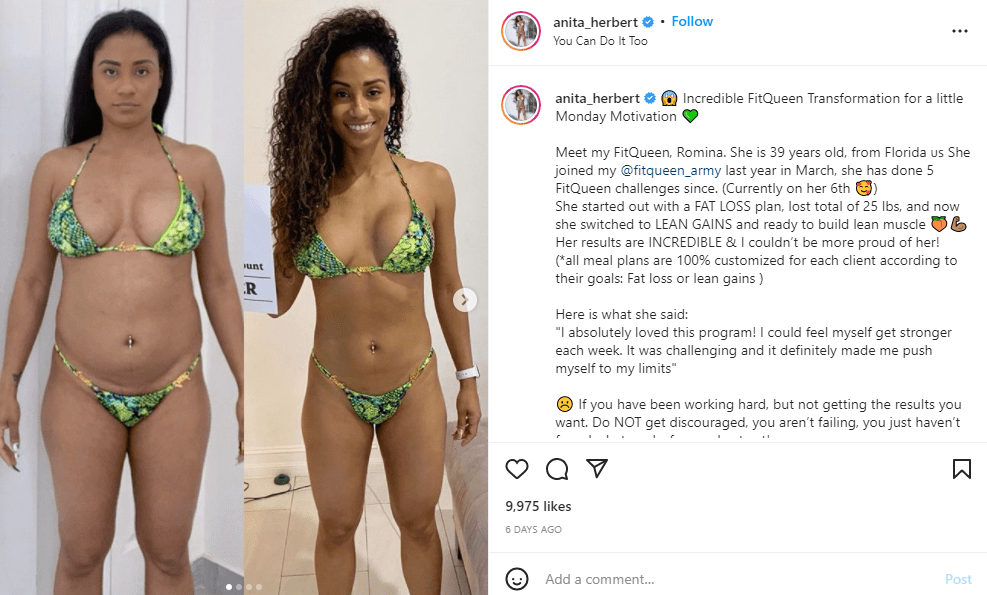 #14 AmandaBisk
Amanda is an exercise physiologist, coach, and Yoga teacher. As one of the Instagram fitness models, she has a relatively large following of 662K.
On her Instagram, she posts various challenge workouts. And on her app, you can also find recipes and workouts!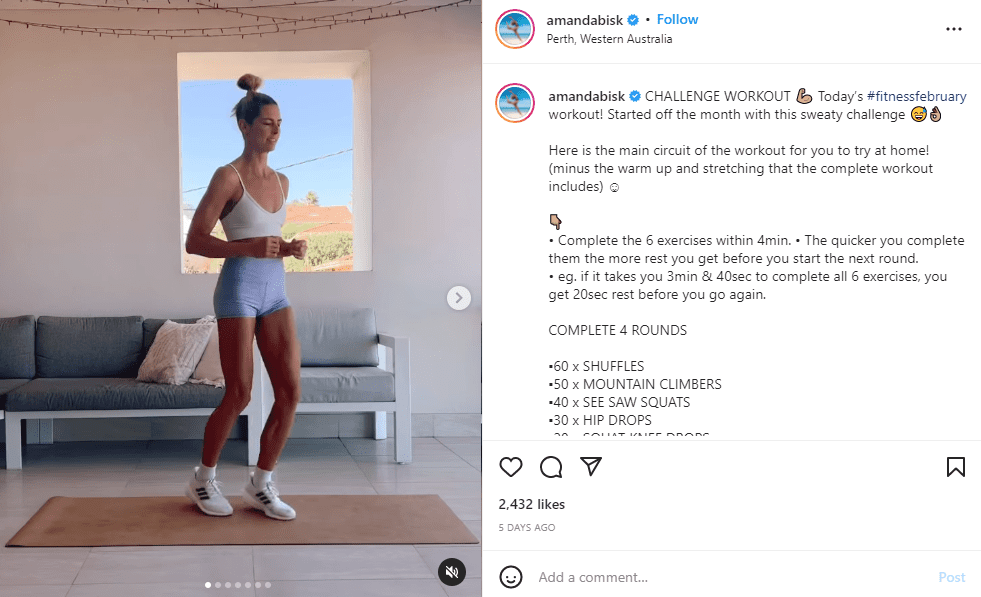 #15 AgostinaFitness
With 140K followers, Agostina is a successful trainer and Yoga teacher. She is also a Fashion nova model!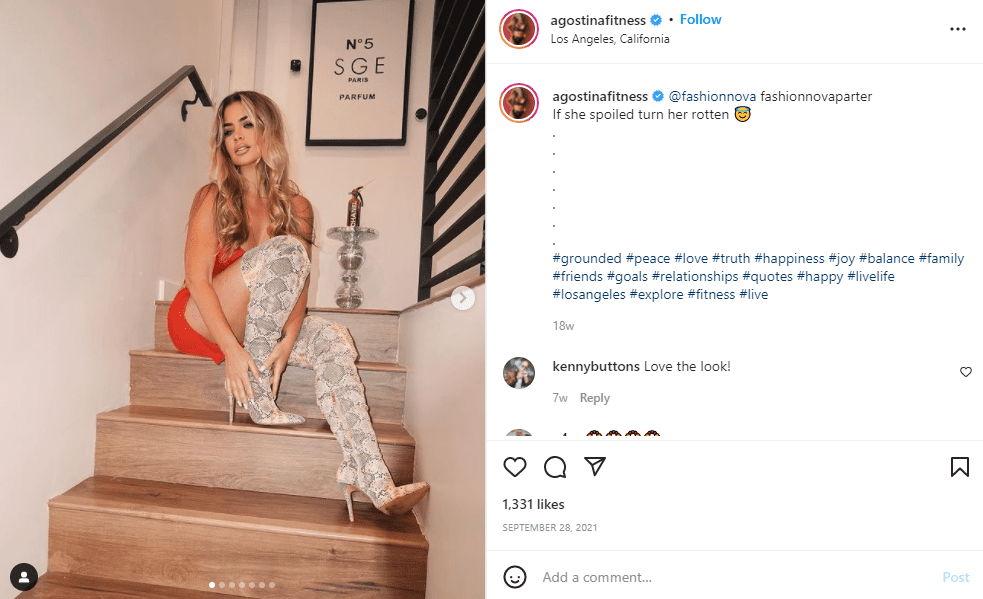 #16 TheFitFork: Over 50 Instagram Fitness Models
Jennifer Fisher is one of the most inspiring fitness models over 50 on Instagram. She shares her excellent workout routine and recipes. Whenever you need a push, just check her Instagram and notice her strength and fit body!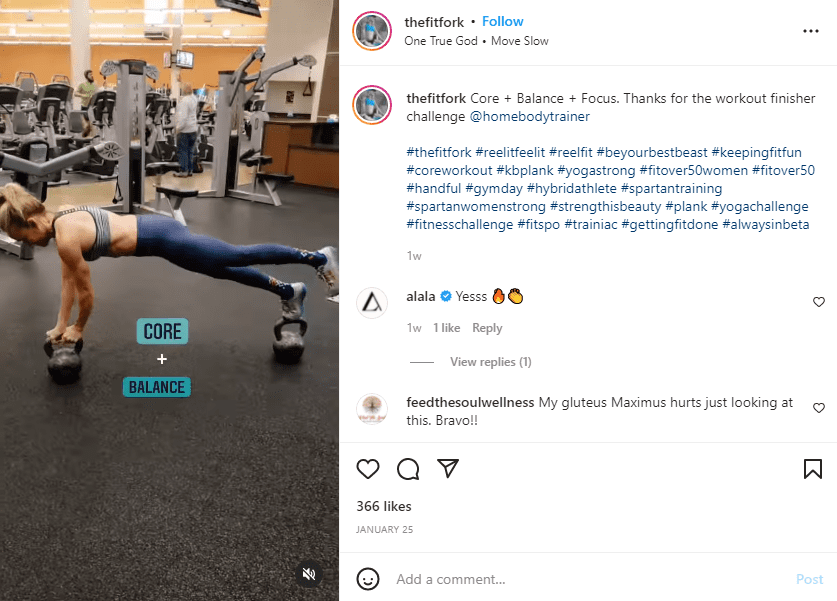 Absolutely IMPRESSIVE! It goes to show that you don't need a six-figure follower count to become one of the top Instagram fitness influencers! You just need a purpose and interactive IG post ideas to drive engagement.
FAQ on Instagram Fitness Models
We have introduced 16 sensational Instagram fitness models, as promised. Now, let's answer some of your questions!
1- How Much Do Instagram Fitness Models Make?
Many business owners turn to influencer marketing to grow a brand on social media. And we have already answered your question, 'How much do Instagram influencers make?' Now, let's see how much Instagram fitness models earn!
They do earn a considerable sum. But the amount of money they receive depends on many factors, including their number of followers, engagement rate, and more. But usually, they require 5000-25000$ per sponsored post.
2- What Do Fitness Models Look Like When They Aren't Posing for Instagram?
Well, It is true that we can look upon fitness models as a source of inspiration. They can help us move towards achieving our fitness goals. But if we're being honest, their pictures aren't always real!
These images are edited, polished, and perfected! Models might not always show their bad days. But they are not superhumans!
Last Words on Instagram Fitness Models
This article mentioned 16 Instagram fitness models that will never fail to amaze you! If you'd like to keep yourself motivated during the quarantine when you feel safer exercising at home, check this article again and visit their IG.
You might feel more energized for continuing your path to a healthy lifestyle! So good luck and share your thoughts on the Instagram fitness models who have amazed you so far!
Also, you might like to read some of our articles below: