In today's social media-driven world, Instagram has become a popular platform for fitness enthusiasts to share their workout routines, progress pictures, and fitness tips. One effective way to increase the visibility of your fitness-related content on Instagram is by using fitness hashtags.
Hashtags are keywords or phrases preceded by the '#' symbol that categorize your posts and make them discoverable to a targeted audience. If you are looking for the best and trending Instagram hashtags for fitness to increase your engagement rate, you are in the right spot!
In this article, we will look at the top Instagram fitness and health hashtags to help you receive greater exposure for your fitness and health-related posts and engage with fitness fans.
In addition to the best fitness and gym hashtags, we will introduce the best app through which you can find relevant hashtags for your niche.
So, let's start.
Importance of Adding Instagram Fitness Hashtags
Suppose you are an Instagram fitness model or a personal trainer. In that case, you should know that about 2 billion monthly active users on Instagram crave various types of content, and fitness-related content is just a tiny percentage.
Adding fitness hashtags to your offering workout posts and stories makes them available to a targeted audience. In other words, you open more channels of viewers to your posts and stories by adding top IG hashtags to them.
This way, people can search for a hashtag and find your material under that heading. This means those who have never known you or followed your content or page before will get to see your post. So you can gain more followers on Instagram.
You become a relevant component of Instagram hot issues and discussion using specific hashtags like gym hashtags or other related ones. Then being a part of popular subjects helps you get noticed on Instagram because it moves based on trends.
In addition, you can make your posts easier to find by categorizing them using hashtags. For instance, you can add a particular hashtag to all your healthy food recipes or your funny gym memes so your followers can find them by searching the hashtag.
Now that you've realized the significance of utilizing fitness tags on your photos, as well as ones connected to your niche, let's look at the top fitness hashtags on Instagram.
What Are the Top Fitness Hashtags on Instagram
Using trending Instagram hashtags strategically can help you reach a larger and more targeted audience. Hashtags play a crucial role in expanding the visibility of your posts beyond your followers, increasing engagement, and growing your fitness community on Instagram.
Whether you are a trainer, an Instagram influencer, or a creator with the best fitness Instagram post ideas, you need to know the top fitness and all the related hashtags, like health and gym hashtags. They make your content reach a broader fitness audience on Instagram.
Following are all of the hashtags relating to fitness, health, gym, workout, and so on that you can use for your content.
So, let's see the best hashtags of the fitness niche based on category:
Read more: The Best Instagram Followers Apps (35 Safe & Free Android & IOS Apps)
1. Fitness Hashtags
Using the right fitness hashtags on Instagram is crucial for getting your posts in front of a wider audience. For example, #Fitness is a widely used hashtag with a large following. It can be an effective choice for all types of fitness-related content.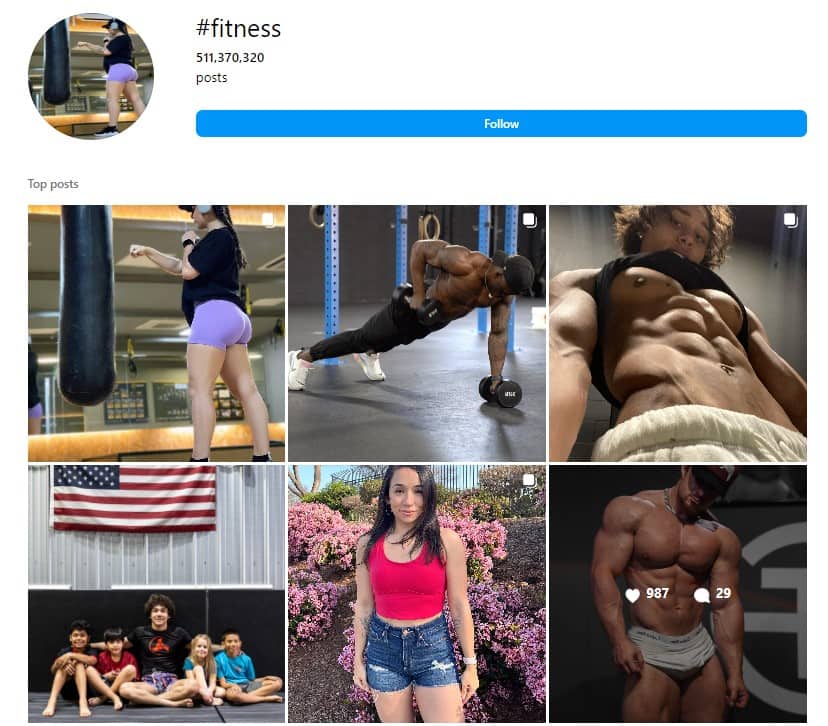 However, if you have a limited readership, you can use more particular hashtags to narrow down your target. For example, #Fitspo is short for "fitness inspiration," this hashtag is commonly used for posts that motivate and inspire others to pursue a healthy and active lifestyle.
It is a hashtag among fitness influencers and enthusiasts who want to share their fitness journey and inspire others.
Here are some other best Instagram fitness hashtags to utilize to enhance the visibility of your fitness content:
fitnessmotivation #fitnessmodel #fitnessaddict #fitnessgirl #fitnessjourney #instafitness #fitnesslife #fitnesslifestyle #fitnessgoals #igfitness #fitnessfreak #fitnessfood #fitnessgear #polefitness #bodyfitness #bikinifitness #zumbafitness #instagramfitness #modafitness #fitnessgirls #fitnessfreaks #gayfitness #healthandfitness #fitnessbody #fitnesscoach #fitnessblogger #myfitnesspal #fitnesstrainer #fitnessmodels #fitnessphysique #fitnesswomen #anytimefitness #functionalfitness #veganfitness #lafitness #planetfitness #mensfitness #fitnessfirst #fitnessfun
Read more: Influencers Gone Wild: Shocking Tales of Misconduct & Scandal in Influencer Marketing
2. Yoga Hashtags
Yoga hashtags are a popular way for yoga enthusiasts to connect, share, and discover content related to their practice on Instagram and other social media platforms. Yoga hashtags serve as a virtual community where practitioners can find inspiration, share their progress, and connect with fellow yogis from around the world.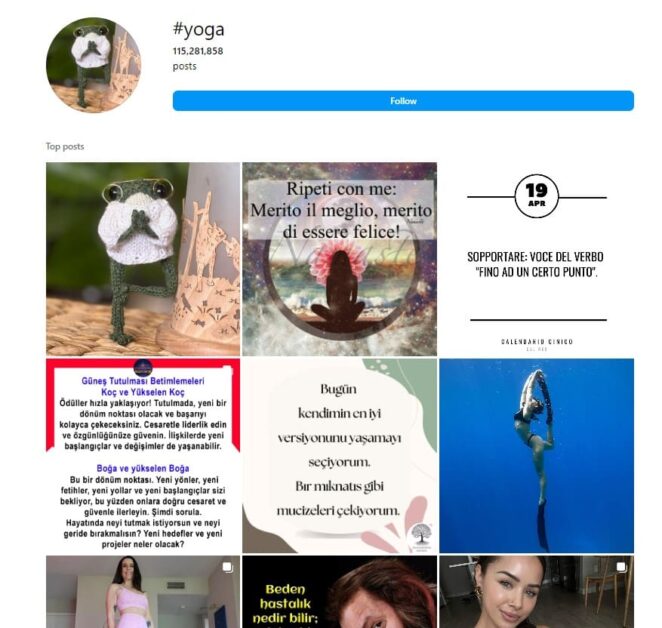 Hashtags such as #yoga, #yogalove, and #yogaeveryday are commonly used to showcase yoga poses, meditation techniques, and wellness tips.
Other popular yoga hashtags include #yogainspiration, #yogajourney, and #yogalifestyle, which are used to express personal stories, experiences, and lifestyle choices related to yoga.
Hashtags like #yogachallenge and #yogaposeoftheday are also used to encourage and motivate practitioners to try new poses and explore their practice. Additionally, there are hashtags related to specific types of yoga, such as #vinyasa, #hatha, and #ashtanga, which cater to practitioners with different preferences and interests.
Read More: How to Add Music to Instagram Posts, Stories & Reels
3. Workout and Gym Hashtags
Gym hashtags have become a popular trend in the world of fitness and wellness. From Instagram to Twitter and beyond, gym hashtags are used by fitness enthusiasts, athletes, and trainers alike to share their workout routines, progress, and motivational messages with the online community.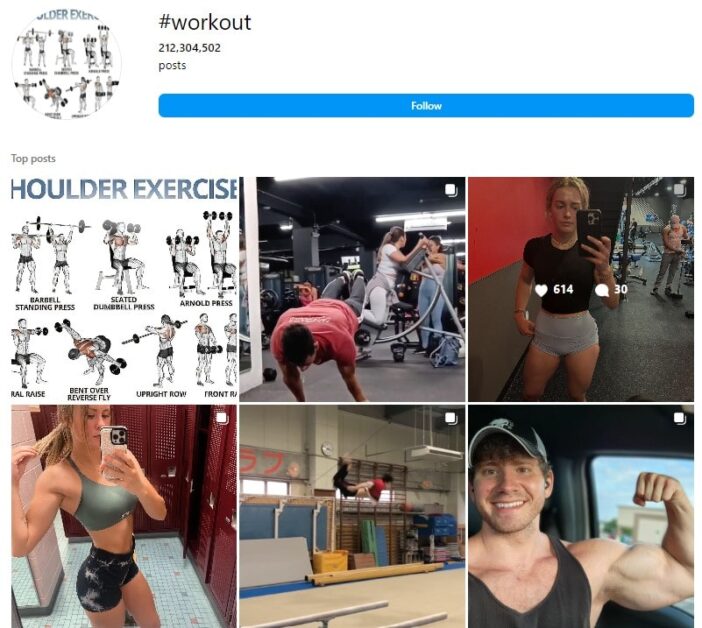 These hashtags, such as #fitlife, #gymlife, #workoutmotivation, and #fitnessgoals, serve as virtual markers that connect like-minded individuals who are passionate about leading a healthy lifestyle.
Gym hashtags also provide a platform for users to discover new workouts, fitness tips, and inspiration from others in the fitness community.
Whether you're a fitness enthusiast looking for workout inspiration, a gym owner promoting your facility, or a personal trainer sharing fitness advice, incorporating gym hashtags in your social media posts can help amplify your fitness-related content and foster a supportive online fitness community.
You may also search these hashtags to find well-known fitness experts on Instagram who post daily motivational content.
GetFit #FitFam #FitLife #Fitness #FitnessMotivation #FitnessAddict #GetStrong #LiftHeavy #GirlsWhoLift #GymLife #GymTime #fitnessaddict #strength #yoga #abs #goals #instagram #running #follow #life #nutrition #gains #diet #fitnessgirl #bhfyp #like #inspiration #fitlife #wellness #bodybuilder #fashion #weightlifting #happy #getfit #boxing #nopainnogain #photooftheday #body #run #homeworkout #powerlifting
4. Health Hashtags
Popular health hashtags include #healthyliving, #wellness, #fitlife, #nutrition, and #selfcare, which are used to highlight various aspects of physical, mental, and emotional well-being. These hashtags are often paired with fitness hashtags such as #fitnessgoals, #workoutmotivation, #exercise, #fitfam, and #getfit, which focus on physical fitness, workouts, and exercise routines.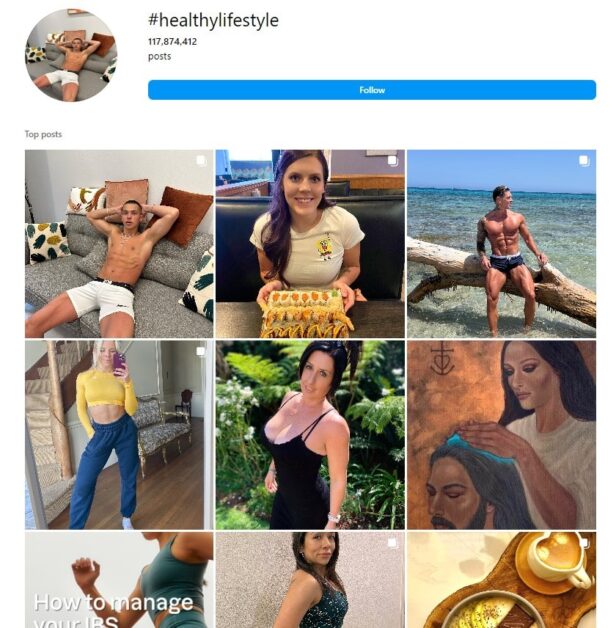 These health and fitness hashtags provide an opportunity to engage with others who share similar health and fitness goals. Additionally, health and fitness hashtags can also be used by fitness influencers, brands, and professionals to promote their products, services, and expertise in the health and fitness industry on Instagram.
If your Instagram post or story is about health and a healthy lifestyle, these hashtags can help you:
GetHealthy #HealthyLife #HealthTalk
Read More: "We Restrict Certain Activity on Instagram": 10 Best Strategies to Fix Instagram Restrictions"
5. Eating Habits Hashtags
Eating habits hashtags like Keto Hashtags, Vegan Hashtags, etc are a great way to showcase your commitment to healthy eating and share tips, recipes, and inspiration with others.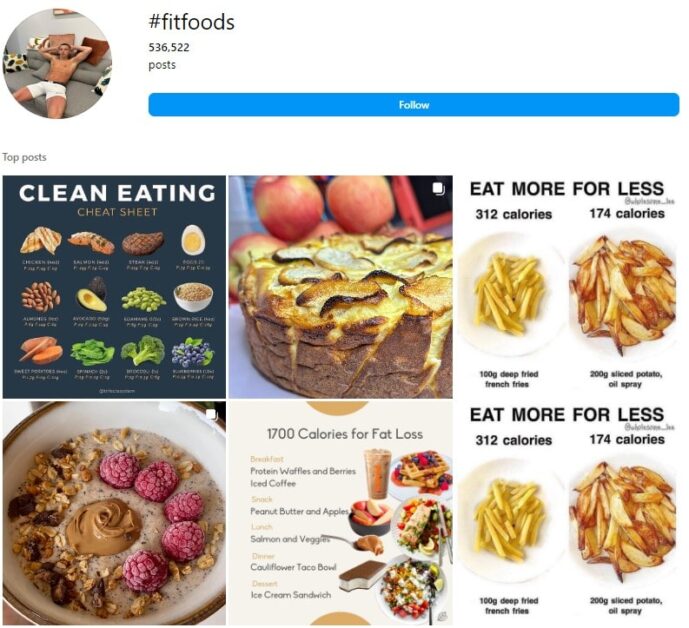 Popular hashtags such as #CleanEating, #HealthyEating, #Nutrition, and #WholeFoods can help you find and engage with content related to clean, nutrient-rich foods. You can also use hashtags like #MealPrep, #FoodieFitness, and #FitFood to share your meal planning and preparation efforts, as well as your delicious and nutritious creations.
By incorporating these eating habits hashtags into your fitness posts, you can join a supportive online community that shares your passion for health and wellness.
If you are looking for healthy recipes for inspiration or you want to share healthy eating content, you can use these hashtags:
EatClean #CleanEats #EatLocal #FitFood #GlutenFree #DairyFree #HealthyEating #HealthyRecipes #Nutrition #Paleo #Vegan
6. Motivational & Quote Hashtags
As a fitness expert or enthusiast, you know that doing workouts requires motivation and encouragement. Therefore, it is essential to motivate your followers all the time using effective quotes. Here are Motivational & Quote hashtags that you can use for your motivational content or search for them.
FitQuote #FitnessMotivation #MotivationMonday #Fitspo #GetFit #Goals #YouCanDoIt #FitnessGoals #TrainHard #GoHardOrGoHome #NoExcuses#quotes #motivation #quoteoftheday #motivationalquotes #poetry #quotestagram
7. Sport Hashtags
Whatever sports you enjoy and for which you make material, you can create a hashtag for them. For example, do you like running over other sports? For you, the running hashtags are:
Marathon #MarathonTraining #Runners #RunningTips #SeenOnMyRun #TrailRunning​
Baseball, golf, football, and other sports all have their own hashtags that you can use when creating content.
You can utilize the fitness-related hashtags we've covered above on your material. Let's now look at the most successful ways to use hashtags for fitness.
How to Use Instagram Fitness Hashtags
By utilizing fitness hashtags strategically, individuals can tap into a wealth of resources, support, and motivation from like-minded individuals across the globe. Here are some Hashtag tips:
Be Specific
Keep your Instagram fitness hashtags specific and short. This helps you target the audience who sees your posts or stories. Being particular will assist you in gaining the following you desire, as well as followers who are interested in your unique content.
Use Relevant Hashtags
Do not add irrelevant hashtags to your content. If your post is about healthy eating, add healthy eating hashtags to it. Otherwise, you will be recognized as a spam account. In addition, you target the wrong type of users, which is absolutely inefficient for your Instagram marketing strategy.
Watch out for the Hashtags Limit
According to Instagram limitations, you are allowed to add up to 30 hashtags on your Instagram post and up to 10 hashtags on your Instagram story. So, you should be careful to use all the hashtags you want until you do not exceed the hashtag limit of Instagram.
Do you want to schedule your posts and hashtags in advance? We have an excellent tool for you to manage your content on Instagram! So, keep reading.
The Best Hashtag Research App to Find Fitness Hashtags on Instagram
You may need more hashtags that are not mentioned in our list of categories. In this case, you should be looking for the best Instagram hashtag research app. AiSchedul is an all-purpose Instagram tool that can provide you with many Instagram services, including hashtag research.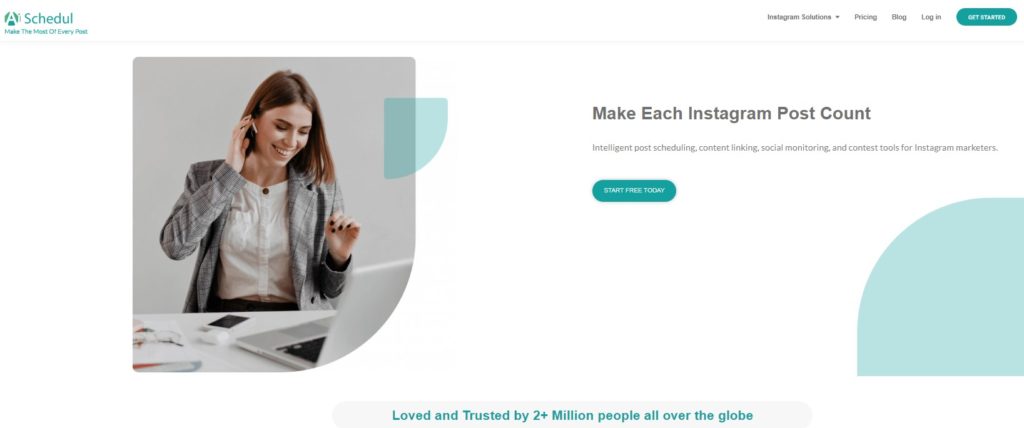 Let's get familiar with AiSchedul!
So, all you need to do is to sign up for free for this tool and enjoy the services it grants you.
Conclusion
There is no doubt that trending Instagram hashtags are crucial in increasing your engagement rate and growing your Instagram account. From promoting healthy lifestyles to fostering online communities, fitness hashtags have evolved into a prominent feature of modern fitness culture.
So, don't underestimate the power of fitness hashtags in enhancing your online fitness experience. #FitnessHashtags are not just a trend, but a dynamic tool that can help you stay motivated, connected, and informed on your fitness quest.
Next time you're working out or sharing your fitness journey on social media, don't forget to use relevant fitness hashtags to elevate your fitness game and join the ever-growing fitness community online!
Using the suggested hashtags, tips, and the best hashtag research tool mentioned in this article, you can put your Instagram strategies into action and grow your account remarkably. So why don't you go ahead and try out this Instagram growth method?