If you run an Instagram page and have a lot of followers, sending automated Instagram DM is a must! Otherwise, how you're going to manage all of those Instagram DM notifications manually! As you certainly know, Instagram's Direct Message (or DM in short), is the in-built messenger that allows Instagrammers to communicate with each other. But it's not just about messaging. Not only marketers use this tool to build strong relationships, but also it's a perfect way to increase brand awareness, click-through rates, and customer loyalty.
In this article, we're going to see how you can send Instagram automatic DMs safely and securely. So, let's get started with the basics; why bother sending (automate) DMs anyway?   
Why Is Sending Instagram Automated DMs Important?
As mentioned above, the primary use of Instagram is to grow relationships with the audience and followers; not to mention that it's the only part on Instagram besides the bio that allows you to send clickable links. But regular Instagram users don't necessarily need to automate their Instagram DMs. Instagram DM automation can come in handy if you're in one of the following groups:
Social media managers

Brands

Small business owners

Artists

Marketers
These people use Instagram auto DMs for various reasons, but here are the most common ones:
Send a welcoming message to new followers

Promote their latest product or services

Invite people to visit their latest YouTube videos, podcast episodes, …

Announce discounts

Send tailor-made messages to special followers

Run surveys

Invite followers to visit their website

Contact potential influencers for possible (paid/unpaid) collaborations

Share the latest news and events 
Now that you know how much Instagram DMs can be useful let's find out about the best way to send them automatically. 
How to "Dm All" on Instagram Automatically?
Sending huge amounts of Instagram DMs can take ages. Think about it; you have to copy and paste your message for individual accounts. Besides the fact that this process is time-consuming, the real problem here is that sending similar DMs over and over can get your account banned by Instagram because the Instagram algorithm will take repetitive messages as spam. 
You may try to edit your DMs, but it'll take you more time to send all of those DMs; not to mention that there's a limitation to the number of messages that you can send daily.
Currently, Instagram does not have an in-built feature for sending bulk messages. So, the best way to send Instagram DMs fast and safely is to use trusted Instagram services that offer automated bulk DMs. Keep reading to find out more about this method. 
AiGrow: Sending Automated Instagram DM in No Time
AiGrow is a comprehensive Instagram service that helps you to manage all the Instagram marketing activities in the smoothest way. One of the most useful AiGrow features is its "Direct Message." Using this feature, you can create your custom DMs, auto-reply to your DMs, send bulk DMs, and receive DMs in your email inbox.
To create and send automated Instagram DM using AiGrow, follow these steps:
1- Create an Account on AiGrow 
It's fast and easy! Just enter info such as email address and set a password.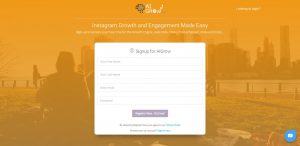 2- Add Your Instagram Account
In your user-friendly dashboard, click on the "Add Instagram Account" button to link your Instagram account to AiGrow. Remember that you can add as many accounts as you want. 
3- Use the "Direct Messages" Tab
In this tab, you see several sub-tabs. Use the "DM" tab to create your DM. The good thing about AiGrow is that it generates multiple versions of your message so that your account won't get banned by Instagram because of the spamming. 
On the "Auto-Reply" tab, you can write a message that will be sent automatically to those who DM you. You can tell your followers that you'll respond to their messages as soon as possible. 
The "Bulk DMs" tab enables you to send a large amount of automated direct messages without being shadowbanned or crossing Instagram's daily limits. Also, using Instagram DMs on PC, you have a much easier experience managing your busy DM tab.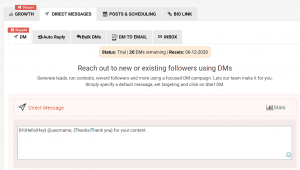 Another great option here is the ability to "DM to Email." Using this feature, you'll never miss a DM because it receives your direct messages inside your Email of choice such as Gmail. And the good thing is you can respond to the DM directly from your Email Inbox!
What are you waiting for? Start using AiGrow for free right now!


Instagram Direct Message Suggestions
Today's impatient Instagrammers don't always spend their precious time checking commercial DMs. To draw their attention to your Instagram automated DMs, check out these tips:
Add Links
Write a great call to action to invite your visitors to click on the link that you provided. This link can lead to a landing page or webpage with more information. This is a great way to increase your web conversion. 
Relate Article: How to use CTA (call to action) Buttons on Instagram?
Attach Images
You all know the expression; a picture worth thousands of words. Well, why not attach a promotional picture, infographic, or banner to draw the reader's attention?
Use Emoji
Emoji helps you to adjust your tone. It can show that your brand's tone is more relaxed and friendly. 
Don't Overuse Auto DM
Sending a lot of automated Instagram DMs can be irritating. Try to be moderate in sending these messages and only use this feature when it's necessary. Overusing this feature might lead to people unfollowing you.
Final Words
In this article, we talked about automated Instagram DM and how this feature can help you to grow and build your Instagram empire much faster.