Social media has always been an excellent place for sharing entertaining content. Some of these contents step out of the follower's zone and become so popular that are known as worldwide phenomena. Remember Dele Alli Challenge or Ice Bucket Challenge? Well, if you want to know about the latest Instagram challenges, stay with us and read this article.
View this post on Instagram

Sometimes global brands, such as GoPro and Coca Cola, run regular challenges to increase their followers' engagement even more. They even reward followers who get featured!

You don't have to be as big as GoPro to run or participate in Instagram challenges! There are tons of challenges that you can join and have fun with! First, let's see how challenges are going to help your business.
Why should you participate in Instagram challenges?
Instagram is a fantastic tool to promote your business and networking. But it is also a way of entertainment! In a survey carried out by Statista, "To find funny or entertaining content" was the second popular reason (holding 37% of answers) why people use social media.
As Instagram is a highly visual social media, and it has the highest engagement rate among others, it has become a new turning point for entertainers. Currently, 9gag, the online UGC platform, is the 9th popular brand page and the 46th most-followed Instagram account with more than 52.4 million followers.
When an Instagram challenge goes viral, many users find the participants performing the challenges using specific hashtags. By joining trending challenges, not only you expose your brand to a wider audience, but also you add the element of fun to your account too. If you do your best, with a little bit of chance, you might end up going viral and get tons of new followers!
Top 7 popular Instagram challenge
Like any other trend on Instagram, challenges have expired dates. One day you wake up to see your feed filled up with people trying to dance simultaneously, and the next day, you see them dressed up as celebrities. With emerging a new challenge, the previous ones slowly die out.
In recent years, Instagram challenges became so widespread that Instagram decided to add the "Challenge" sticker on the story. With this sticker, you can nominate one of your friends and ask them to join the challenge!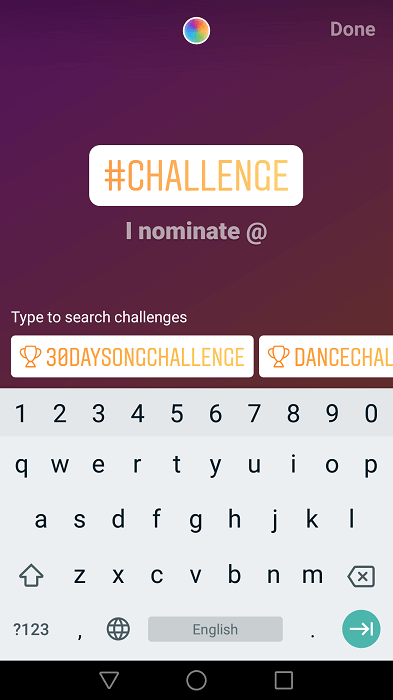 Here are some of the best Instagram challenges that are all the rage these days:
  1- Fashion challenges (#metgalachallenge & #pillowchallenge)
Due to the Corona Virus pandemic, many important fashion events have been either canceled or postponed. One of the most admired of these fashion shows is the Met Gala, of course. The glamorous and rather unique fashion show held every year on the first Monday of May by Vague at the Metropolitan Museum of Art.
Well, fashion lovers just couldn't bear not seeing their favorite show this year. That's why they decided to have their own Met Gala – #stayhome style – and recreate their favorite celebrity looks from previous years. And the results were amazing enough that even @instagram featured some of them!
View this post on Instagram

However, it's not new creativity on Instagram. @_emilife is doing the same thing, only in a broader sense, for quite a long time!

Pillow challenge is another fun fashion challenge to during home quarantine. You should cover your body with a pillow (or blanket) and try to create stylish dresses!
View this post on Instagram
2- Dancing challenge (#dancechallenge & #fliptheswitch)
Staying at home can be quite nerve-wracking. Dancing is always a great way to have some fun and calm yourself down. And the great thing about dancing is that you can do it while in quarantine at home! Instagram has a #dancechallenge sticker. Use it and make 5,6 moves with your body and nominate someone else to carry out the challenge! You may even do it in a duo!
View this post on Instagram

Another popular and funny dance challenge is to #fliptheswitch. You must do it with another person or group. You play "Flip the Switch" by Drake and do like this:
View this post on Instagram
3- Pass the brush challenge
A great challenge for the ladies in the quarantine time! You receive a brush; you do your make up and then pass the brush to your friend. Sounds easy, right? Just pay attention to the directions when passing the magic brush virtually!
View this post on Instagram

Or, it can be a stunt performer's challenge!
View this post on Instagram
All the gyms are closed, there is not a single sports match to watch, and you should stay at home. Well, that's not pretty healthy! To stop getting bored and be more active, many Instagrammers started to do their workouts in their homes! As a result, many new fitness challenges at home have been started these days.
Run by @nike and presented by @cristiano, the most-followed celebrity account on Instagram, the Living Room Cup challenge is one of the robust fitness challenges on Instagram. In this challenge, the legendary CR7 asks you to stay at home and beat his core crusher record:

Many other athletes have joined the challenge to beat Chris Ronaldo's record! How about you? Challenge accepted?
If you make an interesting video and join the challenge, surely those who run challenges will notice you and feature you! Look at the comment that Nike left for this participant!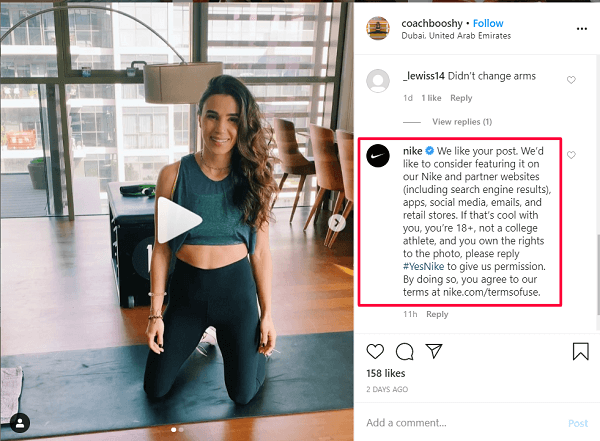 Did you know you can build personal AR filters on Instagram? Well, one of these filters got popular, and many Instagrammers have participated in gesture Instagram challenge. This is how it works: a number of hand emoji shows up randomly on your story, and you must try to make those gestures really fast!
View this post on Instagram
Want to try it out? Go to @i.m.noel profile and find the filters on the middle tab. Select the hand gesture challenge and tap on "Try it."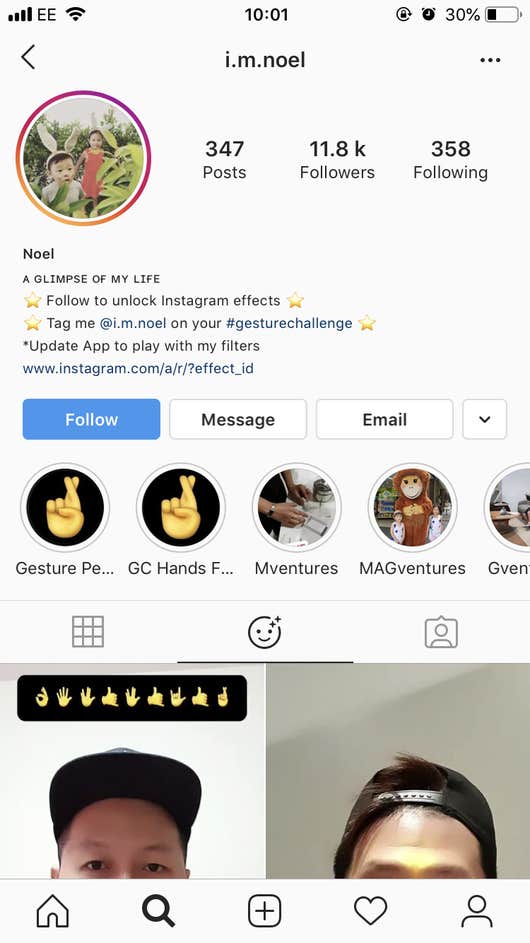 6- Recreate art
Test your creativity and try to recreate the famous paintings only with what you have in the home! This one might be the most creative quarantine challenge! Let's take a look at the best photos!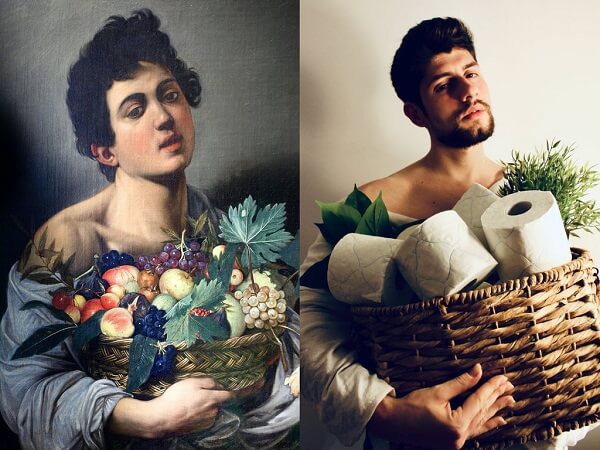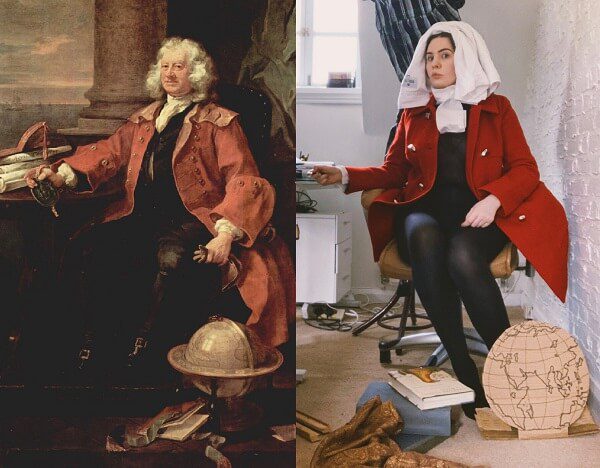 7- GoPro challenges (#HomePro)
GoPro runs many different challenges, but for the quarantine days, it has introduced #HomePro challenge. Rules are simple; you should make a video or photo at home using GoPro cameras and use the maximum creativity!
How to find challenges on Instagram?
If a challenge goes viral, it's not that hard to find it. However, if you choose to make your own content of any challenge, you should keep an eye on your competitors constantly! How? Use AiSchedul!
AiSchedul is a great Instagram manager that will help you with many marketing strategies. With AiSchedul, you can use a social calendar, a smart scheduler, and add unlimited external links to your bio and posts. If you want to be a winner on Instagram, either in your niche or Instagram challenges, you must pay attention to content and pages related to your account and business.
Luckily, AiSchedul can significantly help you with that. AiSchedul scheduler has features called "Hashtag Monitoring" and "Account Monitoring."
Using these two practical tools, you can easily add the accounts that publish Instagram challenges or track the relevant hashtags to see the latest posts.
A better way to use these tools is when you are running an Instagram challenge yourself. You can quickly check the item "Repost Mention" to see who participate in your challenge and mentioned you. Then easily hit repost, modify the caption, and set a publishing date for your post. Don't worry; AiSchedul won't put a watermark on your posts. It just adds the profile name at the end of the caption automatically.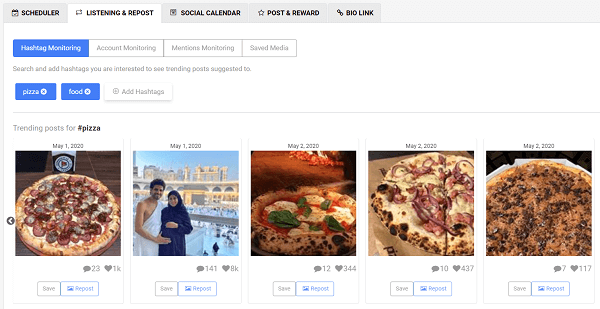 Conclusion on Instagram Challenges
Instagram is an excellent platform for having fun! People love to laugh and do unusual things while using this application. Better make the most of this opportunity and use Instagram challenges to both have a great time and gain some more followers!